How to create your own club at Partypoker?
29.05.2020
In the latest Partypoker client update, the developers added the «Club Games» tab. The new feature will allow you to play poker with your friends in a private club. The comfort of home poker is now available online. Partypoker made a very timely software update during the pandemic and quarantine periods. We will talk about how to create your own private club at Partypoker below.
How to find Club Games at Partypoker?
Finding the desired tab is easy: it is located in the main window of the Partypoker client. To be more precise, it is the far right:

How to join an existing private club?
1. Click on the "Club Games" tab in the lobby of the room;
2. Click on "Join Club";

3. Enter in the appropriate fields "Club ID" and "Club Password". Attaching a personal message is not necessary, but possible. The finishing touch - click on the "Send Request" button.



There are no restrictions on the number of private clubs at Partypoker where you can be a member.
How to create your own private club at Partypoker?
1. Open Club Games;
2. Click on "Create Club" on the right side of the Partypoker lobby;


3. Write the name of your club and password. Password must contain at least 6 characters. You can add a description for your club. Next, click the checkmark and accept the Partypoker terms and conditions regarding private games. Last step - click on "Create Club".


Congratulations, the process of creating a private club at My Games at Partypoker has come to an end. Now you have your own place for private games. True, you must first wait for the approval of the name of your club and the assignment of a unique ID.

How to invite friends to your club at Partypoker?
Well, finally, your privileged club for private games has been created! It remains to invite your friends and you can start the battle for the poker crown. Adding friends to Club Games is incredibly simple:
1. Open your club (lower right corner of the lobby of the Partypoker client);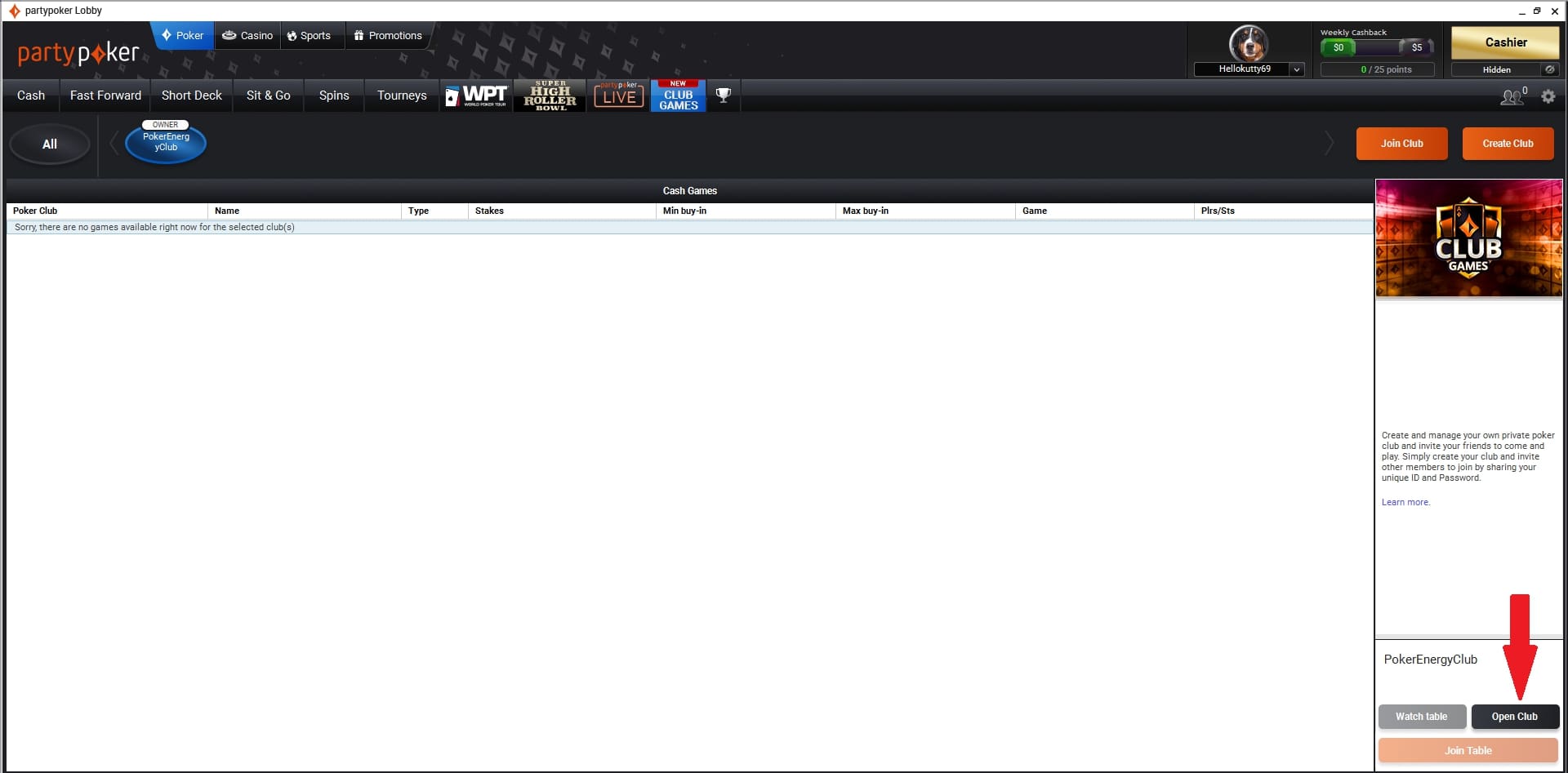 2. In the lobby of your club, go to the "Invite" button;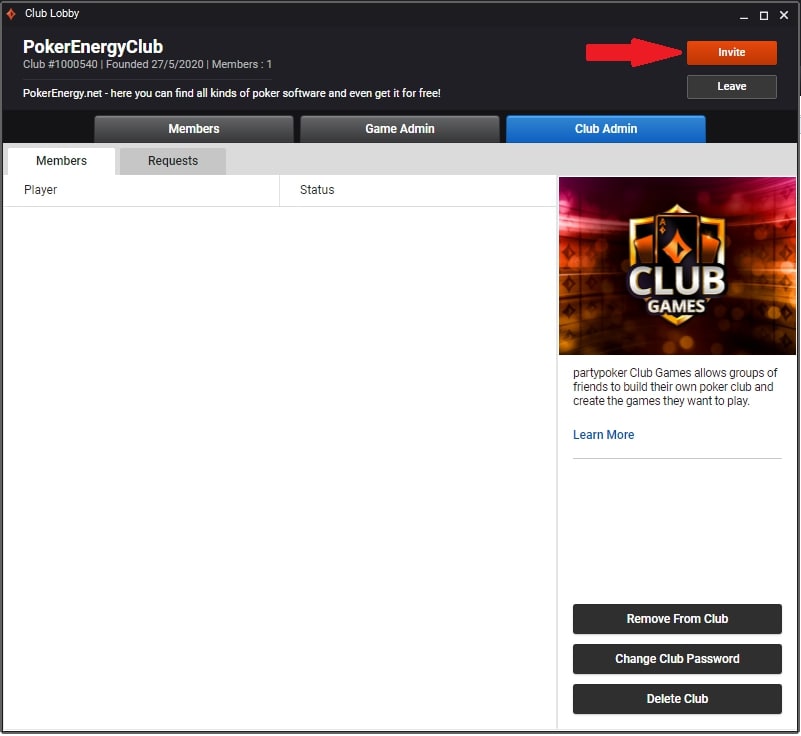 3. Your invitation is ready. Now you only need to send it to your addressee in any way convenient for them. Partypoker kindly provided the opportunity to copy all the text by clicking one crop: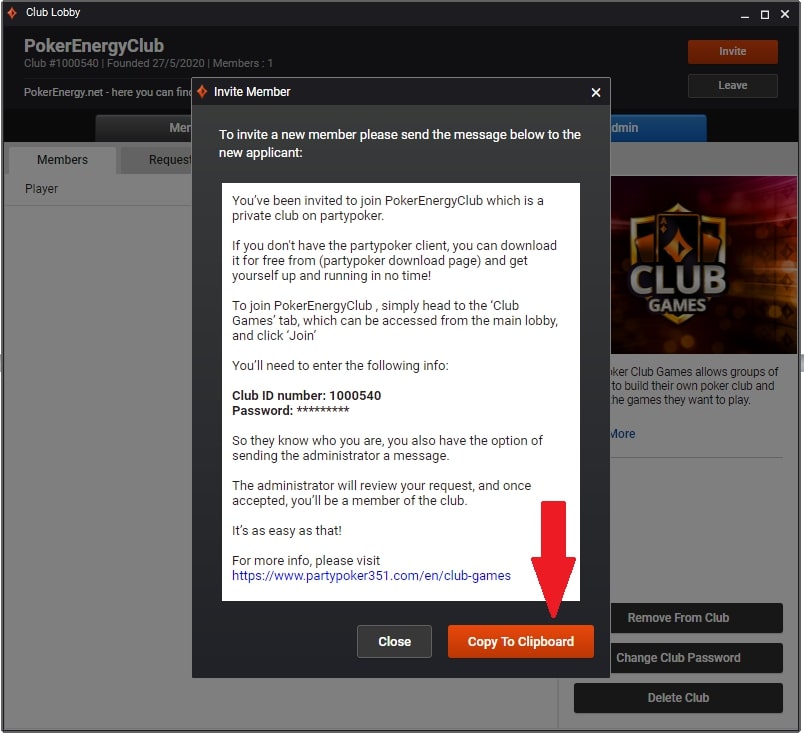 How to set up a club in Club Games?
The club was created, friends were invited, it remains to make several settings about the format of the game:
1. Open the "Game Admin" tab in your club: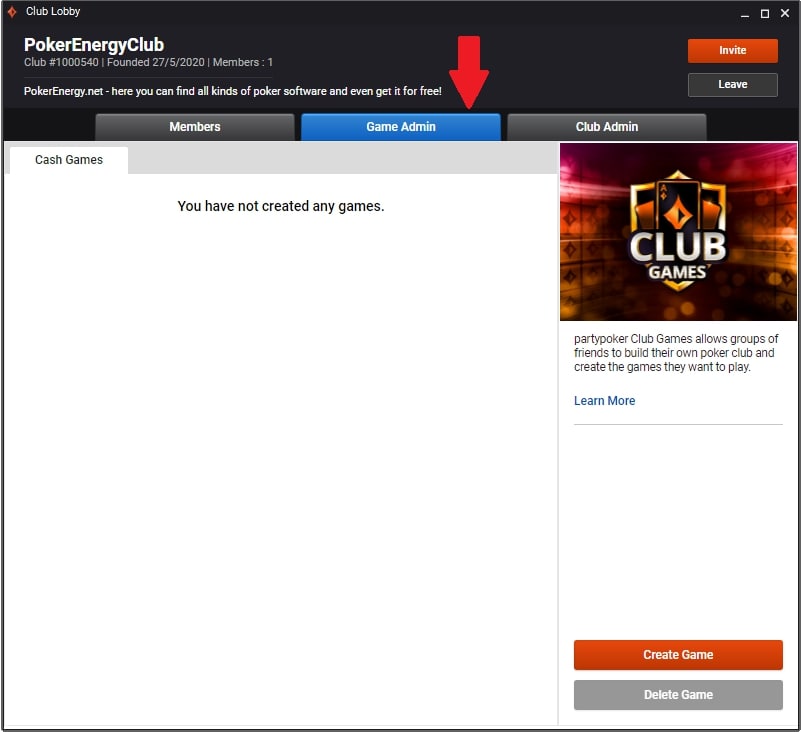 2. In a new window, you can configure a number of parameters of your private games: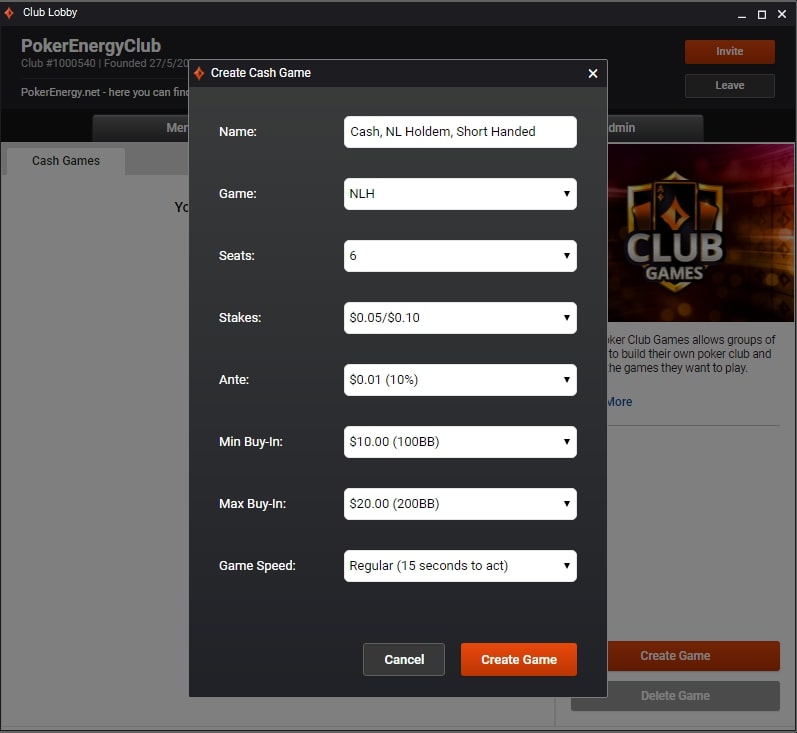 Let's go through each setting a little more:
Game. Now only No Limit Holdem and Pot Limit Omaha are available.
Seats. Tables are designed for 2,6 or 8 people.
Stakes. You can play from NL2 to NL200;
Ante. Optionally, you can add ante for a more active struggle for banks.
Buy-in. You can sit at the table with 10bb, 50bb, 100bb or 200bb.
Game Speed. Players will be given 9, 15 or 20 seconds to make a decision.
After determining the conditions for the game, click on "Create Game". You can create up to 5 possible options for future games.
Additional Information about Club Games
To create a private club you must have an account at Partypoker;

One person can create no more than 5 clubs;

The number of clubs in which you can be a member is not limited;

Links to your club should not be placed on sites or in other public places;

Partypoker reserves the right to close any club, change the conditions of the game and check any suspicious activity with club members in the prescribed manner.
PartyCaption - useful software for playing at Partypoker
We remind you that PartyCaption is officially allowed to use when playing at Partypoker. Poker with friends at Club Games is no exception. This software is designed to facilitate the game of poker at several tables due to a number of useful functions: bet profiles, font increase, hot keys, built-in HUD, automatic table layout on the monitor screen. PartyCaption is free for players up to and including NL10. You can also get this program for free. We provide PartyCaption for free for purchase: