Let's celebrate the New Year with the KO Series at Partypoker!
23.12.2020

According to a long tradition, New Year's holidays in poker are a hot season. Most of the poker rooms aim to host the winter series and get players' attention. Following PokerStars with its Blowout, they announced their streak at Partypoker. Let's talk about the KO Series.
What's in store for the Partypoker KO Series?
Unlike PS, Partypoker's announcement does not include the total amount of the guarantee. From which we conclude that it is clearly less than $ 60M. What else is known about the new tournament series:
The beginning of the series will be on December 25, and the end as early as January 19, 2021;

All MTTs will be Progressive Knockout;

There are more than 115 events in the schedule, but some of them are two-day and three-day MTTs;

The main discipline is No Limit Holdem, but there will be PLO;

The range of buy-ins is quite wide - from $ 1.1 to $ 2100;

The most expensive tournament in the series is the Main Event with a $ 1,000,000 guarantee and a $ 1,050 buy-in;

For low-limit players, a $ 1 Micro Main Event is planned with a $ 50,000 prize pool.
How to play a lot and not get tired?
It's fair to say that PartyPoker is far from the most obvious choice for multitabling players. The absence of a HUD, which was banned two years ago, has hit professional players hard. But some of the poker programs are still allowed for use on PP. The best one is PartyCaption. It allows you to automatically arrange tables on your monitor screen, displays a useful HUD, blocks pop-ups, and is integrated into Hand2Note. And this is not a complete list of its useful functions.
One of the main advantages of the program is that it is free for tournaments with buy-ins up to $ 3 and in cash poker up to NL10 (inclusive).
Also note that it is on the PartyPoker site's list of officially approved programs.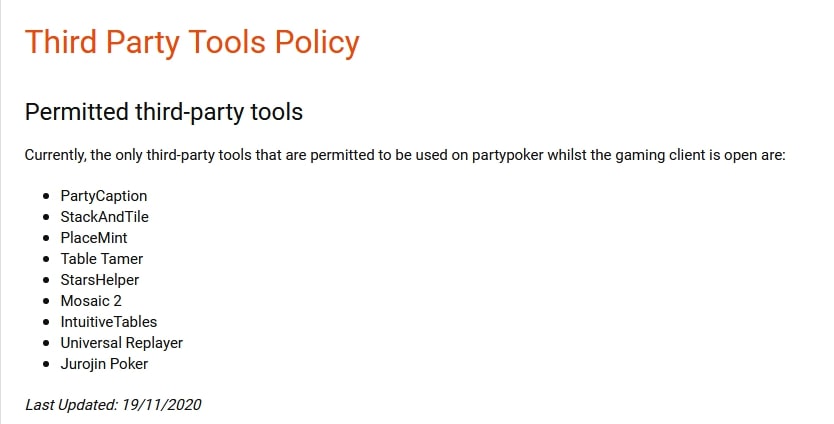 The best offer for beginner players
PartyPoker has been at the forefront of online poker for over 20 years. However, if you are a new player or you just do not have a PP account yet, we recommend that you pay attention to the PartyPoker review. And if you sign up using our link, you can get PartyCaption or any other poker program for free. This is not to mention the huge number of promotions and bonuses that the poker room itself will provide.