Winning Poker will host the "High Five" series for $ 5M in April
22.03.2021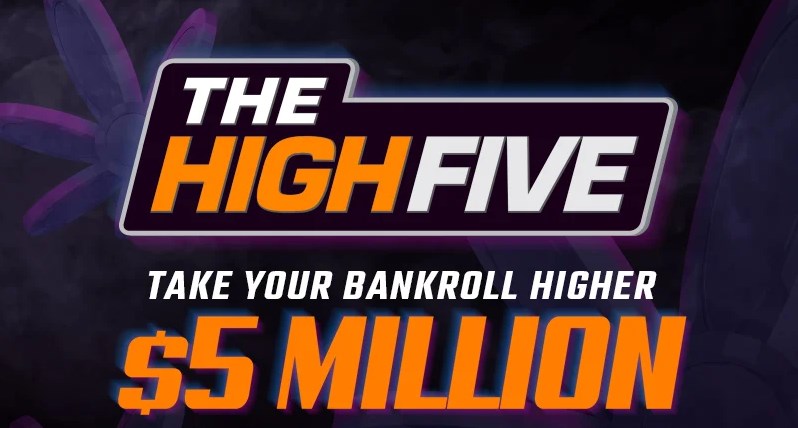 While the most fortunate and skilled players are preparing for the second day of the anniversary "Sunday Million" on PS, other poker rooms and networks are planning their tournament series. One of them will be hosted by the Winning Poker Network. Let's talk about "The High Five".
When does it start? The tournament series starts on April 1 and will last until the 20th. During this time, WPN will host 100 tournaments. 5 tournaments a day.
What is the guarantee? The High Five's guaranteed prize pool will be exactly $ 5,000,000. Two Main Events deserve special attention:
1. Main Event # 1 with a $ 1,000,000 guarantee and a $ 450 buy-in. It will start on April 11 and end the next day.
2. Main Event # 2 with a $ 420,000 guarantee and a $ 55 buy-in. A whole week long marathon was planned here from the first days - from 11 to 18 April. They will finish everything on the second day of April 19.
It is curious that the largest tournament will take place in the middle of the series, and not at the end. Usually poker networks have been hosting big tournaments in recent days.
Formats. Most of the schedule is for NL Holdem. Over 50 tournaments will be held with progressive knockout (PKO). There are also less popular disciplines, such as 16 PLO8 tournaments and 6 MTT 7CardStud tournaments.
Buy-ins. Entry to most tournaments ranges from $ 10 to $ 50. The series is great for low to mid stakes players.
How do I get WPN Tools Lite and other poker software for free?
To win at poker, you need to constantly learn. One of the most convenient training formats is working in poker programs. But not all programs are available, especially for new players. If you want to get a poker tracker or other software, but do not want to spend money on it, then pay attention to our tab with poker rooms. After registering there, you can receive any program from our catalog in exchange for rake. Next poker rooms of Winning Poker Network are available for registration:
When registering at any of the 3 WPN rooms using our link, you will receive WPN Tools Lite for free.