$ 3,000,000 Promotion from 888Poker
21.01.2020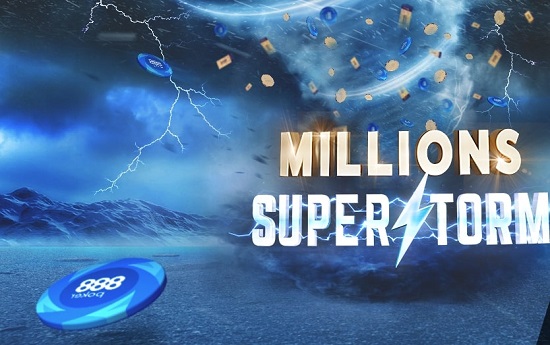 Unprecedented activity from 888Poker at the beginning of the year is optimistic. If in 2019 the promotion of the room caused, at best, slight perplexity, then in 2020 it remains only to welcome the increased activity. The $ 3,000,000 prize pool is evenly distributed in three areas:
Giveaways;

Blast tournaments;

MTT Superstorm Main Event.
Win $ 1,000,000 at Blast for $ 5
The easiest way to win a million is that you will be required to play a SNG tournament with a buy-in of $ 5 and an incredible amount of luck. After all, the chances of being in the desired tournament are negligible - 1 in 10,000,000. Yes, deceptive simplicity.
Million in Super Storm
An easier way to compete for a major prize will be the main tournament of the entire 888 Poker promotion - Superstorm Main Event. The guaranteed prize pool is $ 1M, and the buy-in is $ 100. In the tournament schedule 888, it is scheduled for March 1. Day One will be divided into 3 gaming days. They decided to stretch the pleasure as much as possible - every week on Sunday the flight of the first day will be held. But on March 22, the second and last day starts. In Main Event Superstorm 3 rebuys are allowed.
Giveaways
The most ramified distribution of a million. Includes Millions Superstorm wheel spin, daily challenges, and even freerolls. Cash prizes are not provided here, but they will distribute tickets for the main tournament of March from 888 Poker - Superstorm Main Event. Missions will consist of 3 parts:
Take part in local Spin & Go Blast, spending at least $ 3 on buy-ins;

Make bets on $ 5 with a coefficient of 1.5;

Win with pocket aces preflop on NL5 or higher.
An important disclaimer is that only those individuals who receive an email notification will be able to take part in the 888 Poker Millions Superstorm promotion. A little strange condition, however, can not be helped.
Subscribing to Sharkscope will increase your chances of winning tournaments by 888. And not only those provided by the tournament schedule 888 Poker for Millions Superstorm.