500,000 € in Microgaming Poker's Last Tournament Series
16.01.2020

In May 2020, the long history of the Microgaming poker network will come to an end. This became known a few months before the end of 2019. Nevertheless, the MPN continues to conscientiously approach its duties and is preparing to hold the last in the history of UCOP.
The Universal Championship of Poker Grand Finale kicks off on January 19th. In total, the schedule contains 54 tournaments. The average buy-in is 52 €, but 14 events will be held with entry fees of 10 € or less.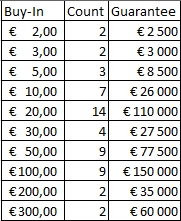 The main tournament of the series from Microgaming poker will be held on February 2. There the buy-in is 110 € and the prize pool is 50,000 €.
Traditionally, a leaderboard has been established for large tournament series. The total amount of rewards in it will exceed 20,000 €. The prizes for the first place are really significant and numerous:
Trophy of the greatest poker player in the entire Universe 2020;

Package for online tournaments with a total value of 3,100 €;

1,000 € in cash.
But that's not all! You will be able to choose an additional prize at your own discretion. You can choose from a package for playing a poker tour from MPN in Madrid worth 1,500 € or a package for playing online for another 1,550 €. You can also opt for 1,000 €.
UCOP-2020 will be the last major tournament series in the history of Microgaming Poker. Given this fact, as well as the massive departure of the regulars after the news about the closure of the network, the chances of a successful performance in the tournament series are significantly increased. You can also subscribe to Sharkscope. She certainly will not be superfluous!