GGPoker 5M$ Omaha Tournament Series
28.06.2021

The Good Game Network (GGPokerOK, BetKings) did the impossible a couple of weeks ago - knocking PokerStars off "its fucking roost" and taking the first place by the number of players. Without a balanced approach to poker disciplines, success would hardly be possible. Running an Omaha tournament series is one of the elements of GG's policy. Let's talk about the new Omaholic Series.
Key facts about the Omaholic Series
The total prize pool for the MTT Series in Omaha will be $ 5,000,000. The Omaholic Series will run from June 27 to July 4. Other significant facts:
As part of the series, all daily PLO tournaments will run with increased guarantees.

Participation in the Main Event with $ 400,000 guarantee will cost you only $ 52.5. The main event of the series is split over several in-game days.

A new discipline called "No Limit Postflop Omaha" will be tested at the Omaholic Series. It is possible that the designation "new discipline" is a slight exaggeration, because the only difference with PLO is that you can go all-in on the flop without any Pot-Limit restrictions.
The most interesting tournaments of the series are presented in the picture: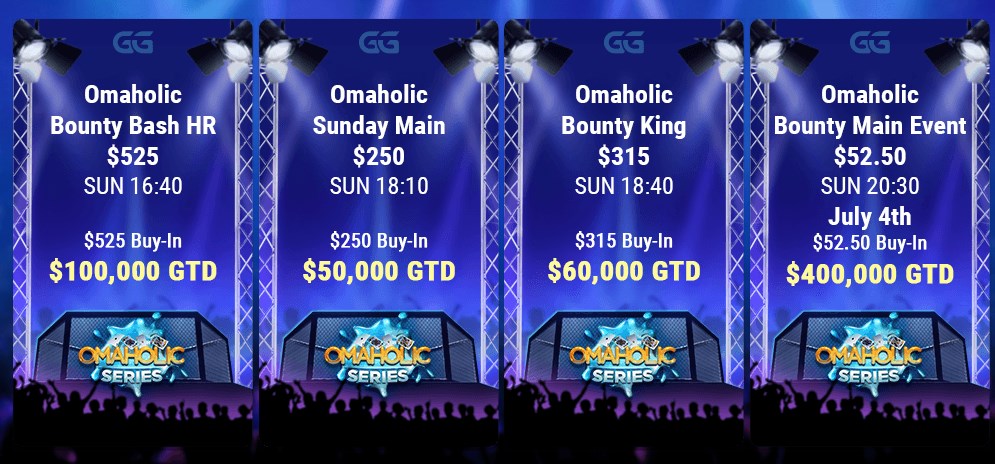 How to get any PokerEnergy poker software for free?
If you want to get a poker tracker, solver or an annual subscription to Sharkscope, but do not want to spend your bankroll on it, then there is an alternative: register in the partner rooms of PokerEnergy, play and get poker programs for free!