SCOOP 2020 Record Series Knocked Out!
02.06.2020
The largest SCOOP in Pokerstars history ended spectacularly a few hours ago. Tournament series for $ 135,000,000 ended by Sunday Million. According to a new tradition, the main PS tournament consists of several gaming days and ends on Tuesday. We'll talk about its results today.
Battle of Canada and Finland at HU Sunday Million
The prize pool of the last spring Sunday Million was a decent $ 3,080,900. Half the buy-in of $ 109 went to the tournament prize pool, the second in a progressive bounty. In total, 30,809 entries were recorded in SM. Note in the top 10 of the Pokerstars tournament the presence of 4 representatives of the United Kingdom at once.
The first place went to the player from Canada under the nickname "snake8484". He won an amount of $ 196,818. The graph from Sharkscope demonstrates that he did this clearly not due to a fortunate combination of circumstances.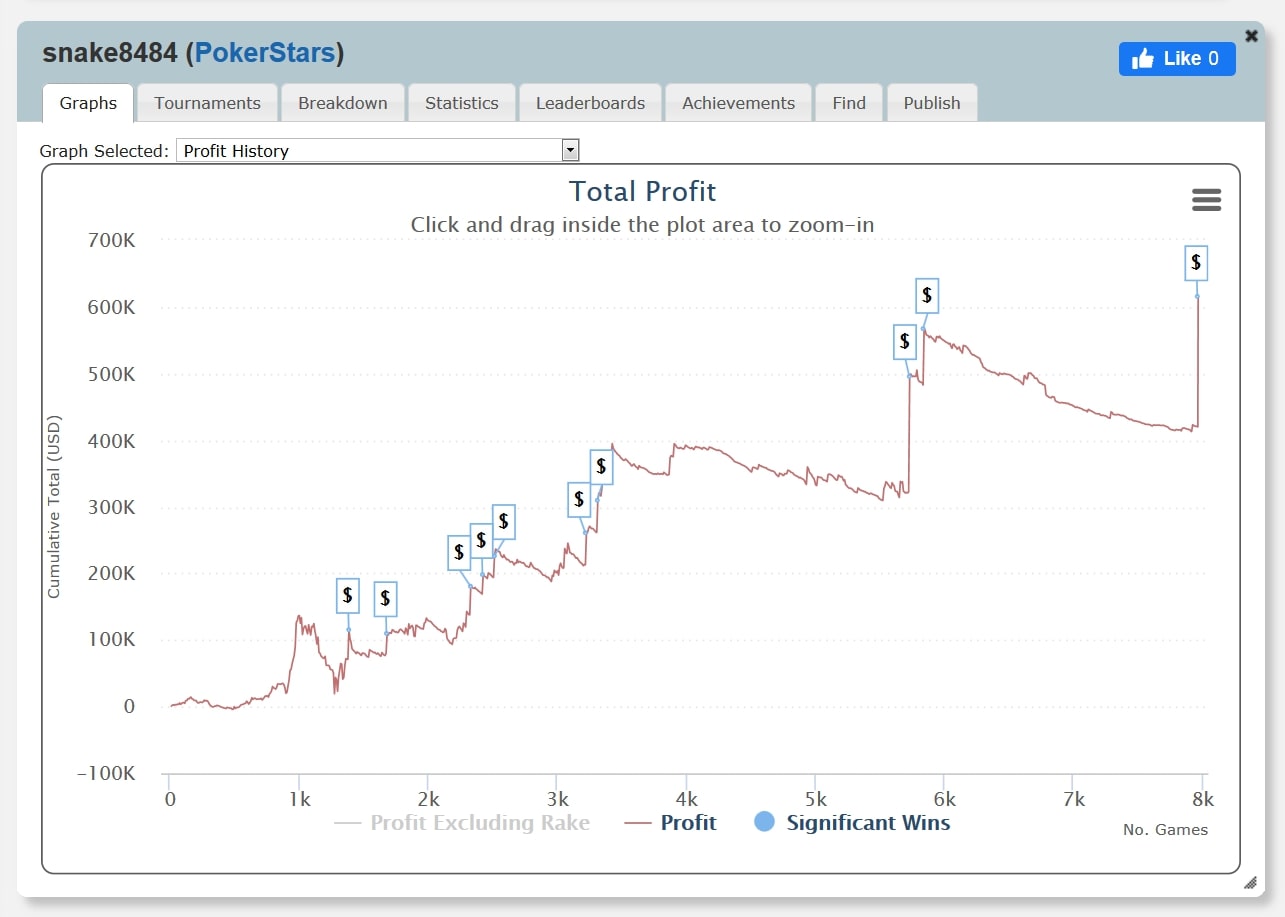 Moreover, he had already won Sunday Million before. There are not many people in the world who have managed to do this more than once. A previous victory in the main tournament of Pokerstars brought him $ 175,782.
His opponent in the final got a slightly more modest sum - $ 136.761. His statistics from Sharkscope also show that he is a professional player, albeit less sophisticated.


Another major Sunday tournament was SCOOP-121-H. His prize pool was a little more modest - $ 2,439,000. This tournament was also held in progressive knockout format.


The evening's triumph was played by the players under the nicknames "b@d0s" and "AtanasPPP". At the final table, they made a deal, according to the results of which each got $ 153,477. B @ d0s, as the winner of the final duel, received $ 1 more.
We can't attach the schedule of the winner of the tournament - it is closed from search. If you also wish to close Sharkscope at Pokerstars from prying eyes, we recommend that you use the instructions.
How to get Sharkscope Silver for free?
Despite the fact that SCOOP has just ended, new tournament series will soon begin. To win a poker tournament, you must mobilize all available resources and use all available information. Sharkscope poker service has long been recognized as one of the most useful decision-making tools. 5 free searches per day will help you evaluate its capabilities yourself. PokerEnergy is currently hosting a promotion where you can become an owner of a Sharkscope Silver subscription for free. A six-month subscription is a gift for purchasing an annual subscription to Hand2Note.