4 promotions for grinders in January - shock start from Chico Poker
03.01.2020
As of the beginning of the year, Tiger poker and other rooms of the Chico network are not doing very well: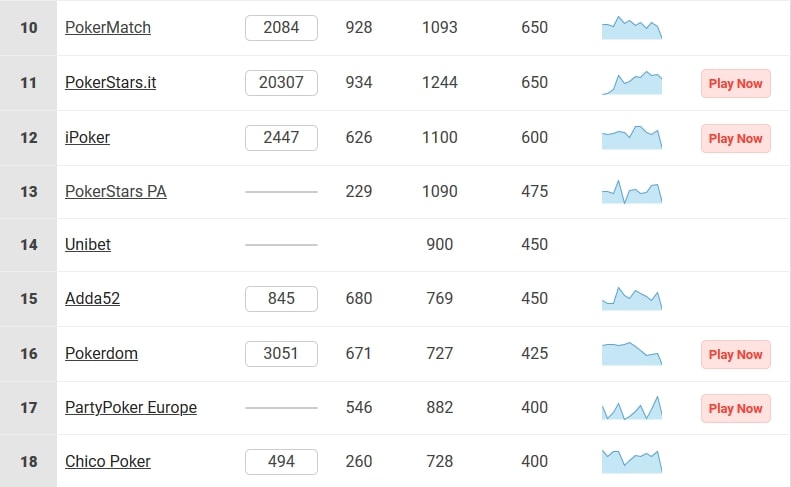 It's hard to call the current 18th position in Pokerscout a success. However, the leadership of the network clearly intends to change the situation for the better - 4 promotions for regular players is a serious bid for success!
$ 5,000 Iron Man

The first promotion will interest grinders. The entire prize pool will be distributed among three players. For the first place $ 3,000, for the second 1,500 $; the third will bring only $ 500. The winners will be determined based on points. One point will be given for each flop viewed, two points - for each showdown seen. A wide field for "phones".
$ 10,000 High Hand Weekly Leaderboard

Please note that you must register yourself to participate in this Chico Poker promotion. Go to the "My Missions" window and activate "Opt In".
Perhaps the most profitable promotion for grinders. First, prizes are distributed among the first 100 players. Secondly, the competition is weekly, that is, every week a prize pool of $ 10,000 will be played again. Points are given depending on the strength of the collected combination.

Interestingly, the fact of the assembled hand is enough. You don't need to go to showdown. Points are awarded equally regardless of the limit being played.
The $ 2,000 Weekly Missions and the $ 5,000 Monthly Mission

Important: registration with "My Missions" and "Opt In" is again required.
Each week, you will be able to complete simple missions and qualify for free Tigergaming poker tournaments with decent prize pools. Depending on the number of completed missions, your stack will grow. If you completed 3 missions, then you will start a freeroll with 2,500 chips, and if you manage to cope with all five, then your starting stack will be 10,000 chips.
The tasks are quite simple and straightforward:
See 100 flops at any cash tables;

Get a pair of pocket jacks and go with them to the showdown;

Collect flash from flop twice.
If you succeed in coping with most missions, then at the end of January you will be able to take part in the $ 5,000 freeroll.
To increase the chances of winning any of the new Tigergaming promotions, you will need a poker tracker that works properly. Features of the network software Chico poker necessitate a special Chico Converter. Without it, you cannot use your PokerTracker 4 or Holdem Manager 3 during the game.
Convenient layouts for Tigergaming and other poker rooms of the network will make your game more comfortable.