PokerKing's Bomb Pots - New Cash Game Format!
01.06.2020

PokerKing and the rest of the Winning network have safely survived the most difficult months of 2019. They were difficult due to the transition to a new platform. Changing software is always accompanied by various problems and bugs. But the number of problems at the Wining Poker Network easily exceeded the average of all poker networks. However, the worst is left behind and the network is now improving its software on a regular basis. The last significant update was the addition of the Chinese language and the translation of the stacks in the big blinds. Today we'll talk about the latest news - "Bomb Pots" tables.
What is the difference between Bomb Pots and regular cash games?
Beginning June 1, tables with a special icon have been added to the PokerKing client's lobby. Determining what this icon is when viewing the lobby is not a trivial task, but the advertising windows at the bottom will help clarify the situation. This icon indicates the cash tables where special banks will be randomly played during certain hours. These banks will be formed from the bets of absolutely all the players at the table. There will be no preflop phase in these hands. In total, such hands will be played up to 4 per hour within Happy Hours. By the way, within this time, Bomb Pots will also occur at tables without a special icon.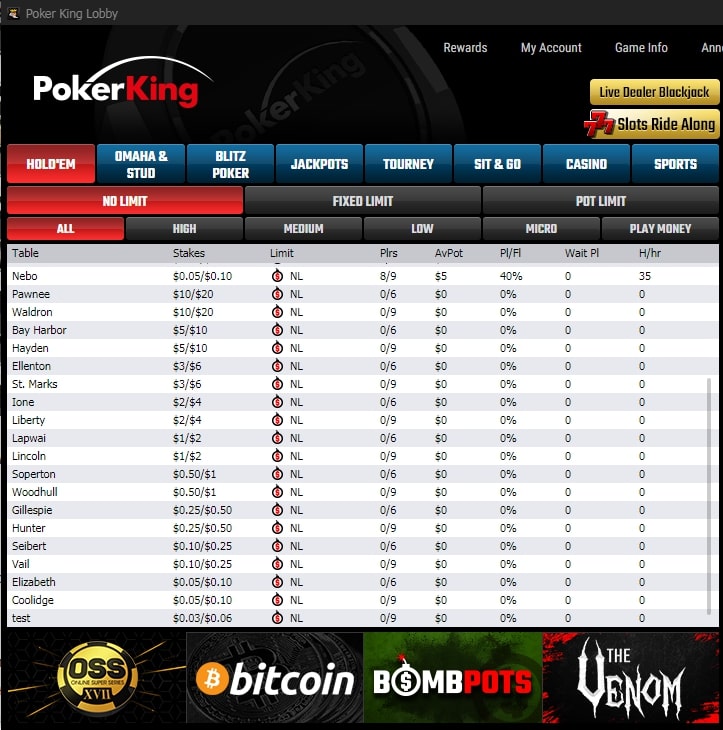 Additional information about Bomb Pots at Pokerking:
Starting from the flop, the game returns to its usual course and trading on the flop follows the rules of No Limit Holdem;

For 9-max tables, the mandatory rate is 2bb, for 6-max tables - 4bb;

At tables with a special icon, 4 hands per hour will be played stably, and without it, up to 4.
This innovation is aimed at stimulating the activity of players in the struggle for large random banks. It is possible that Bomb Pots will find their audience among recreational players. Naturally, such hands will increase dispersion due to the huge number of players in the bank and their general unpredictability.
WPN Tools Lite for PokerKing
If you want to try the new Bomb Pots tables at PokerKing or just intend to play on the Winning network, we recommend that you pay attention to the poker program WPN Tools Lite. Its purpose is to facilitate the game at several tables simultaneously. A number of useful functions will help you with this: automatic arrangement of tables on the screen of your monitor, increase in fonts, profiles with rates, hot keys, blocking pop-up windows of the lobby of the client.
WPN Tools Lite has a free trial for 30 days with no limits. It can be downloaded from the official website of the developer.