Heads-Up Display or HUD in poker. What do you know about him? What is the HUD for when playing poker?
12.05.2018
Let's talk about such a vital thing for everyone, even a little professional poker player, like HUD, which stands for Heads-Up Display. This term has many meanings in different spheres of human activity, but today we are interested in HUD precisely in relation to the game of online poker.
There are various programs for mobile phones that provide their own HUD when playing at real tables, but we recommend that you use them only if you are a thrill-seeker or you are already tired of sitting in a casino, but getting up and leaving is just too lazy. Just turn on this program for a few minutes, let your opponents familiarize themselves with its contents and be sure that assistance in expelling you from the territory of the gambling establishment will be provided immediately).
What is HUD?
---
In short, a HUD is a digital signature of your opponents' playstyle. Just by looking at the right numbers, you can immediately determine what kind of opponent is in front of you
---
How many hands does he play preflop, how many of them limp, and how many raise, how often does he 3bet or fold to him. This data is taken from your hand history, which the poker room saves in a separate text file on your PC. In order to convert this file into numbers, special tracker programs are used (from the word track - to track, track). The most popular and advanced at the moment are Holdem Manager 3 and Poker Tracker 4. The price of these programs starts at $ 59.99.
You can also use a ready-made hand history in which you personally did not participate. This process is called "datamining" and is prohibited by most poker rooms, so if you decide to use it, then be sure that you have followed all the precautions - the punishment from the security service of your poker room can be very severe.
What is a HUD for?
---
"Know your enemy and know yourself, and you will be able to fight a thousand battles without defeat." This quote from the great ancient Chinese strategist and thinker Sun Tzu, the author of the famous treatise "The Art of War", is the best fit to answer the question in the title
---
When your opponent is served to you on a platter as dry numbers and "ready to eat," it's much easier for you to make decisions. Especially in those spots that are the most expensive: 3-bet, 4-bet pots. For example, if the HUD indicates that your opponent is 3betting 2-3%, then you might wonder if it is worth 4-betting against him with your AK. The maximum that shines for you here is to split the pot against the same AK. There are many such examples and there is no point in citing all of them. To summarize, a simple phrase: playing with a HUD is much more profitable than playing without it.
What are types of HUDs
Now let's go over the types of HUDs. There is no established classification, but we can divide HUDs into "factory" (aka default) and custom ones.
The factory ones are those that come with the tracker program. They are not the worst, and are quite suitable for beginners. Typically these HUDs have a standard set of metrics such as VPIP, PFR, 3-bet, street cbet metrics, WTSD, and W $ SD. There are some advanced factory HUDs with more advanced stats, but they leave a lot to be desired. We recommend that if you are a new player, start using the statistics for the default HUDs. A typical default HUD looks like this: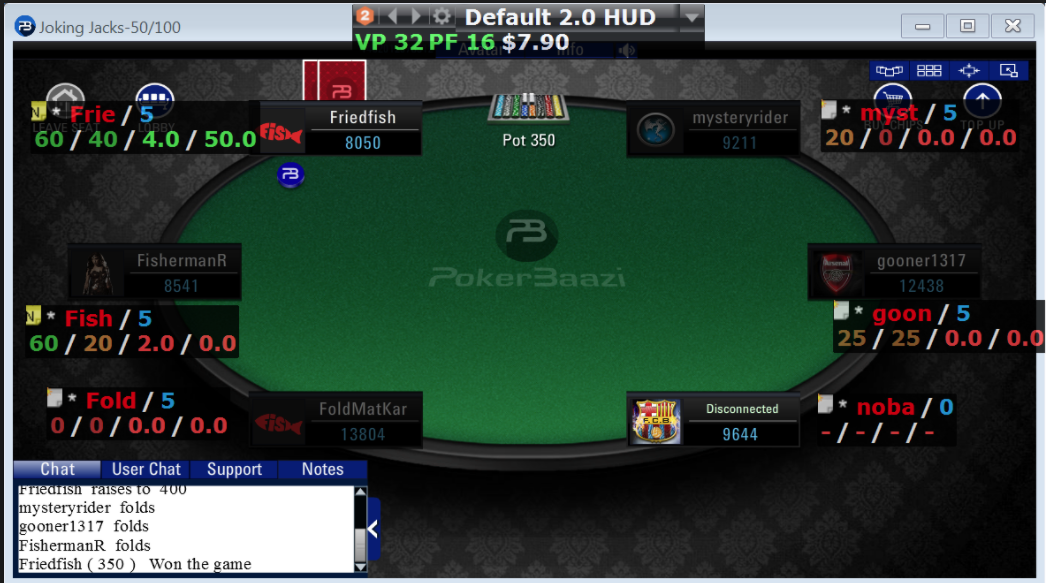 Now let's go through the custom options. You should go to them when you begin to understand that for making quick decisions in situations that are repeated very often, you already lack the statistics that are presented in the default HUD and you constantly have to look for this information in pop-ups, which naturally takes away the time that lowers your hand / hour. You can make custom HUDs yourself, or you can buy them complete with custom pop-ups. The custom HUD is easy to distinguish from the default one, since most often it is several times larger, divided into several panels and has a variety of colors. Here are some typical examples of custom HUDs: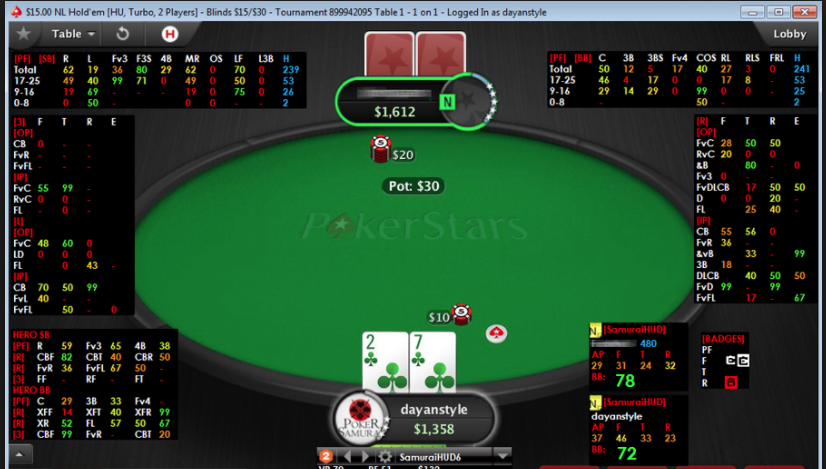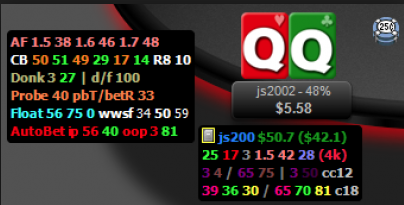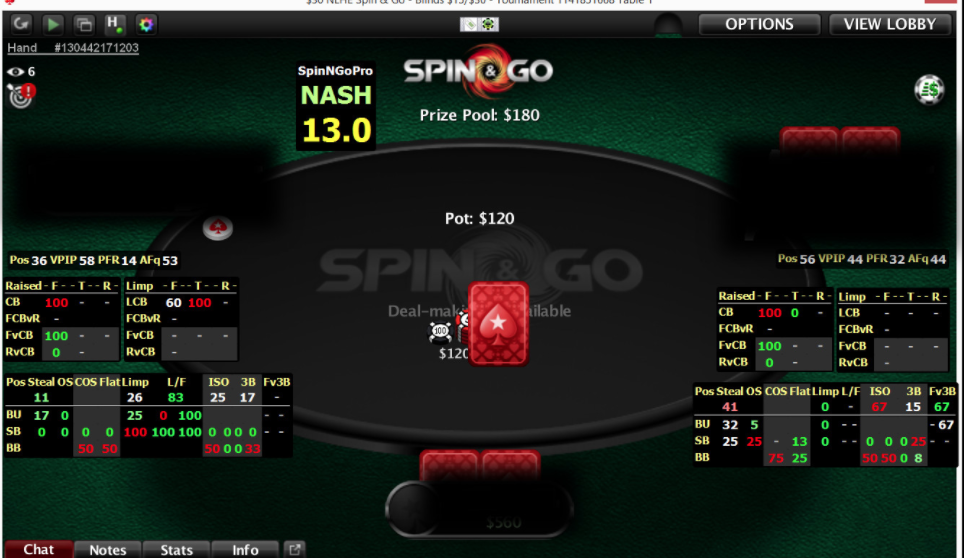 It looks cumbersome, but if you are a professional player, then without it it will be difficult for you to face advanced opponents. Or you will spend a lot of time making decisions, which is not conducive to calm and measured grinding.
Which custom HUD to choose for yourself
There can be no consensus here, as it depends on what discipline you play, how many tables, the number of players, and even what monitor size you have. We can only give a few guidelines for creating and placing a HUD on your screen:



Don't oversaturate the HUD with statistics that you access once in 100 hands, otherwise you simply won't have enough monitor diagonal to accommodate everything;




All, infrequently used stats, send to pop-ups. The main thing is that you know where they are and can call them with one click;




there are hardly a few of them. And playing in single-pot and multi-pot are two big differences; Never cover your opponents' cards with the HUD, it can be fraught with unpleasant surprises when you think that you are playing against one opponent, but in reality




Also, do not overlap the notes icon with the HUD, if you are writing them, of course;




Do not under any circumstances cover the indicator of your opponents' stack size with the HUD, playing in deep stacks requires fundamentally different decisions at all stages of the distribution;




Try to spend a little money and buy a custom layout for your poker room. It is made specifically to accommodate large custom HUDs more comfortably. Nothing superfluous, just all

the necessary buttons and information, all the rest of the space is given to your imagination;

Be sure to make the HUD from several panels, this will allow you to more compactly surround the statistics of each individual player, without cluttering the screen with one huge panel. Here's an example of a perfect HUD placement: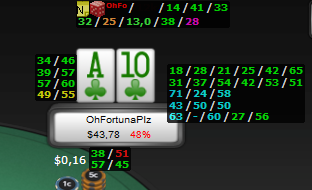 As you can see, all statistics are placed as compactly as possible and at the same time none of the important attributes that we wrote about above are covered: the player's cards, stack size, and the note icon, if there was one. At the same time, statistics are more than enough and there is still a lot of room to add.
What programs can help?
Here is a list of some useful programs:
Spin HUD is a HUD for Spin & Go and Jack Pot tournaments;
SpinCoin is a HUD for Hand2Note poker tracker.
NoteCaddy Edge - ready HUD for cash games with a lot of useful settings.
NoteCaddy Protools is a professional collection of notes / stats and popups for all disciplines.
Chande My HUD is a fully automatic PokerTracker 4 HUD switching tool for Spin & Go on PokerStars or Twister on iPoker.
You can choose a HUD for Holdem Manager 3 or Hand2Note in our HUD catalog​