How to choose Poker Chips?
20.06.2020
"How to choose the right poker chips?" is one of the first questions asked by a poker fan who wants to play "live". On closer examination, it turns out that making the right choice is not an easy task. Often the answer to the question depends on the purpose for which you want to buy poker chips. If you are tired of playing online and you want to play live poker occasionally, then simple and uncomplicated poker accessories will suit you for infrequent gatherings. To play poker regularly, you need to choose the highest quality and durable option. And some enthusiasts collect playing chips at all, and, therefore, are interested in purchasing them individually.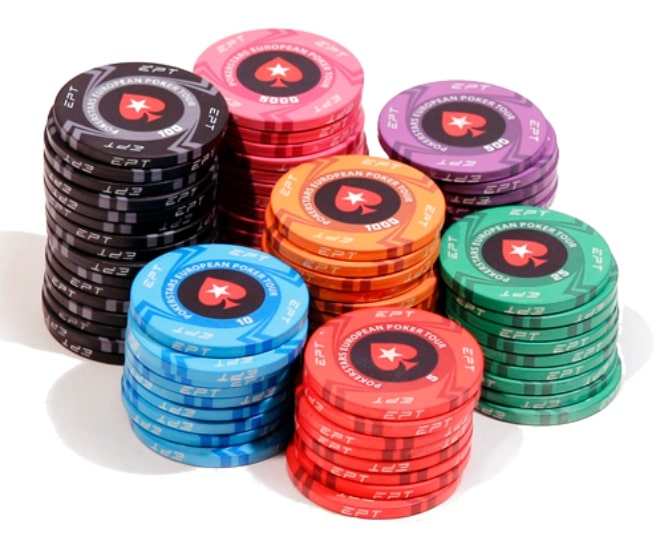 For the right choice of poker chips you need to take into account a wide range of characteristics:
Amount;

Material;

The presence or absence of face value;

Weight;

Design;

The size.
Let's consider each aspect separately. This will help you find the right set and avoid common mistakes that can spoil a live game with low-quality accessories. But first, let's answer the question: "Is it possible to play poker without chips?"
0. Why do you need poker chips?
Poker chips act as a universal unit of account. They perform the same functions as money in trade. Based on these two proposals, a logical idea arises: "Why not get along with money instead of chips?" After all, this will save a decent amount on playing chips. And why didn't the creators of poker just think about it?

However, if you were even slightly interested in the history of poker, then you know that initially no chips were used in the game. In Texas, the homeland of No Limit Holdem, not only money was placed, but also gold bars, animal skins, weapons and even horses. The lack of a common denominator led to real chaos and constant quarrels due to confusion. Who won, who lost, where is whose bet, whether the losing opponent paid his bet. Often it all ended with duels from classic westerns.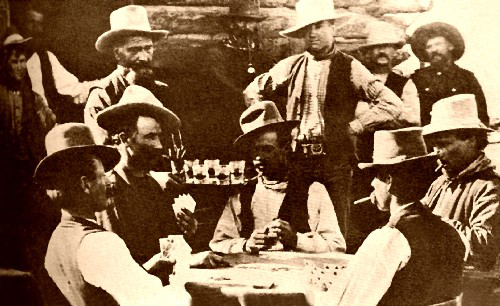 After some time, the managers of bars and other entertainment establishments came up with a great idea - to introduce the exchange of money for chips for players. A miracle happened - quarrels and squabbles stopped and relative order came. We can safely say that the introduction of chips saved dozens of lives.

There was no centralized production of chips two centuries ago. Therefore, poker chips were made by hand from scrap materials. Various gambling houses used chips made of wood, metal and even bones. It's funny that the absurd and primitive chips of that time are now estimated by collectors at thousands or even tens of thousands of dollars.

Soon, the new value of chips for game organizers was revealed. People at the table were much more willing to part with abstract chips than with real money. Simple psychological trick and no cheating! This fact has become an additional advantage and argument of poker chips.
1. Quantity
How many poker chips you need depends on the estimated number of players in your games. If you are going to play poker in a company of 3-4 people, then you definitely do not need to order 1000 tokens. It will be enough to purchase 200-250 chips.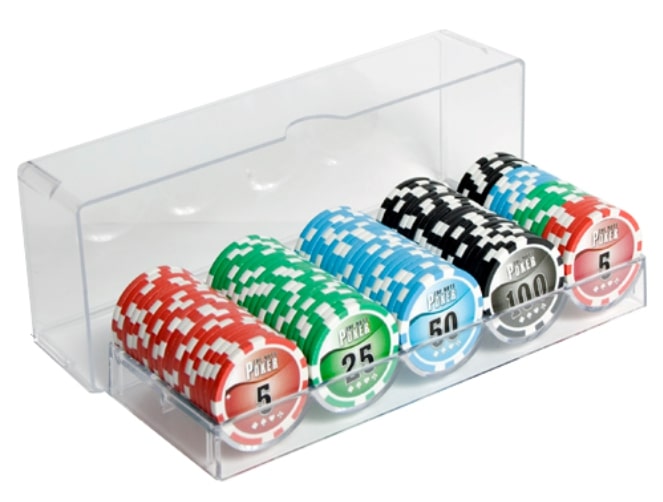 Based on a simple calculation: for one player you need 50-60 poker chips for a comfortable game. Here are other values ​​depending on the number of players:
| | | | | |
| --- | --- | --- | --- | --- |
| Number of players | 2 | 4 | 6 | 9 |
| The number of chips | 100 | 200-250 | 300 | 500 |

Naturally, no one bothers you to order a set with a small margin. This will allow your home games to be more versatile. And the number of players may increase over time.
2. Material
One of the most important criteria when choosing a chips. Poker chips come in:
Plastic;

Composite;

Ceramic.
The simplest and cheapest material is plastic. Everything is traditional here: low quality is compensated by availability. If live poker is a one-time promotion for you, then plastic chips would be a good option. If you plan to arrange home games on a regular basis, it is better to pay attention to other types. Plastic is subject to wear and if used frequently will quickly fail.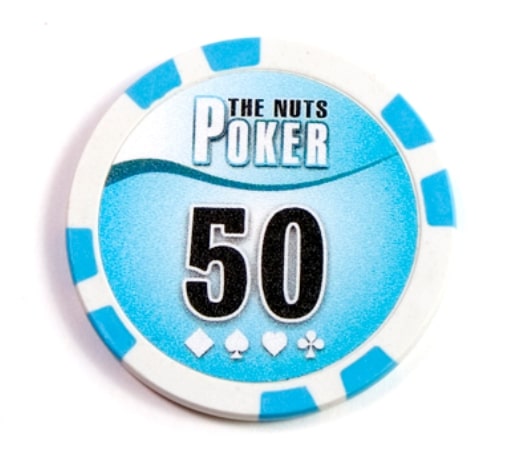 Another significant drawback is that it is not possible to build spectacular piles from cheap plastic tokens, as in professional poker tournaments or in Hollywood films. Let's not forget about the special sound that can be heard during the game. An ordinary plastic chip will not have such a sound because of its lightness.
Composite chips differ from plastic ones by the presence of a weighting agent inside. Despite the fact that such sets are also made of plastic, the quality of the material here is significantly higher.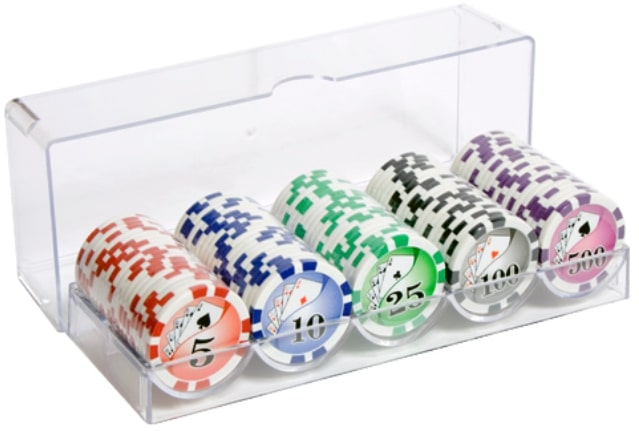 In poker there is a universal rule about tokens: "The heavier the chip, the more expensive and better the material from which it is made." Composite sets with metal have a well-balanced price-quality ratio.
Ceramics are the most expensive material for poker sets. It is enough for a poker fan to hold such a chip in his hand for only a few seconds in order to understand all its charm. To the touch they are nicer and more solid than plastic and composite options. Ceramic poker chips are used in casinos.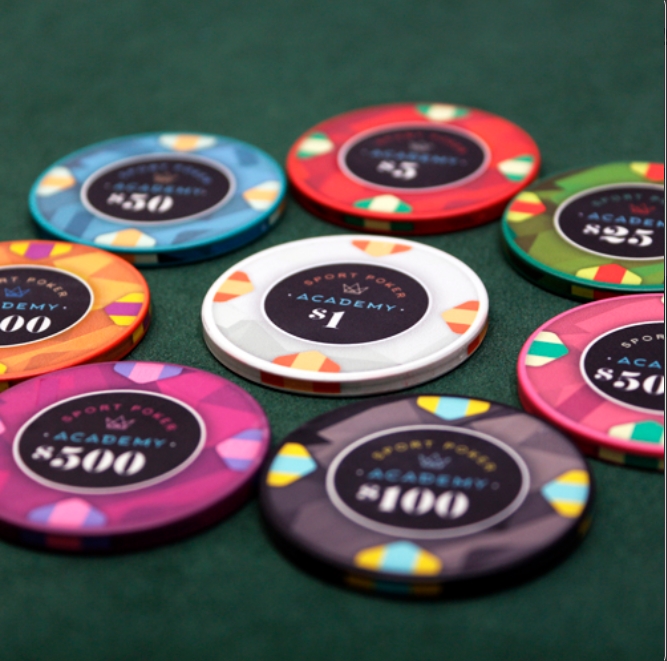 They are considered to be professional poker chips. For home games, ceramic tokens were considered too expensive, but in recent years, many poker connoisseurs do not skimp and are willing to pay a high price for excellent quality. When playing poker with a ceramic set, an additional condition is required - real poker cloth. Only this combination will allow you not to worry about the rapid wear of the ceramic set.
Summary: Composite chips are the best combination of price and quality; we recommend that you choose them. More expensive ceramics are suitable if you plan to completely recreate the atmosphere of professional poker.
3. With or without nominal value on the chips
Poker chips can be with or without par value. Nomination refers to the value of a particular token, indicated by a number on it. Counting and playing with a set with digits is much more convenient and simple. You will not need any additional knowledge, except for basic skills of addition and subtraction. It will be much easier for a beginner to play with clearly marked stacks.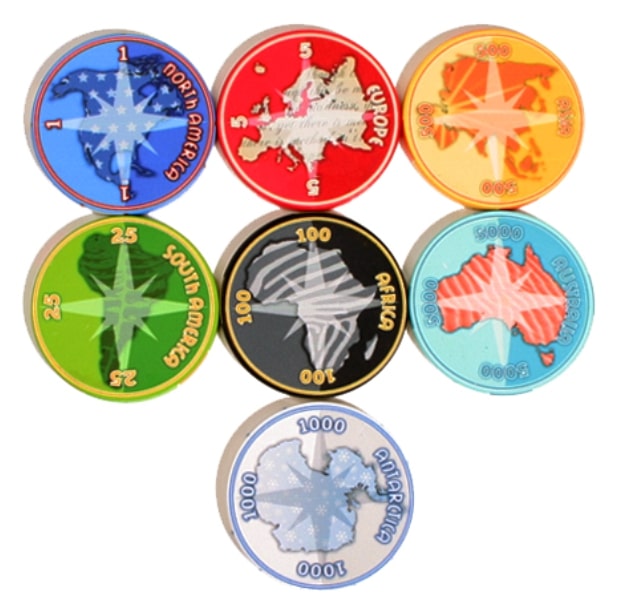 Poker chips without a face value are not so common, but they also have their supporters. At first glance, the meaning of such sets is not too clear. Indeed, the bet during the game, sounding like "I bet 2 red and 3 yellow chips" obviously does not set up for a serious and professional mood.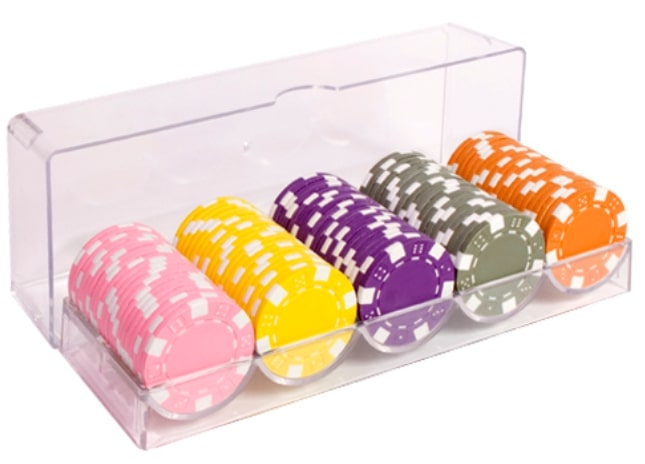 In fact, there is a generally accepted distribution of poker tokens in value depending on their colors. This is a feature of professional casino poker. The most popular and common combination of colors and denominations looks like this:
| | |
| --- | --- |
| Color | Denomination |
| Red | 5 |
| Blue | 10 |
| Green | 25 |
| Black | 100 |
| Purple | 500 |
| Orange | 1000 |

A significant advantage of poker chips without denominations - you can independently agree on the value of each of the colors. This will circumvent restrictions when playing in a tournament format or with deep stacks. The obvious drawback is that it will be more difficult for beginners to understand and have to clarify the denominations of knowledgeable players.
Summary: Give preference to the option with the denominations. The less organizational difficulties during the game, the more enjoyment from poker!
4. Weight and size
The generally accepted weight of a good poker chip varies from 10 to 14 grams. Lighter ones are valued less than their professional counterparts with a larger mass. Due to the iron insert in composite tokens, their mass does not differ from ceramic poker chips. A significant drawback of lightweight plastic is their instability. But with good chips, mass can paradoxically become a negative factor. If you are arranging a big game at a full table of 9-10 players, then you will need 500 tokens for comfortable poker. Using simple mathematical calculations, we conclude that the weight of the set will be from 5 to 7 kilograms. Now, with the statement "Poker is a sport" you can't argue!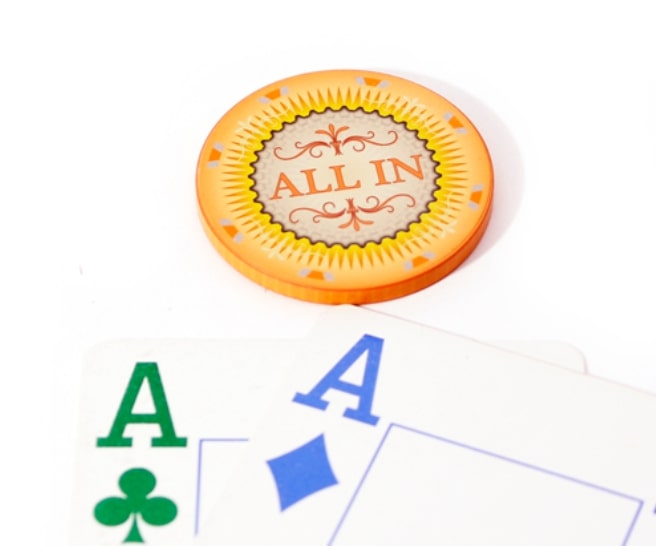 The size of poker chips is standardized. In the vast majority of cases, the diameter of one chip is 39 millimeters. By order, the manufacturer can make a set with a diameter of 43 millimeters. Be careful and do not ignore the diameter of the chips if you decide to purchase a poker set separately: not all cases will fit both diameters.
Summary: The optimal chip weight for poker ranges from 10 to 11.5 grams. The usual diameter of a poker token is 39 millimeters.
5. Design
The most subjective category when choosing a set. When choosing a suitable option, we recommend that you pay attention to the differences between the chips inside one set. If the chips of different denominations are decorated in similar colors, this can be very inconvenient and cause difficulties when choosing bet sizes. Instead, you risk putting an overbet on the river that will surprise not only your rivals, but also yourself.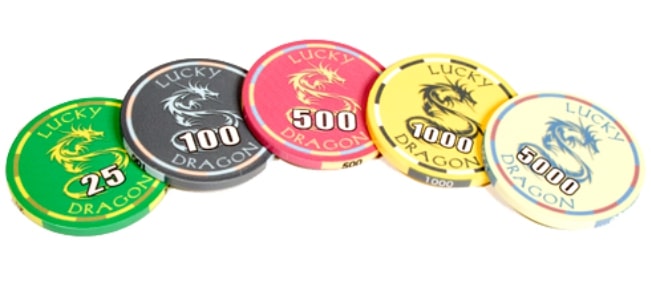 Another criterion is the quality of the images on the set. The worst option is cheap stickers that peel off very quickly and poker accessories lose a significant part of the gloss. If you have such an opportunity, then check the quality of the sticker with a nail or some sharp object. The ideal way to get tokens is to use a hologram. They will remain attractive even with very active use for many years.
As in the case of choosing a deck of cards to which we devoted a separate material, many poker fans prefer tokens identical to those used in professional poker tournaments. Ceramic chips with EPT design are an absolute favorite with this approach.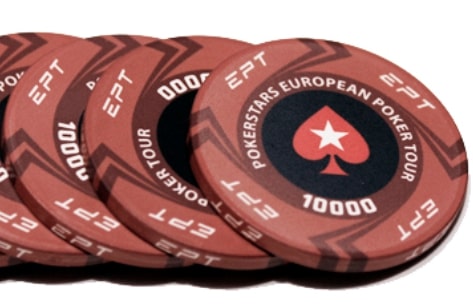 Conclusion
The key factors when choosing the right poker chips are the number of players in the planned live games and the material. We recommend buying a set of 300 tokens made of composite material. If you are serious, then instead of plastic with a weighting agent, give preference to more expensive ceramic poker chips. The option with the face value is much more convenient, so let's stop the choice on them. Non-face value poker chips will slow down the game.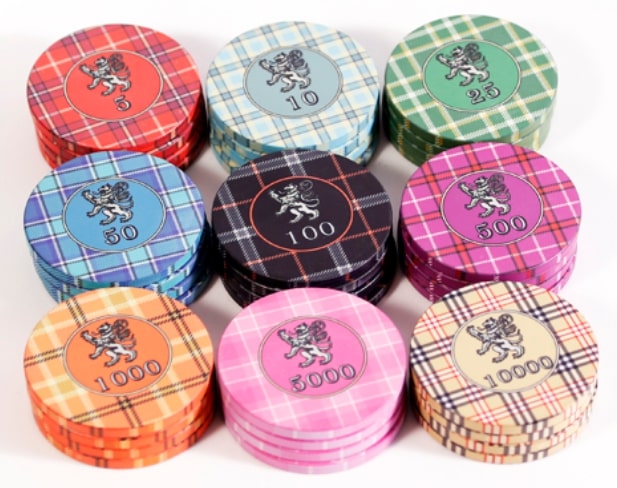 Solid poker chips weigh from 10 to 14 grams, and their diameter is 39 millimeters. On the poker series, tokens with 43 millimeters are sometimes found, so this is also a good choice. When choosing a design, make sure that chips of different denominations are not monophonic, and stickers are of poor quality. Better without any stickers.