How to choose a poker cloth: color, material, size, manufacturer and other criteria.
15.10.2020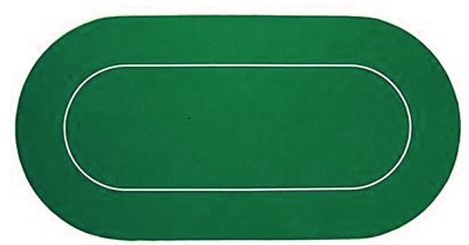 Many fans of the "live" game are sure that the cloth for poker is not so important. They always have chips, decks of cards and a good campaign in the foreground. However, experienced and advanced poker players will unanimously tell you that the role of poker cloth should not be underestimated. A practical argument in favor of careful selection of the playing surface is the wear and tear of those very expensive ceramic chips and professional playing cards.
If you play poker without a cloth, then get ready to quickly spoil the elements of the poker set, and then to spend money on new cards or chips. Expenses that you could easily have avoided with a more comprehensive approach to organizing offline poker. In this article, we will look at how to choose the right cloth for live poker.
The main criteria when choosing a cloth for poker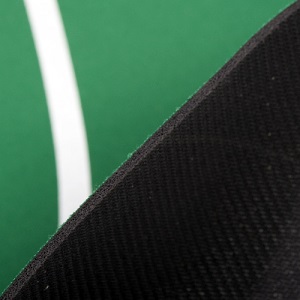 There are two main approaches to choosing the right cover for your poker game: aesthetic and practical. Ideally, approach the matter in a balanced way and consider both factors. The poker cloth must be durable and not lose its features. Moreover, it was for practical reasons that the tables in gambling houses and casinos began to be covered with a special cloth. This made it possible to extend the life of poker cards and chips. Cloth was especially important for chips, because in those years they were not yet produced centrally. That is, constant spending on new tokens cost a pretty penny.
Here are the factors you should consider when buying poker cloth:
Material (fabric);

Size;

Color;

Design;

Manufacturer.
1. Material for poker cloth
At first glance, with a poker table cover, everything is extremely simple - you take any green cloth, put it on the table and the place for poker is ready. A poker room with a local flavor and big savings. In fact, the role of the material is of paramount importance. The wear rate of the entire poker set is in direct proportion to the table cover. Agree, it's not too smart when a person spends a lot of money on a good set of ceramic chips and poker cards, and then uses them in destructive conditions. It's like buying an new iPhone, but switching apps with a toothpick. With predictably sad consequences for the touchscreen device. Exactly the same story can happen with your poker set without a suitable cloth.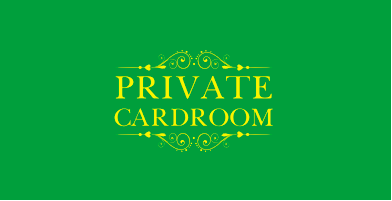 The main guideline when choosing a poker cloth is professional casino table coverings. The explanation is simple - if the fabric can withstand the daily impact of many players, then with a leaner home approach, the coating will last almost forever. After all, drinks regularly get on the poker fabric in casinos, ash falls and other unpleasant things happen. Nevertheless, the poker cloth will last for years and will not deteriorate.
Most often, professional cloth is made from wool or synthetics. The ideal option is to add a Teflon layer and a special impregnation for the fabric. It is due to the latter that it is possible to achieve a water-repellent effect. Despite the higher cost, such coverage will soon pay for itself. The poker cloth is cleaned with a special brush, but if necessary, it will withstand water procedures in a washing machine.
When choosing options, pay attention to the sliding of the cards on the surface. If the cards do not slide at all on the surface of the felt, then there is a great risk of rapid wear of cards and chips due to the erasing of the designations on them.
2. The size of the poker cloth
When choosing the size of the poker cloth, it is worth starting from the number of players in your company and the size of the table. For playing Heads Up or a small company up to 6 people, the minimum option is enough. However, if you are planning to make the game of poker a good tradition, then it might make sense to immediately purchase a cloth for 10 people. For growth. The most common poker rubber sizes are:
100x70 cm - ideal for 3-4 people;

140x100 cm - good option for Short Handed (6-max);

180x90 cm - suitable for 9-max;

250x130 cm - the largest size for a comfortable game with a large company. There is a separate place for the dealer.
Many manufacturers offer a personalized approach - you can order a custom poker cloth based on the size of your playing table. You can also change the markings or apply your own logo when ordering.
3. Color of cloth
The choice of color for the poker cover depends on your personal preference. There is no official standard to be strictly adhered to. The most widespread is green fabric. Most often it is dark green. It is considered a classic in poker cloth. When choosing a color, they are guided by two characteristics:
How the cloth fits into the interior of the room where the poker will take place;

How much the eyes get tired from the color scheme of the coating.
We do not recommend stopping your choice on bright and acidic colors.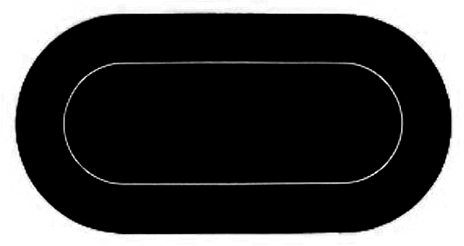 When playing poker for a long time, a bad fabric color can have a negative impact on your eyes and general condition. Eye fatigue will lead to headaches, and it will be incredibly difficult to play the best poker with it. And if everyone's eyes and head hurts after a few hours at the gaming table, then live poker will quickly lose popularity among your friends. Agree, if it is possible to avoid such far-reaching consequences simply by choosing a dark green or dark blue cloth for poker, then this is worth doing. Even if you've always dreamed of playing No Limit Texas Hold'em on a bright pink table with orange splashes.
4. Poker cover design
When choosing a cloth, you should pay attention not only to the color of the coating, but also to its design. The key requirement is the same as the previous point - no annoying and screaming inscriptions and designations. The most common are 2 design solutions:
Complete lack of decoration - you just play on fabric of a certain color;

Marking with clear numbering of players' places and delimitation of the space between them.
At your request, manufacturers can put the name of your poker room or other inscription on your cloth.
5. Are there any established poker cloth manufacturers?
A simple analogy - in the world of high fashion, buying clothes from Dolce & Gabbana, Yves Saint Laurent or Chanel automatically means the highest quality and prestige. Are there equally well-established and recognized manufacturers of poker felt? In short, no. There are no secret technologies or sophisticated solutions in the creation of poker cloth. Therefore, both local and foreign companies can produce a quality product. Chasing Italian poker cloth is definitely not worth it. You will only spend more money without gaining any benefits.
Conclusions
The poker cloth is not only a nice addition to the atmosphere and interior of live poker. It also plays a very mundane role — it keeps the elements of your poker set (chips, cards) in good condition. Therefore, it is necessary to approach the choice of table cover with special attention. The best option is a two-layer cloth, where the top layer is made of synthetics, and the bottom is made of cotton. Do not forget to make sure the coating is treated with a special water and dirt repellent agent.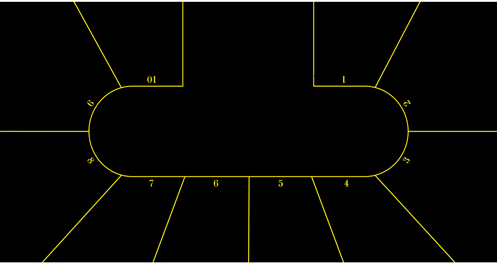 When choosing a cloth color, we recommend choosing a dark green or blue. Take with a small margin in size — suddenly your poker room will gain momentum and become very popular. In this case, you can immediately take a large poker cloth for 10 people. When choosing a manufacturer, read reviews about it or ask friends. If possible, it is better to go on your own and check the quality of the cloth at the manufacturer's outlet. You shouldn't blindly give preference to poker cloth from the USA or Italy: the same approaches and principles are used everywhere. Therefore — why pay more?
If you are thinking about purchasing a deck of cards or chips for poker, but do not know what to guide you when choosing them, then we recommend you our materials about poker cards and chips.