How to choose a poker case: volume, weight, material and other features
20.10.2020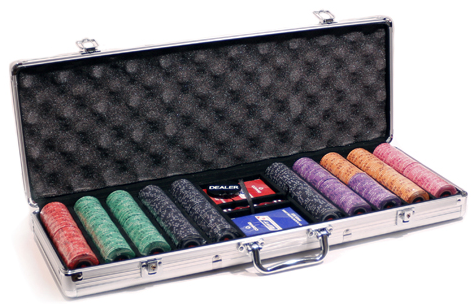 The carrying case is an integral part of the poker set, along with the chips and cards. But, as with any other thing, it can become unusable, get lost, or you just want yourself a more stylish diplomat that better suits your image. The need for a new case for poker chips may arise due to the increase in the number of players. The obvious situation is that you have bought additional chips for comfortable play in a large company, and the new set no longer fits in the old case. You can't afford to shove those tokens that didn't fit?!
Do not discount the option when you are a true poker fan and want to assemble your perfect set. You have already bought excellent ceramic chips, as well as a luxurious deck of cards, but here's the bad luck — they need to be stored somewhere and transported in something. This is where a poker case comes in. But how to choose the right one? In this material, we will analyze all the main criteria that must be taken into account in the decision-making process.
Do you need a case for chips at all?
"Do you really need a special poker case?" - one of the first questions that a player has. Indeed, there are other options for storing and transporting chips:
plastic tray;

tin box;

acrylic case;

wooden box;

leather suitcase.
But each of the listed alternatives has significant disadvantages that a poker case lacks. Plastic trays are usually small in volume (holding up to 100 chips) and quickly deteriorate.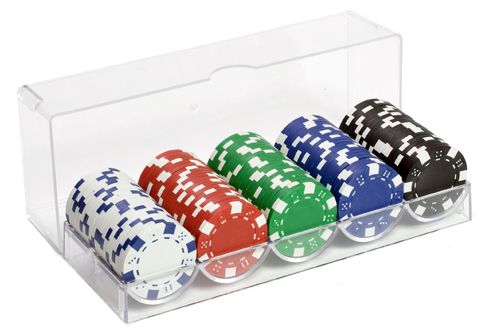 The tin box is used in the cheapest and usually the least quality sets. That is, again we are dealing with an extremely vulnerable storage, often even without a handle. Imagine how uncomfortable it is to carry a heavy tin box all the time. Most likely you will have to look for a suitcase or briefcase for the box itself. "Isn't it easier to immediately opt for something more suitable?" - a rhetorical question.
A leather suitcase looks stylish, but it has one major drawback - a high price. A wooden box is a piece goods, made to order, and therefore also costs a lot.
Metal poker case is the optimal solution for those who like live games for the following reasons:
Provides maximum safety of chips and other elements of the poker set. What's the point of wasting money on expensive ceramic tokens and decks of cards if, when carried in the wrong storage, they lose their appeal or break?
Convenience of carrying. All cases with poker sets have a sturdy and ergonomic carrying handle.
Reasonable price. An empty poker case costs about $ 35-$ 40. The amount is not the most pleasant, but uplifting for true connoisseurs of live poker.
The weight. Even the largest case, designed for 1000 chips, weighs just over 3 kg. For comparison, a wooden box of the same volume will weigh 2-3 times more. This is without taking into account the weight of the chips themselves. By playing regularly, you can become not only the best poker player, but also the most muscular if you use a wooden chip storage.
Representative appearance. With a silver case in hand, you will look respectable and very attractive. Especially in a classic suit.
The main criteria for choosing a poker case
The list of criteria to consider when buying a poker case can be summarized in 5 main parameters:
Volume (how many chips it can hold);

Material;

Weight;

Color;

Manufacturer.
Let's consider each of them in more detail.
1. Volume
Most often, when choosing a suitable option, you should focus on how many chips can fit in it. No one wants to be in a situation where a person first orders a case and then finds out that there is not enough space for chips and they do not fit. The most common cases are for 300 and 500 chips. Perhaps it makes sense to opt for a larger case than you need now. Simply based on the likely increase in the number of players and the corresponding increase in the number of chips.
In case you first decided to buy an empty poker case, and then buy more chips, here is a table with the ratio between the number of chips and the number of players for a normal game:
| | | | | |
| --- | --- | --- | --- | --- |
| Number of players | 2 | 4 | 6 | 9 |
| The number of chips | 100 | 200-250 | 300 | 500 |
Inside the regular case there is a suede cover of the trays, which keeps the chips safe and sound. There are also compartments for decks of cards. Sometimes there are sets with additional elements, such as dice, for them there is also a separate place inside the case.
2. Material
Most often, poker chip cases are made of aluminum. The choice of this material is due to its lightness and not too high price. Case manufacturers are required to take into account the total weight of the diplomat along with the chips. Even if there are only 300 chips in the set (each of which weighs 10-14 grams), then this is from 3 to 4.2 kilograms. Now imagine the maximum set of 1000 chips! Not an easy burden. That is why manufacturers tried to reduce the weight of the case itself as much as possible.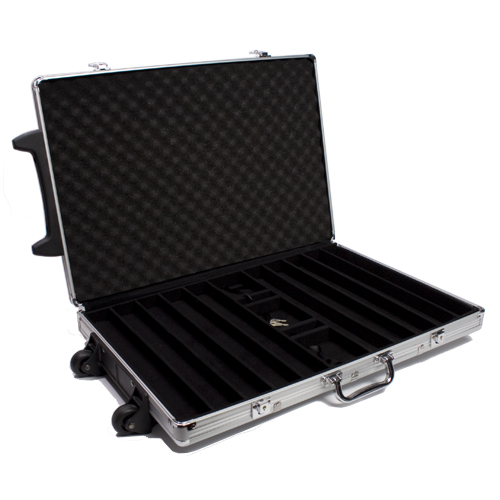 In addition to aluminum poker cases, there are also options with leather. Leather cases are also good in terms of weight, however the price is higher. And in the case of using any VIP materials, such as crocodile leather, the cost of the case turns out to be significantly higher.
Some sets of poker chips do not need a case. A plastic tray is used instead. This approach is typical for small and cheap poker sets. Plastic does not differ in longevity.
3. Weight
In part, the issue of weight has already been touched upon above. The general rule for cases is: "The more poker chips a case is designed for, the greater its weight". This is due to the fact that the counters inside their container are not placed randomly, but in an orderly manner: each token is inserted into a special compartment. This ensures the safety of the poker chips during transport, and therefore their service life.
| | |
| --- | --- |
| Number of chips | Weight (in grams) |
| 300 | 1300 |
| 500 | 2000 |
| 1000 | 3400 |
The size of the case for poker chips is closely related to its capacity, so let's say a few words about it. Here's what the specific values ​​for the size of the cases look like:
| | |
| --- | --- |
| Number of chips | Size (in millimeters) |
| 300 | 400 х 200 х 68 |
| 500 | 575 х 205 х 55 |
| 1000 | 500 х 375 х 68 |
4. Color
The color of the case is far from being the main, but important role. When describing any subject, color is one of the first to come to mind. The appearance of the case is especially important if you choose it as a gift. The most popular color for poker cases is silver.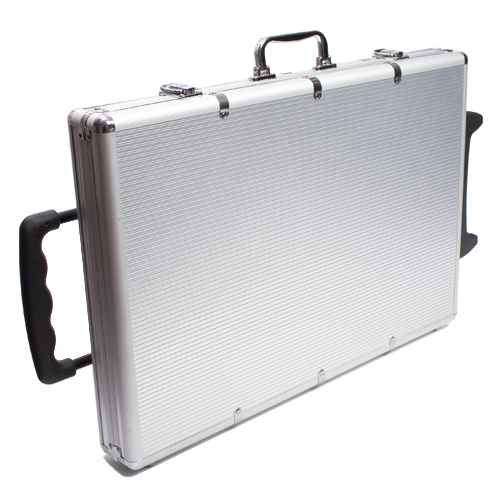 The second most popular is black.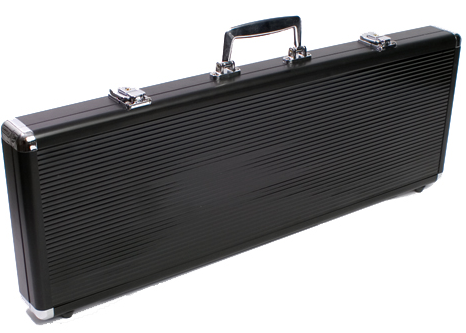 Some manufacturers, for a small additional fee, provide customers with the opportunity to independently choose any color of the case.
5. Manufacturer
Cases for poker sets are a fairly standardized product. This means that the quality of the cases does not depend too much on the manufacturer. Therefore, it makes no sense to overpay for a foreign brand. The latter, however, does not mean at all that you should approach the choice superficially. Ideally, you should still go and evaluate the quality of the case on the spot and feel it with your own hands. If this is not possible, then ask your friends or carefully read the reviews on the manufacturer's company and products.
Conclusion
Do not underestimate the importance of a poker case for the safety of the entire set. Transporting chips, cards, dice and other poker set items in the wrong storage is likely to spoil them.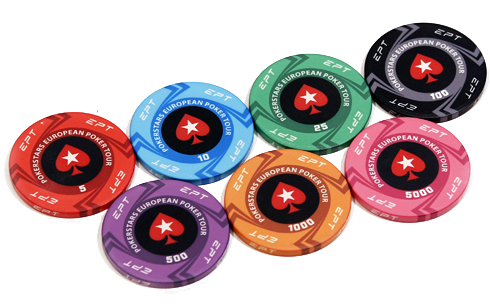 The most suitable solution for moving a poker set is an aluminum case. It is optimal in terms of price and quality ratio. Before buying, do not forget to count your number of chips, otherwise you may buy the wrong case and the chips will not fit in it.
Also, you may find our materials useful on the selection of related products: