HoldemResources Calculator — available now
12.08.2023

Poker software developers want to make more money, so they create programs for all disciplines. The seller's logic is clear: the bigger the market, the higher the profit. Universality also brings problems. The main one is that users get a tool that is not sufficiently adapted to their disciplines. Tournament players suffer the most. There are few specialized programs for MTT. HoldemResources Calculator is one of them. Let's talk about the newcomer to our catalog.
What can HRC do?
Initially, HoldemResources Calculator was a software for dealing with short stacks only. Later the calculator was updated with an improved ICM model, a new Monte-Carlo calculation method and postflop abstractions. The latter allowed to choose the best strategy not in a "vacuum" for a particular hand, but taking into account the development of the situation on the postflop and in the next hands. As a result, users had a deeper understanding of tournament strategy and made more forward-thinking decisions.
In April 2023, the developer announced the third version of HRC. It added a modern postflop model of the calculator and an updated interface. HoldemResources Calculator has evolved from a software for parsing push/fold to a full-fledged preflop solver. In the latest version of HRC, the analysis capabilities have been expanded, allowing the software to be used to analyze cash hands, including deep stacks.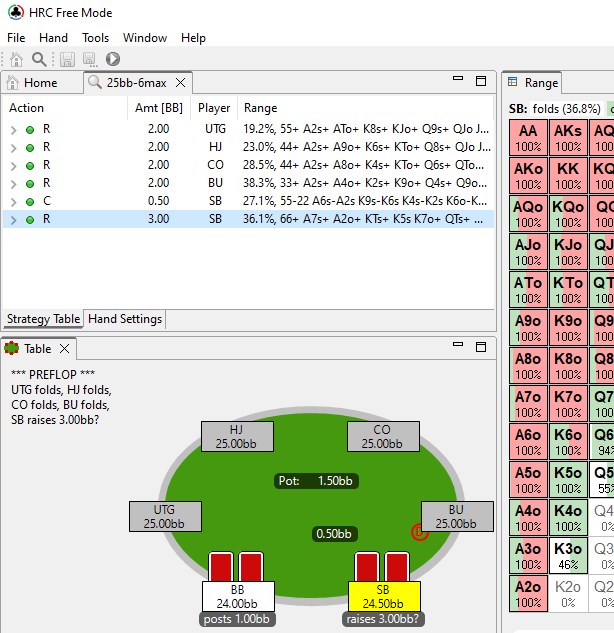 In free mode, you can learn the analysis of other players without a paid subscription
The distinctive features of the HoldemResources Calculator include:
Equity realization on postflop. Tournament software rarely looks beyond a specific situation, which narrows a player's horizons. With HRC postflop abstractions, you can explore multiple paths of a given situation. The result of deeper analysis is that you're better prepared for whatever your opponents do. Simplification tools will allow you to realize the program's potential on weak computers.
Improved ICM calculations for MTT. Most of HRC competitors use the Malmuth-Harvill ICM model. In tournaments with a large number of players, its conclusions are far from ideal. Often poker software uses simplifications or approximations and produces rough results. The new HoldemResources Calculator algorithm deviates from the Malmuth-Harvill ICM by only +/-0.01% in most scenarios, but is effective for MTT with thousands of opponents. You will be able to make a more profitable decision at the push/fold stage.
Free Viewer Mode. The developer encourages discussions about poker, so it allows you to study other players' hand analysis without a paid license. You will be able to share and discuss your analysis and improve your skills.
What is the difference between Classic and Pro subscriptions?
With the release of HRC 3.0. the developer added a new Pro subscription. Prior to that, there was a single subscription with branching terms. The old subscription was labeled Classic. To summarize, Classic and Pro have a different set of tools. Classic is sharpened for push/fold in short stacks, Pro is a step up to preflop solver. Postflop abstractions and scripts allow you to consider many scenarios. In practice, this means that you will have a ready-made solution to any action of your opponent. HRC Pro builds decision trees without size limitations, which allows you to use the program both in tournaments and cash games.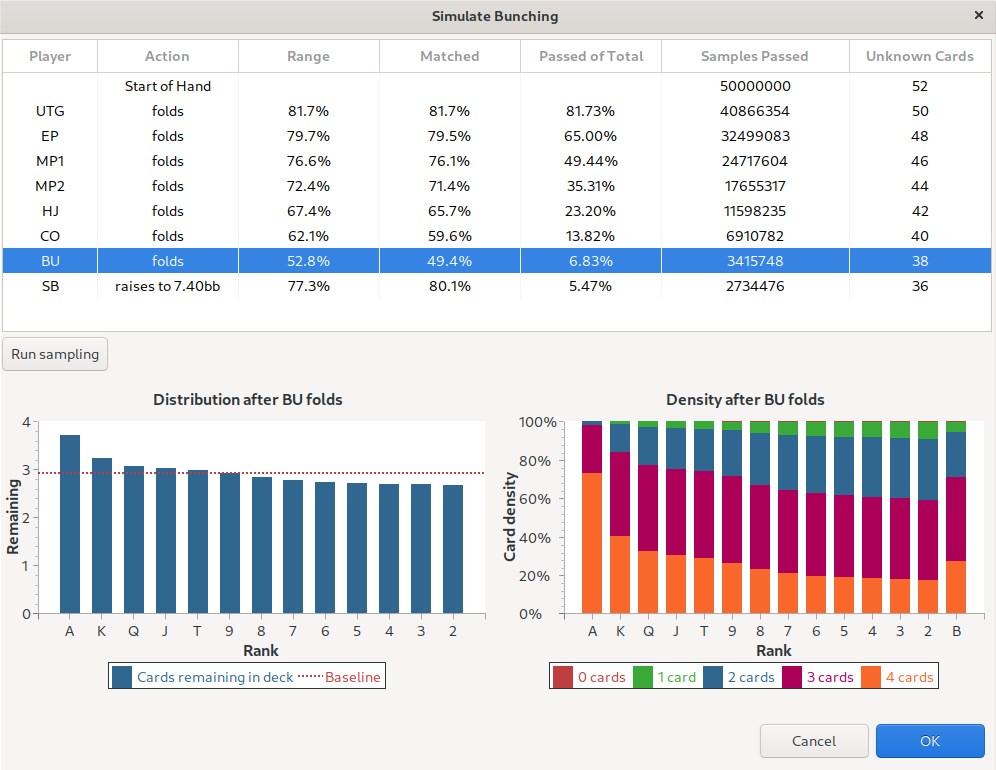 Numerous diagrams are responsible for clarity in the HRC
The developer of HoldemResources Calculator provides a free trial version of the software. You can download HRC Classic from the official website of the product. HRC will work without functionality limitations for 14 days.
We publish beneficial offers and catalog updates in the PokerEnergy telegram channel. Subscribe to stay +EV.