NoteCaddy Edge is a new app for tournament players
29.12.2012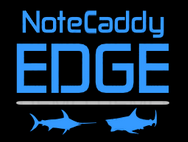 If you use Holdem Manager 2 and want to give your favorite program an even more arsenal of possibilities to completely disassemble your opponent using the HUD, then you should definitely get acquainted with NoteCaddy Edge.
NoteCaddy Edge is a third-party add-on to Holdem Manager 2 and NoteCaddy Premium that quickly became popular with cash game players and sit-n-go fans. The developers recently promised that in the near future they will add to their software a special package for lovers of MTT tournaments.
The software is focused on working with hand histories in order to analyze tendencies, identify the opponent's habits and weaknesses. You will be able to more accurately determine who is 3-betting against you with nothing and who is continuation-betting because they managed to improve their hand on the flop. The program has 272 definitions and 47 standard marks for Hold'em, as well as 272 definitions and 39 marks for Omaha. In addition, there are also 289 definitions and 25 marks for SNG players.
The NoteCaddy Edge staff is constantly working on improving the software and listening to the wishes and suggestions of customers, bringing their ideas to life. A couple of weeks ago, the software updated its Pot Limit Omaha section with 61 new definitions and revamped pop-ups. On December 6, the latest Note Caddy Edge update brings Sit&Go additions, including 174 new definitions and two labels. Added automatically updated rules for 6-max and ring tables, as well as pop-up windows for them.
The software comes out with detailed instructions on how to install it, and what the definitions and badges mean, and how best to use them to identify opponents' playing tendencies.
Whatever level of bets you play, the Note Caddy Edge will pay for itself very quickly. Very often players, especially at low stakes, do not even suspect that they are giving away certain tendencies with their play that the opponent can identify and remember in order to adapt to the style of this player in the future. The package for No Limit Hold'em and Pot Limit Omaha will cost $ 99 each or $ 125 in a single package. The CIS set is available for $ 99.
Unlike many competitors, NoteCaddy Edge is completely customizable, straightforward, and simple to adapt to your specific needs. If you are not completely sure that this software will suit you, then evaluate its capabilities in a stripped-down version for free. Well, for those who bought, a refund is possible within 15 days.