Holdem Manager 2 iPhone app short review
11.08.2011
From the early stages of testing, the new Holdem Manager 2 has been recognized as one of the most outstanding software for online poker players. The update to the existing version of Holdem Manager includes features and tools that leave behind all those bright years of the first generation of the multi-award winning program, along with features that will make every player jump for joy. But one thing that sets HM2 apart from the competition is the ability to use hand histories anywhere thanks to iPhone, iPad and iTouch apps.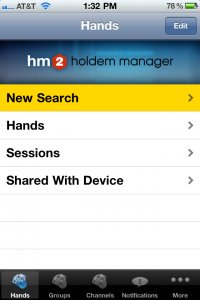 The app works in conjunction with MY HM2, allowing you to chat on social networks and view hand histories on the go. Downloading the app from iTunes was so fast that I wished I had a stopwatch on hand to determine the exact download time.
After an extremely quick installation, I was immediately able to use the application as I only had to enter my email address and name. At that very moment I was already studying the features of the program.
A new feature in the updated HM2 replayer allows you to share your played hands through a program called MY HM, which uploads your hands from Holdem Manger to the cloud-based online HM2 database. From there you can correspond with your friends and the HM community, who will express their views on the presented hands, and you, using the comments at the bottom of the page, see how other players would play this hand.
You can upload a single hand, an entire session, or even a tournament played, to have all the analysis options on a separate and secure page that you can access to other users.
The new HM2 app for iPhone, iPad and iTouch can store up to 100,000 hands from the HEM2 / MY HM database in your own HM iPhone database and allows you to revise hands, read comments, share and discuss hands with friends or other users. The HM2 mobile app consists of a main menu and a More tab for more information and videos. Let's take a look at each tab of the main menu.
Hands Menu
Using this tab, you can view any of the uploaded hands in the MY HM Cloud. By clicking on "My Search", you enable a feature that filters your search based on specific criteria. You can view each hand in your database through filters such as: Game, Game Type, Bet Structure, Result, Position, Table Size, Minimum Pot Size, Result Value, Cards and Limits.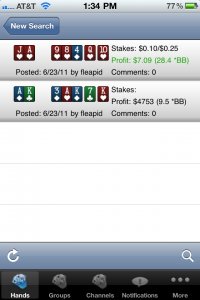 As soon as you decide on the search criteria, a new window will open in which you will find all the hands that match the specified filters on the MY HM page.
Here you can select individual hands, because HM2 provides the full history of the hand in question and allows you to comment on it or play it in the replayer of the mobile application.
You can also share the hand on a specific channel, in a group, via Twitter, or give anyone access to it. These features work instantly and not only provide players with constant access to their hands, but also make the base of played hands socially oriented.
The hands menu also allows you to search across the entire database, individual sessions, and all hands that you share via mobile devices. In each tab, you have the same social features, which allows you to be literally one click away from communicating with anyone.
Group Menu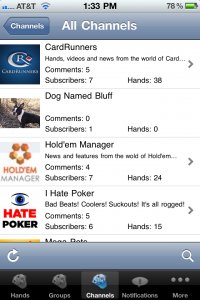 By creating various custom groups, MY HM has helped to specialize and improve your ability to make individual hands or sessions completely private or available to whoever you want. Typically, if you load a single hand, whole session or tournament, the hands are placed in the group corresponding to your name.
You will then be able to add friends or other Holdem Manager forum users to your group so they can view your hands and leave comments. The group owner can prohibit or delete any messages from users and in every way manage the group members who are allowed access.
Channels Menu
In this menu, users have the option to subscribe to various channels, such as the Holdem Manager channel or CardRunners. The subscribed user gains access to the huge number of hands loaded by channel members, which creates an endless source of information on how the various hands were played and how the hands developed.
Using filter groups, you can sort channels and search for the information you need, which will allow you to find the desired channels much faster.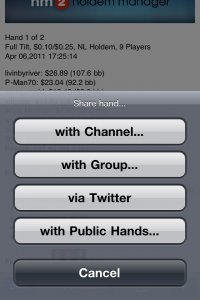 The app also has a notification menu that will show all HEM2 notifications, and in the More tab you will find some Holdem Manger videos that highlight its new features and videos from TwoPlusTwo and Table Ninja.
By the way, here's a quick demo of how you can tweet using the Holdem Manager 2 iPhone app: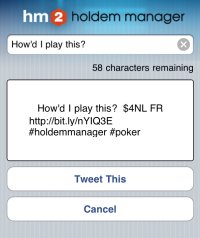 While the new iPhone, iPad and iTouch app is still under development, its functionality is, in a word, incredible. The application will be available to everyone very soon, and the best features will be paid, but for Hold'em Manager users everything will be absolutely free.
Title from website pokersoftware.com.