TableNinja fixed bug of SNG Sensei
13.05.2013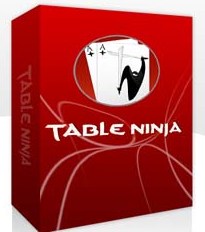 For those who don't know, TableNinja is a very popular program that simplifies the process of playing poker without influencing decision making. One of the main advantages of TableNinja is its "hot" keys, which speed up your actions, with the result that you can play at a large number of tables at the same time. For any winning poker player, this increase in efficiency should have a positive impact on the outcome of the game.
SNG Sensei makes tournament play
easier
TableNinja recently announced a fix for the SNG Sensei bug. SNG Sensei automatically registers you at PokerStars for the SNG tournaments based on predefined criteria. For example, you can specify in the SNG Sensei parameters that you want to play at once at 15 tables in certain Sit and Go tournaments and end the session after playing 60 of them.
You can also set up SNG Sensei so that the program will automatically stop registering you in SNG tournaments after a certain time. This tool not only frees you from constantly pressing buttons when registering during the current gaming session, but also helps to properly manage your time and organize gaming sessions as efficiently as possible, while being able to do business outside of online poker.
Work on bugs
Recently, however, there was a minor issue with the fact that due to the recent update of the PokerStars client, SNG Sensei was unable to determine when the SNG tournament ends. The TableNinja staff responded quickly and eliminated this flaw. Now this useful tool of the program functions as expected. It was important to fix this bug, because without recognizing the end time of the SNG tournament, the program was not able to maximize auto-registration after registering for the first batch of tournaments.
TableNinja boasts a professional customer support team that is always ready to answer all questions in various forums or via email. In addition, the developers are constantly working to improve their product so that their users can play as efficiently as possible. In addition to providing hotkeys and other effective solutions for PokerStars players, TableNinja also offers a version of the software for FullTiltPoker (TableNinjaFT) and PartyPoker (TableNinjaPP). If you prefer to play at multiple tables, you should try out the 30-day demo version of this program and see firsthand how much it improves the efficiency of the game. You can buy the program in our store for $ 59.99.