PokerTracker 4 for OS X
13.02.2013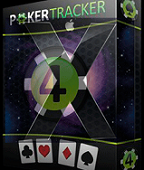 PokerTracker 4 has begun alpha testing its software for OS X. This software is currently only available for the Windows operating system.
PokerTracker announced: "We are currently alpha testing PT4 for OS X. If all goes well, we expect this phase to be completed in February / March. The official release will be when the external testing phase is completed. " Alpha testing is the first step in launching new software. During this stage, external testers "wool" the program for the presence of any errors, regardless of their large or small size.
PokerTracker is said to have the best test protocols in the industry. The alpha testing phase is usually followed by private and public beta testing.
The public beta of PokerTracker 4 took place in March 2012. At this time, the software representatives said: "All the features of the new PT4 were developed based on the wishes of real users. Players talk, and PokerTracker always listens and tries to add only those features that online poker players really need. " For example, among such functions, a vector HUD, an equity calculator for Hold'em and Omaha, an Independent Chip Model for SNG tournaments, and final table analysis were added to the new version of the program. Therefore, equating PokerTracker 4 with a true work of art is not an understatement.
One of the most technically useful features for PokerTracker 4 is the vector HUD engine. According to the PokerTracker Blog: "Now with the vector HUD, we have been able to take advantage of the graphics power that is already present on any computer and channel it towards the benefit of online poker. Users with one or two tables on a very small monitor, or users with very small tables on a large monitor will all benefit from our innovation. Our option allows you to place tables without unnecessary problems. You can stretch one table to your liking, and the HUD will adjust the rest according to this example. "
If it happens that you still don't have a copy of PokerTracker 4, you can always use the 30-day free trial.
If you decide to buy the software, you will have to spend $ 99.99 for the full version, $ 59.99 for the low stakes version, $ 159.99 for the full version for Omaha and Hold'em, and $ 99.99 for the low limit version for Omaha and Hold'em. The payment for the software is a one-time payment, so you don't have to spend a cent more. You can buy PT4 in our store with Skrill (Moneybookers) or Webmoney.