Holdem Manager 3: the eternal beta test or 850 days of Sodom
06.05.2019
It is not a secret for anyone that for a long time work has been underway on a new version of the software for collecting and analyzing statistical indicators from the Holdem Manager team. Whether we are updating the current version of Holdem Manager 2, whether we came in search of any other auxiliary software such as Leak Buster 2 or Note Caddy, whether we are looking for a setup guide or just happened to be on the official website of the developers - a separate tab on the site will surely catch your eye with the intriguing title "HM3 BETA".
You can't just take and refuse the temptation of something new and unknown, especially when it comes to a product from the creators of a long-term leader among tracking programs. Therefore, everyone who already has a license for Holdem Manager 2 (the rest, alas, are not offered the opportunity to download and poke at the software, even in the test version), prefer not to fight this feeling, but to surrender to it 100% and study the new software ahead of time.
What's new?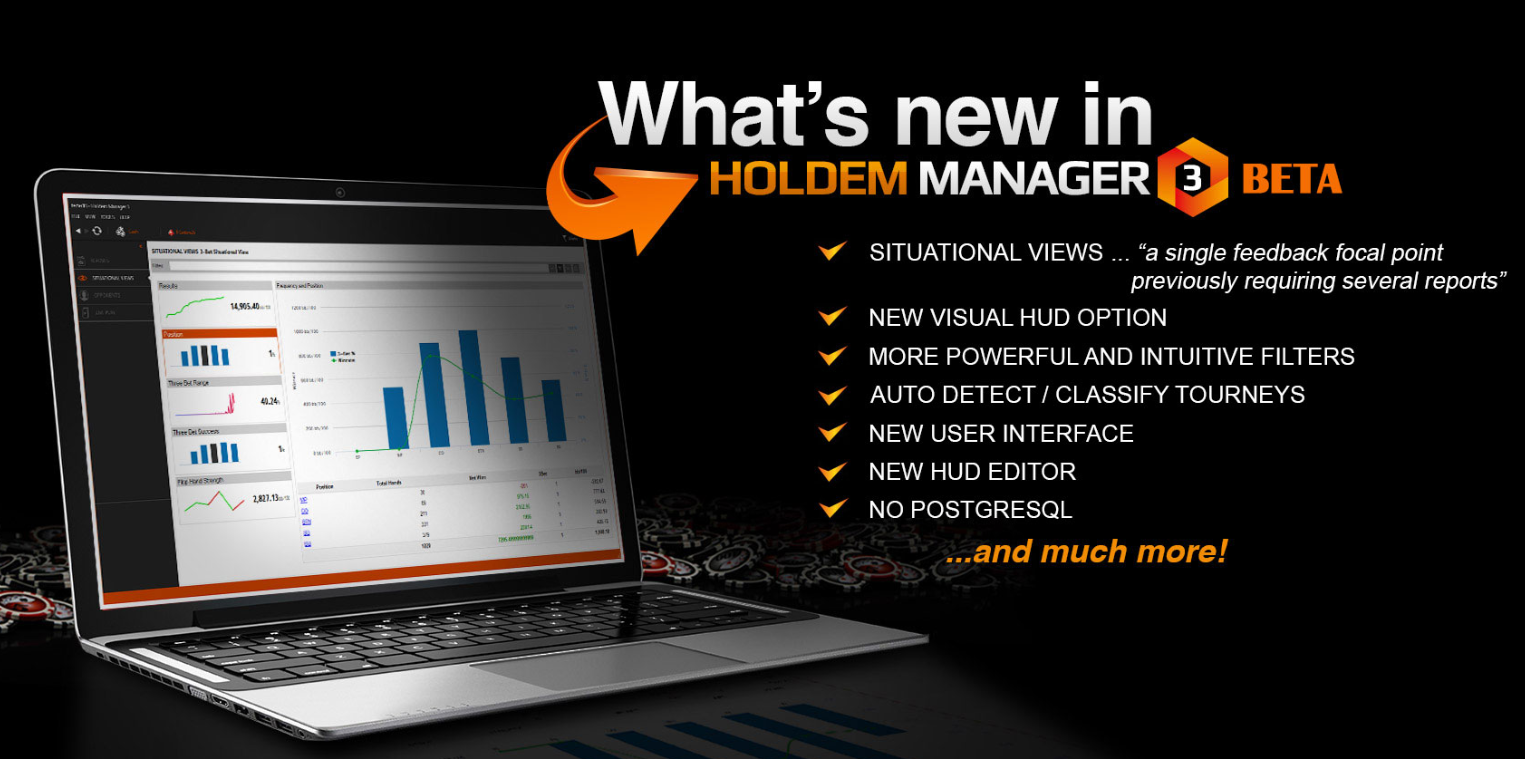 The first significant and even, to some extent, fundamental difference (which both HM3 developers and users tirelessly mention) from the previous version is the absence of the need to install PostgreSQL. Yes, now the problem with the obscenely bloated database has been resolved - all information will be stored in the cloud. Ten points in favor of demG̶r̶i̶f̶f̶i̶n̶d̶o̶r̶a̶ Holdem Manager 3. However, from a formal point of view, since we do not install PostgreSQL, we will be able to feel this innovation only in the process of using new software, and not from the doorway.
So, first of all, let's note the changes in the interface and design of the software - the color scheme of the design has changed and there has been a slight simplification, or, if you like, the "rendering" of the program tabs. Setting up Holdem Manager has become much easier - this is an indisputable fact. Another thing is whether HM2 needed to be simplified, anyway this is not PT4 with its minimalistic and schematic design, where without Google and watching a thematic video for several hours, you will not even figure out the basic settings (we will keep quiet about the Pop-up and HUD settings).
Another performance-enhancing innovation is the ability to turn off all unnecessary HM3 functions while playing, leaving only the HUD. One of the main reasons for abandoning HM in favor of another poker software often became precisely the regular freezes of the first and more stable operation of analogues, such as PT4 (PT3). At the same time, this will allow you to avoid one of the favorite psychological faces of many poker players - a chaotic update of the session results after each placing of either a large pot (or an average pot; or any pot: yes, mind games, you cannot close a push from a fish with four of a kind on the river) , it takes some self-control and restraint!).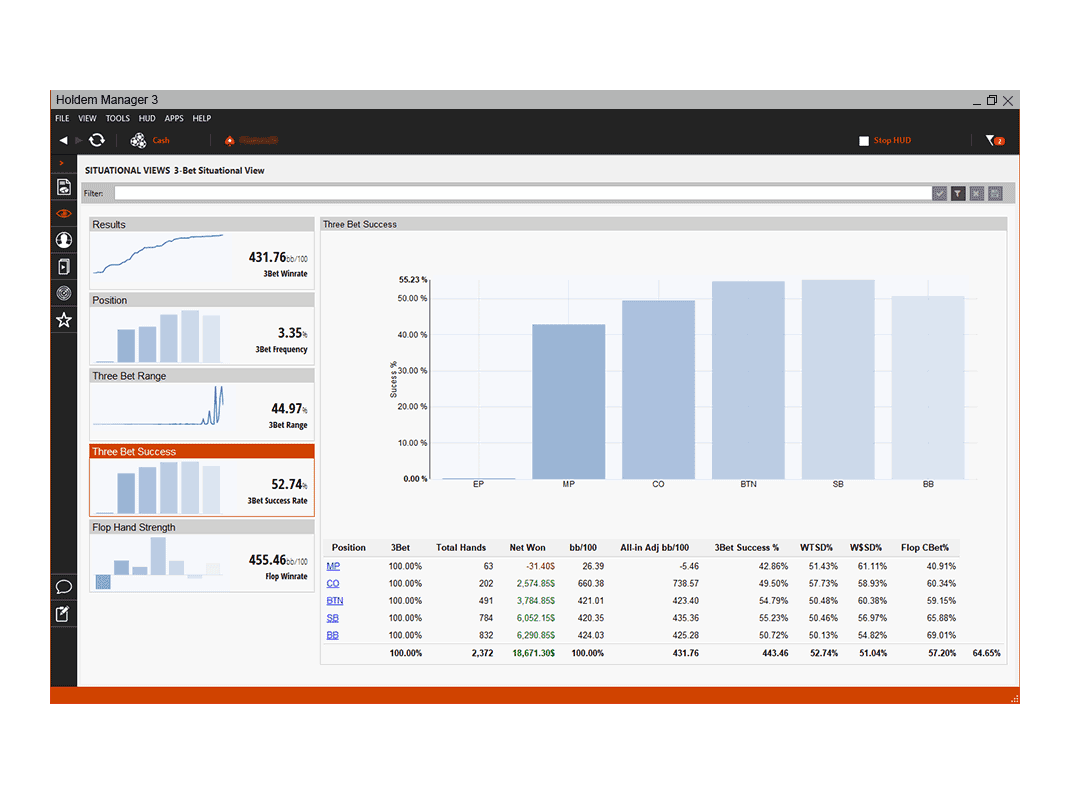 It seems curious that the HUD settings menu is a tracing copy from a similar tool SUDDENLY PT4. People "in the know", of course, have long known that for some time now both PT4 and HM2 belong to the same owner, but for less scrupulous and attentive users this will be a real surprise.
HM3 now supports multiple languages, not just English, as it used to be. Finally, we are not constrained by the language barrier and will be able to set our native Brazilian / Portuguese language in the settings! Viva a República Portuguesa! If a little more seriously, then Hold'em Manager in Russian is a good help and a long-awaited step forward from the program's creators.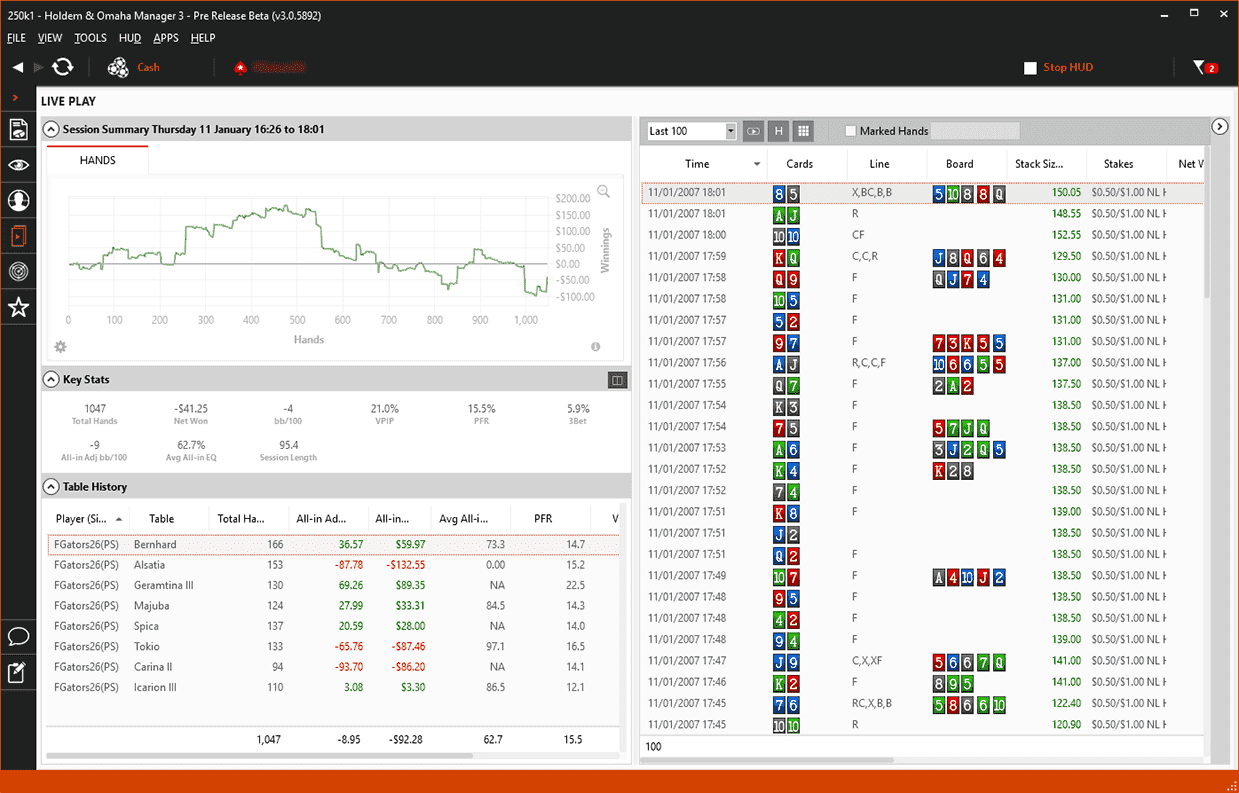 Finally, the number of statistical indicators has been increased to 2000. In Hold'em Manager there are 2 stats, only about 1000. It's nice to know that now in Holdem Manager 3, instead of 950 unnecessary stats, there will be 1950. Tremble, enemies!
Also implemented is such a thing as a graphical HUD. It will appeal to the smallest of us, that is, those who are just starting to use poker software and hardly distinguish between VPIP and RPF: they will circle their opponent with a colored circle and, based on internal algorithms, assign the opponent to a certain category (tight, loose, rock , telephone, etc).
What's the problem, doc?
Agree that all of the above looks extremely attractive and causes an unconditioned reflex to take and throw a handful of dollars into the monitor of your computer or laptop for an early purchase of the program. But, this is worth postponing for several reasons.
The main one is already mentioned in the title - 30 months have passed since the launch of the Alpha version, based on the information on the official Holdem Manager developer's website. For such a decent time, it would be time to roll out the final version of the product, since there were many people who took part in the testing.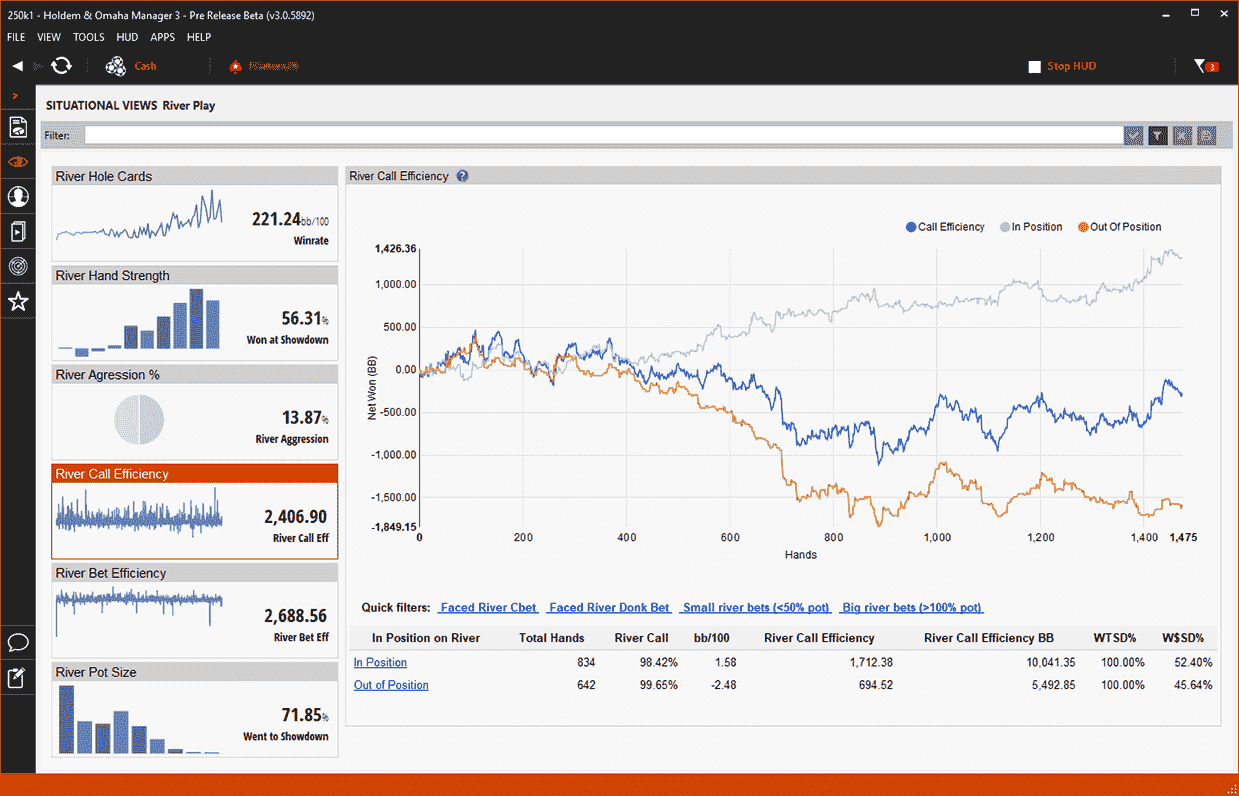 We also mention the bugs, bugs and other problems that are required for any beta version. As you know, they are not always corrected even in the final product (it would seem, and here is the legendary Fallout 76 !?).
Let's not discount our competitors who are constantly improving their products and increasing their competitiveness (except for the Pokerstrategy Elephant, but it doesn't need to be finished, it's perfect!).
But HM three still doesn't sound as cool as PT four: 4> 3, checkmate, Holdem Manager!
Summary
Switching to updated software is always associated with some risk. It is known that risk is a noble cause and will pay off the moment (if) support for HM2 stops. HM3 has a number of undeniable advantages (no need to install PostgreSQL, the ability to turn off all functions except the HUD during the game; a much larger number of statistics, the long-awaited appearance of the Russian language in Hold'em Manager, a simpler and more intuitive appearance of the software). There are significant drawbacks that are also worth remembering. It is hoped that the developers are working on improving the HM3 and will soon roll out the final product worthy of its predecessors and causing an urgent need for immediate acquisition and use at tables and in game analysis.