Poker rooms for multi-tabling: where and how many tables can you play at the same time?
09.07.2021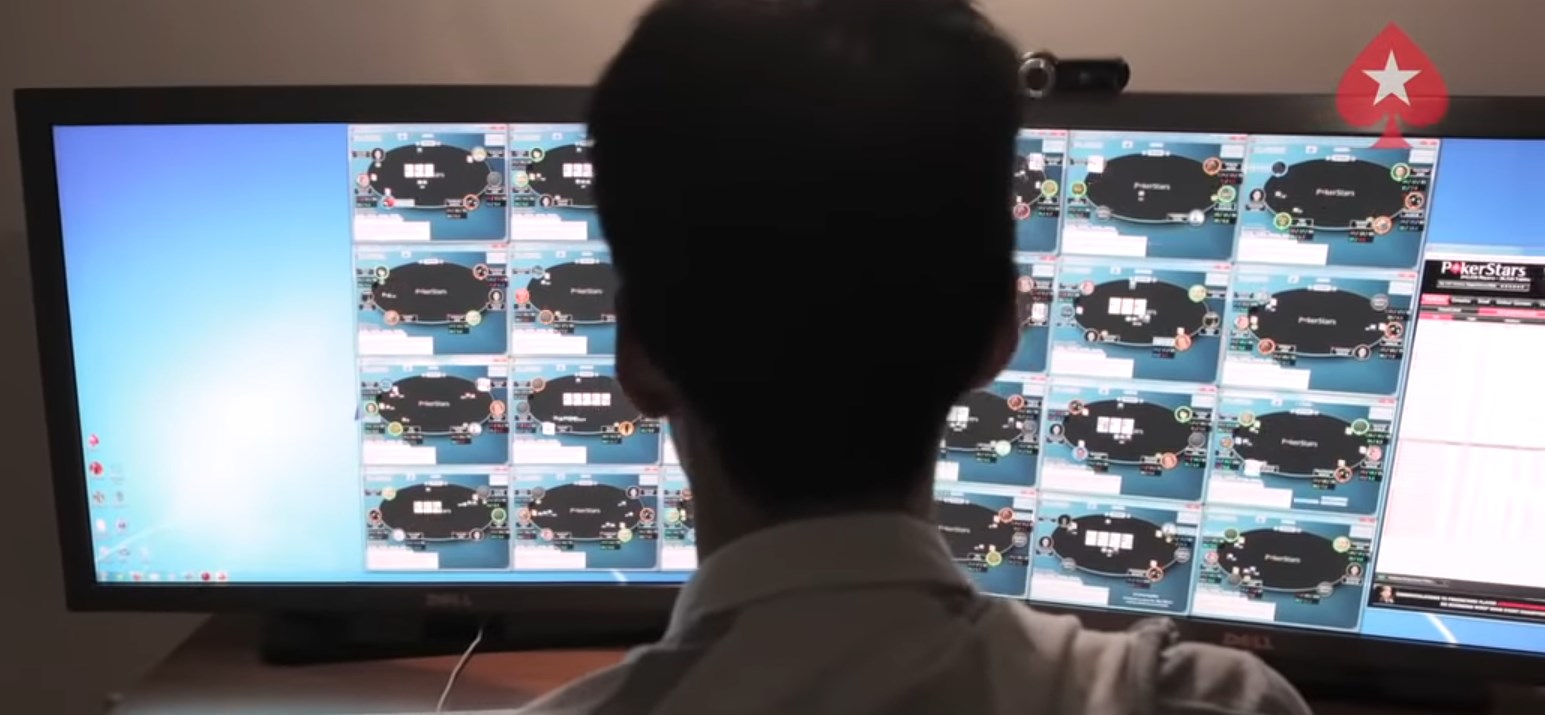 Randy "Nanonoko" Lew, Dusty "Leatherass" Schmidt, Thomas "Boku87" Bockhoff have become famous poker players for their amazing efficiency and multi-tabling. The skill of playing well at dozens of tables at the same time was the key to a successful career in online poker in the late 2000s and early 2010s. But after Black Friday, the situation has been steadily worsening. One of the most revealing trends is the limitation of the number of tables for a simultaneous game. This is the path taken by PokerStars, GGPoker and more modest poker rooms.
Today we will talk about the current restrictions on the number of tables and rooms where you can still actively multitable.
Why do poker rooms restrict multi-tabling?
Limiting the number of tables to play simultaneously is a complete nonsense for poker rooms. More multi-tablers - more rake - more profit for companies, isn't it? The poker room management is not convinced by this logic, and more and more of them set a limit on the number of tables. What is the reason for the illogical behavior? Poker room arguments:
Poker ecology. A universal excuse for any restrictions or prohibitions from poker rooms. Fish or recreational players lose their deposits too quickly to multi-tablers. Regulars withdraw money, and do not grind it into rake. Reducing the number of multi-site players - weak players "live" longer at the tables, the management of the poker rooms is satisfied.
Friendly atmosphere. Weak players come to poker to relax and enjoy the game. One of the elements of such leisure is communication with your rivals. A regular playing 10+ tables at the same time is not interested in socializing or entertaining recreational players. He does not answer in the chat, does not throw tomatoes, does not lose his composure. In the eyes of a common man in the street, he is indistinguishable from a car. Therefore, many recreational players have a suspicion that they aren't playing with a person at all. It strains him, he leaves and never returns. Sometimes he also shares his disappointment with friends, on a blog or social networks. This ruins the reputation of the poker room and the entire online poker. Potentially rejects new players from deposits.
Game acceleration. Sometimes it takes some thought to make a good decision at 1 table. The thought process takes some time. Difficult situations require activating additional time in the form of a time bank. What if such a decision needs to be made at 6 tables? And for 12? Multi-tabling slows down the game and irritates opponents. Recreational players are especially painful for delays. It was the increase in the speed of the game that PokerStars management used to justify its limitations.
Poker bots. Over the past decade, online poker has gone through a stage of denial, and finally accepted the fact that bots exist and take money from players. If earlier the players self-confidently declared that the bot could not compete with a person in a game with incomplete information, now there are no such conversations anymore. Now the priority is to fight against fraudsters using poker bots. Limiting multi-tabling is one option to reduce AI damage. And given the high cost of creating a strong poker bot, some of the developers will simply abandon this idea at the planning stage.
Return of poker to its roots. In recent years, powerful computers have become more affordable. As a result, poker has become a competition for statistical programs, advanced HUDs and solvers. The poker professional has ceased to be a subtle psychologist and started to analyze numbers. No observation of opponents and study of his tendencies - we look at the pop-up and instantly make a decision. Poker is less and less like a card game and more and more like an cybersport discipline.
Mobile devices. One of the main trends in online poker over the past 5 years has been the promotion of the game on mobile devices. Almost all serious rooms have already launched mobile applications of their platforms a long time ago. Special attention is paid to their development. For mobile poker, multi-tabling is an obvious evil: they slow down the game and reduce the dynamics. Therefore, the limit on the number of windows for a simultaneous game is a logical step from the management of poker rooms.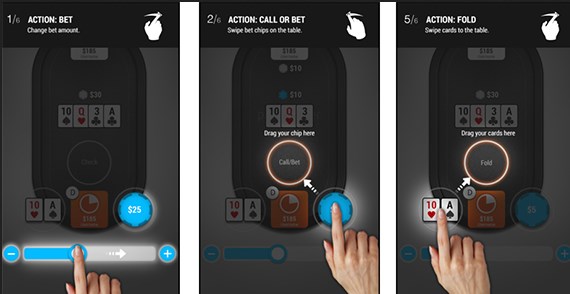 Previously, mobile poker either did not support simultaneous play in multiple windows or limited the list of available formats. Now, rooms are putting more and more emphasis on smartphones.
There are reasons for refusing to play at 10+ tables and among the professional players themselves:
The level of the game. Competition in online poker is getting higher every year and the profitability of multi-tabling is decreasing. And very few are capable of showing a good level and taking into account all the nuances while playing at many tables. Reducing the number of tables to improve the quality of the game is a logical step for the regulars.
Cutting rakeback. A direct consequence of Black Friday for poker is a drop in rakeback. The most striking example is the abandonment of the previous loyalty program at PokerStars. If earlier the status of "Supernova Elite" was the holy grail for grinders and for the sake of obtaining it people rolled out frantic distances for months, then the current "Stars Rewards" causes only irritation and ridicule. The previous 60% rakeback has been replaced by a ridiculous 1-3%. Similar changes have taken place in many other poker rooms. For many players, multi-tabling has become meaningless. Some of the players ended their careers, the majority shifted their attention to quality.
Which poker rooms have a limit on the number of tables?
Poker rooms have different views on the limitations of multi-tabling. The most popular rooms, PokerStars and PokerOK, have the most severe approach. Let's start with a summary table for all the rooms, and then we will tell in detail about the peculiarities of multi-tabling in each of the rooms.
Poker Network (Room)

Max number of cash-tables

Max number of fast poker tables

Max number of tables on mobile devices

Helping software for multi-tabling

PokerStars

4

4

Smartphone - 4,

Tablet - 5

GGPoker

4

4

4

PaiWangLuo (Bodog)

4

2

1

and

iPoker Network

16

16

16

888Poker

6

6

4

Partypoker

16

4

4

Unibet

NL4-NL10 - 8,

another

stakes - 10.

4

6

-

Winning Poker Network

24

24

4

Chico Poker Network

8

8

4

-

PPPoker

5, but when using the Asian Tool or Asian Converter is limited only by the capacity of your PC

5

4

and

PokerBros

4, but when using the Asian Tool or Asian Converter is limited only by the capacity of your PC

4

4

and

Suprema Poker

8

8

8

and

ClubGG

4, but when using the ClubGG Converter is limited only by the capacity of your PC

4

4

ClubGG Converter
Pokerstars
Cash. The leading poker room set a limit of 4 cash tables back in August 2019. The same restriction is also at the fast poker tables - in Zoom. PokerStars does not prohibit the opening of both cash tables and Zoom. They are not mutually exclusive - a total of 8 tables are available to you.

At the end of 2021, PokerStars realized that the former loyalty program is no good and returned the rakeback to 65%. The updated Stars Reward has not yet yielded results: the Good Game network continues to lead and build its lead in terms of players
Tournaments. There is no limit for MTT and Sit & Go. You can play an unlimited number of tournaments (including Spin & Go).
Mobile devices. The number of tables for a simultaneous game depends on the type of device:
on iPod Touch and smartphones with Android operating system, you can open up to 4 tables;

on Android tablets, iPhones and iPads there is a limit of 5 tables.
The restriction for cash tables also applies to mobile devices. If your device supports 5 tables, then you have the option to open 4 cash windows and 1 other format.
Useful software. The most useful software at PokerStars is StarsCaption. The software: converts stacks to big blinds, displays a built-in HUD, saves preset betting profiles, automatically arranges tables on your monitor screen and assigns hotkeys. StarsCaption works for free up to NL10 with no time limit. In MTT, Sit&Go and Spin&Go tournaments up to $3 buy-in. StarsCaption is officially allowed on PokerStars.
GGPoker
It took just a month for the Good Game poker network (PokerOK, BetKings, GGPoker, Natural8) to follow in the footsteps of PokerStars: as of October 1, 2019, the conditions there are even harsher than the competition.
Cash. All the same 4 cash tables are available for players to play simultaneously. However, GGPoker has gone even further - unlike PokerStars, you will not be able to open additional fast poker tables. You will have to choose: either 4 Rush & Cash tables, or 4 cash tables.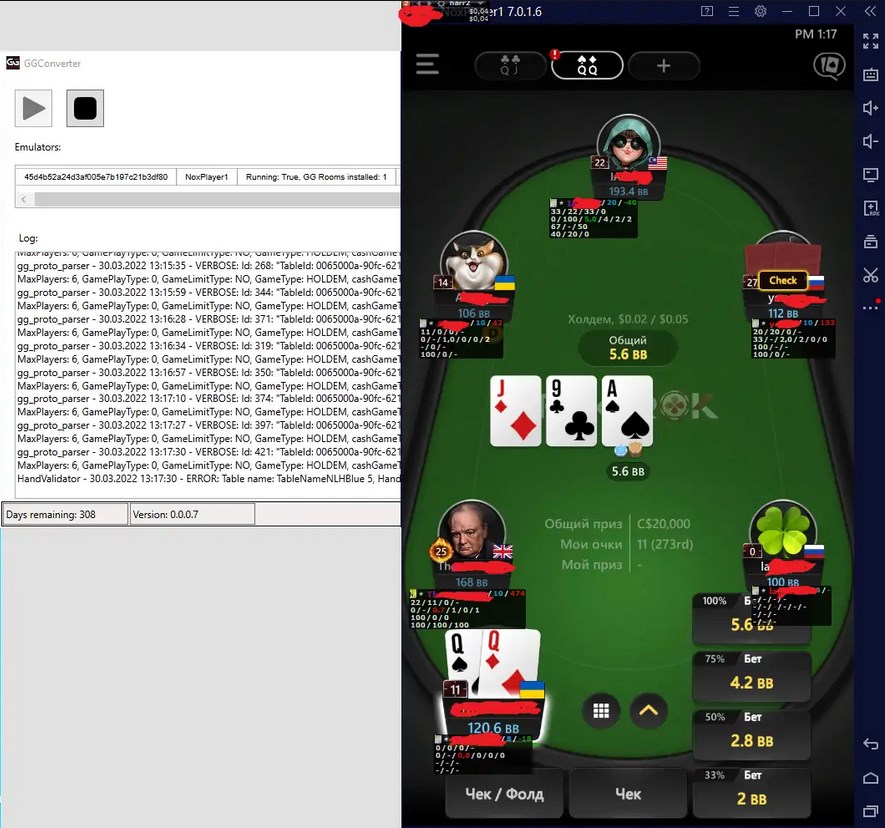 The converter protects users from blocking
Tournaments. Tournament poker has not been restricted.
Mobile devices. Players can play simultaneously on 4 tables. Regardless of the type of your device and operating system.
Useful software. Until recently, no software worked on GGPoker. In October 2022, a converter appeared that allows you to display statistics and HUD during the game. GGConverter supports Holdem Manager 2, Holdem Manager 3, Poker Tracker 4, Hand2Note. The converter works only with the mobile version of poker rooms, that means you will have to use an emulator to display statistics. All information on how to install and configure GGConverter is in the manual. The developer provides a trial version for 3 days. It works with all functions without restrictions.
PaiWangLuo (Bodog)
But in the PaiWangLuo network (Bovada Poker, Ignition Poker or Bodog Poker), famous for its total anonymity and accessibility for American players, strict restrictions on multi-tabling have been in effect for a long time.
Cash. No more than 4 regular cash game tables. No more than 2 tables in a local variety of fast poker called "Zone Poker".
A few years ago, PaiWangLuo regularly ranked in the top 3 in terms of traffic. Now the network is ranked 6th according to PokerScout
Tournaments. Neither MTT nor Sit & Go prohibits multi-tabling.
Mobile devices. There is no separate application for playing in poker rooms of the PaiWangLuo network. To play from your iPhone, iPad or Android smartphone, you need to go to the official website of the poker room and play in a browser. An alternative option is to scan the QR code. You cannot play multiple tables from a mobile device. Only cash and Zone Poker are available to play.
Useful software. On the Bodog network, the whole game is anonymous, but it is still possible to get an advantage. Ignition Converter and Ignition Card Catcher can help you with that. The first one helps you to convert your hand history for further analysis after the session. The second allows you to display the statistics in real time. Both tools have free trials.
iPoker Network
The iPoker network (Red Star Poker, Guts Poker, NordicBet, Betsafe and Betsson) continues to be friendly towards multi-tabling and does not impose severe restrictions.
Cash. You can open up to 16 tables at the same time. The same limit applies to Speed ​​Poker.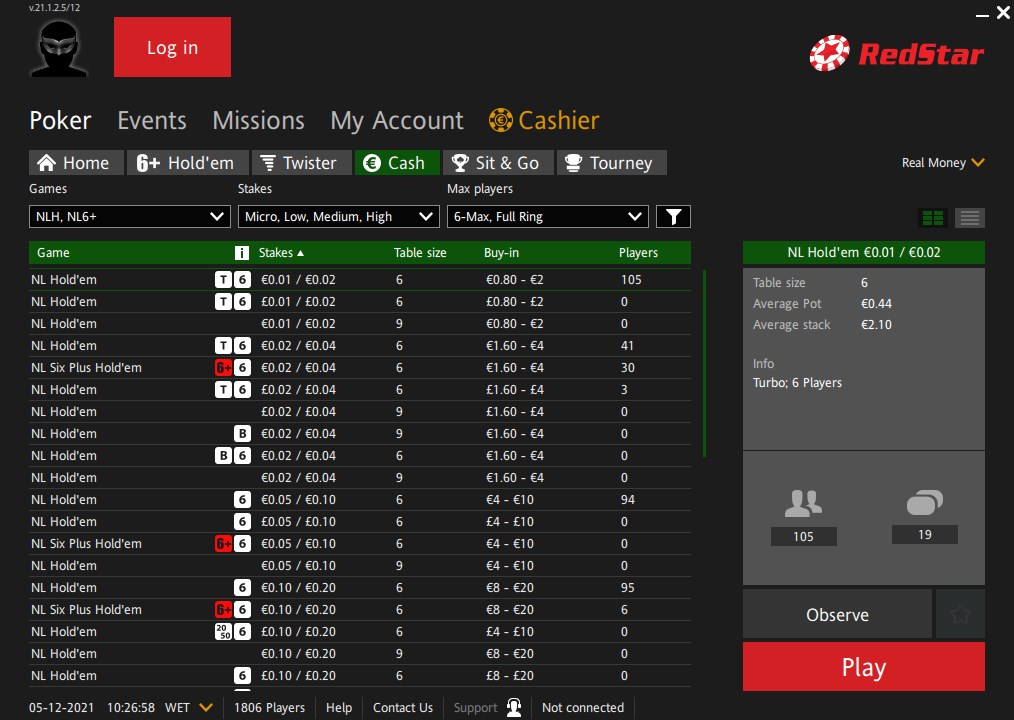 The transition of iPoker to a new platform is largely dictated by the convenience of playing from mobile devices
Tournaments. MTT and Sit & Go have an even more loyal attitude towards multi-tabling - you can register for more tournaments than 16. There is a caveat - the iPoker poker client will not let you open more than 16 tables at a time on your screen.
Mobile devices. Not all poker rooms from the iPoker Network have mobile applications. Some of the rooms still support the game on smartphones and tablets exclusively in the browser. There are no specific restrictions for multi-tabling from mobile devices. It all depends on the power of your hardware.
Useful software. iPoker Tools is the premier multi-tabling tool on the iPoker network. It arranges tables on the monitor screen, converts stacks to big blinds, creates profiles for bets on all streets, displays a built-in HUD, assigns hot keys. The developer provides a free version for 31 days.
888Poker
888Poker was ahead of its time and limited multi-tabling even before it became fashionable. For a long time, the "eights" were the only major poker room in which the limitations were really felt.
Cash: In the 888 poker client, you cannot open more than 6 cash windows. The same restriction applies to local fast poker "SNAP". PokerStars' approach to combining regular and fast tables does not work here either: in any combination of disciplines, you will not open more than 6.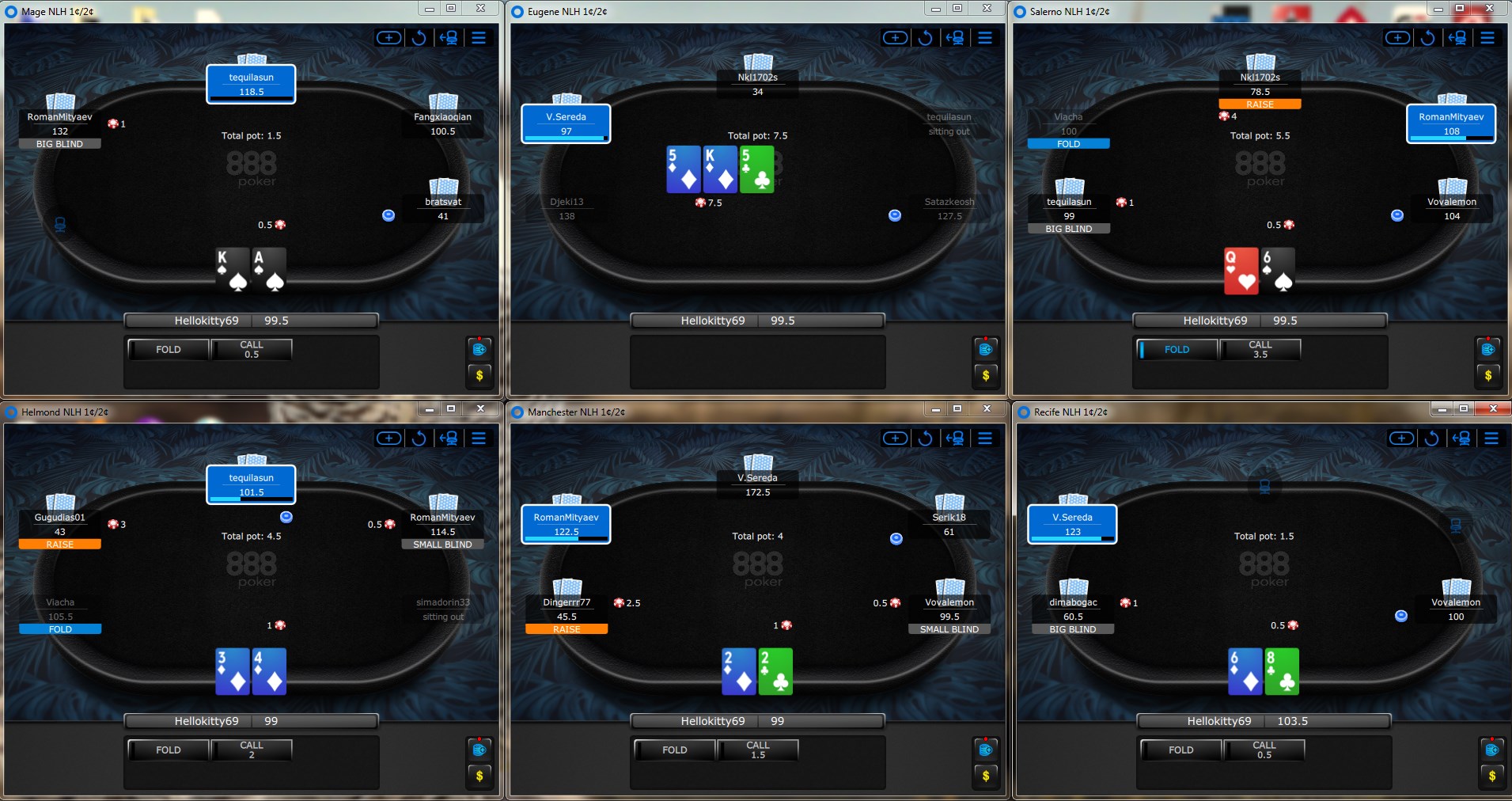 In August 2020, 888Poker allowed HUD use at SNAP
Tournaments: For MTT and Sit & Go (including Blast) there is a slightly less strict limit of 8 tables.
Mobile devices. At the end of 2020, 888Poker finally released a new app for smartphones and tablets. The previous version of the software has long caused only complaints from the players.In the new application, players have the ability to multi-tabling and access to all disciplines as in the desktop application.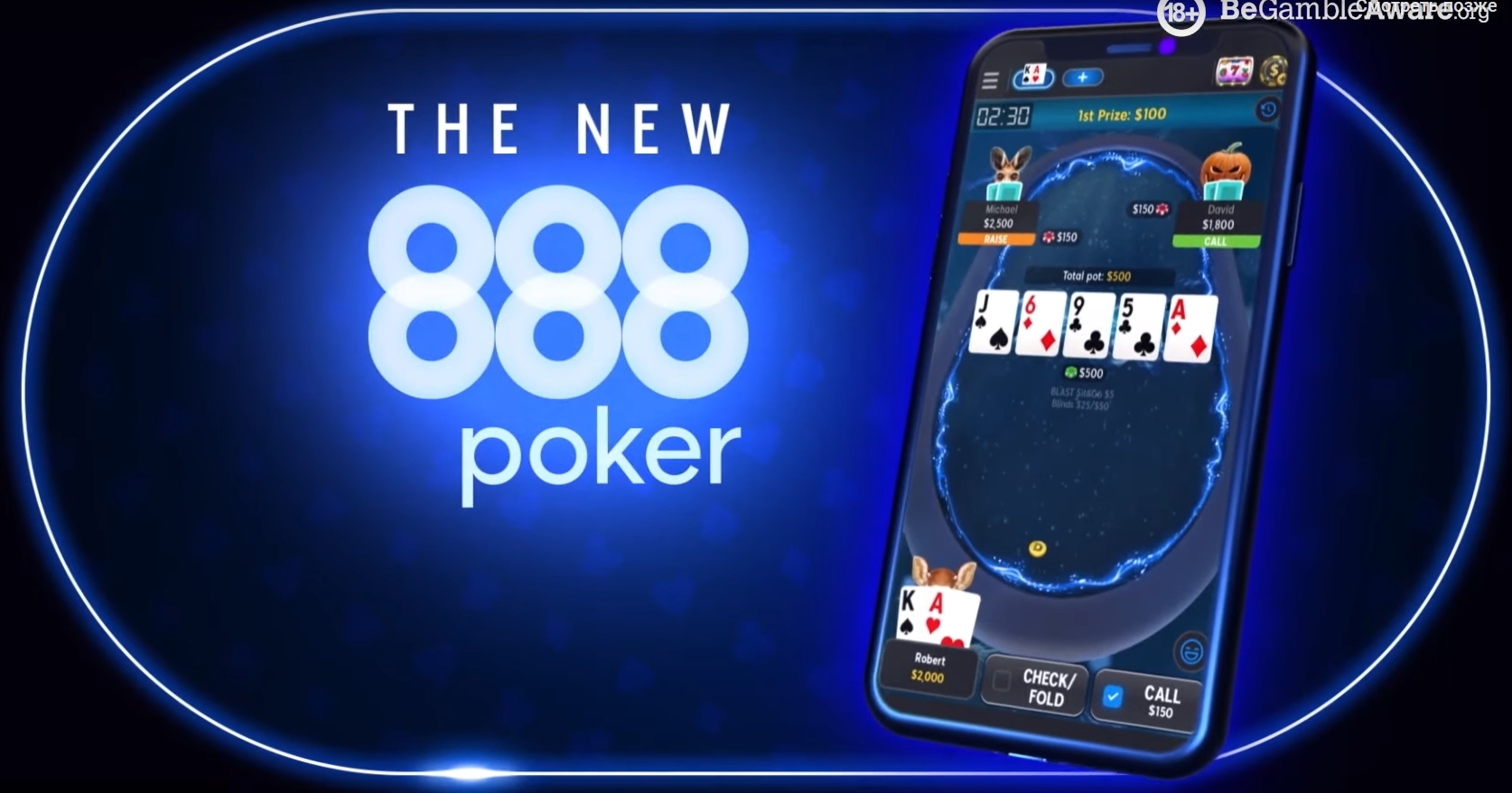 The old mobile client remembered the days when 888Poker was "Pacific Poker"
Now you can play up to 4 tables simultaneously. And not only the cash, as it was before.
Useful Software. The main multi-tabler tool at 888Poker is 888Caption. The software converts stacks to big blinds, arranges tables on the monitor screen, assigns hotkeys, displays the built-in HUD, changes fonts, blocks pop-ups, saves betting profiles. The software works for free without time limits: in cash - on limits up to NL10 inclusive, in tournaments - with buy-ins up to $3. 888Caption is officially allowed on 888Poker.
Partypoker
Partypoker and other poker rooms of the Party Gaming network (Bwin Poker and Coral Poker) are friendly to multi-tabling. The Diamond Club loyalty program alone is worth a lot, because according to its conditions it repeats the legendary Supernova Elite with its 60% rakeback and a bunch of other bonuses. It would be foolish to encourage players to get the highest status and at the same time limit their grind, but Partypoker did not take this path.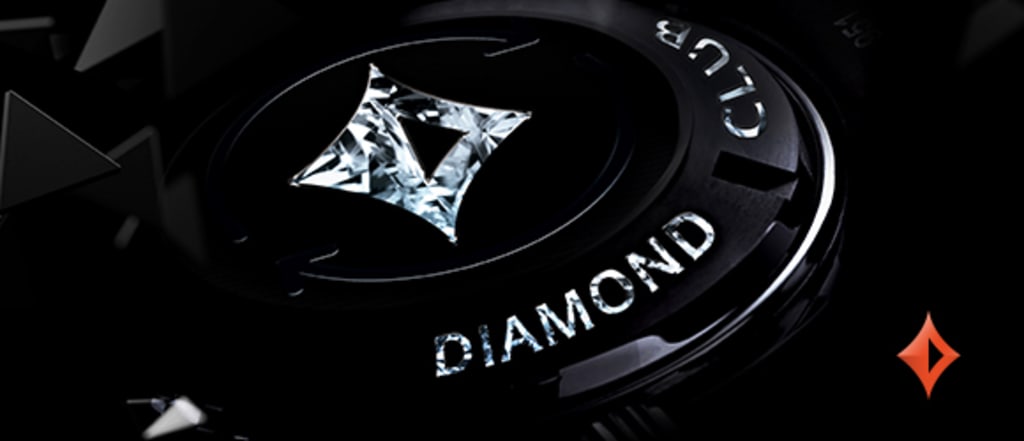 In 2022 Partypoker redesigned the loyalty program: rewards have been made smaller, but they became more accessible to a wider range of players
Cash. You can play 16 regular tables at the same time. In fast poker, there is a limit of no more than 4 windows. If you want to play in parallel with regular cash tables and Fast Forward, then use the 12 + 4 formula.
Tournaments: MTT and Sit & Go (including Spins) are subject to the same 16-window limit.
Mobile devices. In 2020, Partypoker has been actively working on updating its mobile app. Finally, they added the possibility to multi-table up to 4 tables. Previously, it was impossible to play several tables at the same time, and the list of available disciplines was limited only by cash. Now you can play 2 Spins tables, 1 regular and 1 Fast Forward at the same time without any problems.
Useful software. PartyCaption is designed to make life easier for multi-tablers at partypoker. The program converts stacks to big blinds, displays a built-in HUD, automatically arranges tables according to the monitor screen, blocks pop-ups, assigns hotkeys and saves betting profiles. The developer made PartyCaption free on a permanent basis for players from NL10 and below. The software also works in tournaments with buy-ins up to $3.
Unibet
Unibet has long relied on recreational players and is anti-regular. Unibet Poker was the first room that banned trackers. But the restrictions for multi-tabling are not very strict here, although slightly confusing.
Cash. At NL4 and NL10, you can open no more than 8 windows for each limit. In total, you can play at 16 tables. All other stakes are limited to 10 tables. The special Banzai format is limited to 2 windows. At Fast Poker, up to 4 tables are allowed to open at the same time.
Tournaments: The 10-table limit is also relevant for MTT \ Sit & Go at Unibet Poker.
Mobile devices. There is still no separate application for smartphones and tablets on UP. The only available option is to play in the browser. You can open up to 6 tables at the same time.
Winning Poker Network
Winning Poker Network (PokerKing, Black Chip Poker, Americas Cardroom) would be the winner in determining the most multi-tabling-friendly poker network. Here are the most "delicious" rake races for real grinders, and the maximum available number of tables for simultaneous play.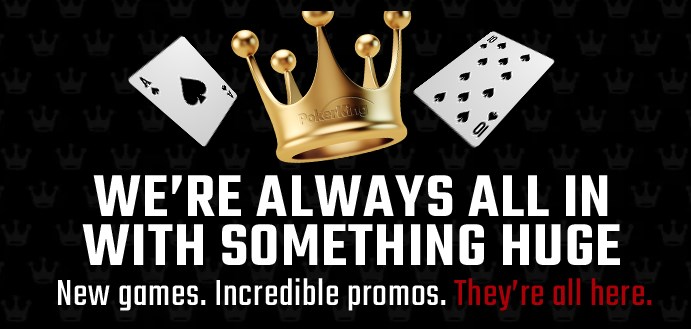 WPN was the last to present a full-fledged mobile client. Its testing did not start until November 2022.
Cash. You can open up to 24 windows. This is a record number for online poker. Winning Poker does not codify its fast poker, therefore there are no additional conditions for "Blitz Poker".
Tournaments: The same 24 tables are available to you.
Mobile devices. Winning Poker Network began testing its new mobile client in late 2022. In January, the app added the ability to play 4 cash tables simultaneously. In February 2023, multi-tabling made its way to MTT and Sit&Go tables. You can play on the WPN network through the browser. There are available: Blitz Poker, a local analogue of Spin & Go - JackPot Poker and satellites to the network's annual flagship tournament - the Venom. No more than 4 at a time.
Useful software. Until the summer of 2022, in the network worked WPN Tools Lite, but the management of the Winning Poker Network decided that the software gives an unfair advantage to players. Since then, there are no specialized programs for playing on WPN.
Chico Poker Network
Chico Poker Network is often chosen as an additional place to play poker. The good thing about TigerGaming, BetOnline и SportsBetting is that there is a lot of play at low and medium limits.

Chico Poker is famous for the great attention of players to the Full Ring and the largest jackpots for the bad beats. In 2022, the record holder was a player under the nickname "Kalisse". The Bad Beat Jackpot brought him $91,616
An additional incentive for players is the high traffic at 9-max tables. Chico Poker's Full Ring tables are second only to PokerStars.
Cash. The maximum number of tables for a simultaneous game is 8. There are no separate restrictions for fast poker ("Boost").
Tournaments: There is no table limit in MTT and Sit & Go.
Mobile devices. Chico Poker Network rooms do not have their own application. The game is available in the browser. You can open up to 4 tables of any format.
Mobile applications for poker
More and more players are abandoning the classic rooms in favor of mobile applications. PPPoker and PokerBros have already overtaken PokerStars in terms of the number of players, and are competing on equal terms with the leader - GGPoker. Consider the possibility of multi-tabling and in them.
PPPoker
The most popular mobile poker room at the beginning of 2023. The huge advantage of PPPoker over its competitors is more flexible rules that allow you to take players from any country in the world. Players from the USA, China, Russia, Brazil, Canada, Spain, and Australia can gather at one table. A direct consequence of the availability of the room - a huge number of amateurs. There are many times more weak players in mobile applications than in classic roumes. If at PokerStars a table with one recreational player is already considered good, at PPPPoker you will find yourself at any table with 2-4 amateurs.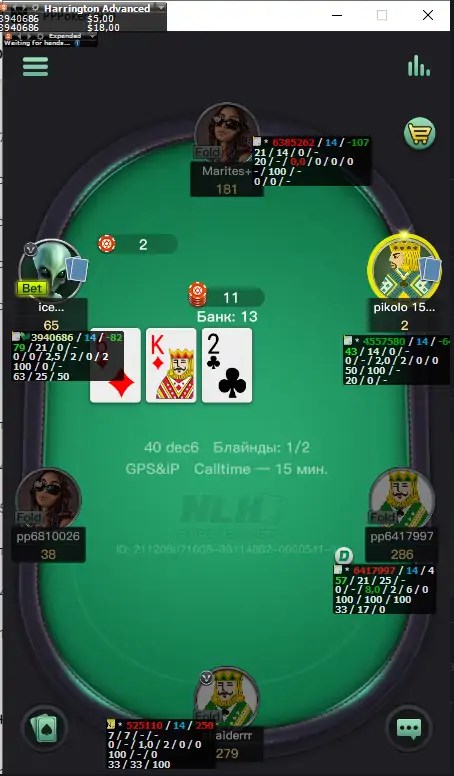 All financial transactions in mobile poker are conducted through representatives of clubs. It is impossible to make a deposit directly and start playing
Cash. When playing on a smartphone, you can't open more than 4 windows at a time. PPPoker has a separate application for Windows - it allows you to run 5 tables. Both restrictions can be bypassed by using the programs Asian Converter or Asian Tool. They allow you to play from multiple accounts. If you use additional software, multi-tabling is limited only by the power of your computer and your skills.
Tournaments. Everything mentioned in the previous paragraph is also true for cash.
Useful Software. In addition to Asian Converter and Asian Tool, Asian Hand Converter and PPPoker Runner also work with PPPoker.
PokerBros
The second most popular mobile room. Launched in 2019. Initially it was a major union of PPPoker, but then spun off into an independent application. It is gradually approaching PPPoker in terms of the number of players. In some aspects, PokerBros has already surpassed mobile room #1. PokerBros does not have a separate application for Windows - all the emphasis is on mobile poker.
Cash. The app supports playing on 4 tables at a time. Asian Converter or Asian Tool allow you to open more windows when playing from emulators.
Tournaments. PokerBros does not distinguish between cash and tournaments, so it is equally suitable for multitabling in both disciplines.
Helpful software. The Asian Tool and Asian Converter give you live stats and a HUD at PokerBros. The converter knows how to convert stacks to big blinds on PokerBros for free.
Suprema Poker
Another major PPPoker alliance that has grown into a full-fledged app. Created at the end of 2021. The core of Suprema Poker players are users from Brazil and other South American countries. There is both a mobile app and a client for playing with Windows PC.
Cash. One account is allowed to open no more than 4 tables at a time. At Suprema Poker it is possible to have up to two accounts, that is, multi-tabling is limited to 8 windows.
Tournaments. The situation is similar to cash.
Useful Software. Asian Tool and Asian Converter allow you to play with statistics on Suprema Poker.
ClubGG
Mobile application from poker network Good Game. It is implemented as a separate client, which means you will need to create a new account to play at ClubGG. You cannot use your account from PokerOK, GGPoker or Natural8. As of early 2023, ClubGG is second in popularity to PPPoker, PokerBros or Suprema Poker, but many predict a bright future for the GG app.
Cash. The client of the mobile poker room limits multi-tabling to 4 tables. You can increase the number of tables with ClubGG Converter. The software not only allows you to play on ClubGG with statistics, but also unlocks tables for multi-tabling. With one account you can play up to 8 tables at a time, with two - up to 16, with three - up to 24. The converter removes all restrictions - the number of tables depends on your computer power and multi-tabling ability.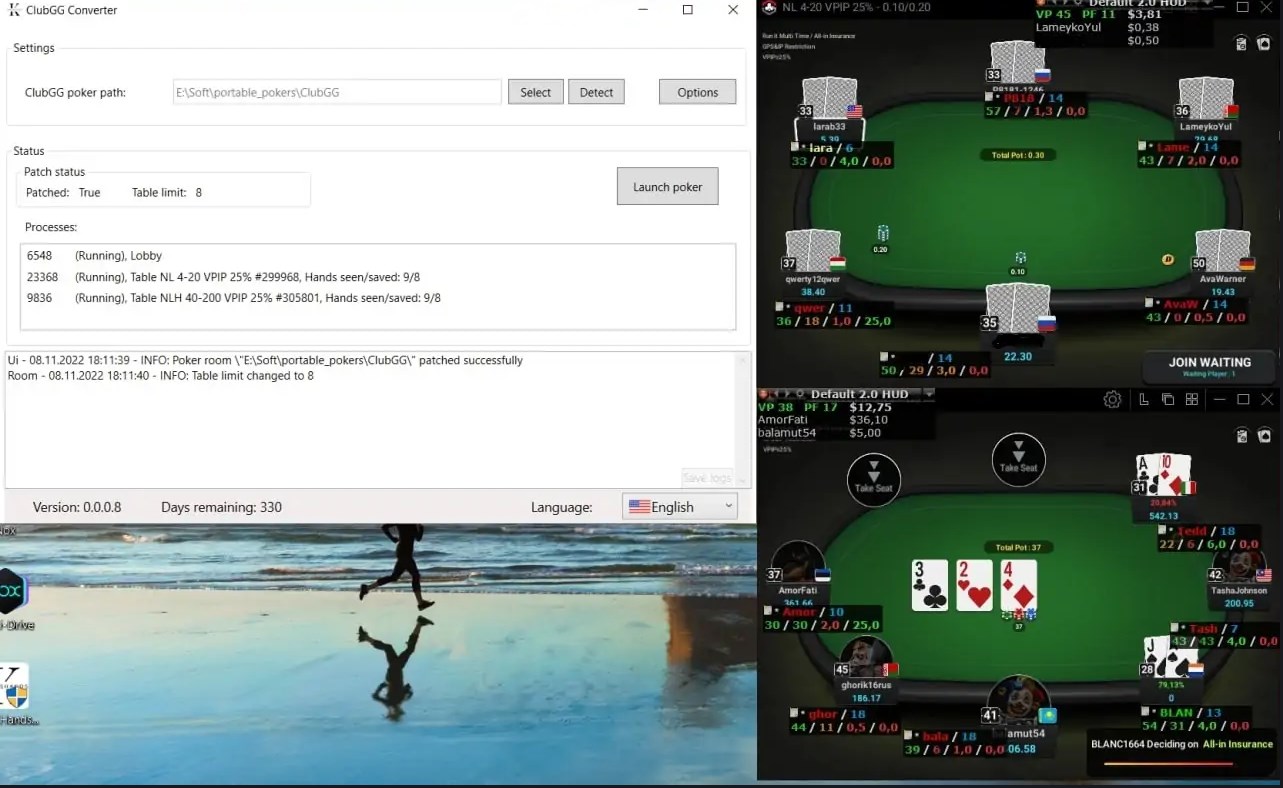 Unlike its competitors, ClubGG does not share a lobby with the free game
Tournaments. The story with tournaments is completely the same as the cash tables.
Useful software. Advanced ClubGG Converter can help you display online statistics. However, it does not remove the limit on the number of tables.
Why is it profitable to buy on PokerEnergy?
You can buy all the items listed in the text at PokerEnergy. The two main benefits of shopping with us are:

1. Bonus points. We give bonuses for every purchase. Next time you order you can use them and save.

2. Section with Promotions. You can get many programs from the catalog for free. For example, if you buy Holdem Manager 3, we will give you a lifetime license for Flopzilla.

All catalog updates and good deals are published in the PokerEnergy telegram-channel. Sign up to not lose +EV.
And this is how the pivot table for multi-tabling in different poker rooms looks like:
Poker Network (Room)

Max number of cash-tables

Max number of fast poker tables

Max number of tables on mobile devices

Helping software for multi-tabling

PokerStars

4

4

Smartphone - 4,

Tablet - 5

GGPoker

4

4

4

-

PaiWangLuo (Bodog)

4

2

1

-

iPoker Network

16

16

16

888Poker

6

6

4

Partypoker

16

4

4

Unibet

NL4-NL10 - 8,

another

stakes - 10.

4

6

-

Winning Poker Network

24

24

4

Chico Poker Network

8

8

4

-