How to play poker on PokerKing in a browser?
26.10.2022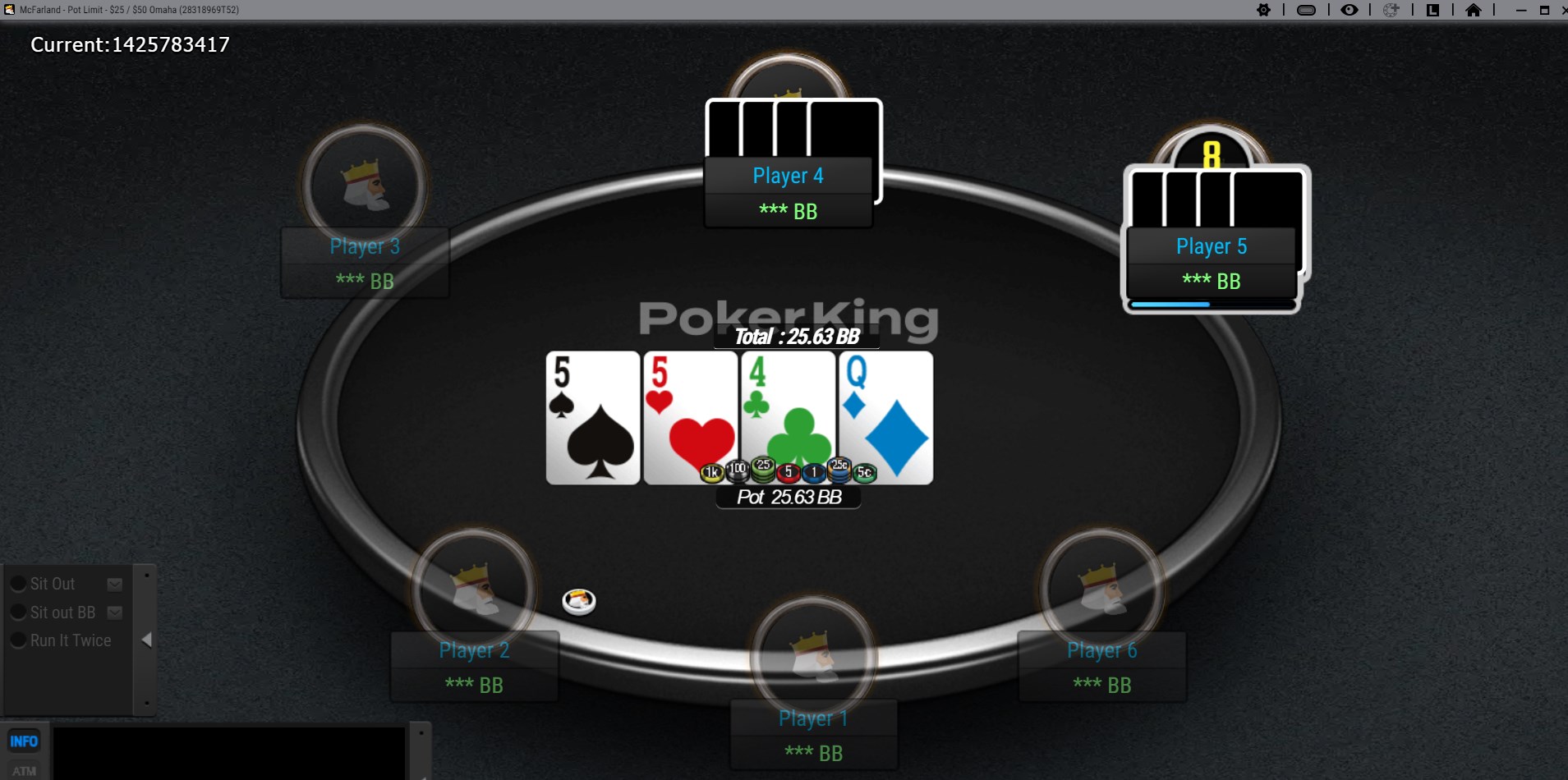 Powerful smartphones have made poker accessible. Previously, the only platform for the poker were computers, and other devices were offered browser-based versions. Now the situation has changed for the better: poker-rooms realized the importance of the mobile market and released separate clients for smartphones. Has PokerKing bucked the trend, or does poker there work only through the browser?
How to play PokerKing in the browser?
The Winning Poker Network has a few original differences from other poker companies. They accept players from the USA, hold a monster "The Venom" event several times a year... and still haven't made a separate mobile app. All smartphone and tablet users are offered to play in a browser. This applies to all of the network's rooms, including PokerKing.
Here's what you need to do to open tables in the browser:
1. Go to the official site of the room.
2. Click on the yellow button "Play without downloading". This will open a new page in your browser.

The button is located directly on the home page of the site, so you do not have to look long
3. Enter your login and password. You must enter the same information as when you sign in from your computer. If you don't have an account with PokerKing you will be asked to create one.
4. Play poker.
What can I play in my browser?
From a smartphone or tablet, players can sit down at Jackpots and Blitz tables. That is, the browser supports play exclusively in local spins and fast poker. Cash tables, tournaments and Sit&Go only work in the Pokerking client for PCs.
Which browsers do PokerKing support?
You can use Google Chrome, Mozilla Firefox, Brave, Opera, Safari to play. The official site claims, that the other programs also work.
Should we expect a separate mobile application?
Winning Poker Network delayed the release of an application for smartphones for many years, but in November 2022 began testing the mobile client. A beta version is being tested on the Americas Cardroom. For now, it supports 1 NL Holdem cash table. By December they plan to add PLO cash tables. In January 2023 the mobile application will allow multi-tabling up to 4 cash tables. In February the turn will come to MTT and Sit&Go tournaments.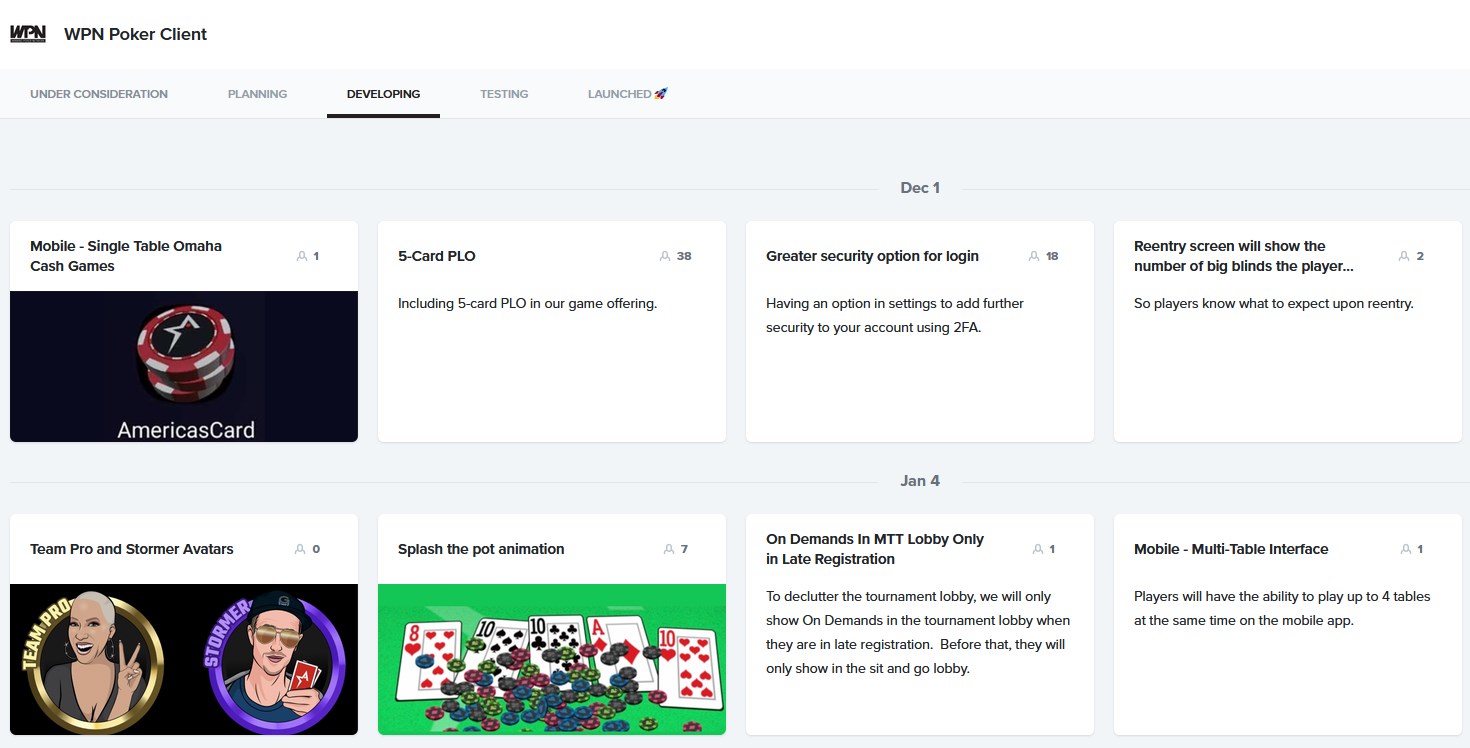 Winning Poker Network has a whole roadmap with software updates
After testing and adding new features on Americas Cardroom, we should expect a mobile app for PokerKing with Black Chip Poker. Note that Winning Poker has held on the longest: the other networks and rooms launched separate clients for smartphones long ago.
What poker software works on PokerKing?
PokerKing allows you to use statistics and HUD during the poker session. That's why we recommend the Hand2Note tracker. It has a lot of advantages, like the speed of importing hands or the Range Research feature, but the main argument in favor of H2N is different: the basic version of the software is free with no time limit. From the beginning of your career, you'll be able to import hands, show statistics, and analyze deals. All that without spending a dime of your bankroll. You can download Hand2Note from the developer's official site.
Tournament players will find the SharkScope statistics service useful. It tracks 99.9% of online tournaments in all popular networks and rooms. Just enter your opponent's nickname in the search box of the service. With SharkScope you will know:
Amateur or professional in front of you;

Opponent's ROI;

The average buy-in;

The total profit;

Current form;

Favorite discipline;

A clear graph with career prizes.
In tournament poker any information is important, that is why more than 20% of all online players use SharkScope. You can evaluate the service for free: anyone is given 5 searches per day.
Subscriptions to SharkScope or paid versions of Hand2Note are advantageous on PokerEnergy. Here are two arguments in favor of our shop:
We give you bonus points for every purchase. Use them in your next orders and save.

We give poker programs for the purchase of items from the promotional section. For example, we give a lifetime license for Flopzilla for purchasing Holdem Manager 3.
To keep up to date with all the good deals and new products in the catalog, subscribe to the PokerEnergy Telegram Channel.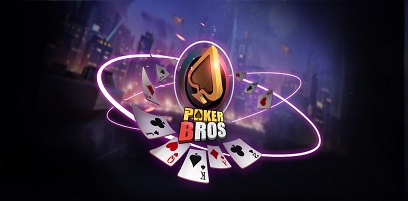 PokerBros
TRUE RAKEBACK FROM 25%
INCREDIBLY WEAK PLAYERS POOL
HANDHISTORY CONVERTER AND DATAMINING FOR FREE

NO VERIFICATION, NO COUNTRY LIMITATIONS

OUR FINANCIAL GUARANTEES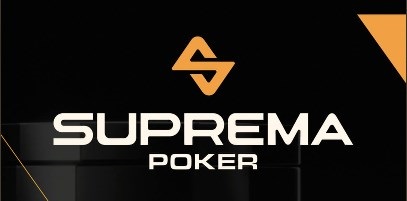 Suprema Poker
TRUE RAKEBACK FROM 45%
WEAK PLAYERS FROM LatAm
HANDHISTORY CONVERTER AND DATAMINING FOR FREE

ACCEPT PLAYERS FROM EVERYWHERE, NO VERIFICATION

FINANCIAL GUARANTEES