8 reasons to try Hand2Note
13.01.2023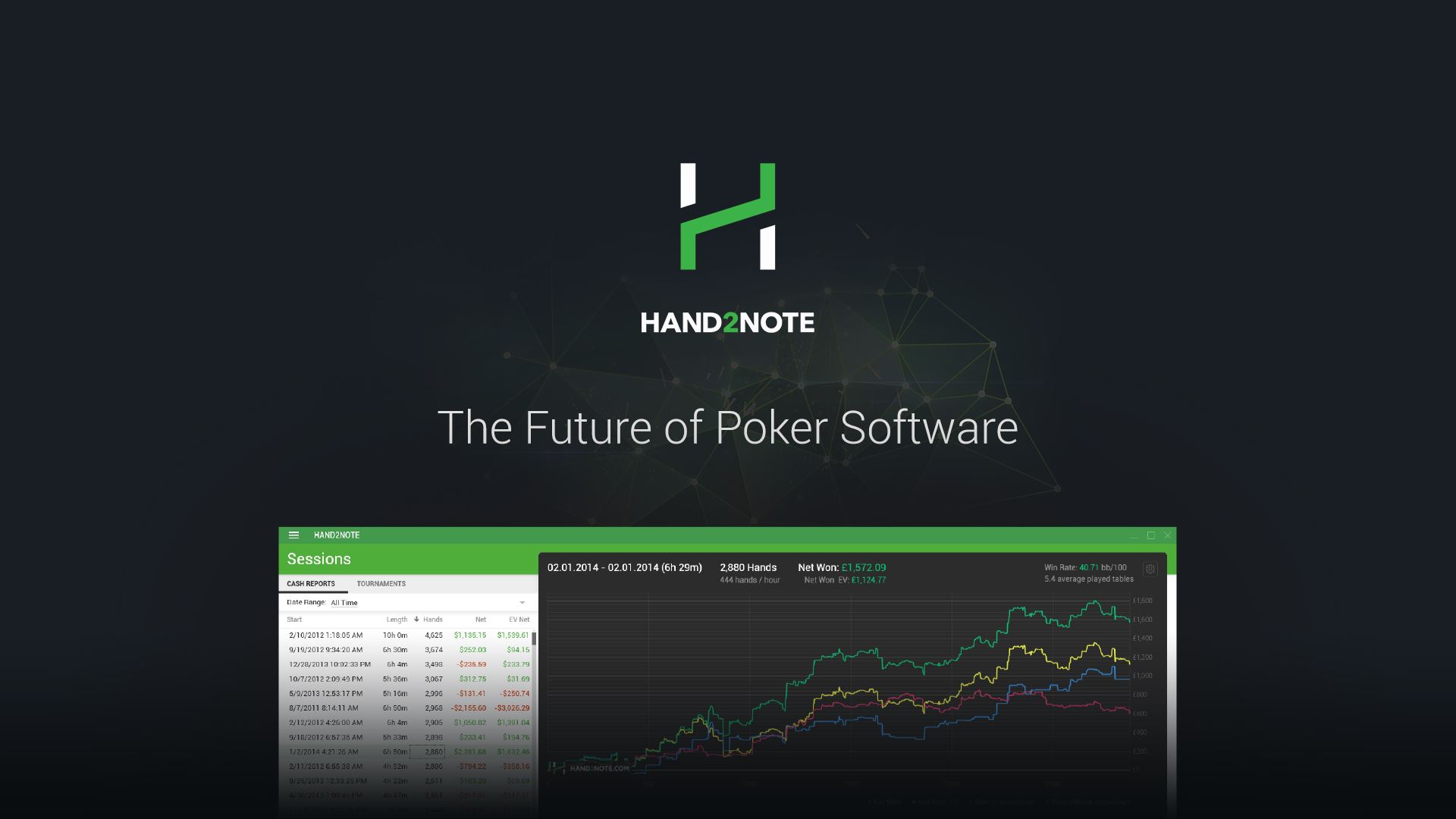 Modern online poker has come a long way since its inception in 1998. Back then, the very fact of playing online poker looked like a miracle. Twenty-five years later, the software of the rooms has reached an unbelievable level. The clients of PokerStars and PokerOK look like real works of art. In parallel, the market for poker support software evolved as well. The result of decades of evolution was the poker tracker Hand2Note. In this article we'll tell you why you should choose H2N.
Reason #1: Free tracker
Most poker software developers stick to the classical scheme: the client pays money for the program and then uses it. This approach is professed by Holdem Manager 3 and PokerTracker 4. Both trackers have free versions for 14 days. Hand2Note originally offered a 30-day trial, but in September 2019 made the basic version of the tracker free on a permanent basis. Getting a licensed H2N for free at the start of your career is a tempting prospect.
In the past, new players have shelled out $60 to $100 each to import hand history and display stats. For beginners playing NL2, NL5 or NL10, buying a licensed tracker was a problem. It is difficult to develop in poker without statistics, but also to spend the appreciable part of a $150-200 bankroll for one program. Players found themselves at a crossroads:
1. Spending on a tracker and sitting on the same limit for another 1-2 months.
2. Increase bankroll, but do without statistics and HUD.
Both variants slowed down progress; Hand2Note made a big step forward and allowed us to avoid these limitations. Now beginners don't lose money and make full use of statistics.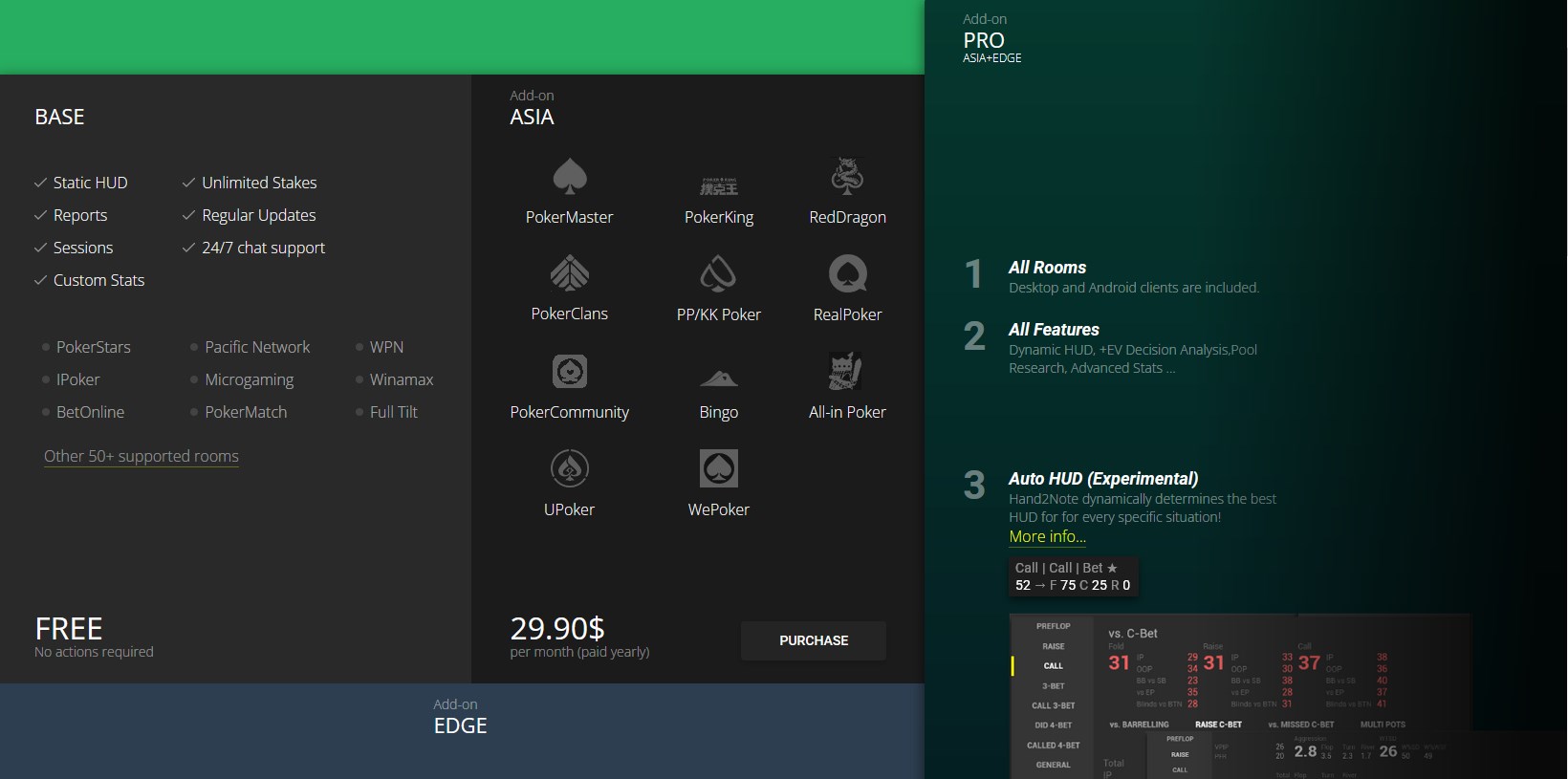 The Asia subscription is geared toward mobile app players, while the Edge includes a dynamic HUD and Range Research. Pro subscription combines the benefits of Asia and Edge
The basic version of H2N is not perfect: there is no dynamic HUD, pool research function or support for mobile poker apps. But it does have:
statistical HUD;

reports;

constant updates;

feedback from online technical support;

support for more than 50 rooms, including PokerStars, 888Poker, TigerGaming, RedStar Poker, Winamax.
The tools of the free version are enough to successfully play on micros. Hand2Note can be downloaded from the official website of the developer. If you want to switch to a paid version of the software, you should use a 10% discount. To save 10% off any subscription, go to the developer's site and specify "H2N10NU" in the promo-code field when purchasing. The discount works for subscriptions for any term. For example, an annual subscription to Hand2Note PRO will cost $59 cheaper than without a promo code.
Reason #2: High import speed
Large databases have always been a problem for poker trackers. Changing computers or switching to a new room was accompanied by difficulties with the transfer of a huge amount of data. For example, importing a couple million hands into PokerTracker 4 took 8 hours. A full working day you just sat and watched the import of hand history. Even the advances in technology in the form of SSD did not result in a significant speedup of the process. Against this backdrop, Hand2Note looks like a Formula 1 racing car.
The tracker imports 1,500-3,000 hands per second. Let's take the average value of 2,250 and apply it to the database from the previous paragraph. The result is impressive: Hand2Note will load 2,000,000 hands into the database in 15 minutes. Thirty-two times faster than PT4. In online mode, the role of import speed is not so important, so any tracker will do well there. However, if you use datamining all the time, H2N will make it easier to handle.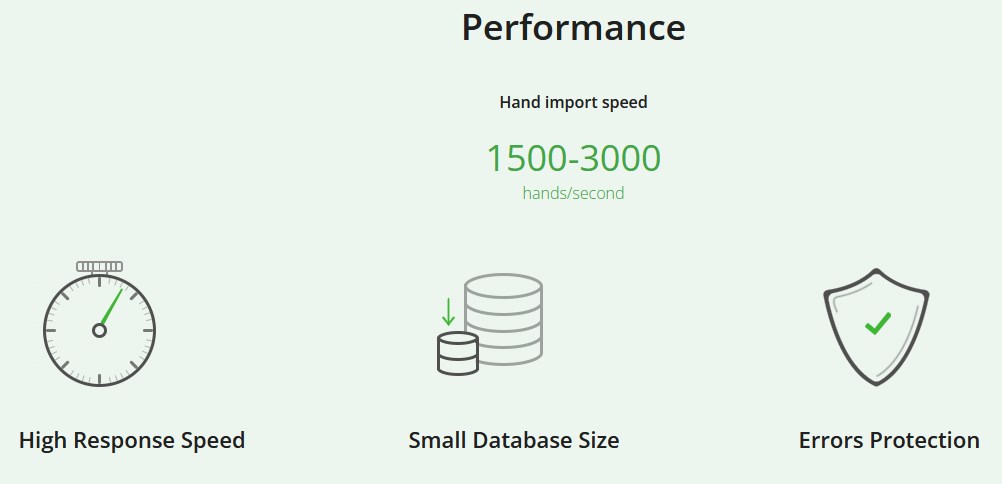 Error protection to a minimum will reduce the number of "broken" hands
A nice bonus of Hand2Note is the size of the database. A database of a million hands takes up 400-500 MB of hard disk space. The compactness will allow you to do without deleting your old hand history and losing valuable information.
Reason #3: The most convenient notes system
Statistics and HUD are extremely useful sources of information, but in online poker your own observations are also very useful. Professionals are constantly recording conclusions about their opponents' play. Notes record the results of their observations "on paper". Capturing data in online poker is difficult because of the speed of the game. It is doubly difficult to make a clear and accurate record when multi-tabling. That's why players give up observations and rely solely on statistics. Hand2Note solves the problem.

Notes can also be linked to individual indicators from the HUD
The tracker has the ability to create templates for notes. During the game session you can record the information in a couple of clicks. Accuracy of records will be increased by a feature that allows you to add a graphical display of the deal to notes. You will have a visual demonstration instead of dry text. Hand2Note also helps people who have too many entries. For them the tracker unites notes into groups. That is, users will be able to study separate records for preflop, 3-bets, squeezes, and other situations.
Reason #4: Dynamic HUD
At the beginning of a poker player's career a few statistical indicators are enough. The combination of VPIP and PFR often allows you to determine your opponent's profile and classify him as an amateur or professional. Aggression and pass to showdown stats clarify the opponent's style on the postflop. However, as our skills and distance grow, so does the list of useful stats. Eventually it becomes too much, and you can't find the stats you need quickly. Dynamic H2N saves the situation.
The dynamic HUD shows the statistics you need at a particular moment. Suppose we opened with a raise from MP on the preflop, and we were 3-bet by an opponent with BTN. With a static HUD, we would have to go to the popups and look for the ranges that BTN 3-bets against the MP. With dynamic HUD we do not need to open additional windows - all information will appear automatically. In addition to the situation-adapting HUD, H2N is capable of displaying statistics depending on:
opponent's effective stack size;

the number of opponents at the table;

the number of hands per opponent;

the opponent's color mark;

the opponent's position in relation to us.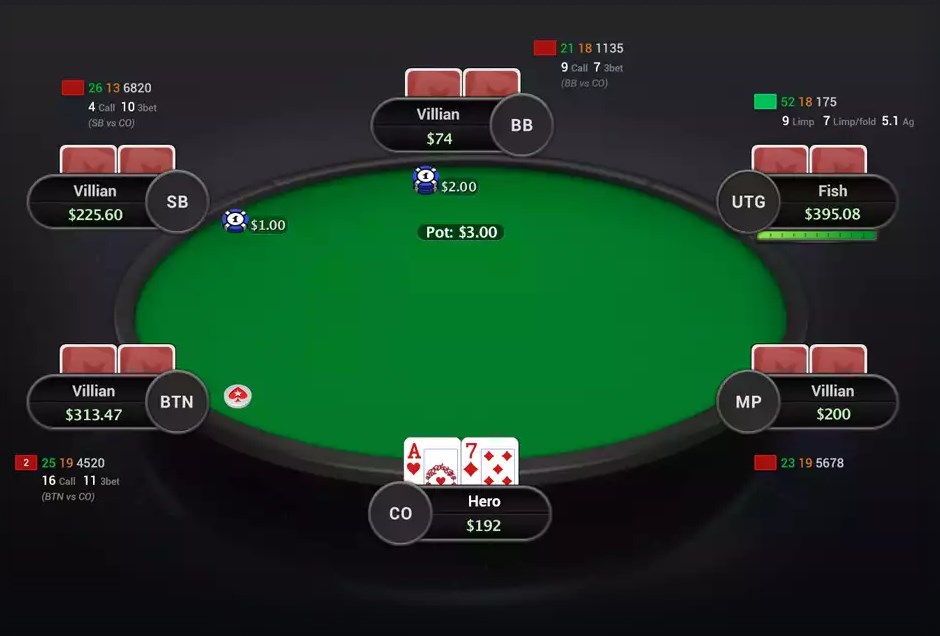 Dynamic HUD is banned on PokerStars, but works in another rooms
You will be able to display different sets of statistics on opponents at the same table. Let's assume we are facing 4 regulars and 1 fish at a 6-max table. We will have one HUD for regulars and a completely different one for an amateur.
An additional argument in favor of Hand2Note is the exclusion of "regular versus fish" deals. This option allows you to sift out distorted information, because professionals act differently against regulars and fishes. As a result, some trackers import everything and create a biased picture.
Reason #5: Range Research feature
Leading poker rooms are constantly competing for players. First deposit bonuses, promotions, rakeback, rake races and lotteries are all in play. It is profitable for poker players to change their main room and get the most out of temporary advantages. Often the peculiarities of playing opponents in different rooms are a barrier. The pools do not differ cardinally, but specific deviations can be expensive. Especially for high limit players. Range Research minimizes the price of adjusting to a new pool.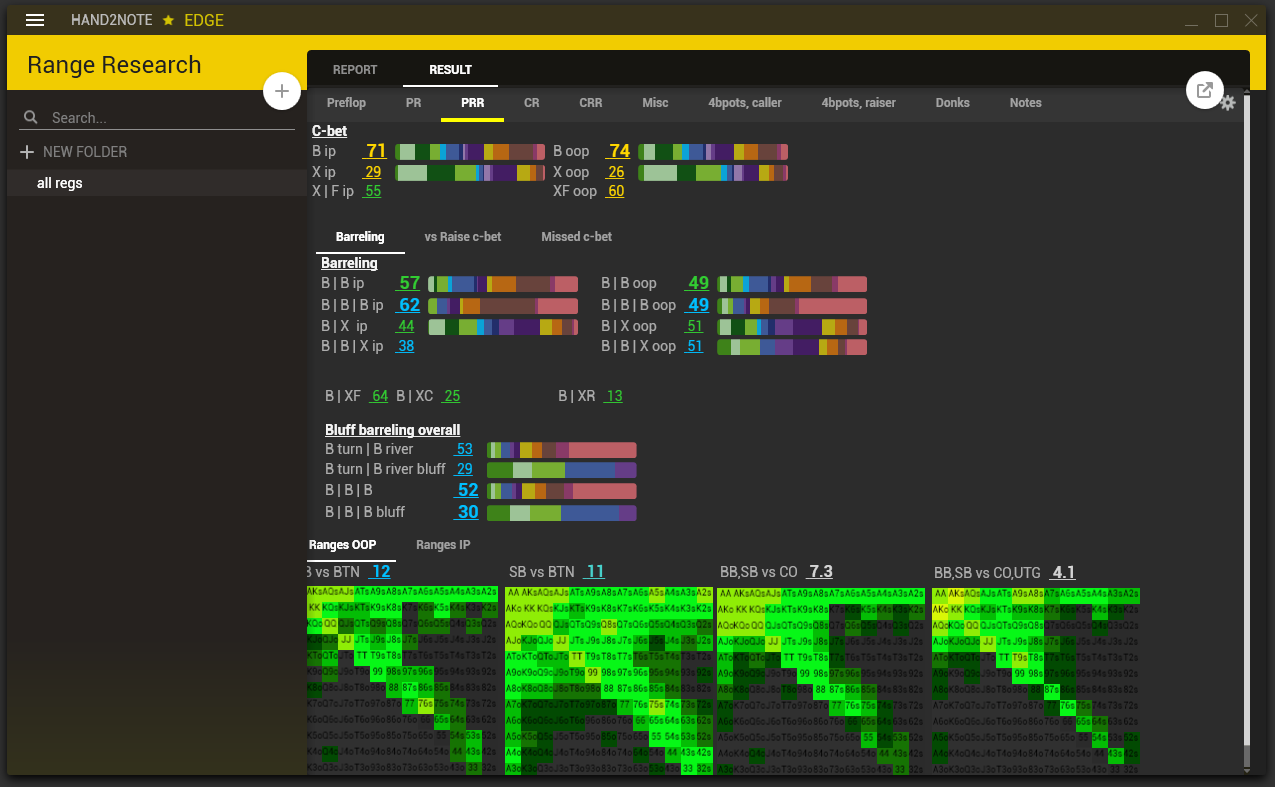 With Range Research you can group your opponents by individual criteria. For example, select the most winning opponents and reveal the secret of their success
With Range Research, you'll be able to research the specifics of the entire pool. Study your opponents' ranges and make the right adjustments to your strategy. Previously, players had to waste time and lose money through trial and error method. Range Research will save your bankroll and time. You can get the baseline data for your research from datamining or ask friends who already play where you plan to go.
Reason #6: Directly support of mobile rooms
The first wave of popularity of mobile poker rooms was in 2017. At that time PokerMaster was the pioneer. In a couple of years the application went from the weakest online pool to complete oblivion. PPPoker, PokerBros, Suprema and other apps took the place of PokerMaster. At the beginning of 2023, the number of players in mobile applications already exceeds the classic networks and rooms. And the skill level of opponents is much lower than on PokerStars or PokerOK. The only problem with playing in mobile rooms is the lack of statistics and HUD. Hand2Note solves it.
At the beginning of the poker boom, the whole game was played only from mobile devices. More than that, people bought several smartphones for multi-tabling so that they could play from every device. Over time, many professionals switched to playing from emulators. Emulators worked on PC, which allowed to collect statistics and display HUD. Except that trackers did not support mobile rooms directly - you had to buy converters. H2N developer taught the tracker to work with mobile rooms without any additional software.
With Hand2Note Asia subscription you will be able to display statistics and HUD in 16 rooms. Among them are PokerBros, PPPoker, Suprema Poker, Upoker, XPoker, ClubGG and a dozen less popular apps.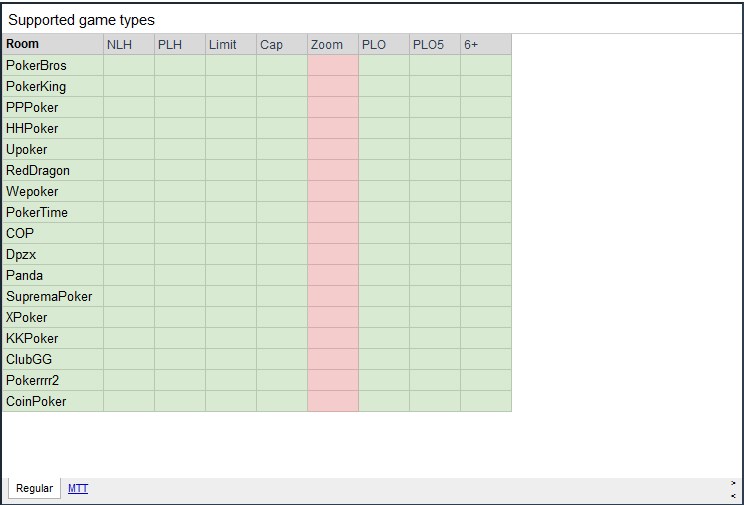 H2N works not only at Hold'em tables, but also in all kinds of Omaha
The list of supported rooms is constantly expanding. Through feedback from the developer you can suggest a new room and in time it will be added to the list.
Reason #7: we give poker software as a gift for subscribing to Hand2Note
The site PokerEnergy has a section with promotions. There you will find great deals on many of the products in our catalog. Hand2Note is an active participant in promotions. For various subscriptions to Hand2Note we give away:
You can get a free equity calculator, multi-tabling auxiliary software or solver just for using Hand2Note. If you buy software elsewhere, you'll have to pay for both the subscription and the rest of the software.
Reason #8: Hand2Note 4 is coming soon
In August 2021, the developers announced the start of the beta test of the updated H2N. The fourth version of the tracker was planned to add:
advanced and "smart" reports;

a flexible filter system;

increased performance;

support for the Mac operating system.
It's been more than 16 months since testing started and there's a good chance Hand2Note 4 will be released soon. With the improvements you get an even bigger advantage over your competitors. An additional argument for switching to H2N now and taking out an extended subscription is the preceding example with the release of Holdem Manager 3.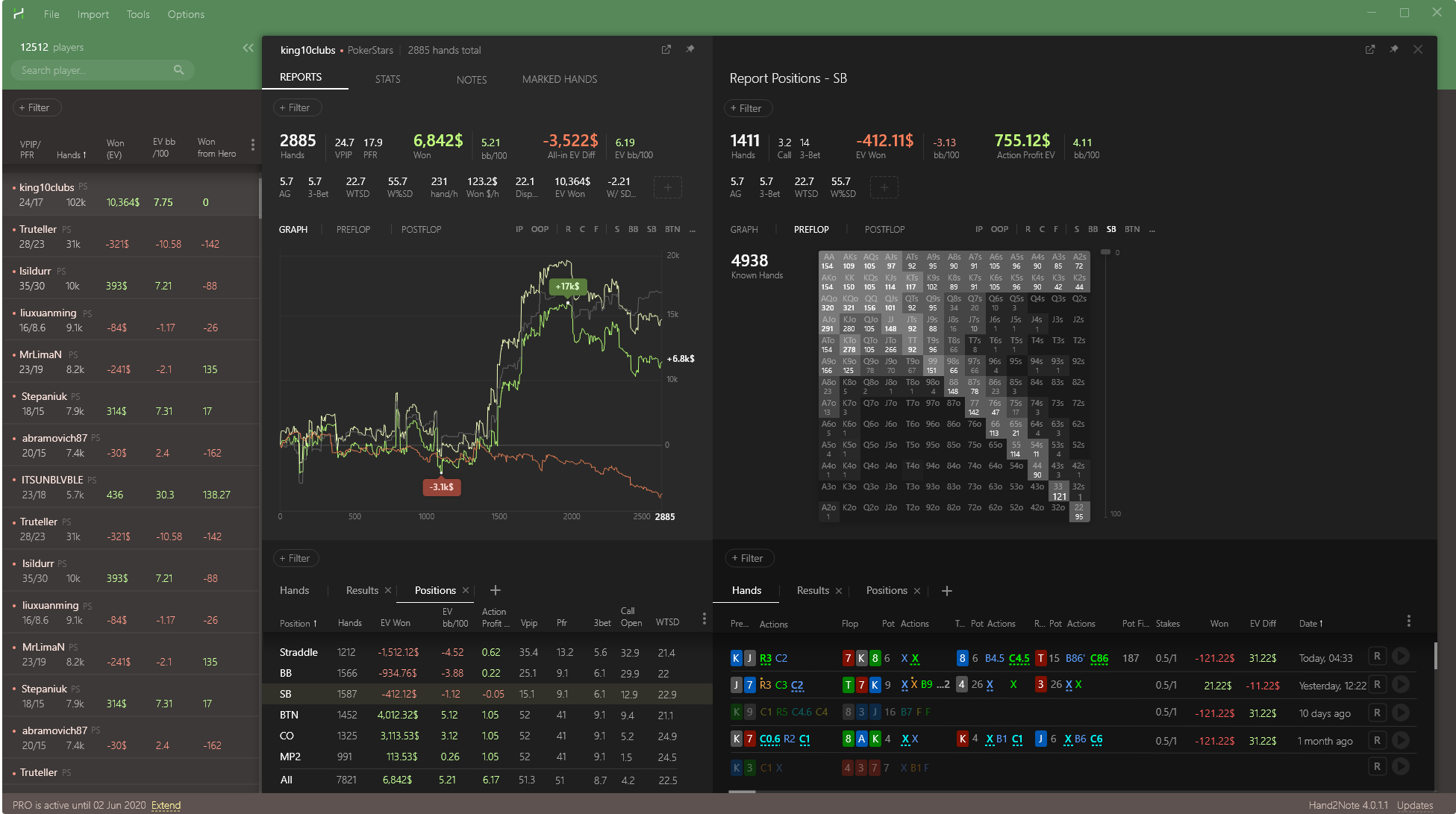 Previously, the operating system from Apple supported only PokerTracker 4
In October 2019, the developers of Holdem Manager unveiled the third version of HM3. Within 30 days of the release of Holdem Manager 3, HM2 license holders could get a free license for the new tracker. A month later, to "upgrade" from HM2 to HM3 was offered for money, but with a 25% discount.
It is not necessarily that the developers of Hand2Note on the release of version 4 of their software will go the same way, but there is still a possibility. If you subscribe to H2N now, you will get all its benefits at the time of release of the updated tracker without any additional charges.
All catalog updates and great deals are published in the PokerEnergy telegram channel. Sign up, so you won't miss +EV.