Top 5 Programs for Spin&Go in 2020
09.07.2021

Every year, poker is becoming more multifaceted and complex. A growing number of strong players are able to invent individual elements or whole new strategies. There is less chance to become professional player without using specialized poker software. But even those few who are able to go all the bumpy path from a weak hobby player to a strong regular will spend a huge number of hours and efforts.
All this is true for any poker discipline, including Spin&Go. In tournaments of the Spin&Go format, the requirements are even more stringent, since the price of an error is extremely high. Also high is the dispersion in such hyper-turbo tournaments. Therefore, regardless of whether you are an experienced professional player or just starting your way into poker, you must use all available tools to develop your skills. Today we'll talk about the most useful poker programs for Spin&Go.
1. Poker Tracker
The key to successful work on your skills and abilities is the constant analysis of hand histories. This statement is an axiom for any poker discipline: from cash-games to MTT. Hand analyze is impossible without a poker tool such as a poker tracker. Will you work with a coach, other players in the conference, or would you like to post your hands on a profile resource - all this is impossible without a tracker. Qualified independent analysis without a replayer and filters will also not be available to you. As well as the search for vulnerabilities in the strategy of opponents. And these are only the most important functions that poker tracking programs perform.
The most advanced solutions for players: Holdem Manager 3 or Hand2Note. The first option is easier to learn and will not hit your pocket so much, since you will have a lifetime license for the program. Read more about Holdem Manager 3 in the comparative article.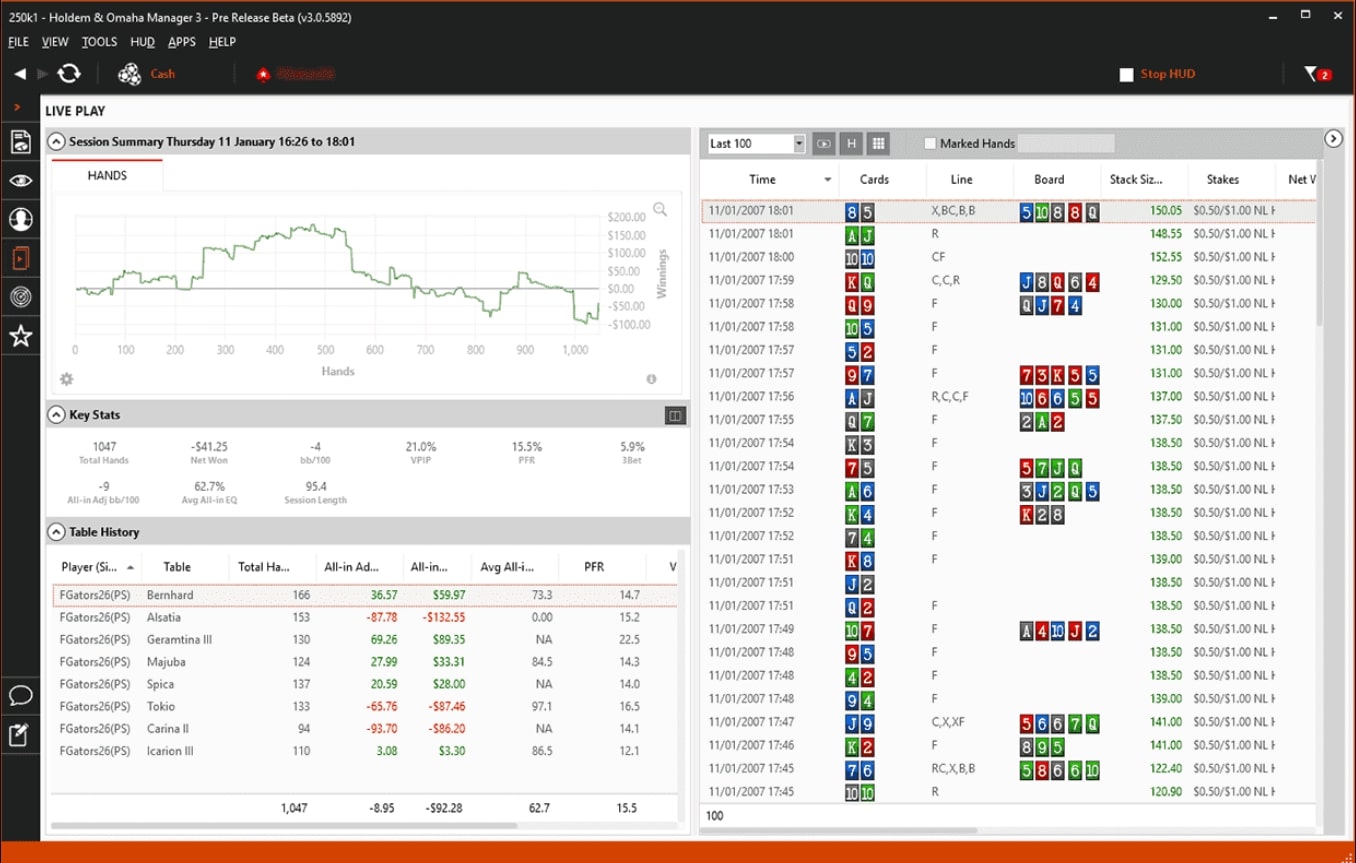 Hand2Note is a more advanced software. More suitable for experienced professionals who are in search of even minor advantages over their rivals. The full version will be expensive.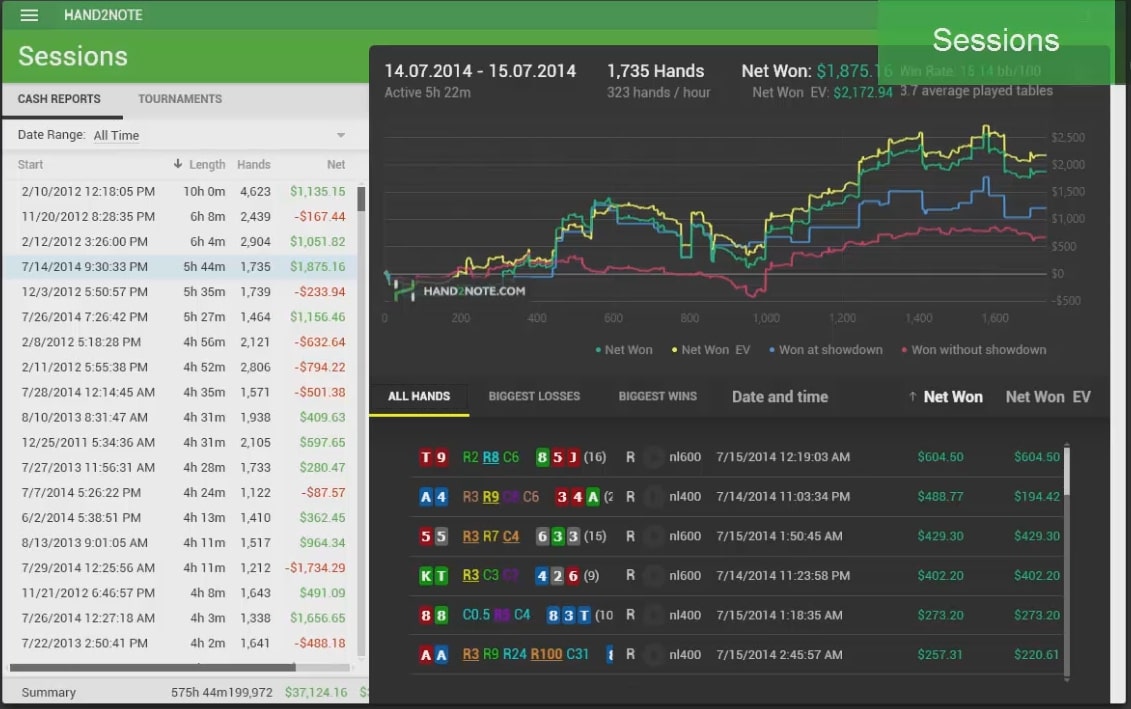 You can try both poker trackers for free and then make the final choice. Holdem Manager 3 provides a trial version for 14 days absolutely free. You can download the basic version of Hand2Note for free from the official website of the developer.
2. Equity Calculator (Flopzilla Pro\Power-Equilab)
The second necessary tool in the arsenal of the player craving for progress is a poker calculator. If a poker tracker is needed to import your hand history and create a database, then the calculator will help you to analyze specific hand. Flopzilla Pro is a recognized leader among programs that develop thinking in ranges. The ability to think about a range of opponents will allow you to read them and to win. Only a good understanding of the strength of the opponent's hand will allow you to crank out successful bluffs and beautifully reveal similar actions by opponents.
Nice and intuitive interface Flopzilla will help you quickly embark on the path of a poker professional.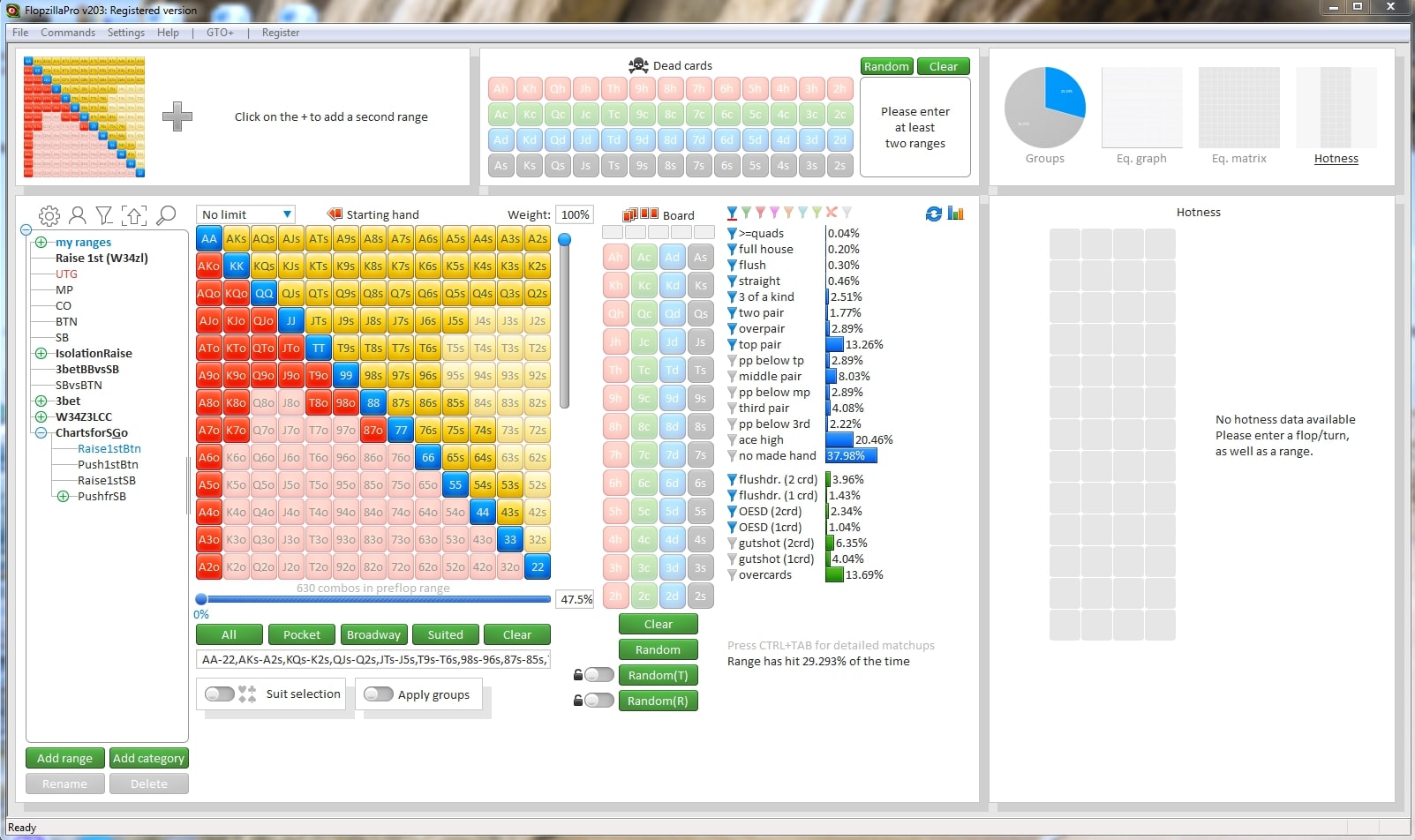 The low cost of the program also cannot but rejoice. An additional advantage is that when you buy Flopzilla you will also get Flopzilla Pro for free. You can read how to use Flopzilla here. About features of Flopzilla Pro you can read in another article.
An alternative is the Power-Equilab Equity Calculator. Compared to the starting version, Flopzilla PE looked even more perfect.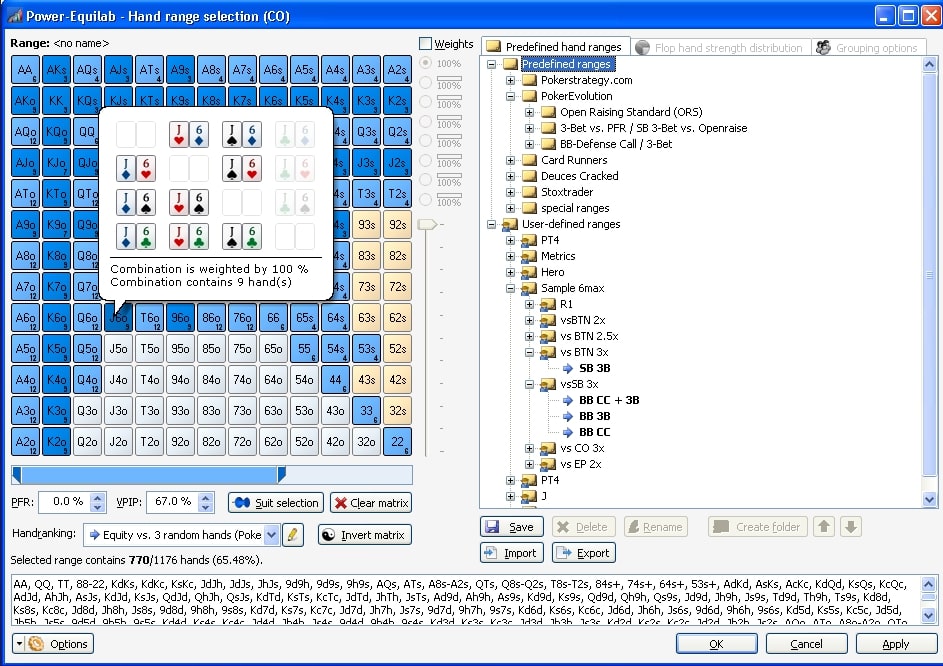 The grouping of ranges by colors within the same matrix, the presence of the "equity training" mode, as well as equity charts made it possible to analyze the history of hands more deeply. With the advent of Flopzilla Pro, the benefits of Power-Equilab have come to naught. However, nothing prevents you from comparing both calculators and then making your decision. Power-Equilab is free to try. A trial version is available for 14 days.
3. Auxiliary program for multitabling
Spin&Go discipline is characterized by a high level of dispersion. The best way to deal with math abnormalities is to play long distances every month. Professional poker players recommend playing from 3,000 tournaments per month. In addition to combating dispersion, you will also gain more experience and improve your playing skills.
More tournaments - your poker skills are growing faster. Fulfilling the recommendation of several thousand tournaments per month is not so easy! You will inevitably quickly come to the idea of ​​increasing the number of tables played at the same time. To cope with multitabling and not to lose the quality of the game you need an assistant program that automates a number of actions at the poker table. Among them: automatic activation of a time bank, profiles with bet sizes, convenient arrangement of tables on the screen of your monitor, an increase in fonts and much more. Programs will vary depending on your poker room:
The StarsCaption, PartyCaption, 888Caption programs are free for tournaments up to $ 3 inclusive without time limits. For 30 days, a free version with no limit restrictions is also issued.

IPoker Tools and WPN Tools Lite helpers have a free 30-day trial. The StarsHelper developer also provided for the same period for a free trial period with program features.
At the initial stage of your career, strive to play all tournaments in one poker room or network. Weak players at low limits are enough in all rooms. An important argument in choosing the main poker room for playing Spin&Go should be rakeback. Partypoker, iPoker and Winning Poker Network are currently offering the most favorable conditions for spins. In all these networks, you can count on 30-40% rakeback with a tight game.
4. Preflop training program
In hyper-turbo tournaments for 3 people the preflop game plays the most important role. Knowing the charts of starting hands and a good push\fold skill will become a solid foundation that will allow you to feel confident even in the most difficult situations. Due to the short stack and the rapid growth of levels, every preflop mistake can become fatal. In combination with the need to actively multitable and play at least 3,000 tournaments per month, you will be required to automate each action preflop. The best way to learn all the charts is the PreflopHero training program.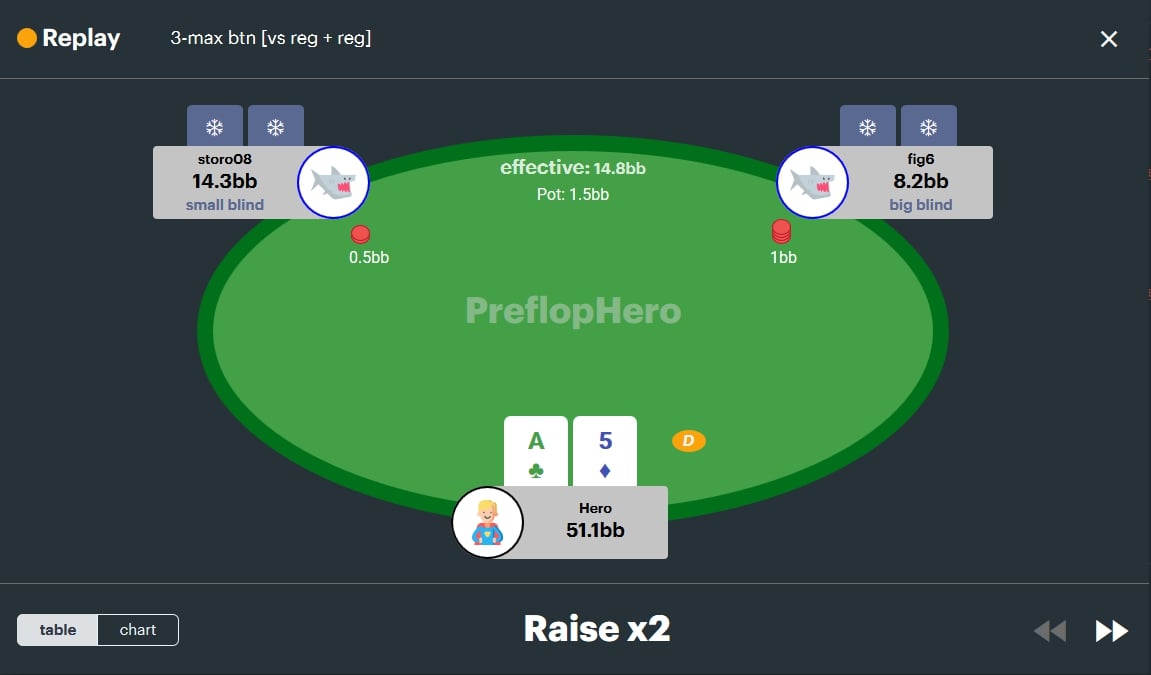 At first look, the number of charts in Spin&Go tournaments should be minimal: three tournament participants are inclined to this. But if you dig deeper, then a considerable number of potential situations during the game may arise:
3-max with BTN\SB\BB. It's not just about raising, but also about other actions, including responding to limps and 3-bets (each of them form its own, unique situation);

HU SB/BB.On the big blind, you can adjust the previous action of the opponent - is he limped or opened?
In total, PreflopHero has over 20 training options.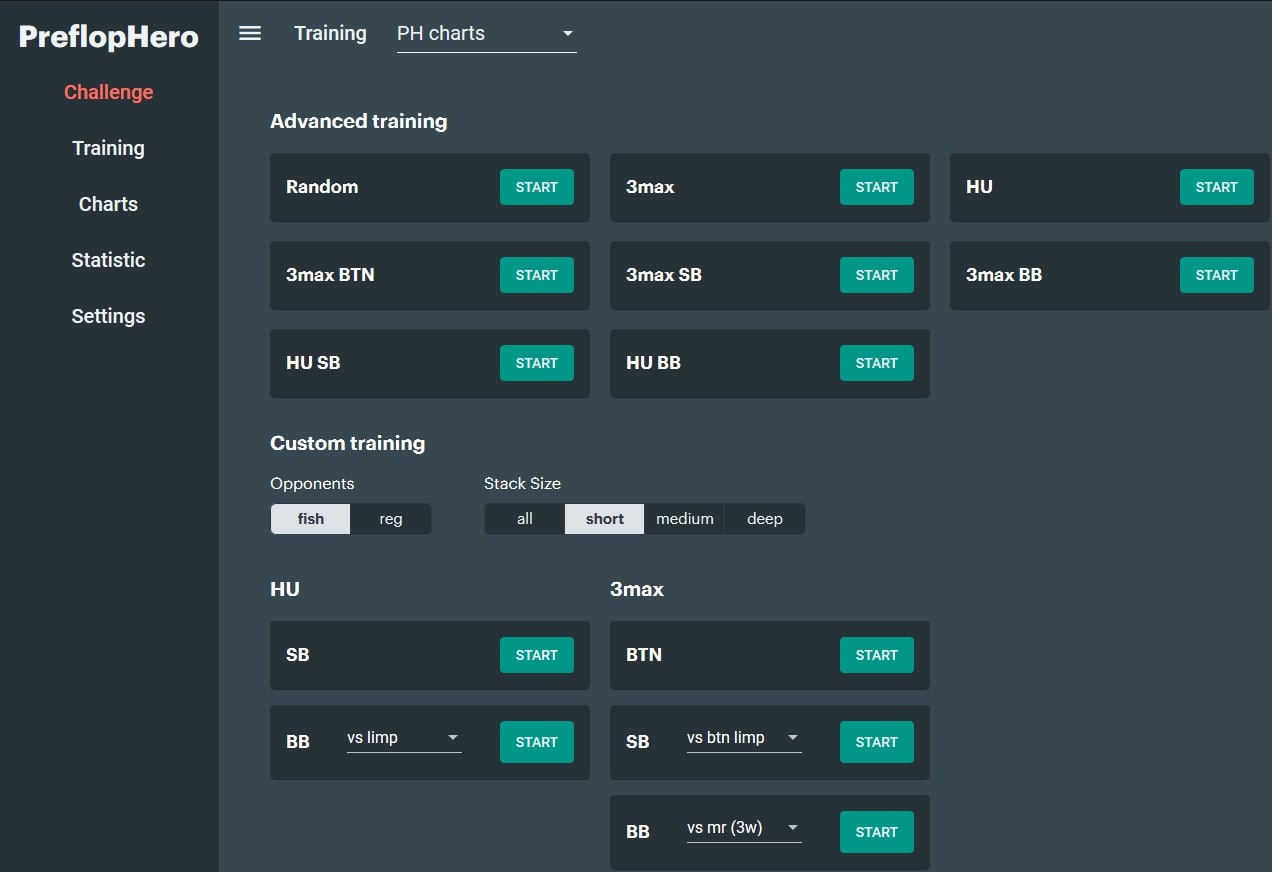 Now imagine that you work on each of them during the game and make inevitable mistakes. How many dozens, or even hundreds of buy-ins, will you lose until you memorize the procedure in each of them by heart? Work in the simulator program will allow you to hone your playing skills preflop in a game form without wasting your bankroll. PreflopHero has other benefits:
Built-in chart editor. Over time, you will not only play on the basis of other people's developments, but also be able to develop your strategy.

Saving errors and session results. In the "Random" mode, you can identify the most vulnerable places of your strategy and begin work on their elimination. And progress will be available thanks to the function of saving the results of each training session. The ability to track progress is one of the key elements of the learning process.

The application works on smartphones. Wherever you are, you can work on the game everywhere.
By tradition, the program has a trial version. Try PreflopHero for free on the official website of the developer. At the moment, the program has no analogues. PreflopHero is the only poker software designed to play in Spin&Go tournaments.
5. GTO-trainer
One of the most attractive features of Spin&Go tournaments is the huge number of weak players. They are very actively tempted by the chance to become a millionaire in a few minutes. It was because of the accumulation of recreational players in the dispersion discipline that regular players began to pull themselves up. To succeed at low limits you will not need so much:
Disciplined game;

Lack of problems with tilt;

Sufficient distance.
However, a successful game will sooner or later lead you to medium or high limits. There you will already be forced to compete with other professional poker players. To compete with them, you need an understanding of GTO. A balanced strategy is useful not only because your opponents will not be able to exploit you. Due to a good understanding of GTO, you can better see the leaks in the game of weak regulars and amateurs, which means that you will win more.
The high efficiency of the balanced strategy has led to the emergence of a large number of training software. Highlight Simple GTO Trainer.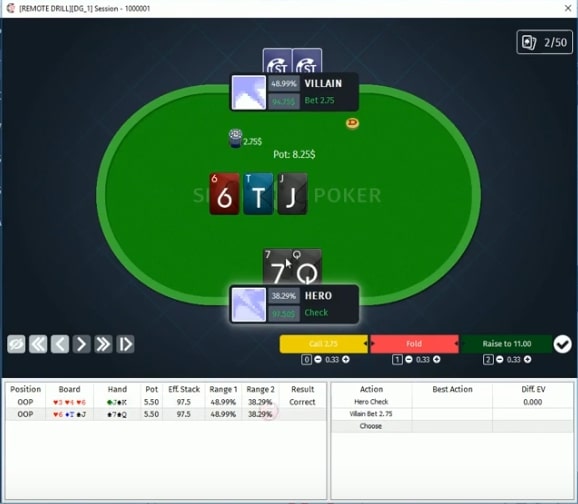 This is another poker software that allows you to develop your understanding of a balanced strategy in a playful way. It combines the best elements of a poker trainer and a GTO calculator. Many elements of Simple GTO Trainer are similar to the PreflopHero mentioned above: creating your own training scenarios and your own special strategy, saving the progress of training sessions, remembering your mistakes and tips on how to play correctly. Simple GTO Trainer can be downloaded for free from the official website of the developer. In the trial version, you will have access to mathematical calculations for the turn and river without time limits.
In what order is it better to acquire programs?
As you study this list, you can come up with an absolutely rational thought:
"It's great, of course, that there is so much software for Spin&Go tournaments,but there is only one problem - where to get so much money!?"
According to the most conservative estimates, the acquisition of all poker programs from this list will cost $ 250-300. For many newbie, the size of the bankroll is significantly less than such a price tag. Therefore, it makes sense to prioritize and buy software in order of necessity. The easiest solution with StarsCaption\PartyCaption\888Caption. They are free with no time limits for use in tournaments up to and including $ 3. That is, at Pokerstars you can go through 3 starting limits at Spin & Go without spending any money on StarsCaption.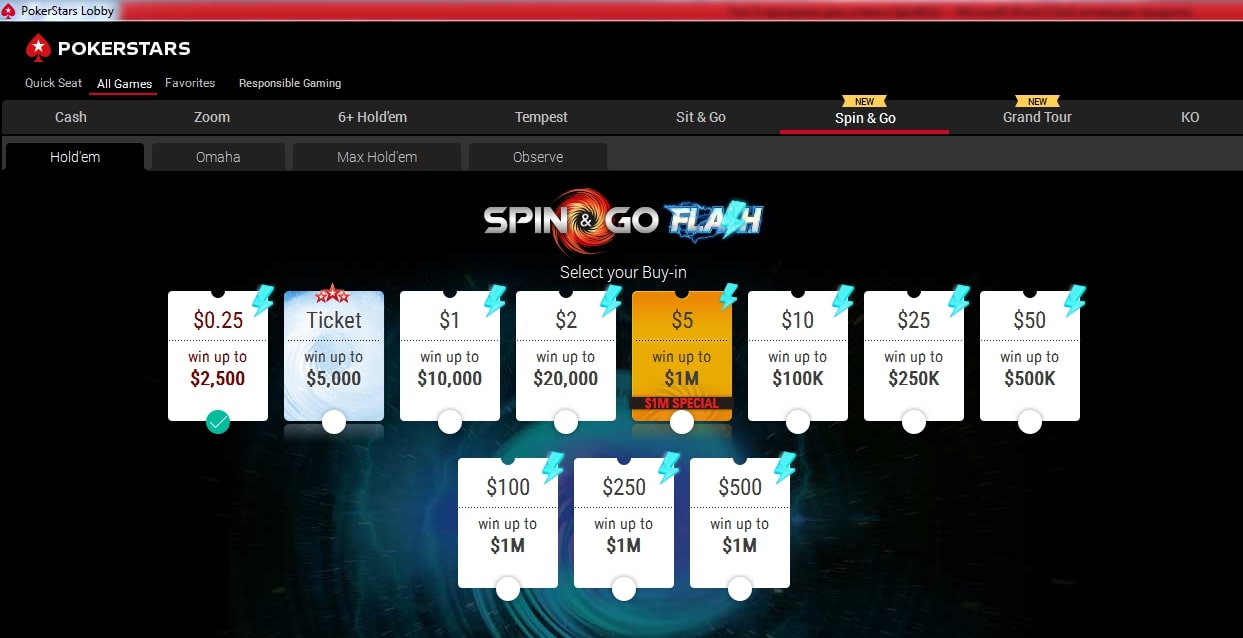 A similar situation at Partypoker with PartyCaption: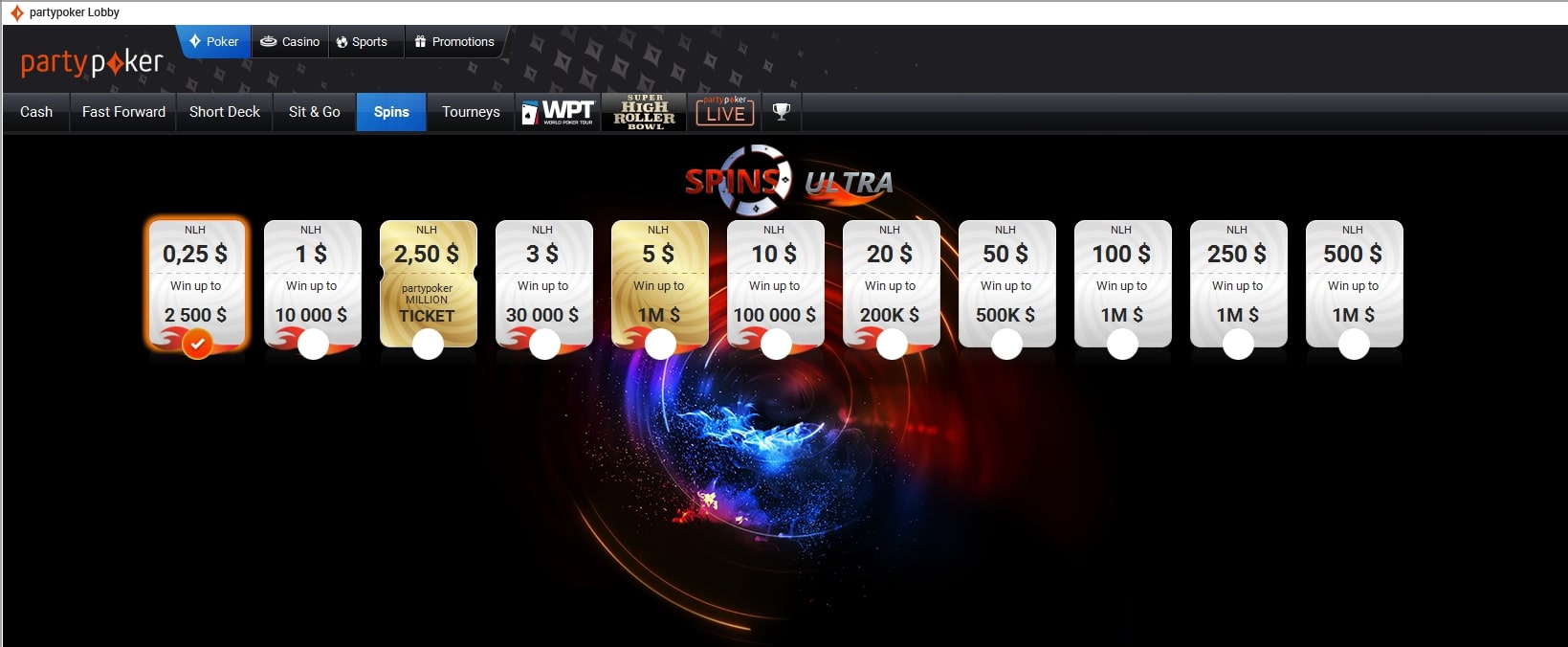 888Poker traditionally has its own atmosphere: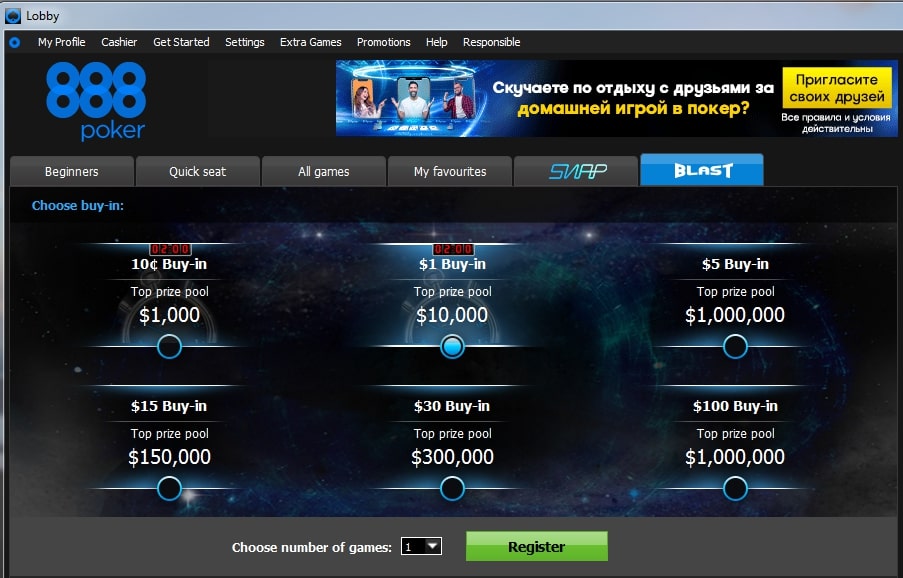 But in the local analogue of Spin&Go tournaments called "Blast" we do not recommend playing at all: according to the rules, after 2 minutes all the tournament participants automatically go All-In. In such unpredictable conditions, no one will win a stable win.
At the beginning of your career, hand history analysis will play the most significant role. From it you will benefit most. Therefore, the main tool in your arsenal is a poker tracker. If you do not have enough money to buy Holdem Manager 3 or subscribe to Hand2Note, then there is a simple option to solve this problem. Each of these programs has a free trial period. It usually varies from two weeks to a month. You can use each of them in turn. This will allow you to play with the HUD and save your hand history for further analysis. In parallel, you will study the strengths and weaknesses of each tracker and choose the appropriate option. Only on our website in the poker trackers section you will find as many as 5 options.
After resolving the issue with the poker tracker, you will see a fork in two equally useful programs: Flopzilla Pro and PreflopHero.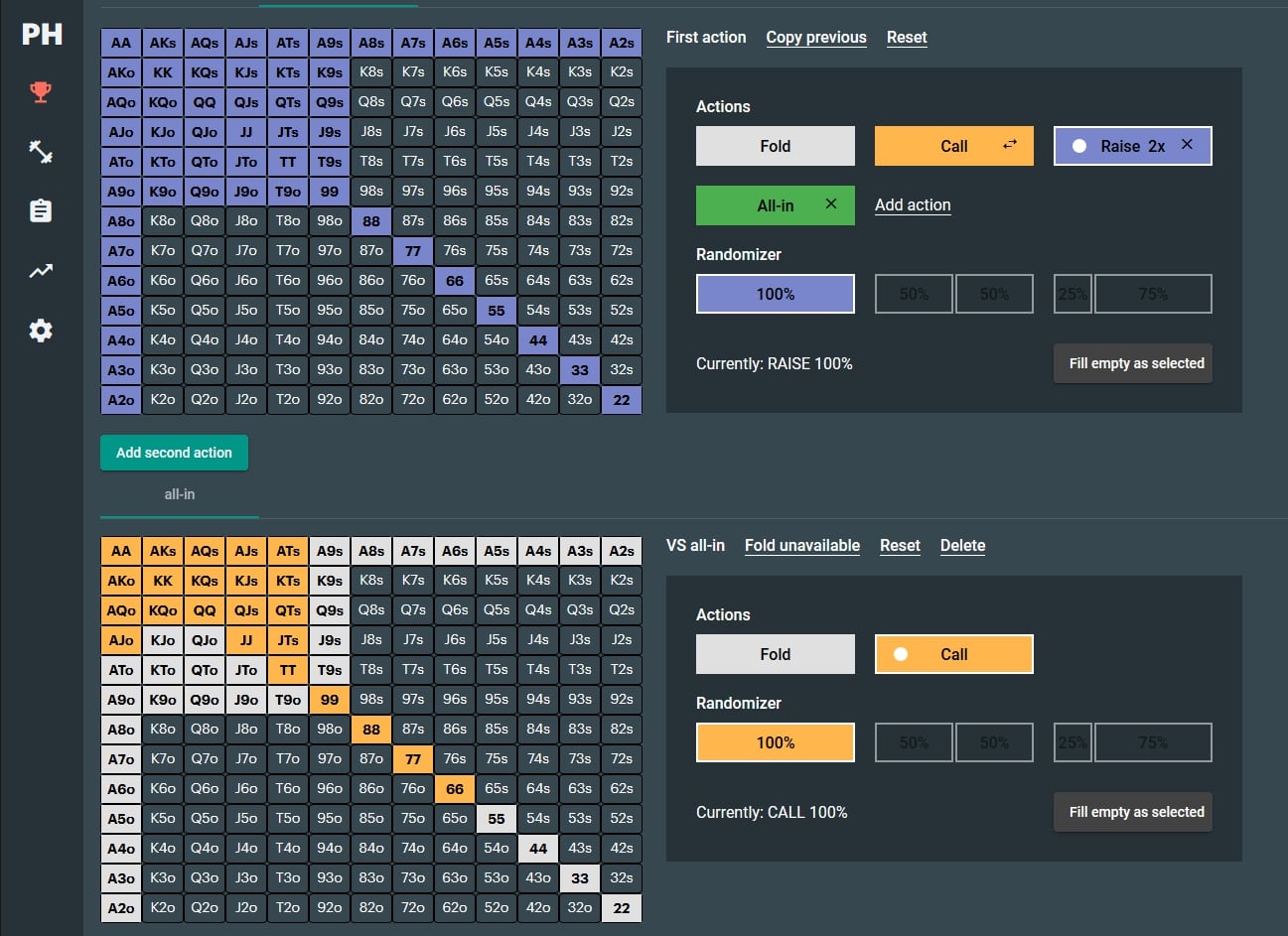 The first program will give you the opportunity to increase your postflop as deeply as possible and improve your thinking with ranges. The second is an excellent trainer for bringing the preflop game skills to automatism. Given the specifics of the game in Spin&Go tournaments, where preflop prevails over postflop due to short stacks and fast blinds, we recommend PreflopHero. If you do not experience problems preflop, but get lost postflop, it is better to get Flopzilla Pro. Flopzilla Pro will definitely be more useful for universal players who also like to play cash. PreflopHero is still more specialized software for Spin&Go tournaments.
Simple GTO Trainer will come in handy when you go to higher Spin&Go limits ($ 25 and above). Up to this point, you can successfully grow in limits and use only exploitation strategy. There are too many bad players at low stakes that you can beat without balanced poker.
Conclusion
A key feature of all successful professionals is the desire for continuous self-improvement. This is true for any industry, including poker. Poker programs can take your game to a whole new level. But this will happen only with diligence and proper attitude to the matter. Even the most skilled poker software will not help you if you are not ready to give all the best 100%. However, if you are ready to make efforts and work on yourself, then sooner or later you will succeed. Holdem Manager 3, StarsCaption, PreflopHero, Flopzilla Pro, Simple GTO Trainer can help speed up your progress. Some of them will allow you to feel more comfortable when playing at several tables, some will develop an understanding of preflop or postflop. Some will provide insights into complex poker concepts. Productive labor in each of them will form your unique style of successful poker.