7 supporting apps that work on PPPoker
15.04.2023

The role of mobile apps is growing in online poker. PPPoker, PokerBros and Suprema Poker have surpassed many classic poker rooms in the number of players. In terms of the number of cash tables, PPPPoker has surpassed all but PokerOK. Players do not stop even the mediocre software of mobile rooms. However, the game can be made more convenient with the help of auxiliary programs. Let's talk about software for PPPoker.
The list of working programs
Let's start with a brief information about the whole seven, then we will tell you more about each of them.
| | | | | |
| --- | --- | --- | --- | --- |
| # | Software | Type | Is there a trial? | Price |
| 1 | Asian Converter | Converter | Yes. For 3 days | from 35$ |
| 2 | Asian Hand Converter | Converter | Yes. For 7 days | from 29$ |
| 3 | PPPoker Runner | Auxiliary software for multi-tabling | Yes. For three days | 30$ |
| 4 | Asian Tool | Auxiliary software for multi-tabling | Yes. For three days | from 20$ |
| 5 | Jurojin Poker | Auxiliary software for multi-tabling | Yes, no time limit, but with a reduced set of tools | from 9$ |
| 6 | Poker Minion | Auxiliary software for multi-tabling | Yes, no time limit, but with a reduced set of tools | from 49$ |
| 7 | Datamining | Hand History | No | from 5$ |
In our top are programs specifically designed for Asian applications. They can be divided into 3 groups:
Converters. They help you play with statistics. These include Asian Converter, PPPoker HUD and Asian Hand Converter.
Assistants. Assign hotkeys, convert stacks to big blinds, show pot-odds, unlock closed tables. We are talking about Asian Tool, Poker Minion, Jurojin Poker, PPPoker Runner.
Datamining. Not a program, but seriously affects the income from the poker. Many players don't know that hand history is available for mobile apps.
To avoid stretching the material, we won't mention poker trackers. Keep in mind that Hand2Note Asia and DriveHUD 2 display statistics and HUD on PPPoker without the help of additional software. When using Asian Converter or Asian Hand Converter, the stats work in Holdem Manager 3 and PokerTracker 4.
Asian Converter
Asian Converter is a poker converter and auxiliary program. It displays statistics and HUD when playing PPPoker, PokerBros, Suprema Poker, Upoker and X-Poker. Also, it assign hotkeys, unblocks forbidden tables, shows pot odds and increases the number of multitabling tables. Among the advantages of Asian Converter we should mention the support of the PPPoker client for Windows. Emulator will not consume the resources of your system, and you do not have to configure it.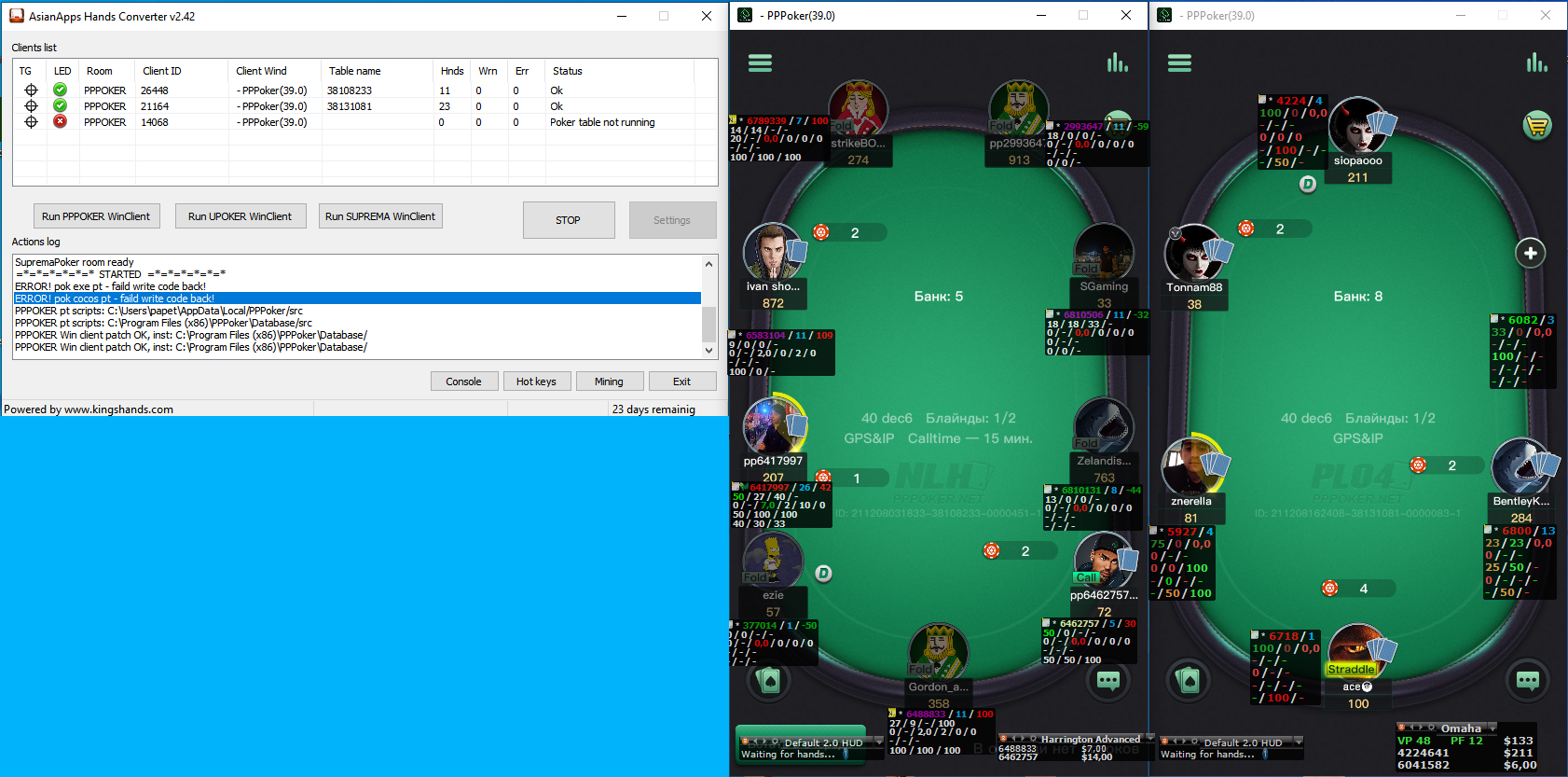 Asian Converter is capable of working with several mobile applications simultaneously. You will be able to play not only PPPoker, but also PokerBros and Suprema Poker
The developer provides a free trial version of the converter. The trial does not differ from the license in terms of the toolset. The only limitation is the runtime. To get a trial version of Asian Converter, write to the developer's support service.
Asian Hand Converter
Asian Hand Converter is another tool that allows you to display statistics on PPPoker. The Asian Converter is superior in the number of supported rooms: 10 vs. 5. Inferior - a set of additional tools: Asian Hand Converter is designed exclusively for importing hands. No hotkeys, pot odds calculation, or other auxiliary functions. Asian Hand Converter does not support the most popular poker tracker of recent years – Hand2Note.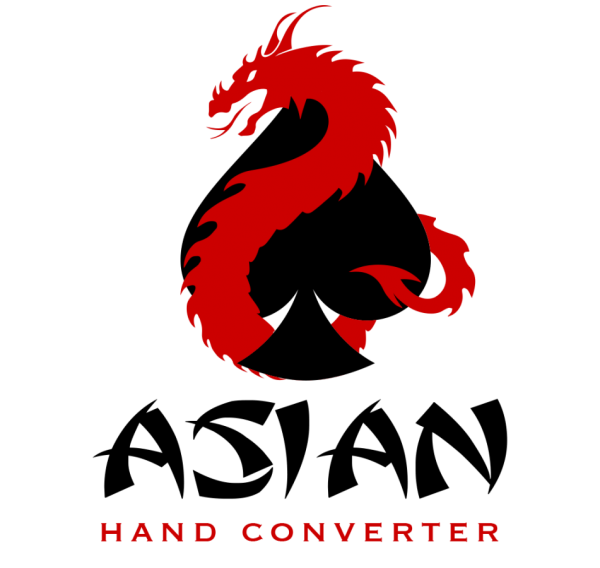 Asian Hand Converter integrated into DriveHUD 2
The developer provides a trial for 7 days. It has all the features of a paid subscription. Go to their official site and click "Download free trial".
PPPoker Runner
PPPoker Runner is the most goal-oriented program of the top. It is needed to solve one problem: bypass the restriction on multi-tabling. PPPoker client allows you to open no more than 4 tables from the emulator and no more than 5 in the desktop version. With PPPoker Runner you will be able to play more tables than the mobile application software allows.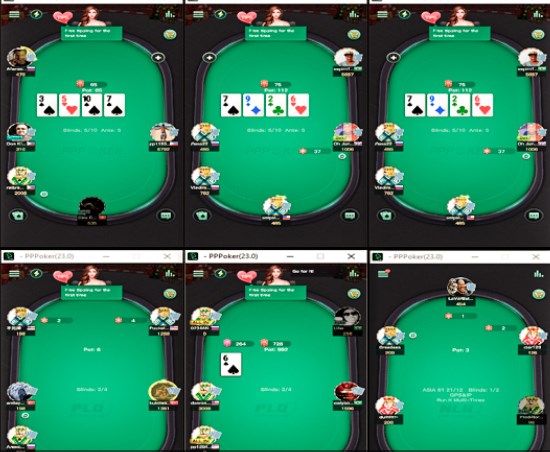 No need to configure the software is a big plus
The developer allows you to try the program for free. To do this, everyone is given a full trial for 3 days. Download the software from the official website. You do not need to set up anything: just click "Start" and the next table will open without errors.
Asian Tool
Asian Tool is an auxiliary program with a number of useful tools. It is able to:
assign hotkeys;

show the pot-odds right in the middle of the hand;

unlock game from more than 1 PPPoker account;

bypass locks and avoid bans for playing with a tracker or with emulator;

convert hand history from Asian apps into Hand2Note's understandable form.
Asian Converter can be used to play multiple mobile applications in parallel.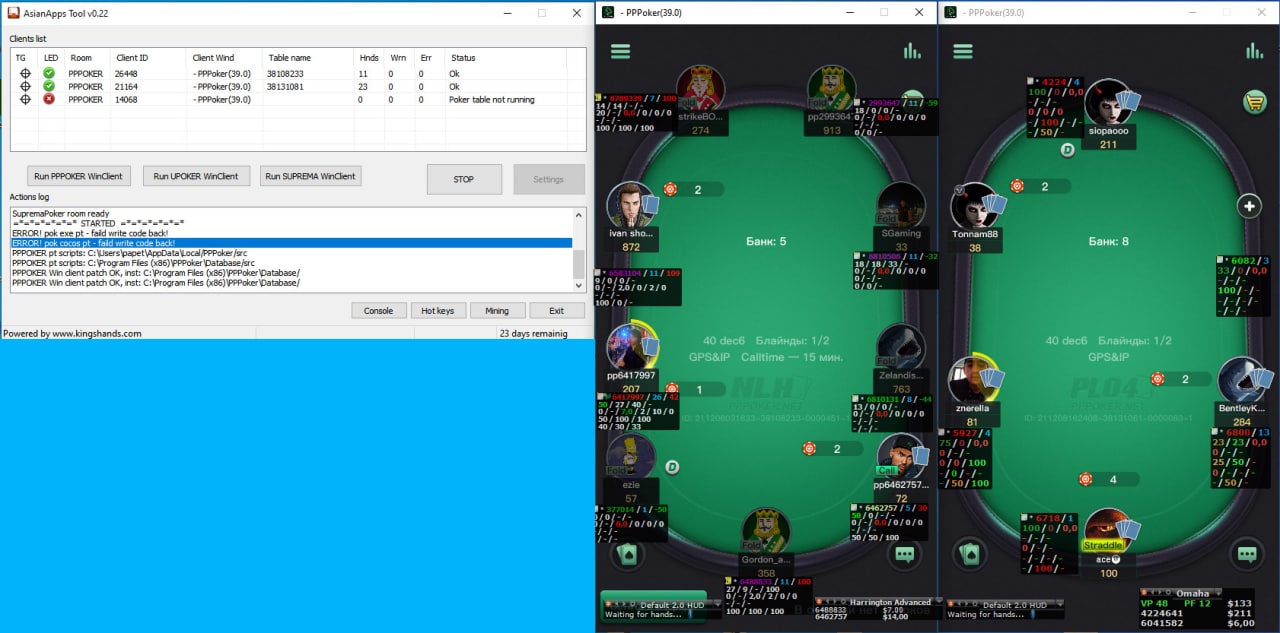 Asian Tool does not convert hand history, but makes multi-tabling easier
The developer allows you to evaluate the software for free. A trial with a full set of features is available. To get a trial version of Asian Tool, contact the developer's support service.
Jurojin Poker
Jurojin is a poker software for comfortable multi-tabling. It is popular because of its automatic placement of tables on the monitor screen. The user can set the size of the table and its place on the screen with a template. Settings will automatically apply to all tables. Jurojin Poker is most useful for tournament players. Parallel play in several rooms involves the need to adjust the size of windows and fonts.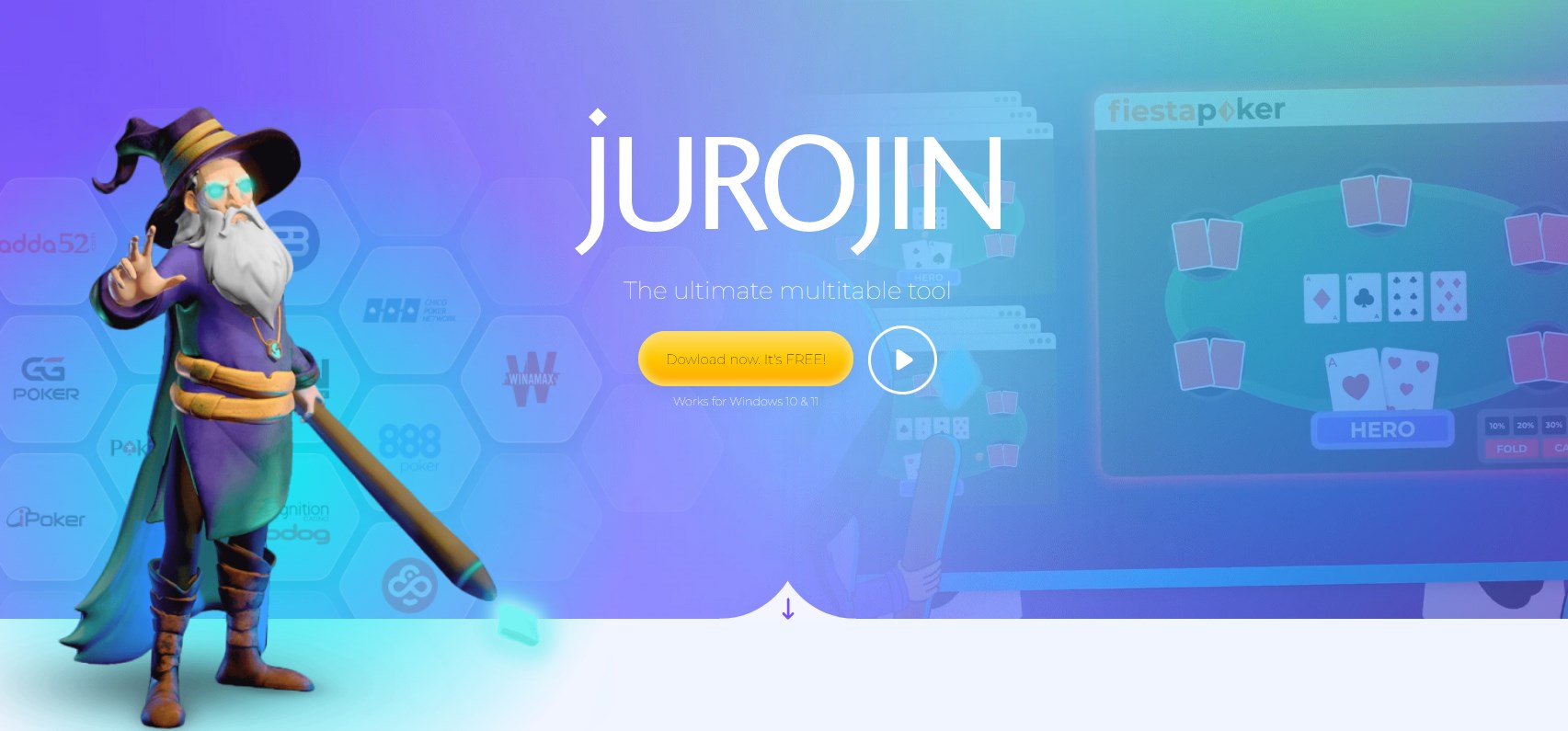 The developer of Jurojin Poker has been refining the program for several years. All this time it was free of charge
Doing it manually is tedious, so Jurojin is irreplaceable here. The usefulness of the software does not end with the arrangement of the tables. The program can:
Show pot odds during the game.

Assign hot keys.

Activate the randomizer.

Output stack-to-pot ratio (SPR).

Add your own betting profile to the table.

Signal the duration of the session by time or number of hands.
Jurojin Poker has a free version with feature limitations. It works at cash tables up to NL10 and in tournaments up to $3. The main limitations of the trial relate to the table layout feature. The program is distributed by subscription. The price tag starts at $9.
Poker Minion
Poker Minion is a support program for Asian poker applications.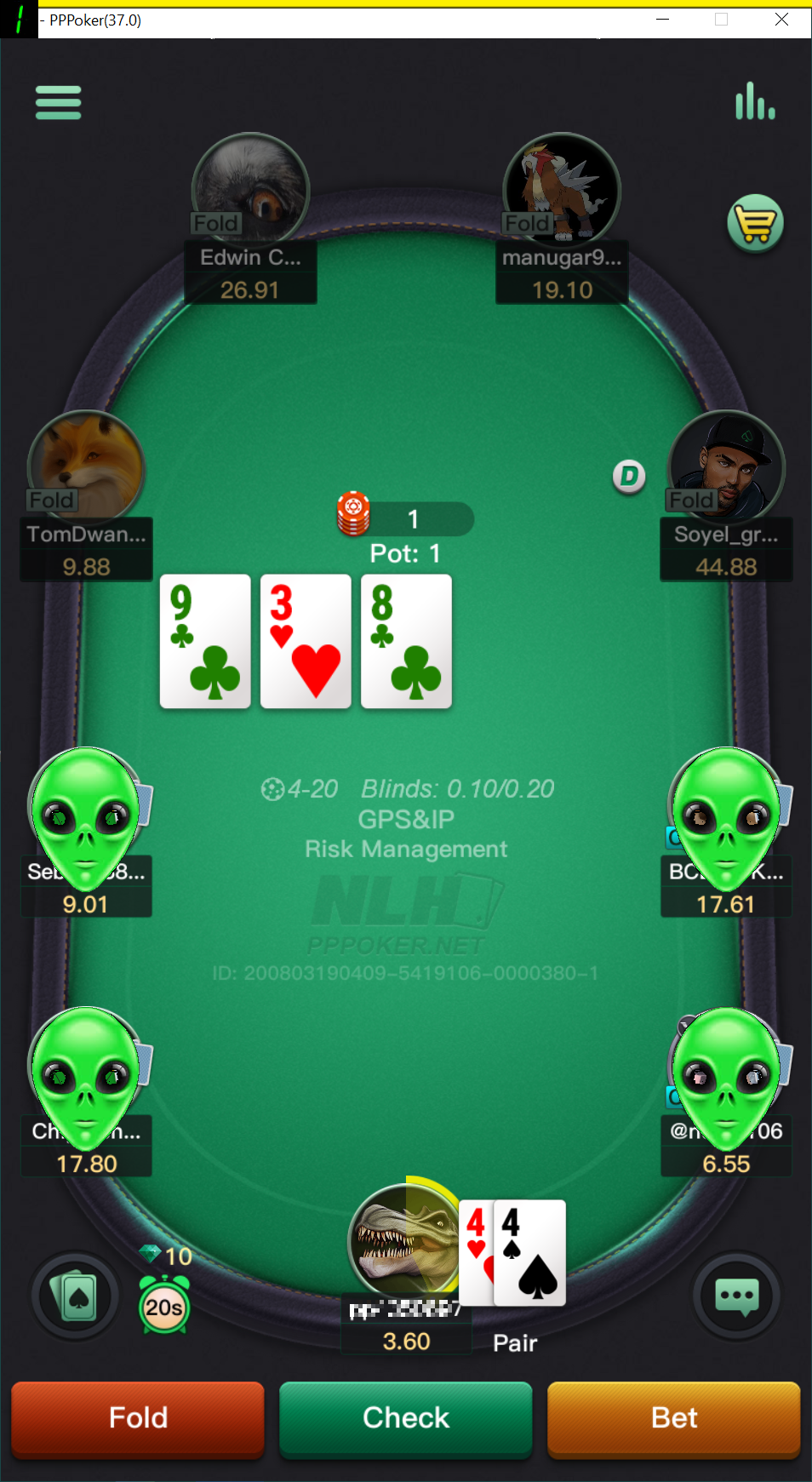 Poker Minion was developed by a famous poker player who was a Supernova Elite at PokerStars. He certainly knows his way around multi-tabling
Originally developed for PokerMaster, but now supports: PokerBros, PPPoker, Suprema Poker, Poker Time, RedDragon. Poker Minion is capable of:
automatically switch to an active table;

show players still participating in the hand;

assign keyboard shortcuts;

customize the betting profile;

beep when it's our turn;

arrange the tables according to the screen of your monitor.
The developer provides a free version of the software on request. In the application form indicate that you want the trial version for PPPoker.
Datamining
Datamining does not qualify as auxiliary software, to be precise. However, hand history allows you to get information about your opponent even before you start playing. On PPPoker, the value of the data is even higher, because datamining is not often used in mobile applications. We will be able to know in advance whether an amateur or a professional is in front of us. This will allow us to act right away, instead of gathering information for 10-20 hands. In modern poker, there can be nothing left of the amateur's stack after a couple of tens of hands.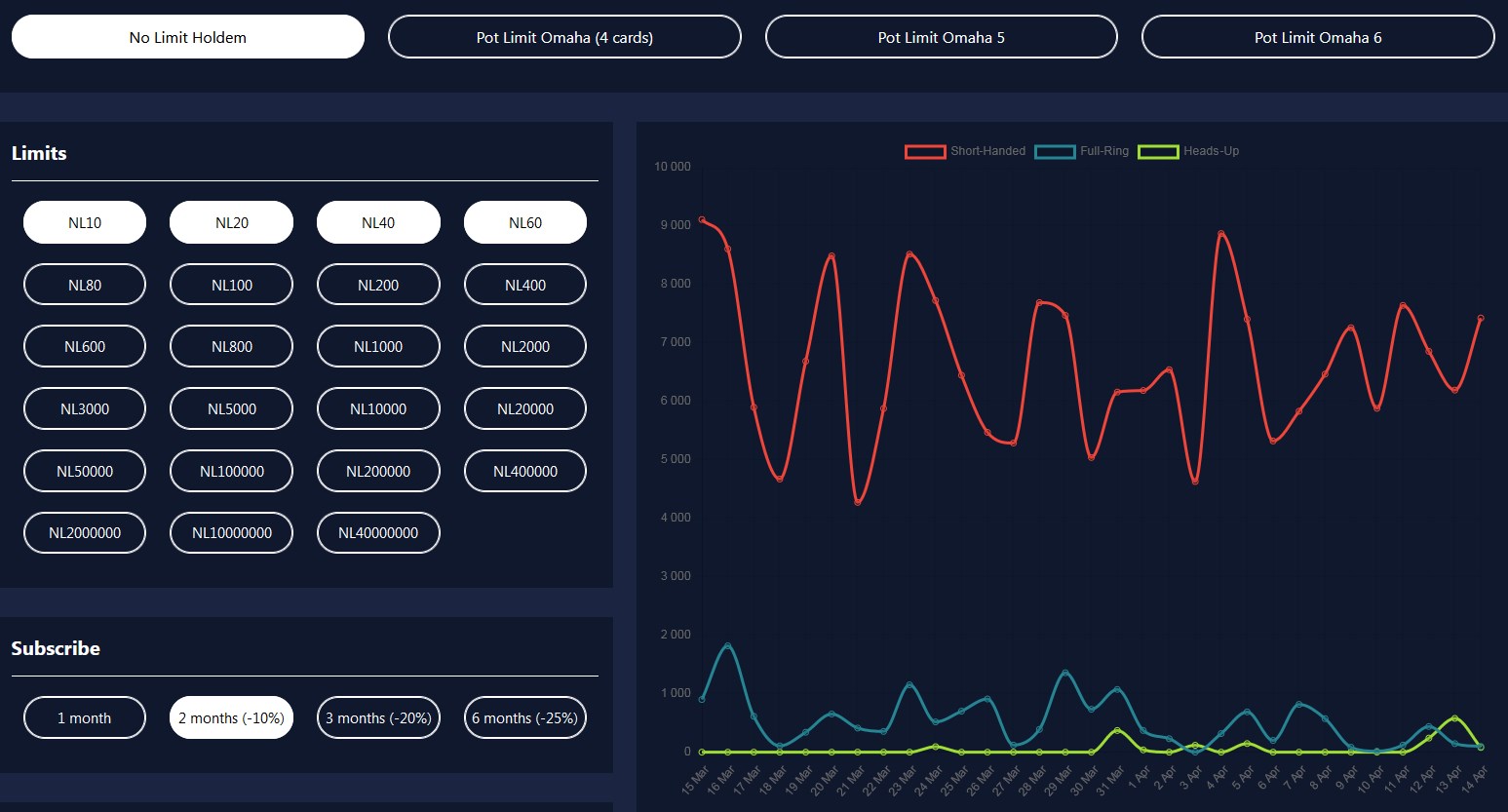 Several million hands are added to the PPPoker datamining database every month
You can buy daramining for PPPoker from us. Contact PokerEnergy's support team for details.
Why buy from PokerEnergy?
There are 2 factors in favor of our shop:
1. Bonus points. We give bonuses when you buy anything. Spend them on your next orders and save. For the exact number of points per item, please see the loyalty program.
2. Free software. For the purchase of goods from the "Promotions" section we give others for free. For example, for purchased Holdem Manager 3 we give a lifetime license for Flopzilla calculator.
All catalog updates and good deals are published in the telegram channel PokerEnergy. Sign up to not lose +EV.