PPPoker

Bonus:
depends on the club
PPPoker is the largest mobile poker app. Launched in 2016 and over the years it has become the best way to play poker for money for many countries with access restrictions. Players from the USA, Mexico, Israel, China and Australia can get together at the same table without the slightest problem.
PPPoker has long surpassed regular rooms like PokerStars and partypoker in terms of the number of cash players. In a mobile room it is possible to play with statistics and HUD. To do this you need a converter. There is a rakeback on PPPoker: the size depends on the decision of the managers of the club.
Key Features
Allow players from all over the world;
More traffic at cash tables than at Pokerstars;
High rakeback;
Statistics and HUD work via converter;
There are more PLO tables than NL Holdem;
All deposits and cashouts through agents;
There is a version for Windows.
Poker Room Review
Registration Instructions
Player Reviews
PPPoker is the most popular asian mobile poker app. The mobile room is ahead of PokerStars and close to GGPoker in terms of the number of players. All thanks to a special approach with private clubs and entry by invitation. Due to this, people from the USA, Australia, China, Israel and other closed countries play on PPPoker. They have no access to the classic online poker, but they have it to mobile applications.
Traffic
An exact figure with the number of PPPoker players is difficult to calculate.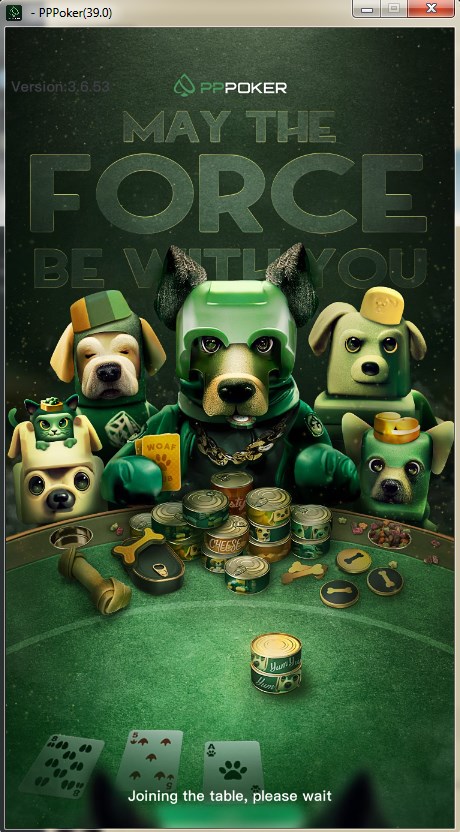 A welcome screen when the application is loaded
All because of the closed system with invitations, where each club has its own tables and rules. Some clubs are united into alliances, which allows you to create a common pool of players. There is no summary statistics for all the clubs/unions, that's why it is impossible to go to Pokerscout and see the traffic.
For 2021, some sites were talking about 5,000-5,500 tables in the clubs and unions available to them. That's more than what regular poker rooms like partypoker and PokerStars have. A curious feature of PPPoker is that there are more PLO tables here than NL Holdem. In the text below we will use the usual notation of limits, although in the application itself the chip prices and betting sizes are determined by the clubs' founders. Chip rates vary dramatically from club to club.
NL Holdem. The largest number of players sit at the NL10-NL50 tables. At peak times you can find up to 300 low limit tables. The percentage of NL100-NL500 tables is relatively high. The situation with expensive tables on PPPoker and in classic rooms is similar - there are no more than 10 of them even in the hottest time. It is difficult to determine the most profitable time for the game - everything depends on the particular club and union. Evening in Brazil and evening in Moscow are at completely different times.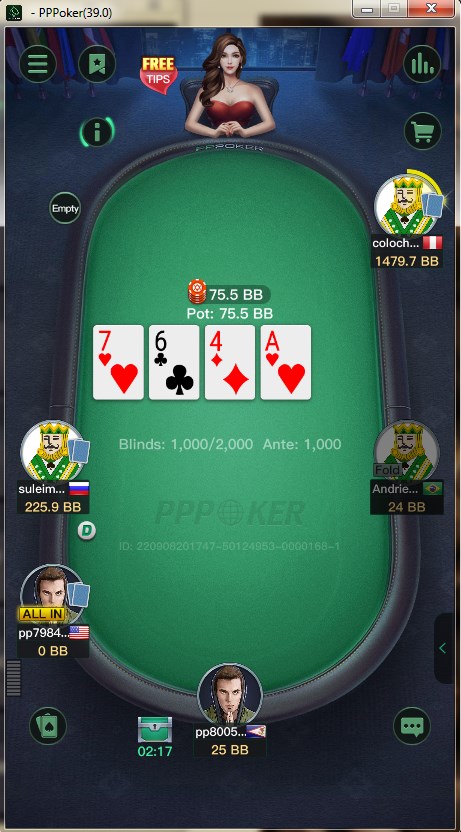 The poker table looks like this
PLO. Omaha is not limited to its pot-limit version on PPPoker. Its other varieties, like PLO5, are much more popular in many clubs. The total number of low limit tables exceeds Hold'em figures by 20%-25%. That's about 340-360 PLO10-PLO50 tables. A third more play at medium limits - about 150 tables on PLO100-PLO500. PLO500+ tables in the application lobby are a rare guest - 10-15 tables in peak time.
Heads-Up. HU-cash tables in clubs and unions are infrequent. By default, consider them nonexistent. Ask the agents about them.
Short Deck. Paradoxically, short deck poker is unpopular on PPPoker. Tables are gathered only from time to time and only on low limits.
MTT + Sit&Go. In its initial stage, the mobile app ignored tournament poker. Over time, the situation has changed: now on PPPoker they hold MTT with decent guarantees. Sometimes they even play tournaments with prize funds of $200,000 - $500,000. Separately note the "PPPoker Super Tournament" - this is its own series of the room. It is available to all players of the app, not just members of specific unions or clubs.
In recent years, some clubs and unions have left PPPoker and created their own applications. We are talking about PokerBros, Upoker, Suprema. There is a little less play on PPPoker.
Rake
The private nature of the game in the app is perfectly illustrated by the difference in rake and rakeback. Their amounts are set by the founders of clubs. In most cases, the commission does not exceed 5% of the amount of sweat. The rakeback is set at "no more than 3 BB". Rake is charged only if it came to the post-flop.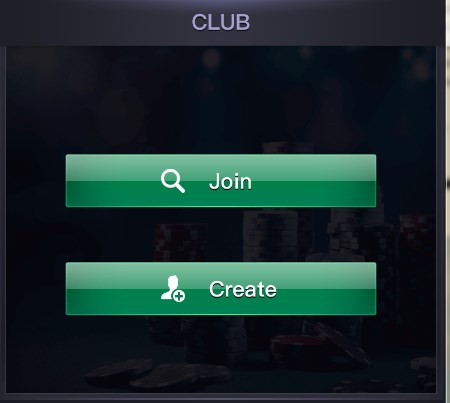 The window for searching and creating clubs - all in a minimalist style
With rakeback is more complicated - here we observe a scatter from 10% to 50% depending on the club. Check with an agent for the exact figures. Control the amount of rake paid in the application where the cost of chips differs from club to club is quite difficult. For convenience, players are sent a link with the calculation of the amount of commission paid. Usually it happens 2-3 weeks after the start of the playing. Somewhere rakeback is paid every week, somewhere once a month.
Software and tracker support
The most difficult problem of switching from regular poker rooms to mobile applications is the client software. PPPoker's software is designed for smartphones, so it cannot compete with PokerStars or GGPoker in terms of convenience. The vertical display of tables, small fonts, absence of important functions - all this irritates online poker players. Some even refuse to play in more fishy applications for Asia just because of the inconvenience of software.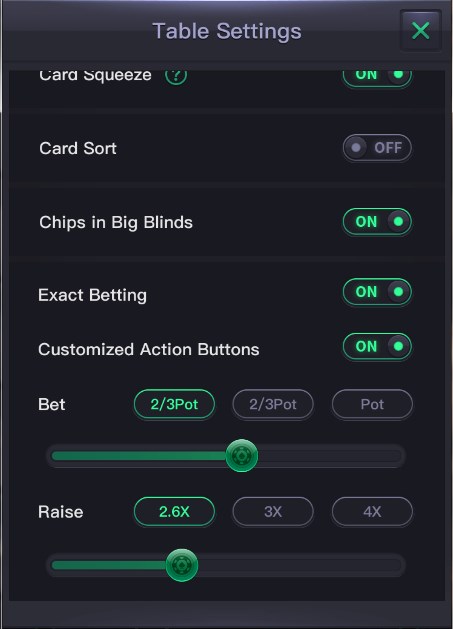 Big blind stack convertation and betsizing settings - a useful minimum for multitabling
A separate PPPoker client for the PC has corrected the situation. So far, the software is only available for the Windows operating system. There is no client for MacOS or Linux. The client for PC allows you to open up to 5 tables at a time. In the mobile application multi-tabling is limited to 4 tables. However, by using emulators, the limit of 4 tables can be bypassed.
Another problem of mobile applications is lack of statistics and HUD. Poker trackers do not work on smartphones and tablets. PPPoker allows displaying built-in statistics for tables, but only with a paid subscription. And the number of stats is not impressive: basic statistics in the form of VPIP, PFR, 3-Bet or total number of hands is available.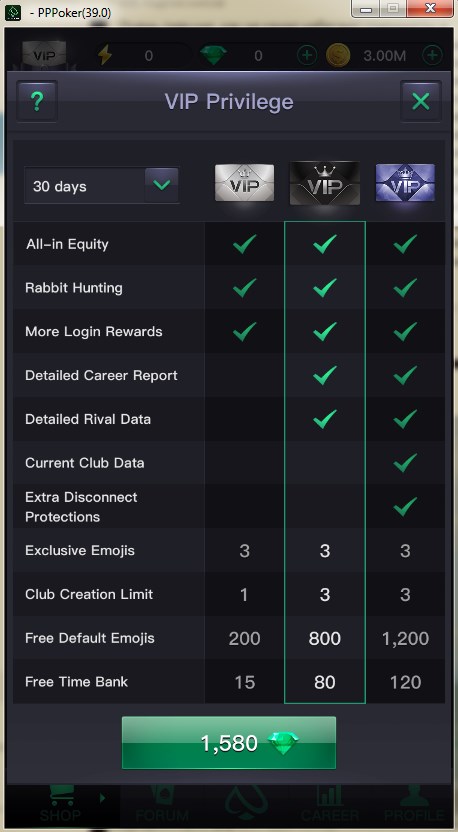 Types of paid subscriptions and their benefits
It is still possible to display statistics in full. It works through the Asian Converter. The converter supports Holdem Manager 3, PokerTracker 4 and Hand2Note. In the case of H2N, statistics and HUD on PPPoker work on a free subscription when playing from the emulator. Auxiliary program Asian Tool makes the playing in the mobile app comfortable. It has hotkeys and allows you to open more than 1 account on PPPoker when playing from your PC.
Bonuses and Promotions
Bonus offers and promotions repeat the situation with rakeback: there is no centralized system. Bonuses for the first deposit or other rewards are given by private clubs at their discretion. To summarize, more often clubs do without additional rewards for players. The standard loyalty program in the application is also absent.
Since PPPoker is positioning itself as an application with free play, it also has a general lobby. That's where they raffle off clothes, smartphones, and tickets to the offline series among players.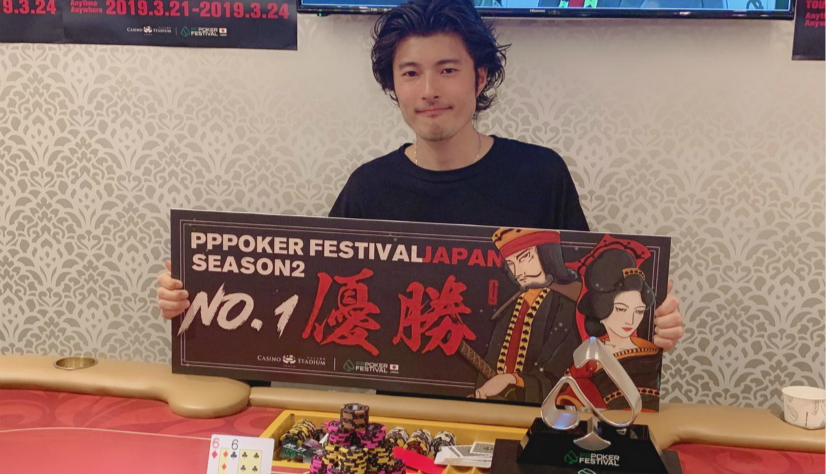 Deposits and Cashouts
Mobile applications also have their own approach to deposits and withdrawals. Directly in PPPoker you cannot make deposits. All actions with money are carried out only by trusted agents. In contrast to the classic rooms, they prefer cryptocurrencies. The list of wallets strongly depends on the agent. Large intermediaries are sometimes not inferior to large poker rooms in the number of payment methods.
Conclusions. Pros and cons.
To summarize PPPoker, let's outline the pros and cons of the mobile app.
Pros:
Huge number of amateur players.

More tables than on PokerStars or partypoker.

Accept players from anywhere in the world.

Omaha is just as popular as Hold'em.

There is rakeback.
Cons:
Poker trackers only work through a converter.

The software is inferior to PokerStars or GGPoker.

Some clubs are hard to get into.
Registration Instructions
For registration instructions, please contact in any convenient way for you:
Email: sales@pokerenergy.net
To go to communication, simply click on the appropriate means of communication.
FAQ:
Is there datamining handhistory for PPPoker?
Yes. Players registered from us can receive datamining for free. Contact our support for details.
Is it allowed to use software (Holdem Manager 2-3, Poker Tracker 4, Hand2Note, etc.) on PPPoker?
Yes, all these programs, as well as the others, which do not give direct instructions for action at the playing tables, are allowed at PPPoker. The trackers work through the converter.
Players from which countries can play on PPPoker?
Thanks to the principle of private clubs, people from any country can play.