Suprema Poker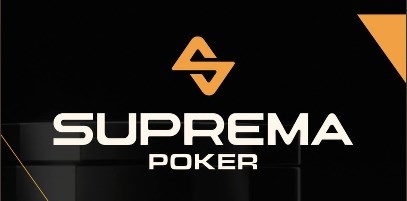 Bonus:
depends on the club
Suprema Poker is a popular mobile poker app. The poker room opened very recently - at the end of 2021. Before that, Suprema Poker was a major Brazilian union in PPPoker. The way of organization in the new mobile application remained the same: closed clubs and access by invitation. Because of this, poker players from all over the world play here, including those from the United States.
The game at Suprema Poker is open 24 hours a day. During peak hours there are up to several hundred cash tables open. PLO and NL Holdem are equally popular here. The application has a Windows client, and the statistics are realistically displayed using a converter.
Key Features
Allow players from all over the world;
High concentration of weak players;
Average rakeback on clubs is 45%;
Statistics and HUD work through the converter;
PLO and NL Holdem are equally popular;
All deposits and cashes through agents;
There is a client for Windows.
Poker Room Review
Registration Instructions
Player Reviews
Suprema Poker is a popular mobile poker app. In terms of the number of players it bravely competes with many classic rooms and networks. The app started its own life at the end of 2021. Prior to that, Suprema Poker was a major Brazilian union in PPPoker.
The application works on a club system with invitations. Thanks to this, everyone can play on Suprema Poker - no country restrictions apply here. Thanks to this approach Suprema Poker and other mobile applications are far ahead of traditional rooms in terms of the number of amateur players.
Traffic
The number of players in Suprema Poker is difficult to estimate because of the system of private clubs. According to rough estimates, the traffic of individual clubs is comparable to classic rooms or the networks of the second echelon, such as 888Poker or Chico Poker Network. In the end, much depends on the agent and the number of clubs it provides access to.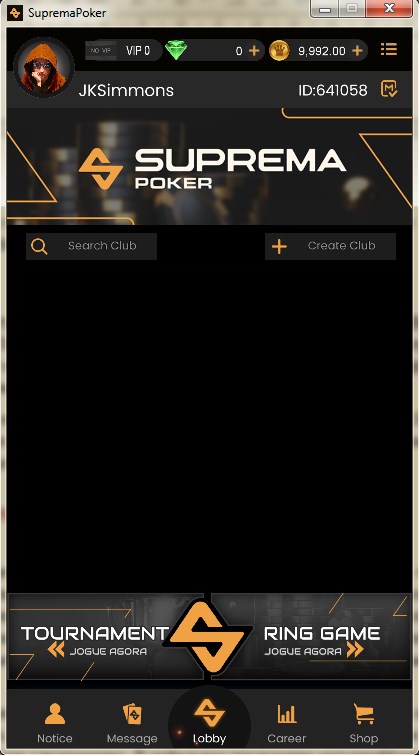 In terms of types of poker and disciplines at Suprema Poker, the picture is as follows:
Omaha and Holdem are equally popular. In many clubs the players prefer not the classic PLO, but its variations with 5 or 6 cards in the starting hand.

Tournament poker is represented by MTT with guarantees up to $200,000.

From time to time Sit&Go tables are assembled, but there is not much interest to them in the lobby.

Exotic game in the form of short deck and Chinese poker goes only on low limits.
Let's walk through the tabs "Suprema Poker" in more detail.
NL Holdem. Most of the game is observed at tables with low stakes. The general range of limits in cash: from NL4 to NL2000. At peak times several hundred tables are played. The main currency of the application is brazilian reals. The hottest times at Suprema Poker coincide with evening hours in Brazil. Here and hereinafter all the limits are indicated by analogy with the traditional rooms, in order to avoid confusion.
PLO. Omaha is almost exactly the same as NL Holdem in terms of the number of tables and available limits. Almost all of the game is at short tables. There are not a lot of long tables, and there is almost always nobody at them.
Heads-Up. An important advantage of Suprema over other applications is that HU tables are fully represented here. That goes for no limit Texas Holdem and all Omaha variations.
Short Deck. Short deck poker is played with an ante here. The range of mandatory short deck bets is wide: from 2 cents to 1 dollar.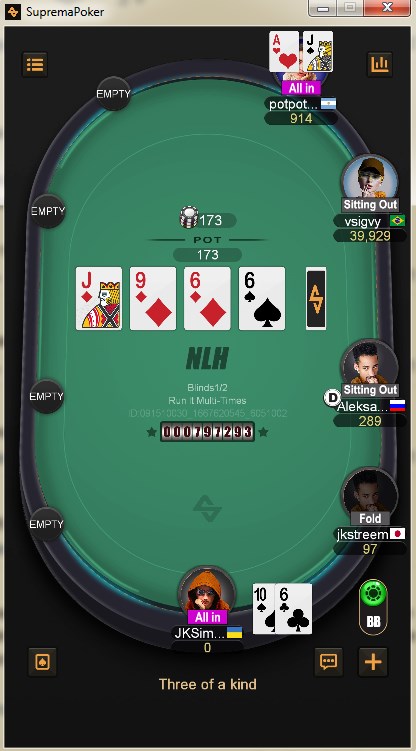 MTT. The creators of Suprema Poker took into account the mistakes of their elders, that is why they launched tournament poker from the very beginning. Brazilian players like MTT, that's why the tournaments schedule here is tight. Entry to the most expensive tournaments costs $250. Guarantees go up to $200,000. Suprema Poker does not hold million dollar tournaments yet.
Rake
In terms of rakeback and rake, the situation in the application is not much different from PPPoker, PokerBros and other mobile rooms. The exact figures are set by the administration of a particular club. Usually rake is 5% of the pot, rake cap is 3NT, and rakeback is given at 45% of the paid commission.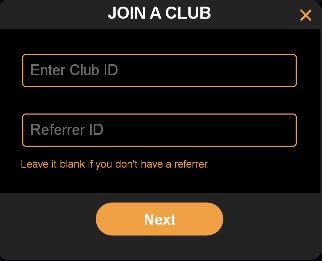 At some cash tables, players are charged an additional fee and the jackpot is formed. It is paid out when you lose with a full house of aces or higher. The amount of the jackpot depends on the limit: the higher the limit at which you caught a bad beat, the more money you will get.
Software and tracker support
Suprema Poker offers its customers both a mobile app and a separate Windows client. The software is far from the best images of classic rooms, but you can play here. There's stack conversion to big blinds, auto top-up and a betting slider. Part of the useful features for multi-tabling works only with a paid subscription. Among them - the output of built-in statistics, protection in case of loss of connection and additional layouts.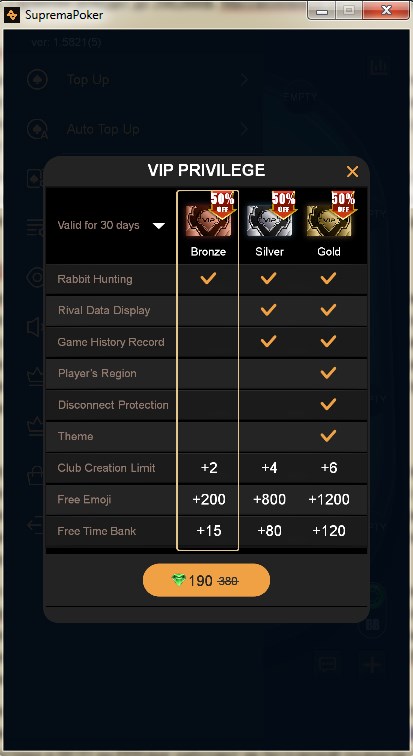 Playing in the application on a PC you can open to 4 tables from one account. In total, allowed to multi-table up to 8 tables. Paid built-in statistics is not the only way to play with stats and HUD. Holdem Manager 3, PokerTracker 4 and Hand2Note all work fully when using the converter. Auxiliary program Asian Tool makes the poker in a mobile application comfortable. It supports hotkeys and displays pot odds.
Bonuses and promotions
We mentioned the jackpot at the cash tables above, and there are no other regular promotions or bonuses on Suprema. Including there is no first deposit bonus.
Deposits and Cashouts
Deposits and cashouts go through agents of specific clubs. Club representatives have a preference for cryptocurrencies. In popular clubs and unions, the set of deposit methods is not inferior to the usual rooms.
Conclusions. Pros and cons.
Let's summarize on playing at Suprema Poker.
Pros:
Lots of weak players.

The application started in 2021, so there are still few regulars.

Players are accepted from anywhere in the world.

Rakeback of 45%.

Hold big tournaments with big guarantees.

There is a client for Windows.
Cons:
Statistics and HUD only through a converter.

The software is inferior to PokerStars or GGPoker.

Minimum deposit in most clubs is $300.
Registration Instructions
For registration instructions, please contact in any convenient way for you:
Email: sales@pokerenergy.net
To go to communication, simply click on the appropriate means of communication.
FAQ:
Is there datamining handhistory for Suprema Poker?
Yes. Players registered from us can receive datamining for free. Contact our support for details.
Is it allowed to use software (Holdem Manager 2-3, Poker Tracker 4, Hand2Note, etc.) on Suprema Poker?
Yes, all these programs, as well as the others, which do not give direct instructions for action at the playing tables, are allowed at Suprema Poker. The trackers work through the converter.
Players from which countries can play on Suprema Poker?
Thanks to the principle of private clubs, people from any country can play.