How to reset my Sharkscope stats to zero?
24.05.2022

A career in poker rarely looks like a straight road to success. Much more often it consists of the constant ups and downs that replace each other. This is especially felt by tournament players. Sometimes they even leave poker for years. And when they come back with a more professional attitude, there is a problem - the old statistics. When analyzed, the old results get in the way of evaluating the current game. This problem will be solved by zeroing the information in the Sharkscope service.
How to reset the data in the service Sharkscope?
Zeroing the game history in Sharkscope is a little more complicated than clearing your browser. Here's what you need to do:
1. Go to the service's website.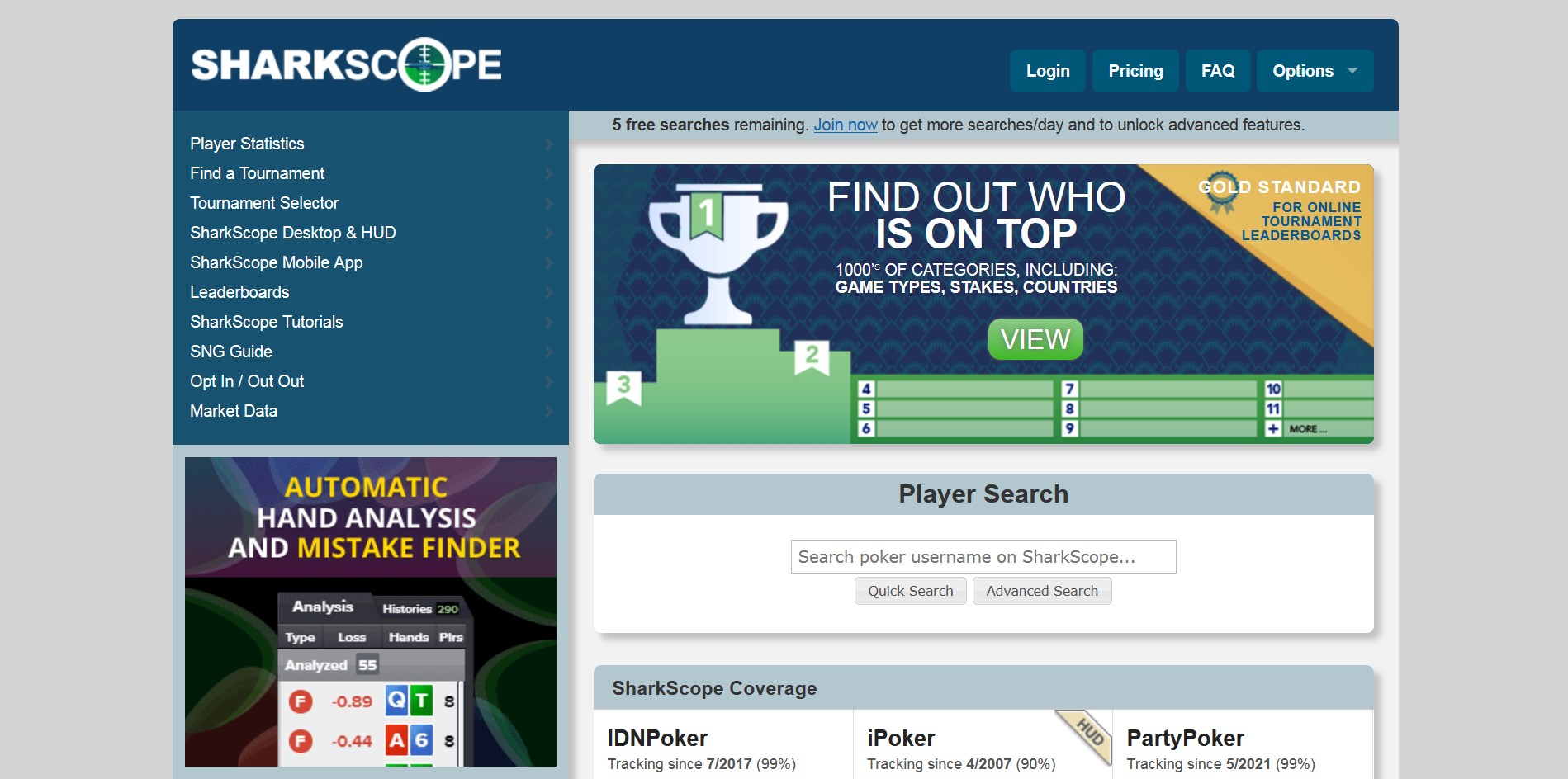 2. Click on the "Options" tab. It is located at the top right of the page.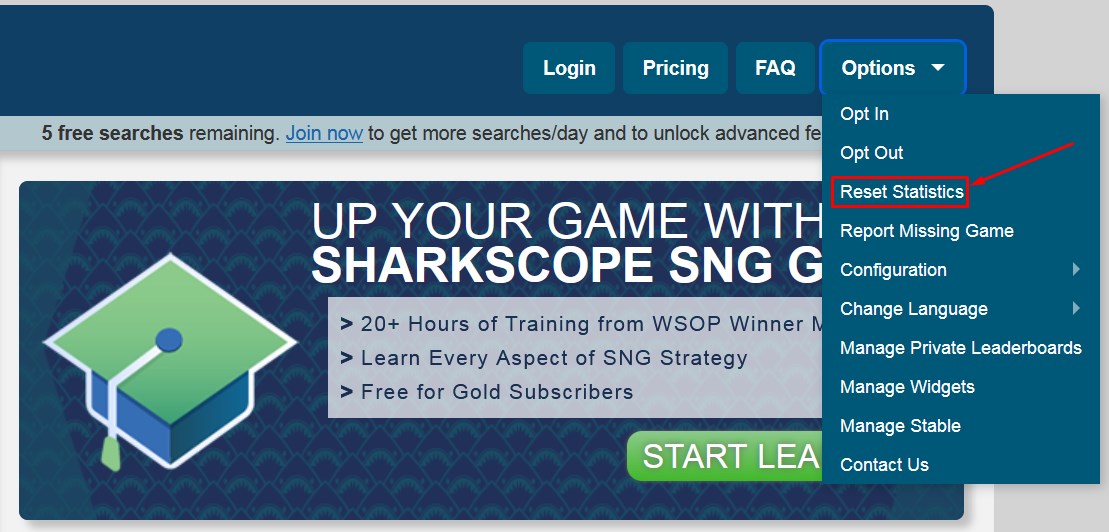 3. Click on the "Reset Statistics" button.
4. Specify your nickname, game network (site) and date. In the line with the date we can specify a year, month, day and even hour. This option allows for maximum accuracy in zeroing the results.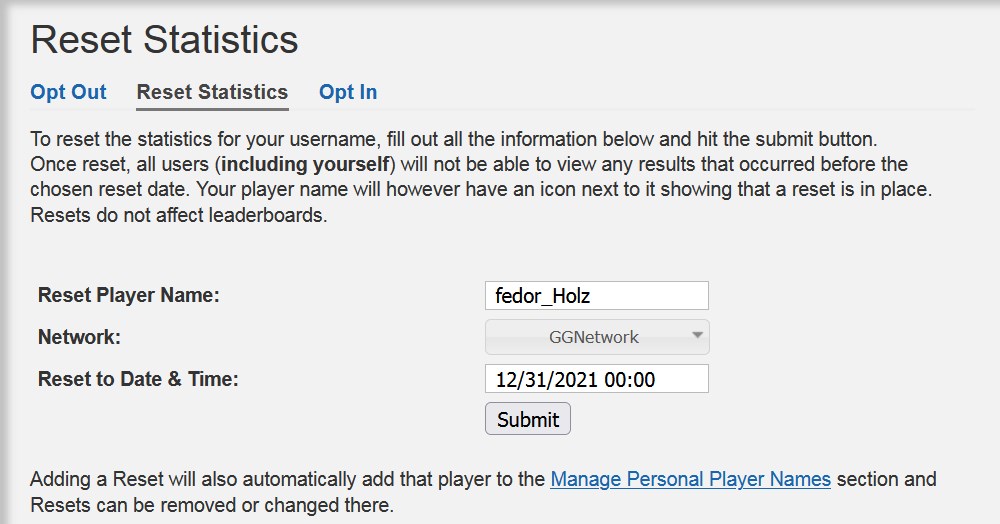 5. Click on "Submit".
From now on, no Sharkscope user (including you) will be able to see the results before the specified date. A special icon will appear next to your nickname, indicating that the stats have been reset.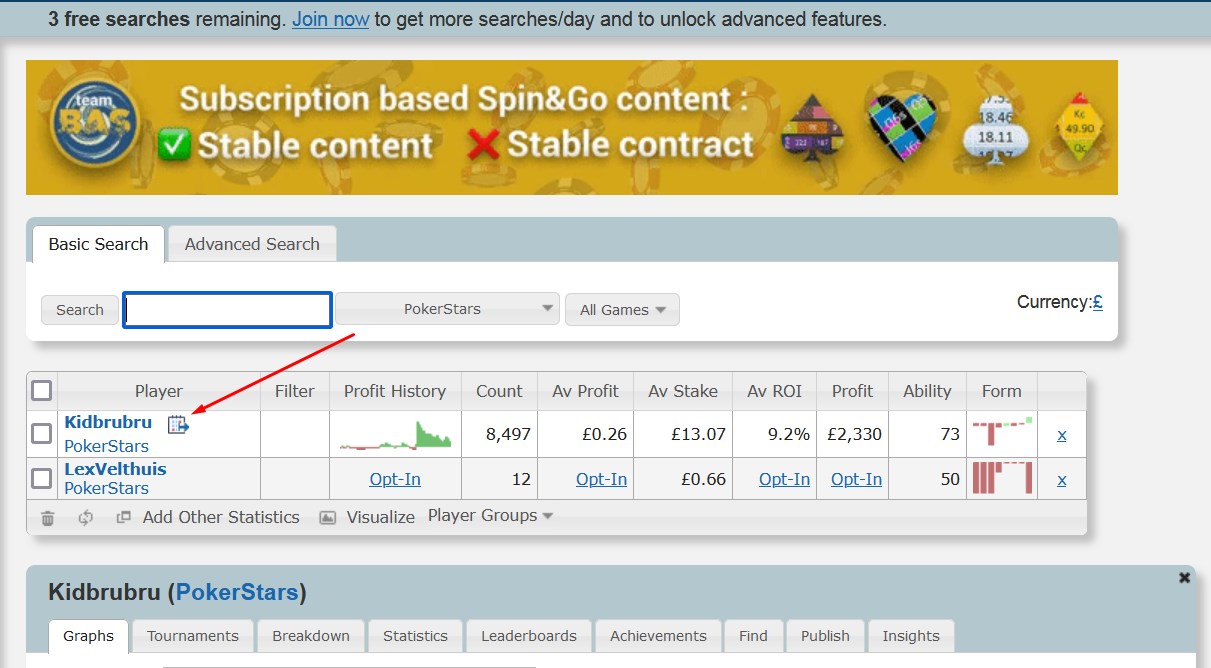 Professional from PokerStars chose to hide the results of his game
You can change the parameters of changes on the special tab of account management. If you wish, your stats will be returned to public access in a few clicks.
You should not confuse the zeroing of statistics with its closing. In the second case, it becomes inaccessible and is no longer updated. Instead of any data in tables and graphs, you will only see the words "Opt-In". Read about other options of the service in separate materials:
Why reset the results to zero?
Starting with a clean slate looks romantic, but more often than not, stats are "reset" for another reason. A beautiful and realistic statistic from Sharkscope is a strong argument for investors. Suppose a player has been playing in tournaments for a long time and showed mediocre results. At some point, he came to enlightenment, or he took a course of training from a mentor and dramatically increased. His level of play before and after is very different, but Sharkscope's stats don't show it. The average chart looks unconvincing in the eyes of backer. As a consequence, our player will not get a pick or he will be offered less favorable terms.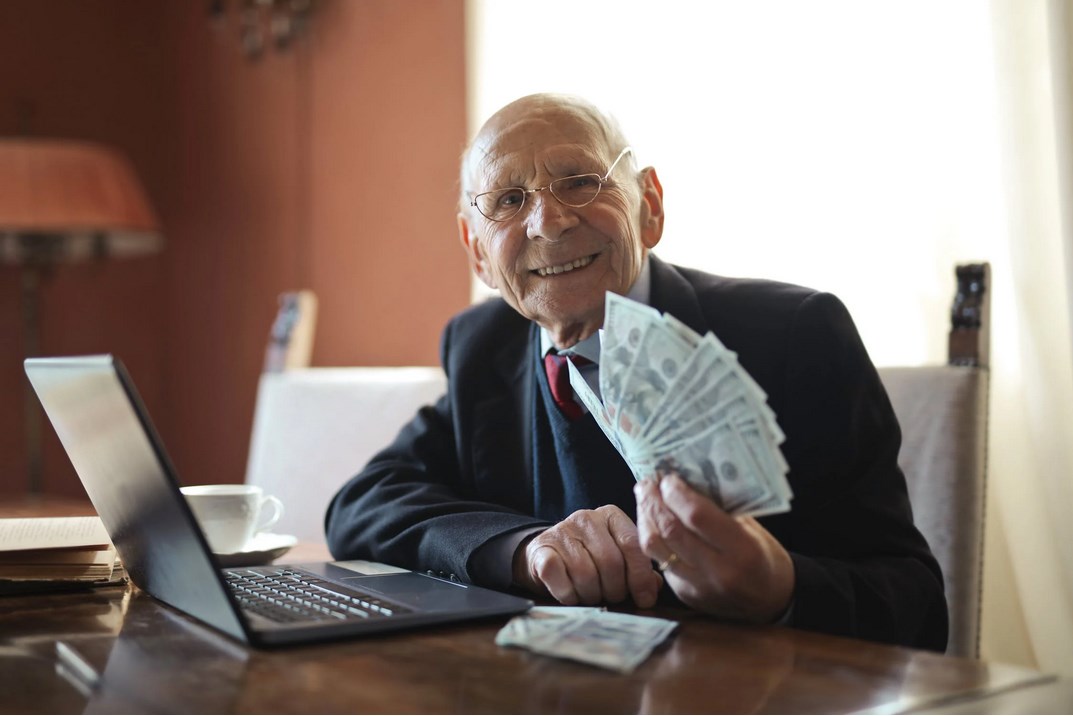 For a high ROI it is not a shame to give part of pension
Zeroing of statistics solves the problem. Investors receive relevant information and evaluate the player on his merits. It should be noted at once that unscrupulous poker players can use the function for fraudulent purposes. A prudent backer is obliged to analyze the player's data independently, so as not to give money to cheaters.
Why use Sharkscope?
"Sharkscope is regularly used by over 20% of players," reads the caption on the official website. The service provides a lot of useful information, that's why it is in demand. The number of tournaments, average income, total career profits, average buy-in, ROI, skill and form are all available on Sharkscope. Poker is a game with incomplete information, so any statistic can decide the fate of a tournament.
At the cash tables, we don't rush anywhere and quietly collect data on our opponents. This is not to mention datamining, which allows you to know everything about your opponent without having played with him even once. In MTT we constantly meet new players at the table. There is no information about them, and we need to act immediately. In such a vacuum of time and data, statistics allows us to make an informed decision. Based on the totality of Sharkscope parameters we can determine whether we are an amateur or a professional, and act accordingly. Sometimes the final result of a tournament depends on the correct assessment of your opponent.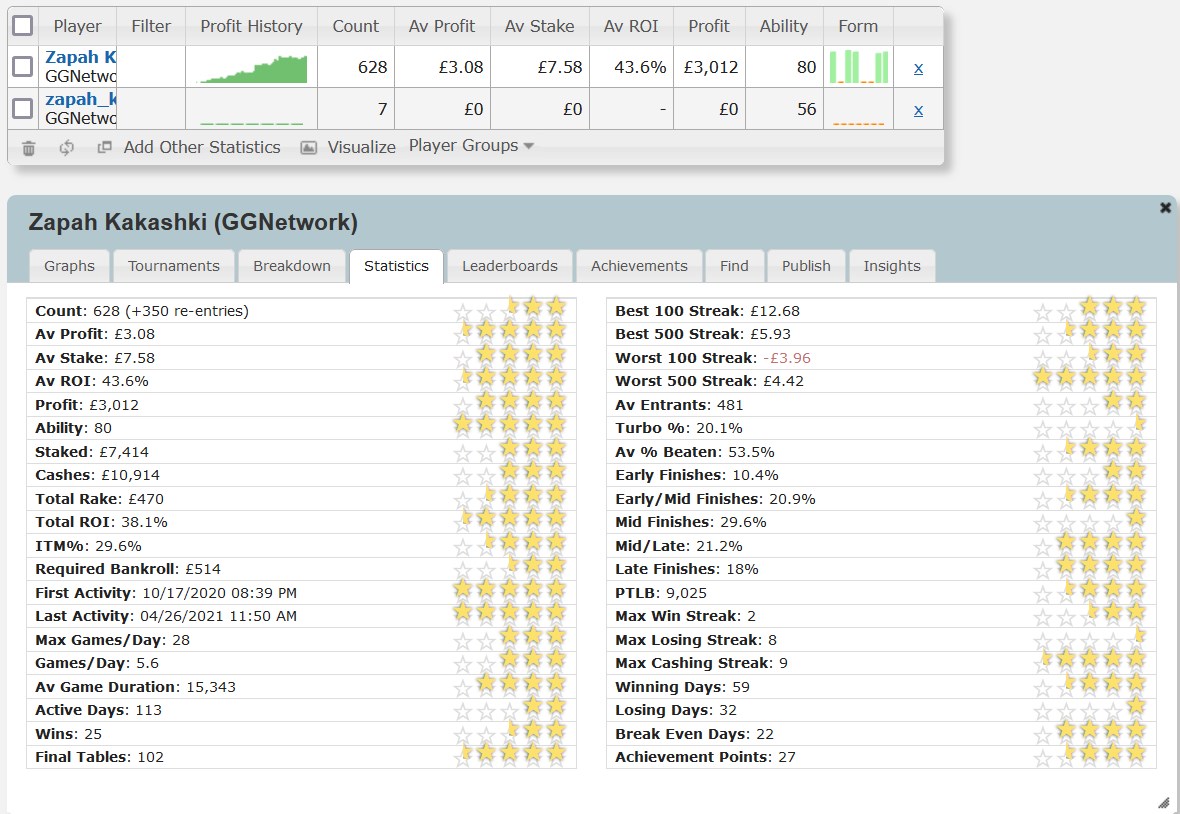 Not all statistics are equally useful, but there are a lot of them
The service has an option with free searches. Any user can do 5 searches a day. No registration is required to use it. For regular MTT players 5 searches will not be enough, because they play 20-30 tournaments in one day. There is a paid subscription for them. The subscription levels differ not only in the number of searches, but also in additional features. With gold and platinum subscriptions players get HUD, Sharkscope Sync, Hand Tracker and Sit&Go tournament guide. The HUD is extremely useful because it displays stats on opponents right at the table. You don't have to open the site and enter nicknames manually.
Where else can I track game results?
Sharkscope monitors 99.9% of online poker tournaments. However, poker trackers are better for analyzing your own results. They not only display statistics in real time, but also import each hand into a database. This allows you to work away from the poker tables and sort out your mistakes. One of the main advantages of PokerTracker 4 is a variety of filters. They will help you look at all the actions under a microscope and become stronger.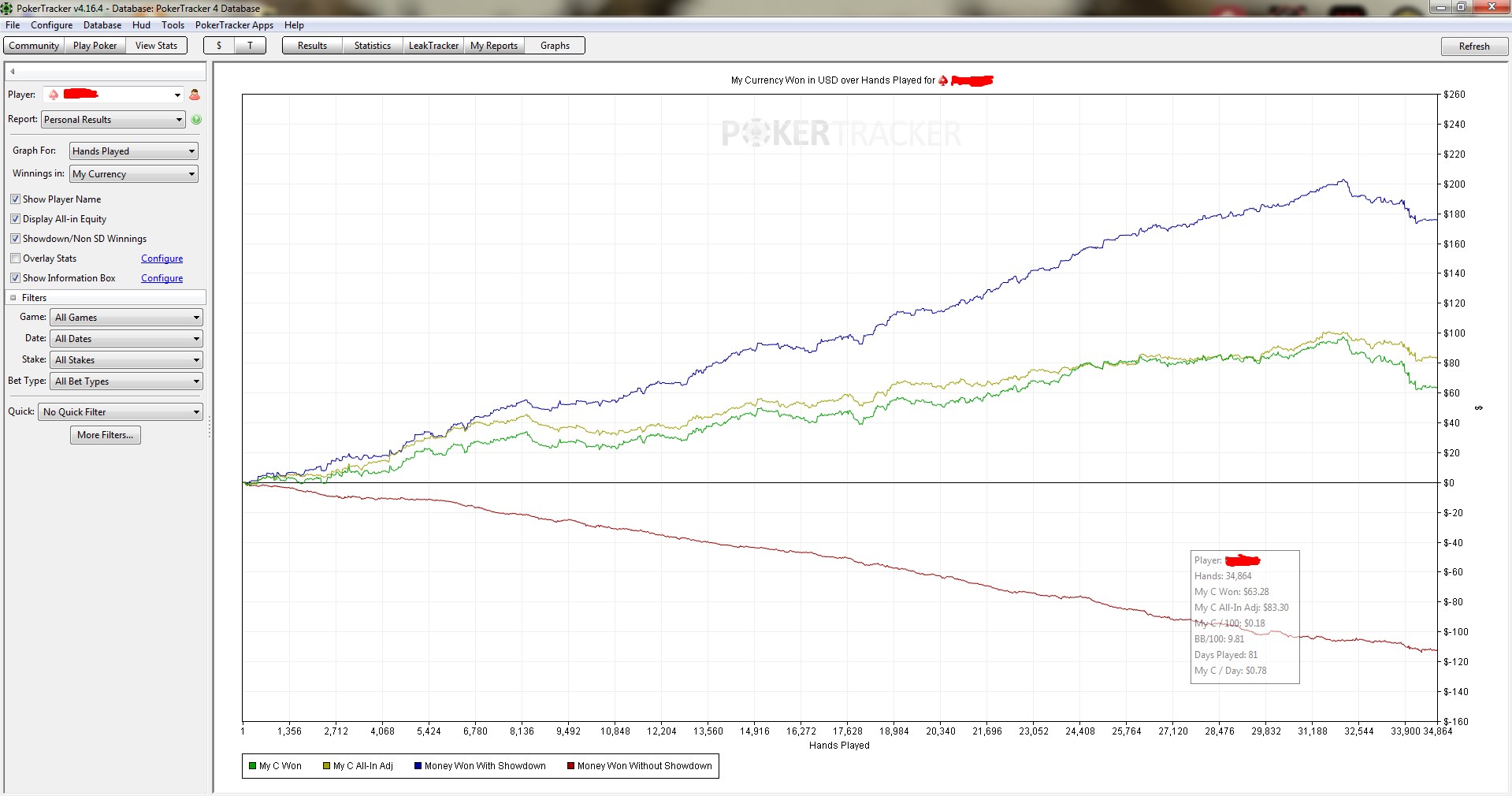 Poker Tracker 4 can draw beautiful charts with different filters
In favor of PT4 speaks longevity: software to collect statistics available for purchase since August 30, 2012, but still relevant. The tracker is constantly being adapted to the changing requirements and adding more and more new rooms. Until now, PokerTracker 4 remains the only tracker that fully works on MacOS. The other competitors run on Apple products only through crutches.
You can evaluate the program yourself before buying - the developer provides a working version for 14 days without limits. Just download PokerTracker 4 for free from the official site. There is a Holdem Small Stakes version for beginner players. It's cheaper than the full version, but supports limits up to NL50 and tournaments with buy-ins up to and including $22. It can be upgraded to the full version at any time by paying extra for the difference.
Why buy software from PokerEnergy?
We give you bonus points with every purchase. Use them on your next order and save on it.
Another interesting offer is a section with promotions. For the purchase of some products we give free software. For example, for Poker Tracker 4 Pro we give a lifetime license for Flopzilla.
All the information about new products, promotions and offers is published in our Telegram-channel PokerEnergy. Sign up to not miss out on the benefits.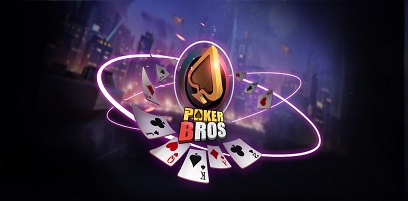 PokerBros
TRUE RAKEBACK FROM 25%
INCREDIBLY WEAK PLAYERS POOL
HANDHISTORY CONVERTER AND DATAMINING FOR FREE

NO VERIFICATION, NO COUNTRY LIMITATIONS

OUR FINANCIAL GUARANTEES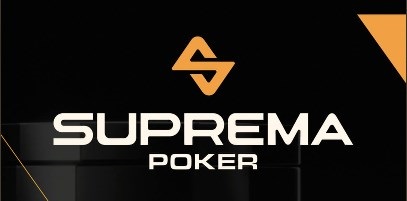 Suprema Poker
TRUE RAKEBACK FROM 45%
WEAK PLAYERS FROM LatAm
HANDHISTORY CONVERTER AND DATAMINING FOR FREE

ACCEPT PLAYERS FROM EVERYWHERE, NO VERIFICATION

FINANCIAL GUARANTEES