How to open Sharkscope stats at 888 Poker?
09.07.2021
Sharkscope has long been an indispensable tool in the hands of any more or less serious player in MTT and Sit & Go. It is not surprising - due to the large number of unknown opponents in tournaments, Sharkskope service that helps to quickly identify an opponent and choose the right strategy for playing against him. In 2013, the 888 poker network made a decision that forbade Sharkscope to collect tournament statistics. However, soon enough, the decision was reviewed and the players had the opportunity to make their statistics open.
How to open Sharkscope statistics on 888?
If at Pokerstars you are required to send 3 cents to official Sharkscope account, then at 888 Poker you have gone the other way. So, get ready, now there will be the most detailed instructions for opening statistics.
Open the client of the poker room 888;

Go to the lobby on the Tournaments - Restricted;
Register in the «Sharkscope Opt In» tournament. Password: optmein.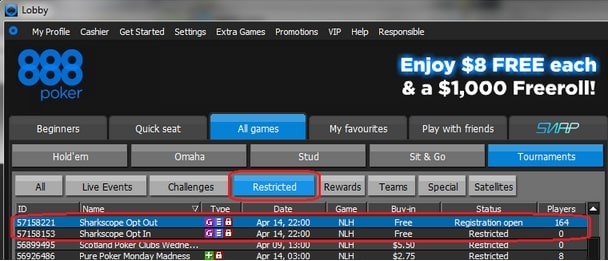 From now on, all information about you will become available and open on Sharkscope. Immediately tell you about the return trip.
How to close Sharkscope statistics on 888Poker?
Open client 888;

Open Tournaments - Restricted again;
Register with the optmeout password in the "Sharkscope Opt Out" tournament.
By the way, with us you can subscribe to any Sharkscope poker service. A huge amount of useful data for a very reasonable fee. And for some, it may be enough for everyone that Sharkscope gives anyone free access to 5 searches per day.