Review of DriveHUD - the most available poker tracker
07.07.2021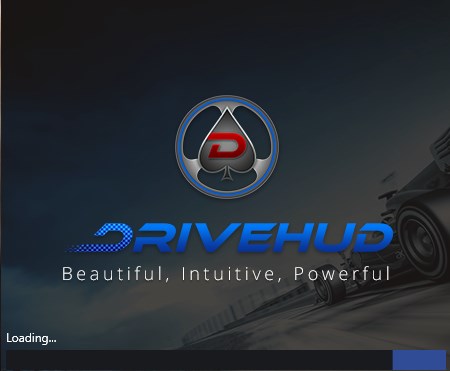 DriveHUD poker tracker is far from the most obvious choice among other poker programs. It is not surprising - it is very difficult to compete with the most powerful and legendary rivals in the face of Holdem Manager 3, PokerTracker 4 and Hand2Note. Moreover, both HM and PT have long been rooted in the minds of players as synonyms for programs for collecting statistics in online poker. However, Drive HUD also has its advantages. We will talk about them today in as much detail as possible.
DriveHUD overview and general information
DriveHUD is a poker program that imports hand histories into its database and displays the HUD (Heads-Up Display) while playing poker. In addition to collecting and displaying statistics, your tracking software has a set of tools for:
Build graphs based on your database. You will be able to visually familiarize yourself with the results of your game.
Analyze your game and find errors. Working with filters will provide answers to all your questions and reveal strategy flaws that prevent you from winning more.

Research the game of your opponents. Drive HUD will help you not only in finding your own mistakes - you can also find weaknesses in the opponents' strategy and mercilessly exploit them.
Viewing hands in a convenient replayer. Some situations deserve more attention than others. And you will have the opportunity to comfortably see all the elements of the hand as if you were again at the poker table during a game session.
Writing notes (reads) about the strategy of opponents. You can not only look for "gaps'' in the strategy of your opponents, but also write down information about them in a convenient format. Special color marks are also available to you.
Here you might be wondering:
"Okay, I realized that DriveHUD has all the components of a poker tracker, but how does it differ from Holdem Manager 3 or PokerTracker 4? Why should I choose DriveHUD?"
The DriveHUD also has a number of unique features:
Bumper Stickers (icon system). Reveal trends in your opponents 'play quickly and easily with the included DriveHUD badge system, which will notify you of possible patterns in your opponents' play. You can create an infinite number of graphic symbols to identify players. When choosing icons, you are only limited by your own imagination. With a huge number of customization options, you can instantly find even extremely complex patterns in your opponents' play.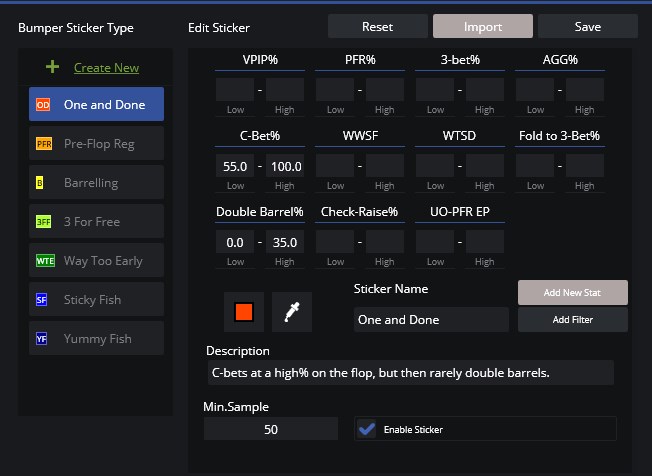 Built-in equity calculator. Of course, it won't replace Flopzilla Pro or Power-Equilab, but you can easily right-click and analyze any hand or situation played. The advanced equity calculator has an automatic hand range generator for opponents. This will make the analysis fast, efficient and simple.

Player profiles. There is a similar function in other programs for collecting statistics in poker, but in Drive HUD its setting is much more convenient. The entire list of key stats is available on one screen - there is no need to put additional effort and search for them. You can also create your own icons and put your own meaning into them.
Tilt Meter. Find out quickly and easily if your opponent is approaching tilt. The tilt indicator in DriveHUD will increase using a unique algorithm based on how many pots the player has lost in a short period of time and how active they have been. The algorithm also takes into account the cruelty of the badbits, which significantly increase the opponent's chance of tilt.
Bracelets. A Social feature for tournament players. Analyze your tournament results based on the M number (blinds + ante to stack ratio). Take a look at how lucky you are and what your ITM% (as a percentage of money) has been over the course of your tournament career. And most importantly, win bracelets!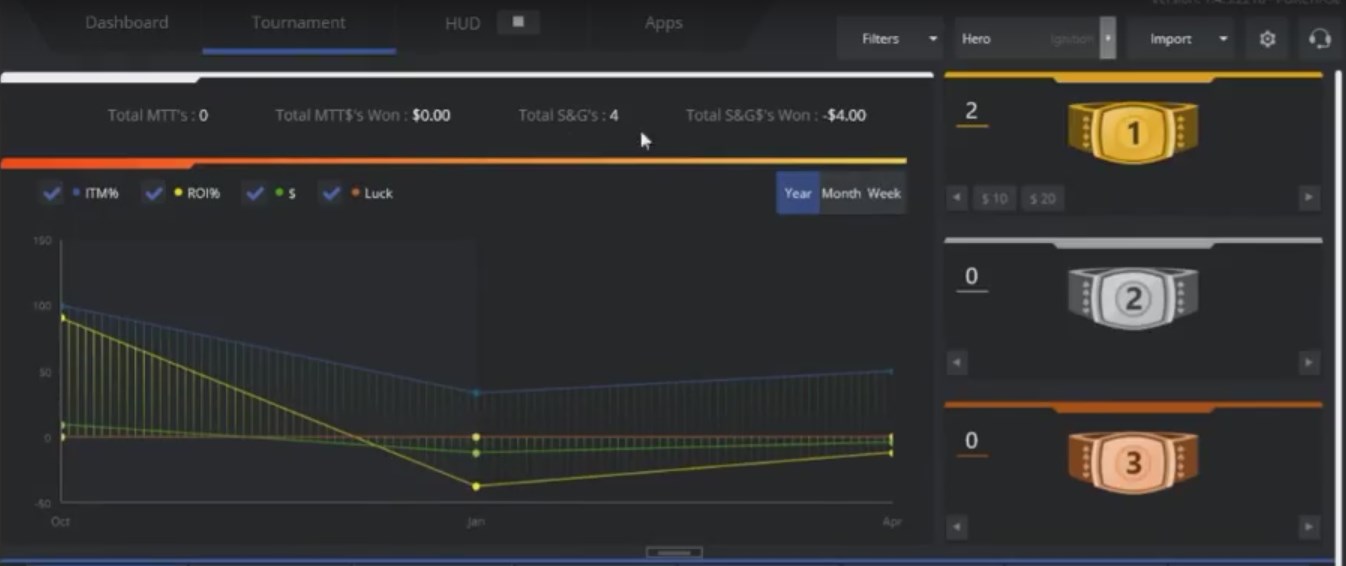 Integrated tool for GTO strategy. There is nowhere without a balanced strategy. Therefore, the developers of the poker tracker took care of this component of the game as well. The result is a tool for GTO poker. With just a couple of clicks, you can grab any hand or situation and let Drive HUD show you a good balanced strategy or create one yourself.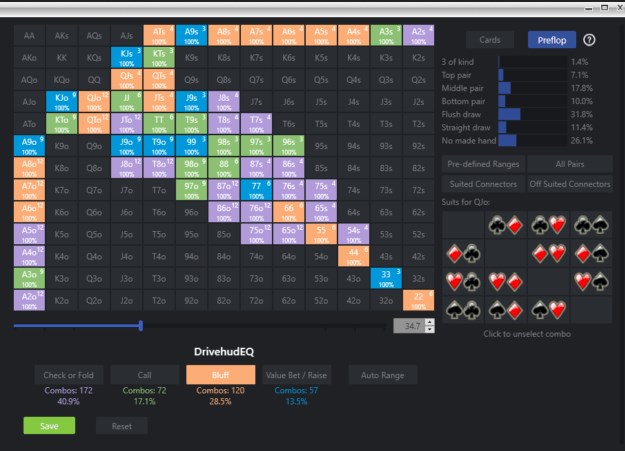 How to download and install DriveHUD?
It is very easy to download and install the poker software:
1. You can download poker tracker DriveHUD for free from the developer's official website. Click on "Download 30-Day Free Trial".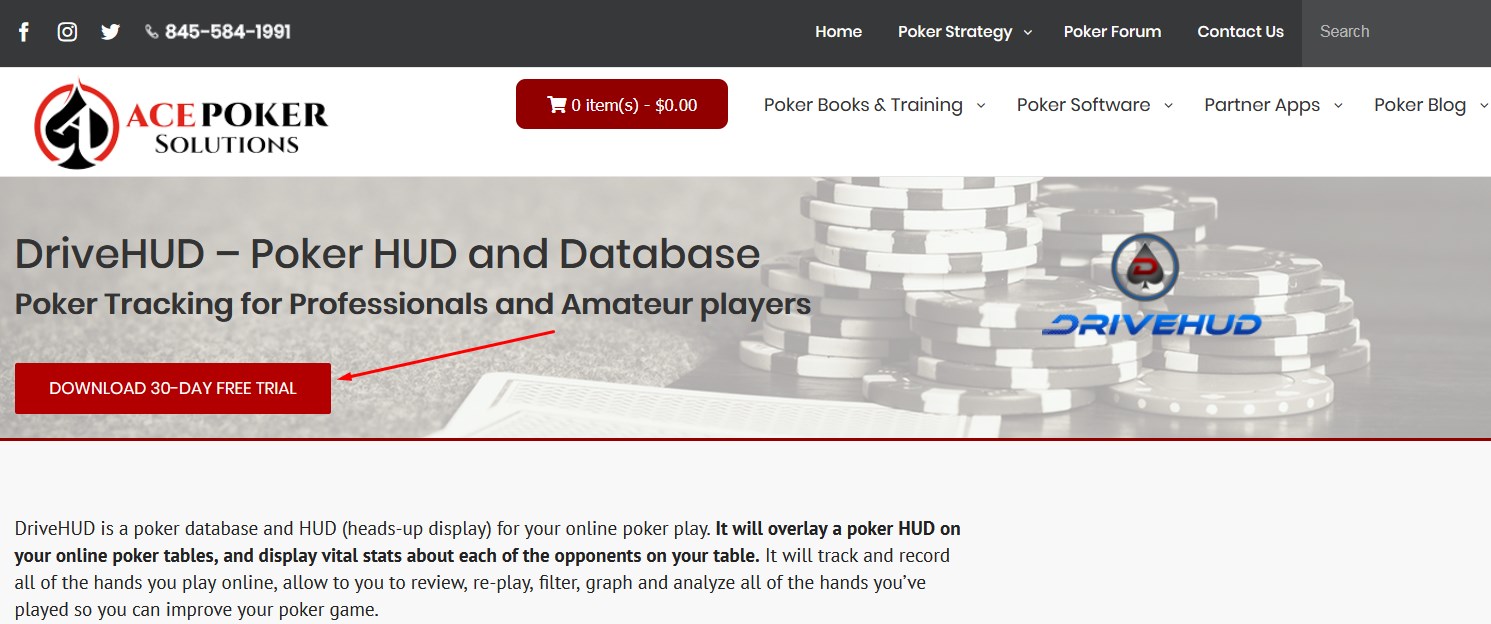 2. After downloading the installation file, open it. In the pop-up window, check the box next to "I agree to the License Terms and Conditions" and select the folder where the tracker will be installed. Please note that like other statistical poker software, the DriveHUD database will gradually grow and require more hard disk space. Therefore, we recommend that you make sure in advance that there is enough free space on your hard disk.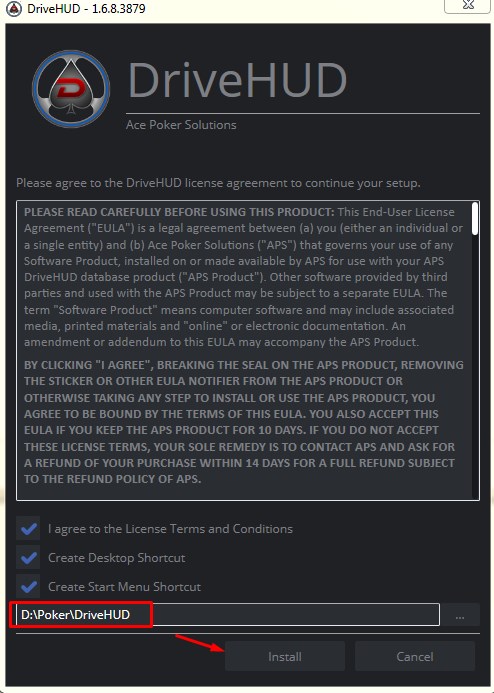 3. When the installation process is complete, click on "Launch".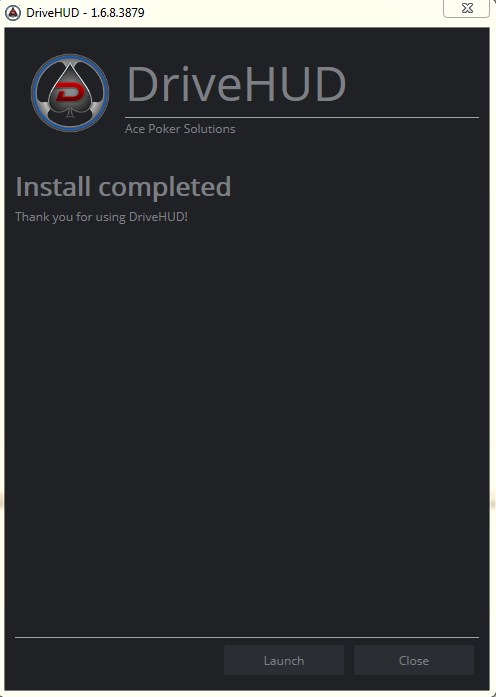 Unlike PokerTracker 4 and Holdem Manager 3, where free trials are available for 14 days, Drive HUD has a free trial for a full month. The extended period of free use of the poker tracker is a good argument in its favor.
What does the DriveHUD interface look like?
The interface of the program is inspired by the automotive theme. This can be traced not only from the name of the program for poker statistics, but also from the main window of DriveHUD. All of your key statistics and reports are listed here. Below we will go over each element of the poker tracker in more detail.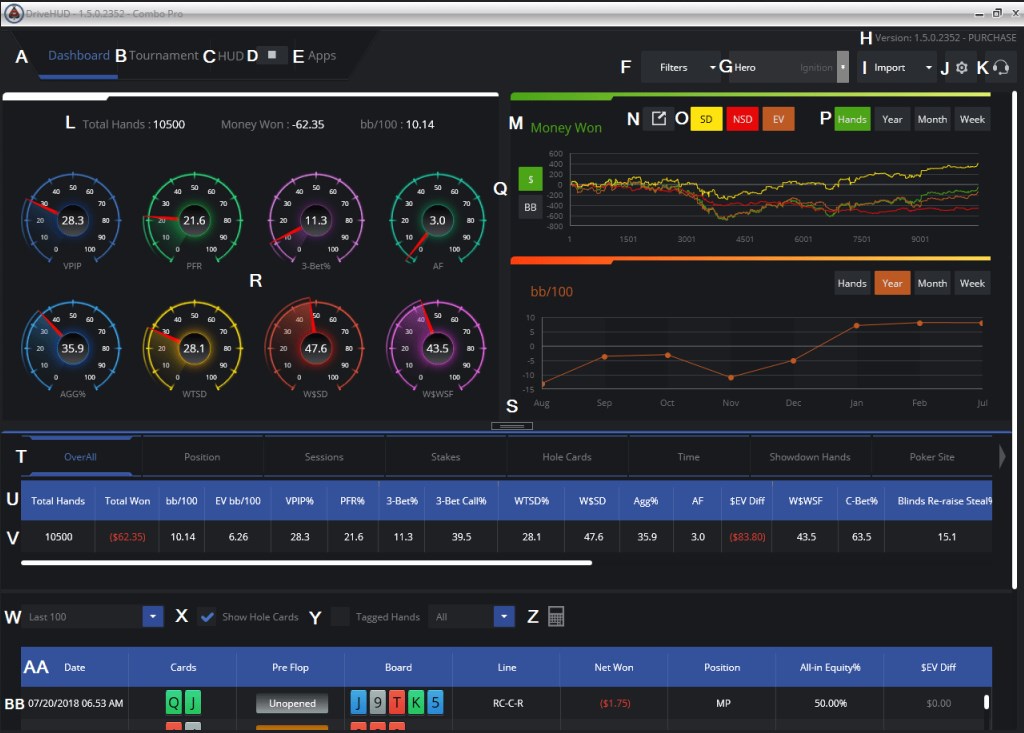 A) Dashboard tab - The main screen of the program that you see every time you start.
B) Tournament tab - This tab saves and displays all your tournament results. To go to the tournament section, just click on this tab.
C) HUD tab - Here you can create your own HUD or choose one of the 12 professional profiles that come with DriveHUD. In the same window, you can customize the HUD selection for each game type, poker site and table type.
D) HUD Run Button - HUD on/off button. If import is enabled, then instead of "Run" you see a "Stop" button.
E) Apps - In this tab you can buy and download DriveHUD apps and add-ons that will help you improve your playing skills. There is also a store where you can buy or download other HUD profiles for free.

F) Filters - The function of creating a filter or choosing from existing ones. Once created, filters will appear between the report section and the specific hand grid.
G) Selected Player - Click here to select the player stats you want to see. For the hands to be displayed, you must select a player. There are two options for finding a player: a drop-down list or manually entering the player's name to find it. The default HERO player name is used in DriveHUD as your player name. This can be changed in the settings menu.
H) Version number & Upgrade - Current version of your tracker. There is also a button for buying.
I) Import - With this function you can import your hand history into the Drive HUD database (if the poker tracker supports this format. You can download a single file or specify the whole folder. You can also import by files and CTRL + left click to select multiple files.
J) Setting Menu - The settings menu contains options such as general options, site settings, currency settings, rakeback and bonus settings, as well as updates and a form for contacting support. If you need to send a log file to support, just go to the settings menu and the support tab. Enter your email, indicate the problem and attach a log file (selected by default).
K) Support Button - Click here to post a support message, access the online manual, support forum, or knowledge base. By default, if you post to support, it attaches your logs. Select the Send extended log checkbox only if support has asked you to send extended log information.
L) Stats Overview - This always shows your summary statistics in the cash games. Your tournament play history does NOT go here. The total number of hands you have played, the amount of money won or lost, and your win rate are presented in a visual form.
M) Graphs - The total amount of money won and BB \ 100 in graphical form.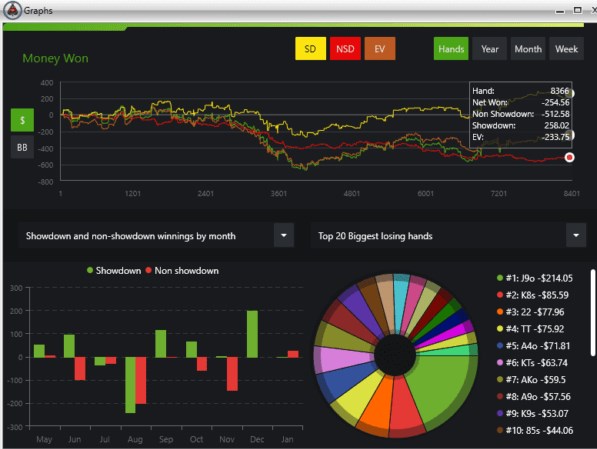 N) Graphs Pop out button – Click here for more detailed graphs.
O) SD, NSD & EV Toggle Buttons - Buttons for switching between EV lines, winning at showdown and without it.
P) Graph Iterations - Setting the game time periods on the basis of which the graphs are built.
Q) $ / BB Toggle - Toggle between winning in big blinds or in $. R) DriveHUD Gauges - The 8 most important statistics will be listed here in a scale. VPIP, PFR, 3-bet, AF, AGG%, WTSD, W $ SD, W $ WSF.
S) Expand Tab - You can click on this tab to close the Indicators and Charts section of DriveHUD, as well as expand the reports section and the hand grid. Click again to return to the original view.
T) Reports Tabs - Select any of the reports you are interested in. Among them are:
General;

By positions;

By sessions;

By stacks;

By starting hands;

By time;

Hand in Showdown;

By poker sites;

By opponents;

Depending on the type of opponent (based on profiles).
U) Stat Headers - You can left click on any column to sort statistics by data results. The first click with the left mouse button first sorts by the smallest number, then by the largest number, and then by the absolute value. Right-click a column heading anywhere to add or remove statistics from the current report.
V) Stat Results - Actual results for each statistic category will be displayed here.
W) Last Number of Hands - This drop-down menu will allow you to limit the number of hands displayed in the hand grid (section X). The default is the last 100. The lower the number you use here, the less system resources you will use.
X) Show Hole Cards - If hole cards are known, they will be displayed by default when loading the replayer. If you do not want to see your opponents face down cards, make sure this box is not checked. This is checked by default.
Y) Tagged Hands - Select this checkbox if you want the hands table to display only those hands that you have tagged. By default, All Marked Hands will be selected, but you can also select For Review, Bluff, Hero Call, and Big Fold.
Z) Poker Equity Calculator - You can click on it at any time to download the Equity Calculator and perform an Equity Calculator in any poker situation. You can also right-click any hand on the hand matrix and select Run Equity Calculation and it will automatically load all the hand data for the selected hand.
AA) Hands Grid Headers - This section shows all the categories of hands you have played. Left-click any heading to sort by the first smallest number, the second click is the largest number, and the third click is the absolute value. Right click on a heading to add or remove a category from the heading.
BB) Hands Grid - All your hands are displayed here. Right click any hand to calculate equity (run the hand in the equity calculator), export the hand to forum format (it will be copied to the reading buffer and you can CTRL + P or right click to paste the information), play the hand (this will launch the hand in the DriveHUD replayer), Mark the hand for viewing or take a note on the hand (in this case, the note icon will be displayed at the end of the hand in the equity column).
Built-in apps (add-ons) in DriveHUD
In addition to unique tools like an equity calculator or tilt meter, there are a number of applications (add-ons) for DriveHUD. They will significantly increase your ability to analyze sessions or make the game much more convenient, but they must be purchased separately. After purchase, they will launch and work directly in the DriveHUD tabs. Here is a list of the available apps:
Player X-Ray is an automatic note-taking application that will allow you to see through your opponents' strategies and exploit them to the maximum. No need to write tedious notes while playing multiple tables online. Experienced players know how inconvenient it is to do this during multitabling. Sit back and let Player X-Ray do the hard work for you, and jot down critical observations you might have missed.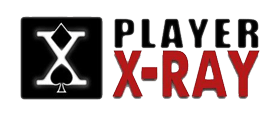 Leak Buster 2 is a poker application that analyzes your entire poker game. By comparing your online poker hands and data to tens of millions of online winning players' hands, Leak Buster identifies over 465+ potential leaks in your game - all in minutes. There is also a version of Leak Buster 2 as a separate application for Holdem Manager 3 and PokerTracker 4.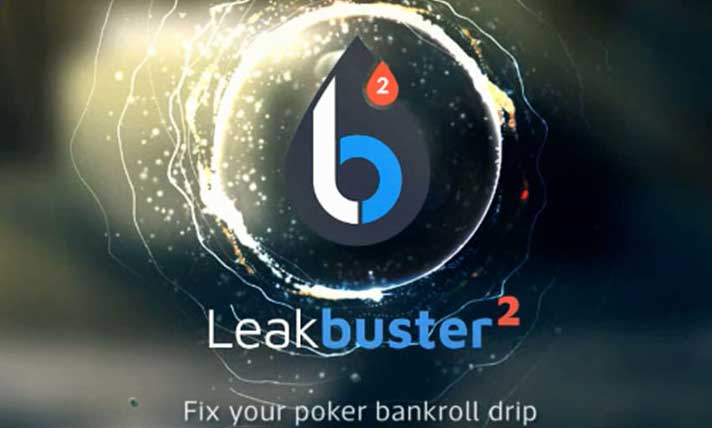 Asian Hand Converter HUD is an application that allows you to import hand history and run HUD in the most popular Asian poker applications. It supports Poker King HUD, Red Dragon HUD, Bingo Poker (formerly Hitea), PokerTime, PokerBros and Upoker HUD. There is also a standalone version of the converter for Holdem Manager 3 and PokerTracker 4. With the Asian Hand Converter HUD, you can even multitable from your PC if you use Android emulators. Read more about working and configuring Asian Hand Converter in our article.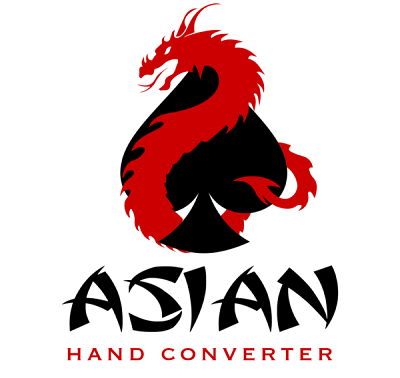 PPPoker HUD Catcher is an add-on that allows you to run HUD and track hands in one of the most popular Asian poker applications in PPPoker. PPPoker HUD Catcher works with PPPoker app using the most popular iOS / Android emulator apps. There is also a version of the program in the form of a separate application for Holdem Manager 3 and PokerTracker 4. Read more about the work and setting up PPPoker HUD Catcher in our material.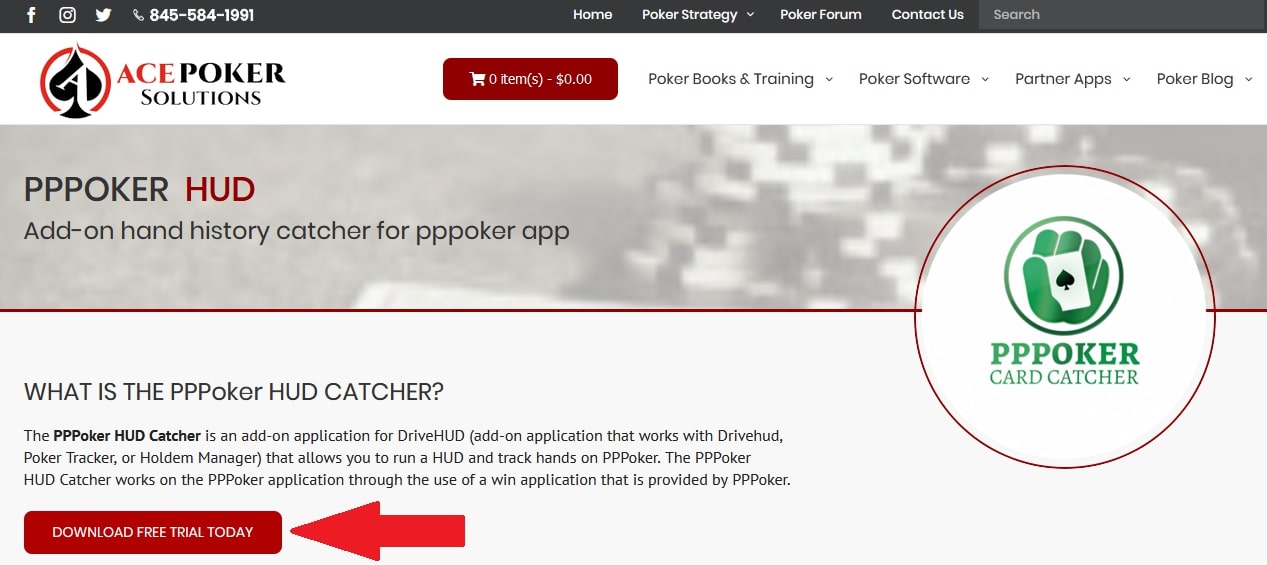 ICMizer 2 is a Sit & Go application that helps you master your preflop strategy based on ICM theory and ChipEV model by using the handy preflop Nash calculator, time-tested and used by thousands of players around the world.

StackAndTile - add-on that simplifies multitabling. The software will move and place tables conveniently on your screen. This will allow you to focus only on those tables that are important, while unimportant tables are moved to the side and "off your radar."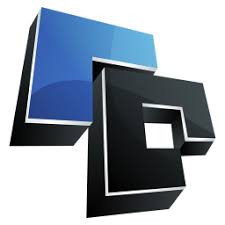 Simple Postflop - a poker solver that develops GTO strategy skills. There is also a separate version of the program that works without Drive HUD.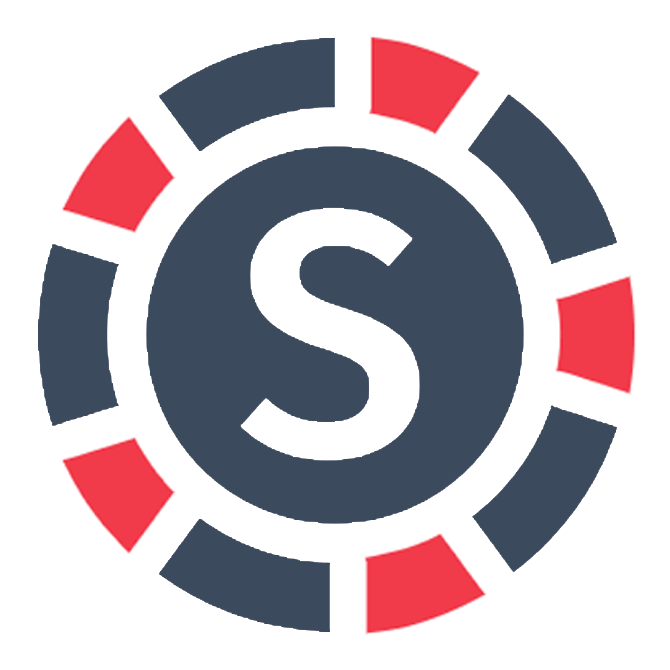 What the HUD looks like, importing it and setting up a preferred seating
The HUD interface in DriveHUD looks like this: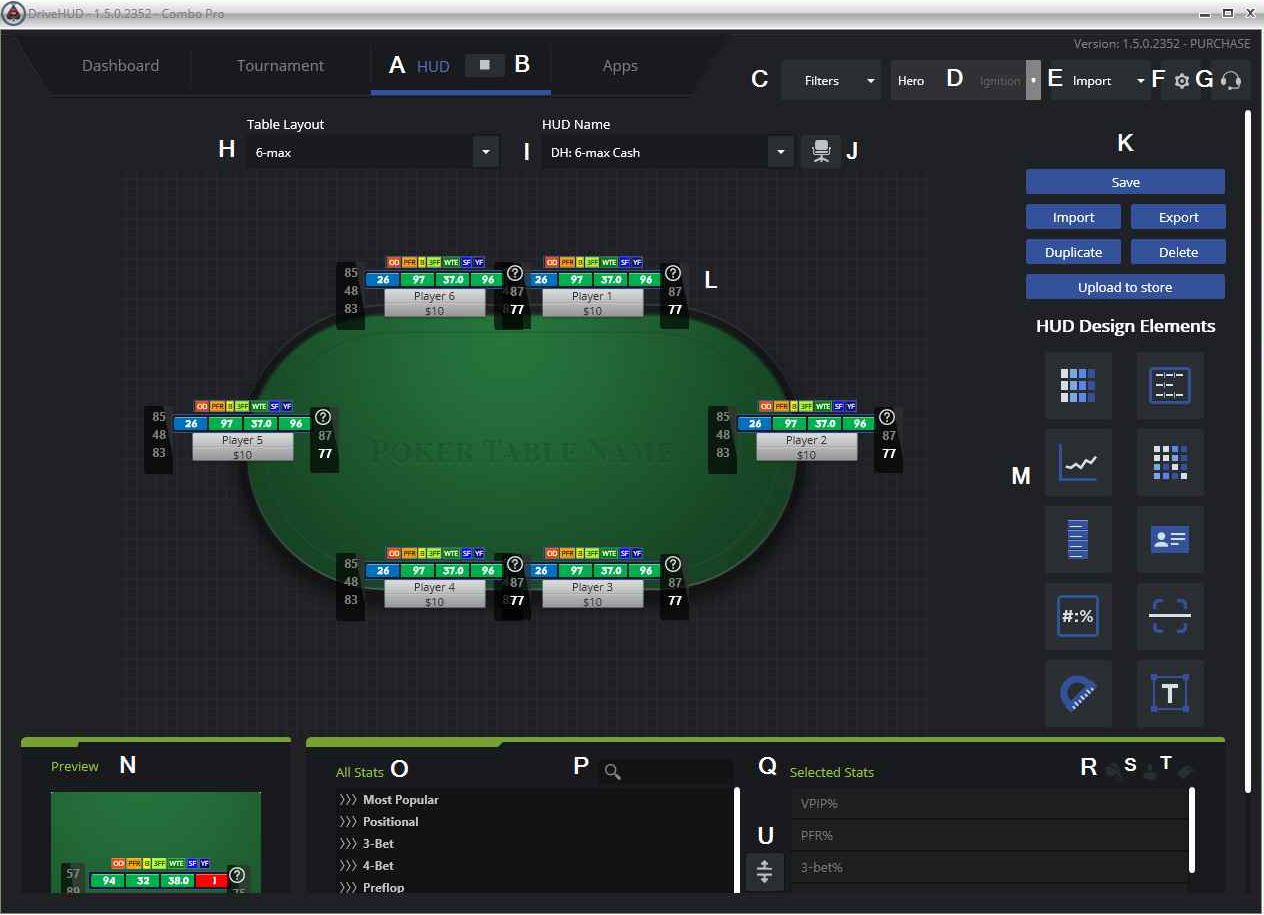 You can choose a HUD from the existing ones or create a new one for yourself. If your HUD is out of place or you just want to move it, then right-click and hold down the right mouse button, drag the HUD to the new position you want and release. It is possible to import an existing HUD only if it is created in DriveHUD.
Here is the import procedure:
1. On the HUD tab in DriveHUD, click the Import button.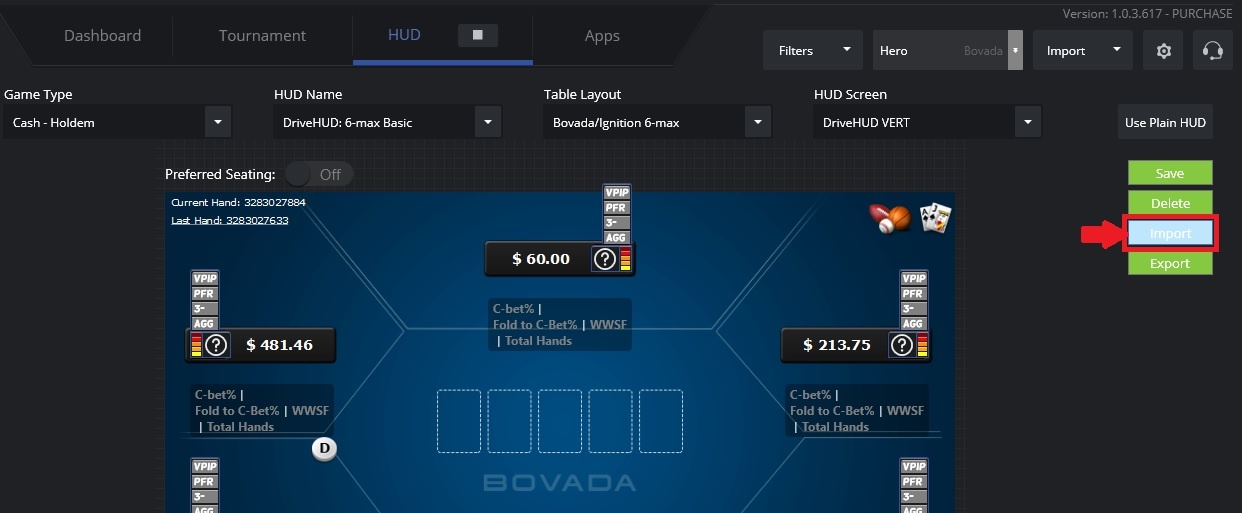 2. A pop-up window will appear asking which file you want to import. Select the .XML DriveHUD file you want to import.
3. Click "Open".
4. Your HUD will be added under the correct game type and name for which it was created. To use this HUD, select it from the dropdown at the top of the HUD page.
If you want to choose your preferred place in Drive HUD, then follow these steps:
1. Set your favorite place in the poker room. Most sites have a configuration or settings section that has an option to choose a favorite (preferred) location.
2. In DriveHUD, click the settings button located at the top right of the poker tracker interface.

3. When the settings pop-up window appears, click "Site settings". Then select the poker site you want to customize from the drop-down list. Then click on the spot that turns green. If no location is specified, it will remain red.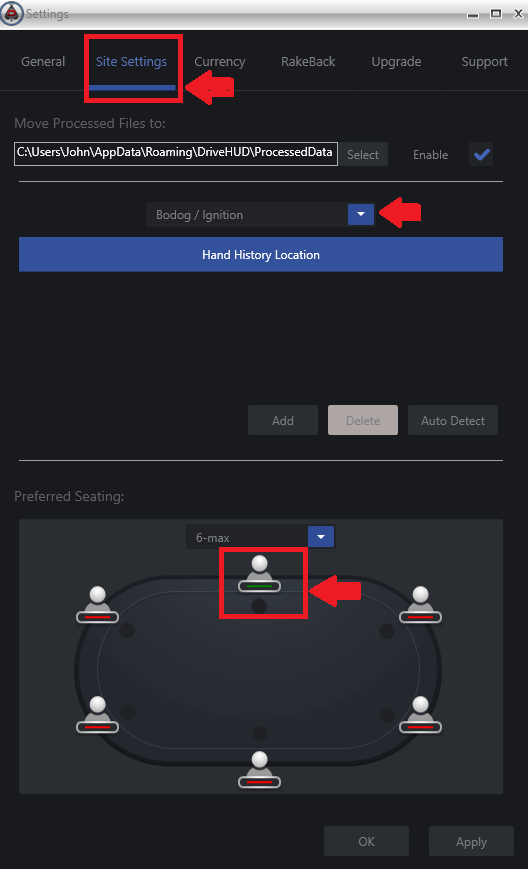 Important: Make sure you set a seat for each type of table you want to play at.
How to set up PokerStars for Drive HUD to work correctly?
You must set up a folder for saving hand histories in the PokerStars client. This feature must be enabled in the client for Drive HUD to work and display the HUD on your poker tables. To enable it you need:
1. Launch the PokerStars client.
2. Navigate from the lobby to Settings> Playing History> Hand History.
3. Check the box next to "Save My Hand History".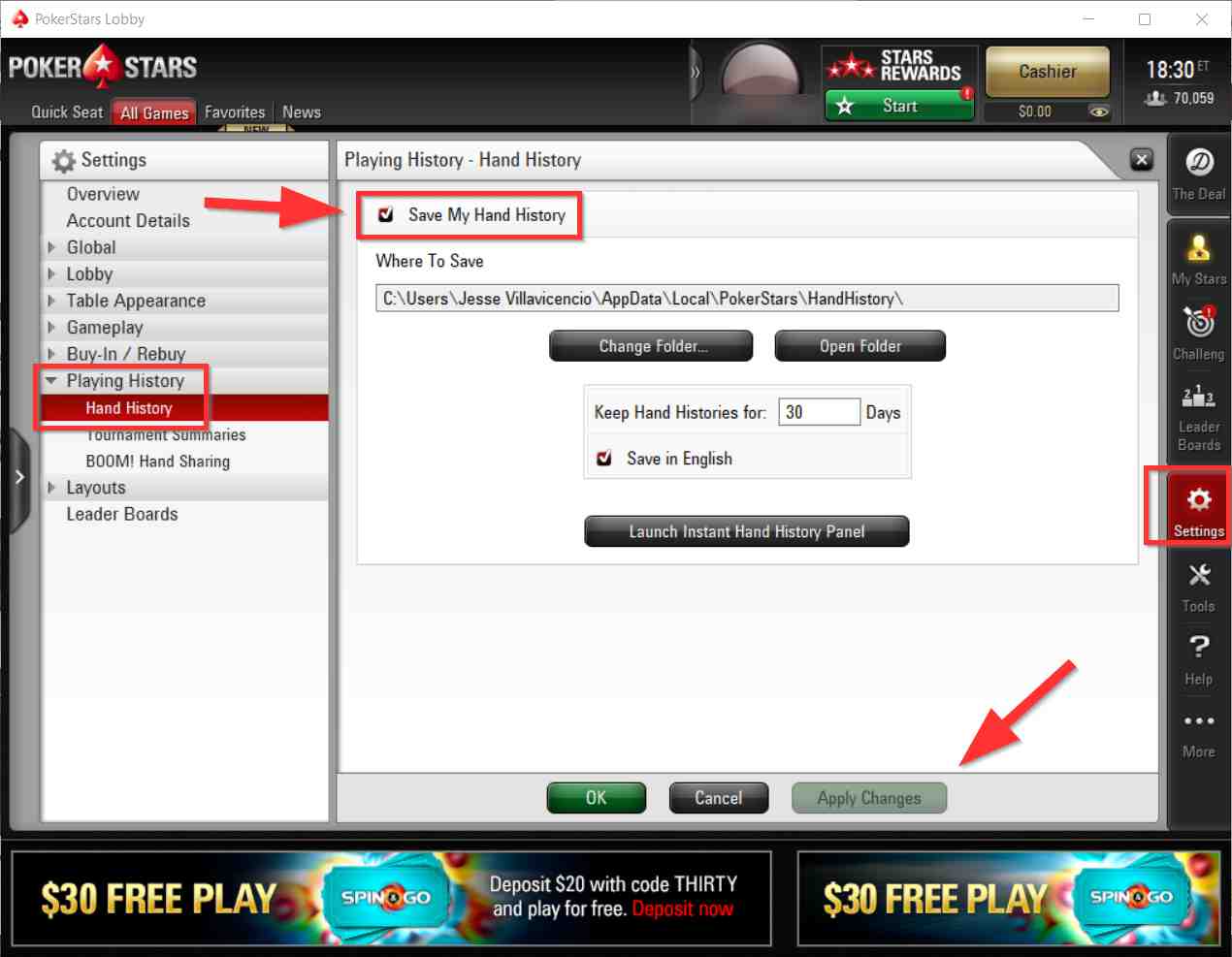 4. Select the folder where the hand history will be saved, then "Apply Changes" and OK. Hand history and site settings should be automatically configured in DriveHUD for PokerStars.
If the HUD is not displayed while playing on Pokerstars, check the poker site settings in DriveHUD by following these steps:
1. Click on "Settings" in DriveHUD located on the top right side of the poker tracker.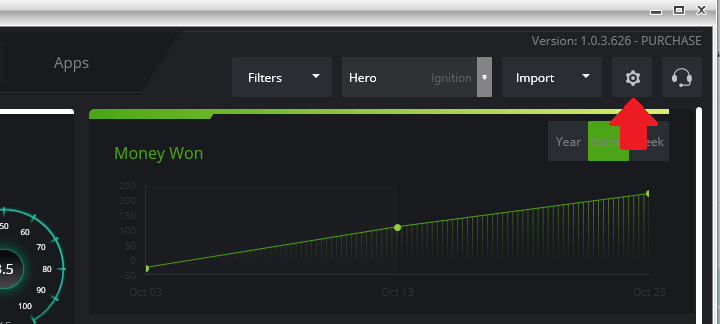 2. In the pop-up settings window, click "Site Setup".
3. Here select PokerStars in the line below "Move Processed Files to:"
4. If there are no folders with hand histories in the list, select "Auto Detect".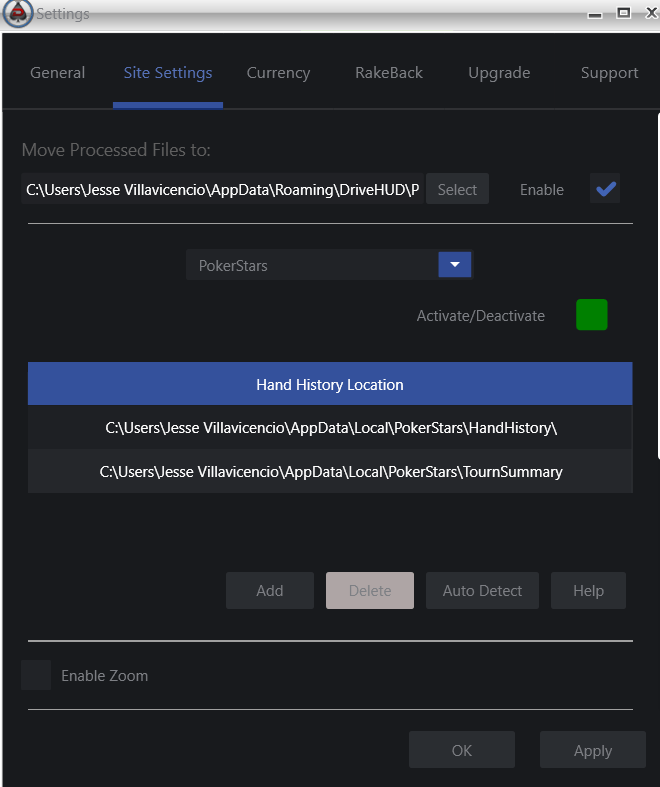 5. If the position of the hands is correct, then click "Apply" in the lower right corner. If you are not shown any folders or the location of the folders does not look correct, then first delete them with "Delete", then click "Add". Add Pokerstars hand history manually. They are usually located at: c: \ users \ (your processor username) \ AppData \ Local \ PokerStars \ HandHistory. There is no need to set up hand histories separately from tournaments or Sit & Go.
If you've already enabled hand saving in the PokerStars client, then you don't need to do anything.
Important: Make sure you have English selected as the language of your PokerStars client. If you have a different language installed by default, then change it to English. From the PokerStars lobby go to Settings> Global> Language. There you change "Play In" to English.
How to contact the developer of DriveHUD
If you have problems with DriveHUD, we recommend you to use the knowledge base on the official website of the poker tracker. If the problem is not solved, then go to the page with the contact form. Fill in the contact information and describe the problem. Technical support will be provided within a reasonable time frame.
How to buy DriveHUD?
It is extremely easy to buy the products you need in our store:
1. Click on the Shop tab.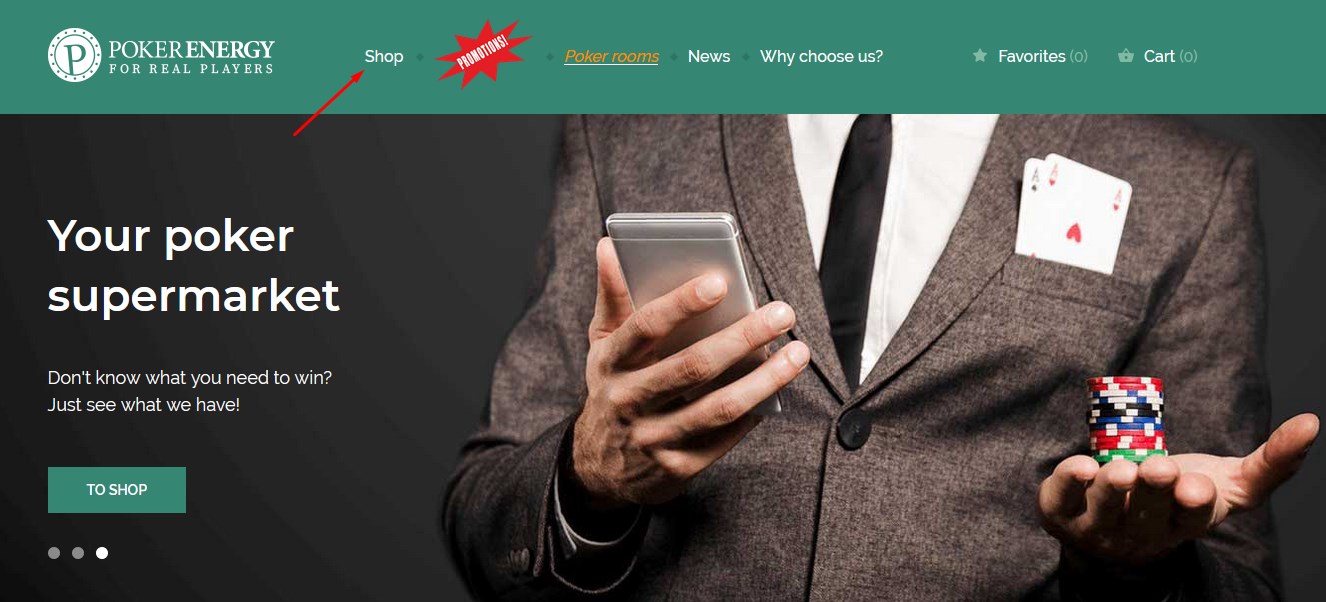 2. On the left side of the page, check the "Subscribe" option.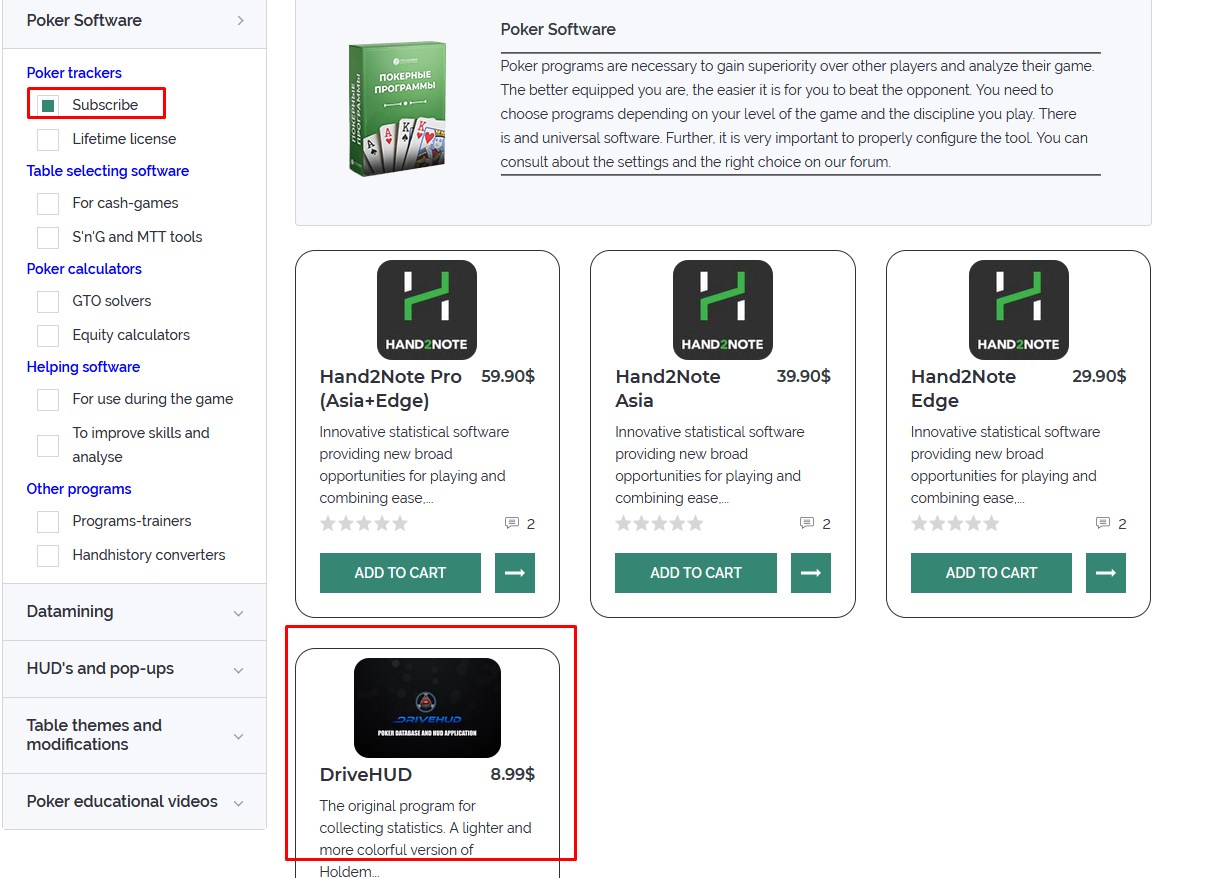 3. Scroll down to the DriveHUD card.
4. On the next screen, click on the Buy button.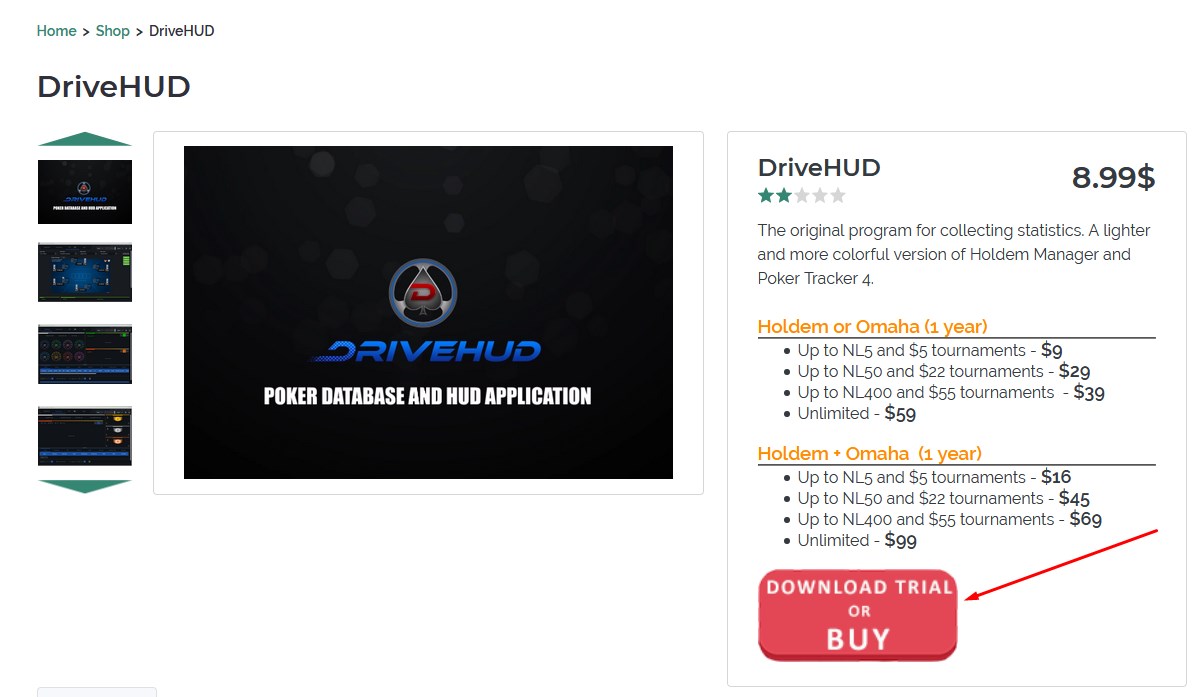 5. After clicking on the button you will find yourself on the developer's site. There, scroll down a little and select the appropriate option by clicking on "Add to Cart".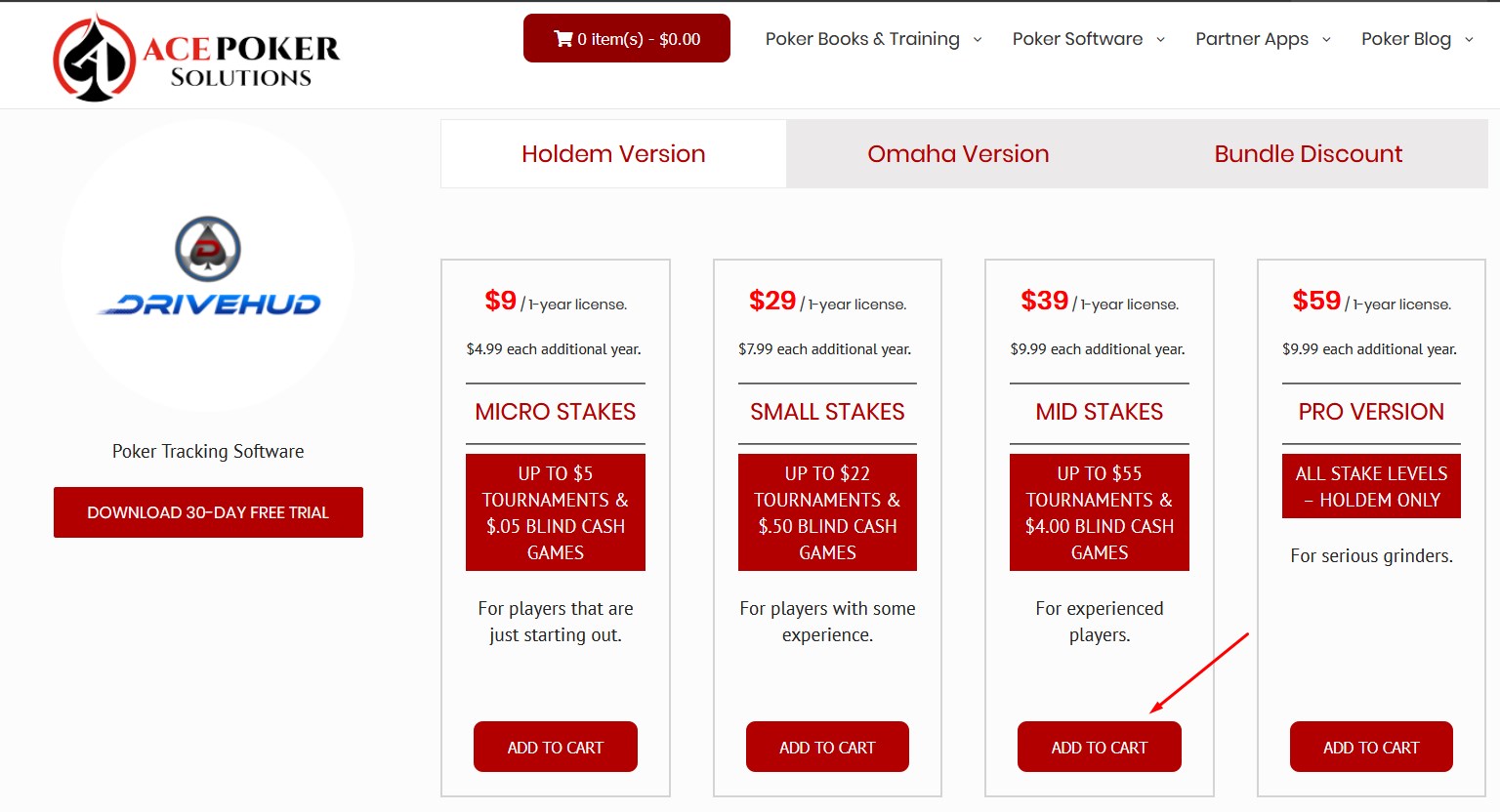 6. Go to the shopping cart. Make sure the program you need is there and click on "Checkout".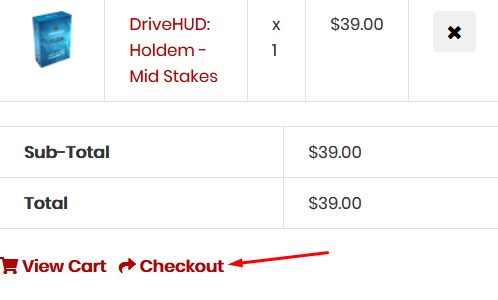 7. Follow the recommendations for the payment procedure on the partner site.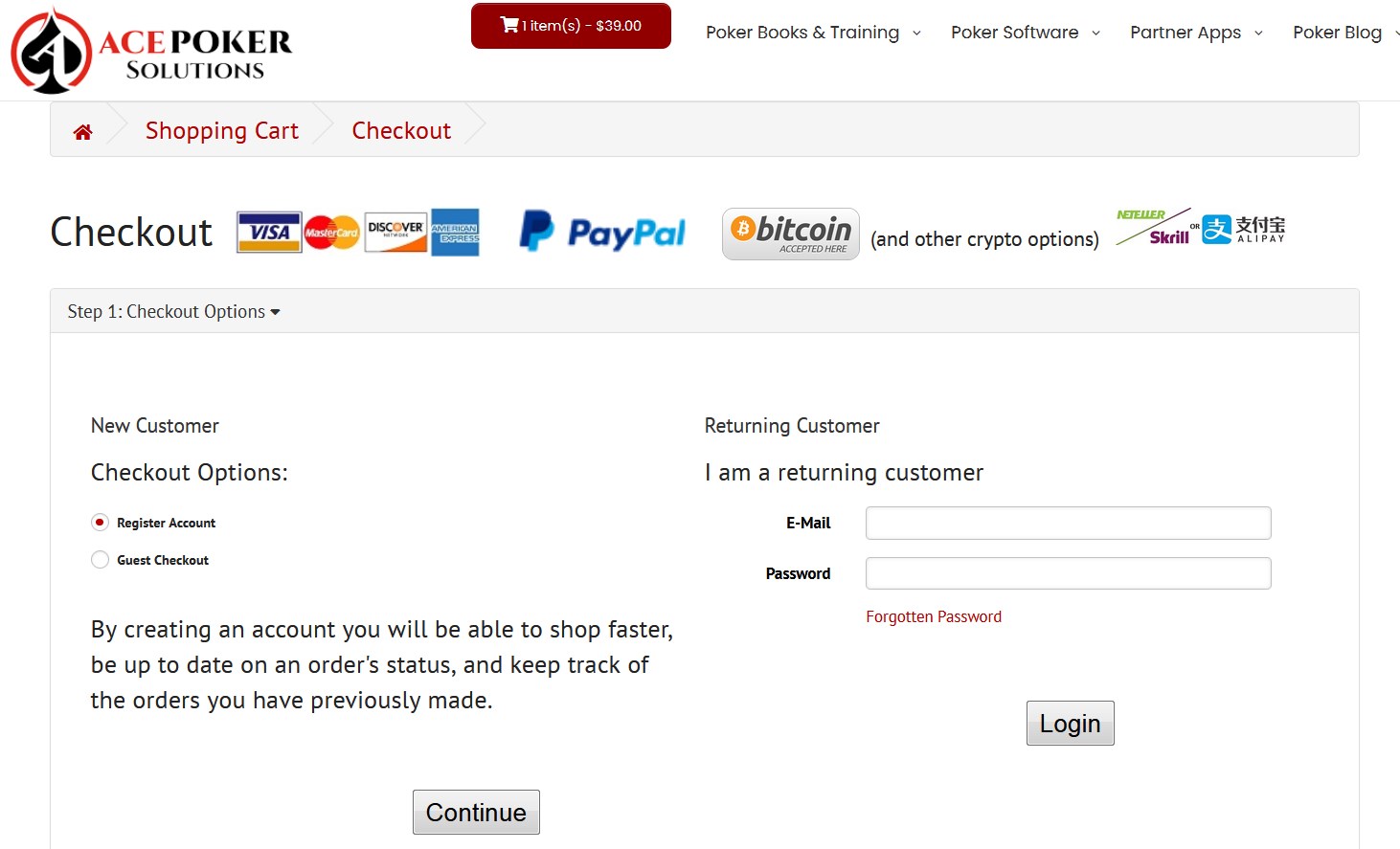 Why is it profitable to buy DriveHUD from us?
1. Bonus points will be awarded for every purchase at the PokerEnergy Shop. You can use these bonus points to purchase any goods in our shop. That will allow you to save more and more money with each new purchase.
2. A large number of available payment methods will allow you not to lose money on conversions or additional commissions. Among the presented payment methods are: WebMoney, Skrill, Qiwi, Neteller, Yandex Money, PayPal, Visa / MasterCard.
3. The average lead time is 1-2 hours on average. But no more than 24 hours (with the exception of the rarest force majeure).
How to get Drive HUD for free?
If you do not want to spend money on buying a poker tracker, then there is an opportunity to get it for free. In addition to DriveHUD, we provide any poker software for players who register using our links in the poker rooms from the list. To register, simply go to the appropriate page of the poker rooms and follow the instructions.