Amateur or professional: where can you find PokerStars player stats?
26.12.2022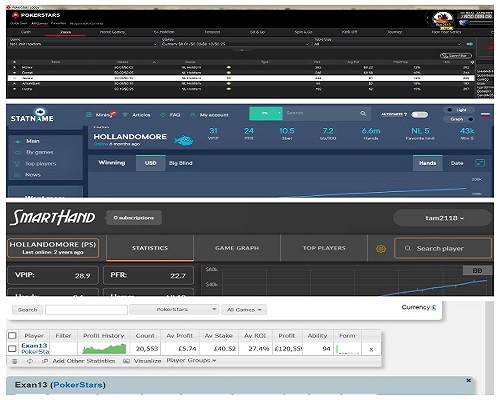 Poker is a game of incomplete information, so any knowledge about an opponent gives us an advantage. We usually gain information by watching them. After a couple of dozen hands we have a basic knowledge of the opponents at the tables. Online poker allows us to get information even before first hand is played. Here's how to gather statistics on PokerStars players.
Where to get information on my opponents?
Online poker offers two options for collecting data:
An experienced player will get a big advantage over his opponents due to the information. Increasing your win rate by a few big blinds or raising your ROI is a good reason to take a closer look at each option. Let's start from services for cash.
SmartHand
In operation since 2018. Tracks statistics not only from PokerStars, but also from other major rooms and networks: 888Poker, Chico Poker, Winning Poker Network, iPoker Network. Since February 2022 added information from PokerOK and Winamax. SmartHand collects in-depth statistics that include over 100 stats per player. If you use the Google Chrome browser extension SmartHand Helper, you can search opponents in 1 click.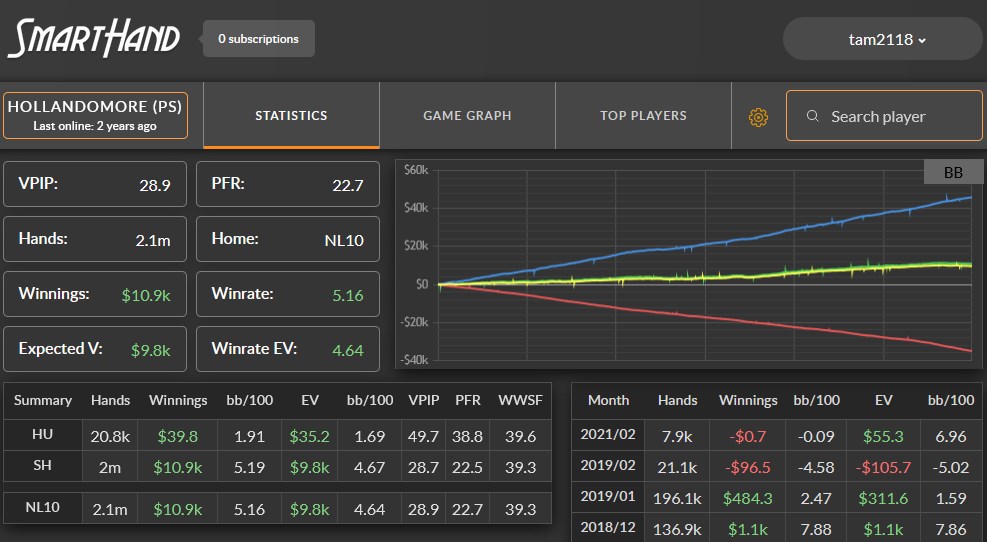 The statistics can be viewed for any period of time since SmartHand was created
SmartHand provides free stats from NL10-NL25 limits for PokerStars, 888Poker, Chico Poker, Winning Poker and the iPoker Network. To get access to the search, you need to go through a simple registration process. From NL50 onwards there is a charge for information. The price depends on the limit. The most expensive package "NLmax" is $45 a month.
Statname
Launched at the end of 2018. Monitors information from PokerStars, PokerOK, 888Poker, Chico Poker, iPoker Network, Winning Poker. Added stats from the PokerBros mobile app in June 2022. Shows not only the results of the game, but also useful statistics for compiling a profile of your opponents and finding the weaknesses of their strategy. Autopaste extension allows you to search your opponents in 1 click. Works only in Google Chrome.
Statname gives you free access to all NL25 and PLO25 stats. You need an account to use the search. Higher limits are presented in paid subscriptions. The most expensive package costs $45 per month.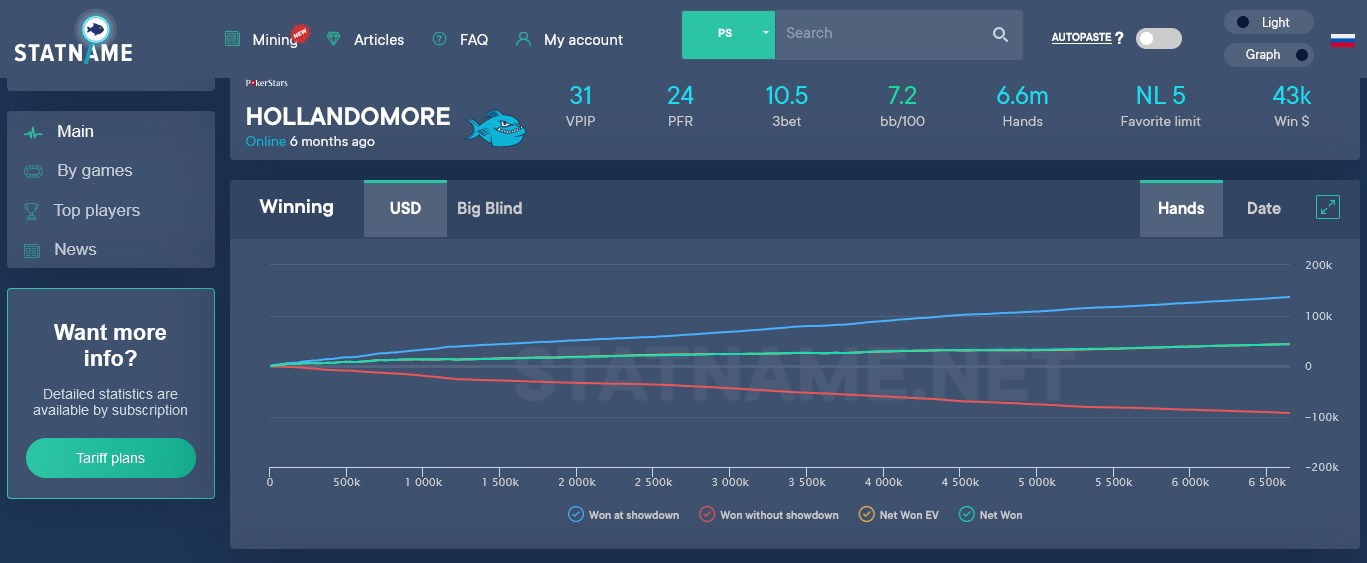 Statname offers not only search, but also datamining
Statname and SmartHand do not track statistics from low limits. Statname has no information on NL2, NL5 and NL10. SmartHand only ignores NL2 and NL5. The reason for the lack of stats is simple - too many players and low economic feasibility. Statname provides 5 free searches for any limit. SmartHand does not limit the number of searches, but without a paid subscription it only shows results from NL10.
Tournament Shark
Tournament players should pay attention to Tournament Shark. The software displays statistics on tournaments at PokerStars and other rooms right during the game. There are no intermediate steps - information about your opponents is available right away. Tournament Shark shows: total number of tournaments, frequency of getting into prizes and profit. For clarity the program marks the opponents at the table with symbols: from twos to aces. Covers 98% of all tournaments online.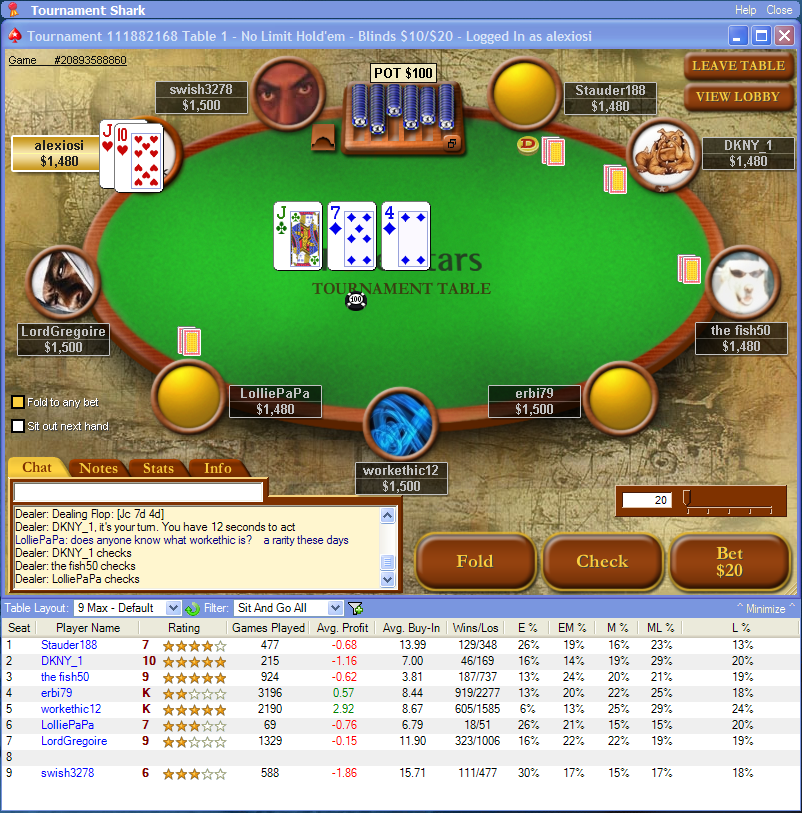 Tournament Shark also produces additional statistics, but they are of little use
You can evaluate Tournament Shark with a 7-day free trial. You can download it from the developer's official website.
SharkScope
SharkScope is the #1 choice for tournament players. It tracks 99.9% of all tournaments played online. Over 20% of players regularly use SharkScope. The software shows: total distance, ROI, profit, form, greatest career successes, average buy-in. There are also visual tools in the service - stars, sharks, fish. They allow you to get an opinion of your opponent without deep analysis. Graphs will also help with the visual perception.
With a subscription of silver or better the SharkScope HUD will be available. It displays all the statistics of your opponents right at the table. Without the SharkScope HUD, users have to spend time and effort on their opponents' nicknames and the search bar. The extra effort reduces concentration, which can be devastating in a multi-hour MTT tournament.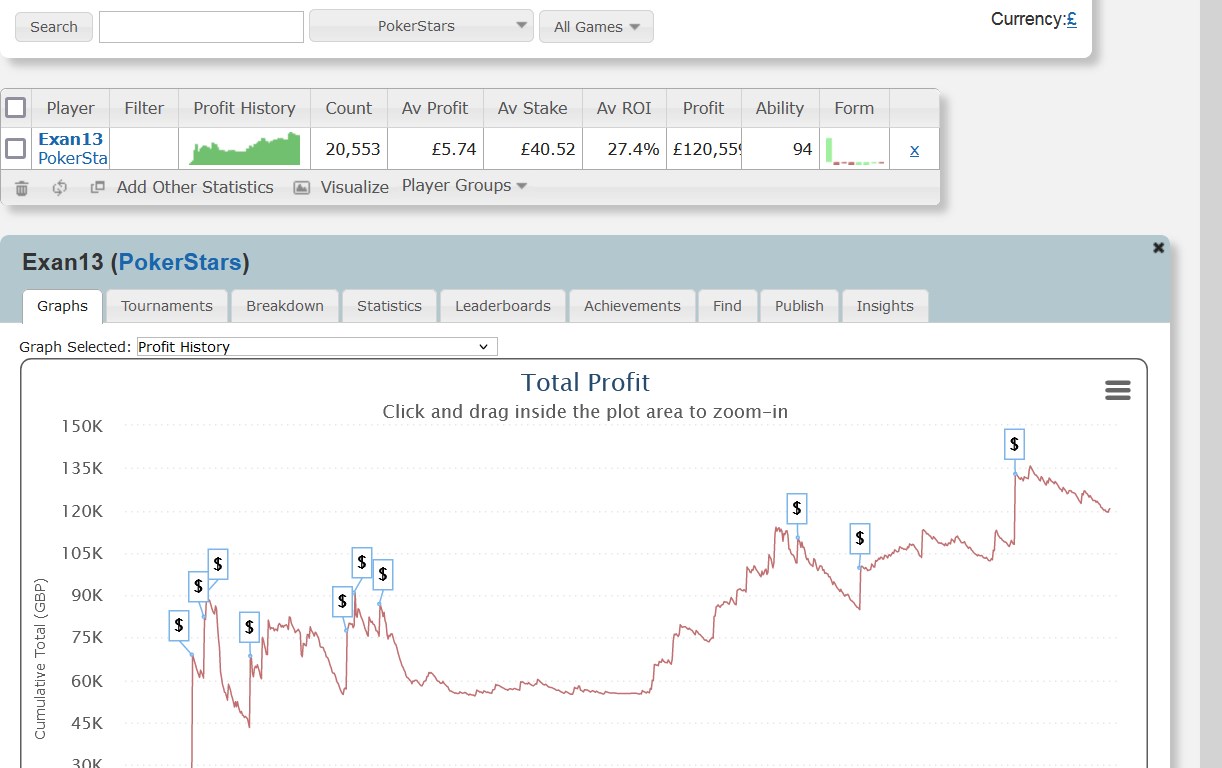 SharkScope gives you the opportunity to close yourself from the search or to zero the statistics
Any user can evaluate SharkScope for free - everyone is given 5 searches per day. You don't even need to register. SharkScope supports a much larger number of rooms, such as PokerOK. In this, it is greatly superior to Tournament Shark.
Datamining
Instead of searching services, players can buy hand history and download it to the tracker. They sell datamining in a systematic way, meaning you don't buy some chaotic database of a particular player. All datamining packages are grouped by limit. Therefore, you can get a huge amount of information about all the opponents on the working limit at one time. Datamining for the cash game is more common, while tournament datamining is rarely sold.
Datamining has limitations, the most important of which is the relevance of the information. Many poker players are able to drastically restructure their strategy within a few months. If you make decisions based on old information, they will often turn out to be wrong. Professional datamining traders have made provision for this possibility, so they sell hand history not only by limit, but by month as well. Read more about datamining in a separate article.
What programs work at PokerStars for free?
In recent years, PokerStars has lost its leadership in online poker. PokerOK took away the first place by the number of players back in 2021, and mobile applications are already competing with PokerStars. However, in some areas the advantage of PS is undeniable. These include the market for poker support software. Among the free programs we recommend 2: 1) StarsCaption; 2) Hand2Note.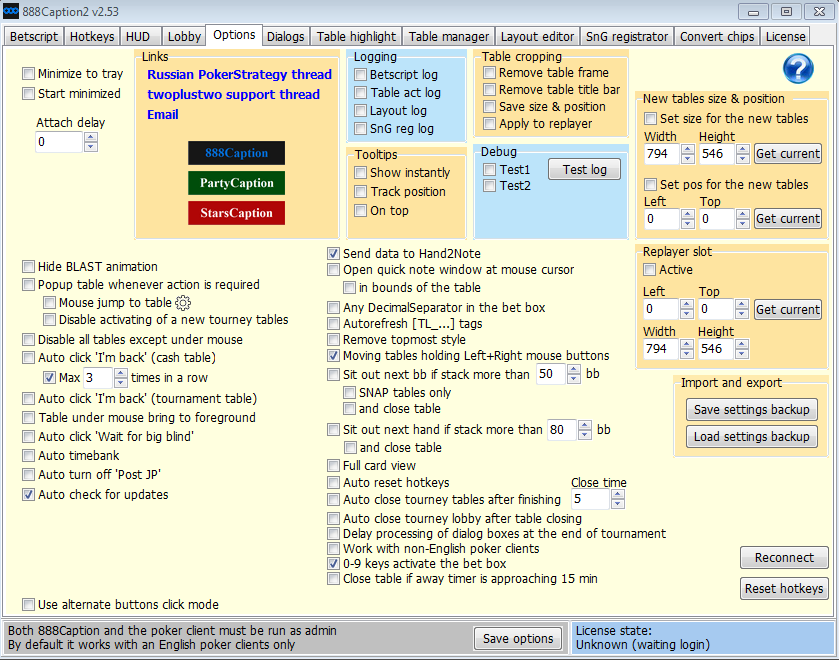 StarsCaption used to compete with StarsHelper, but the developer stopped supporting the software a couple of years ago
StarsCaption. Auxiliary software that makes playing at multiple tables at the same time (multi-tabling). Automates many actions at the table, which makes life easier for players and saves concentration. Converts stacks into big blinds, arranges tables on monitor screen, shows built-in HUD, saves betting profiles, increases fonts, allows you to assign hotkeys. StarsCaption works for free with no time limit on NL10 and below, and in tournaments with buy-ins up to $3. You can download it for free from our website.
Hand2Note. Software for gathering statistics and HUD output. Saves every hand in the database for further analysis. By accumulating hands on your opponents you will be able to find mistakes in their strategy and exploit them. H2N has long been considered the most advanced poker tracker, but that is not what attracts newcomers. The main argument in favor of the tracker - the basic version of Hand2Note is free with no time limits. You can download it from the developer's official site.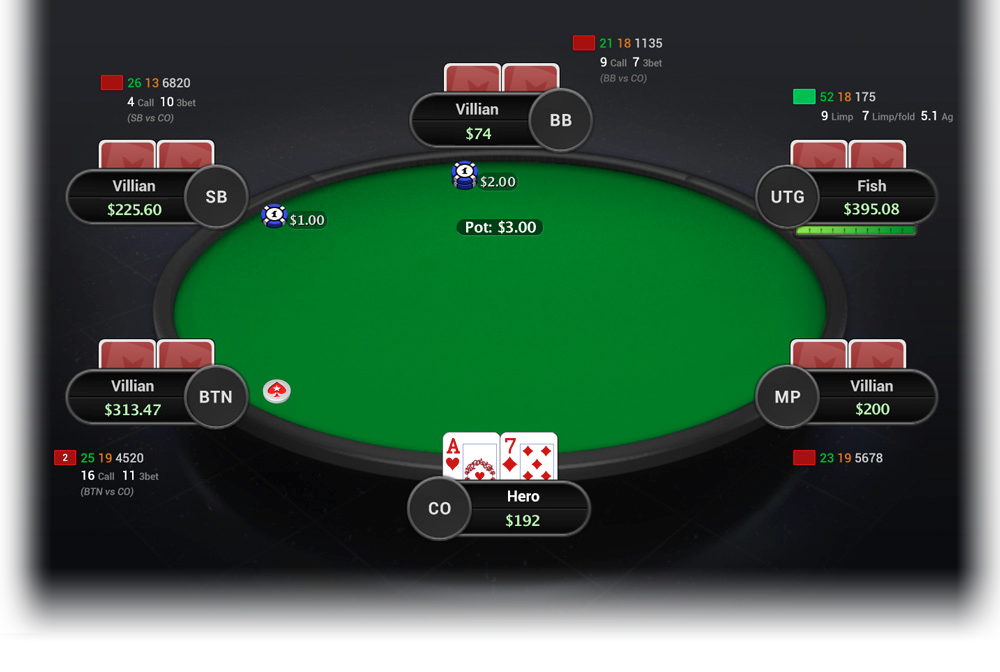 Getting a licensed tracker for free is a good foundation for getting over low limits quickly
Paid subscriptions expand the set of available tools. These include a dynamic HUD, Range Research player pool research, and the ability to play in mobile apps without converters. If you ever want to switch to the paid version of Hand2Note, use promo code H2N10NU. It gives you a 10% discount on any subscription, no matter how long it lasts. For example, a one-year subscription to Hand2Note Pro with the promo code will cost almost $60 less than without it.
Why is it profitable to buy at PokerEnergy?
The two main arguments in favor of PokerEnergy are:
1. We give bonus points for buying software. They will save you money on your next orders.
2. We give free software for purchasing items from the "Promotions" section. For example, we give StarsCaption for a 6-month subscription to Hand2Note Asia.
All catalog news and good deals are published in the PokerEnergy Telegram-channel. Sign up to not lose +EV.