Where to download a working version of Starshelper?
20.10.2022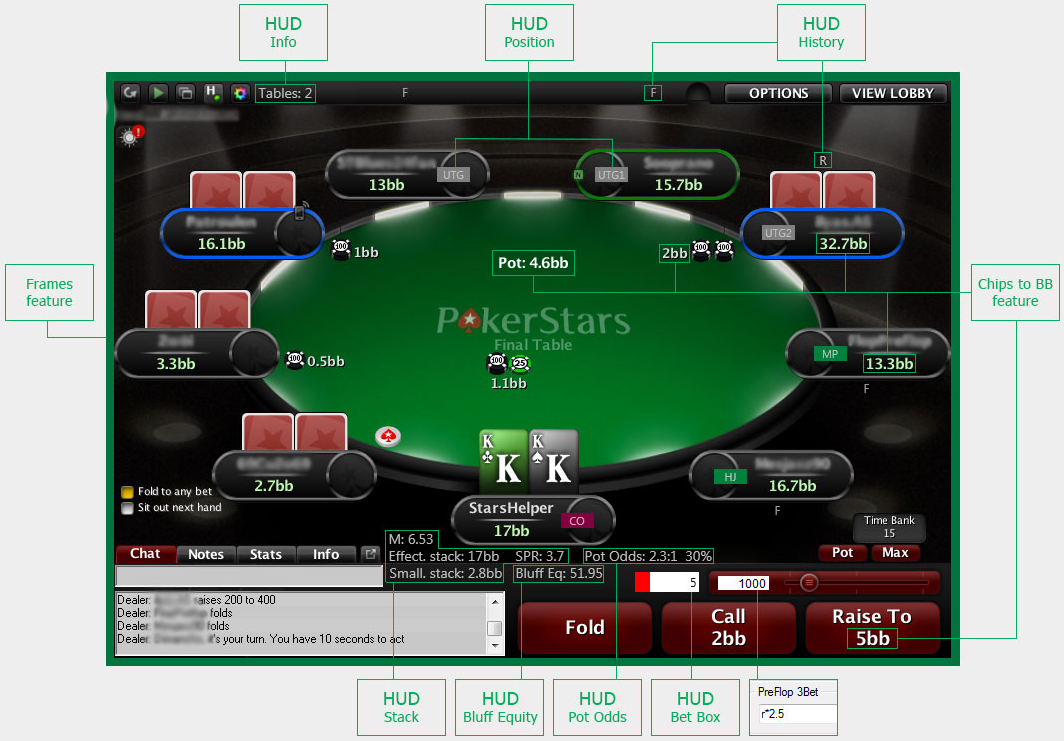 One of the main advantages of online poker over the live game is the ability to play several tables simultaneously. Multi-tabling not only saves from boredom, but also helps to play more hands per hour. For a good player, more distance means more income as well. It grows both through direct winnings and rakeback. It is more difficult to play on more tables. Auxiliary programs can reduce the workload and make life easier for the poker player. PokerStars players have been helped by Starshelper.
Where to find a link to Starshelper?
Two years ago, PokerStars switched over to the new software "Aurora". The developer of Starshelper immediately announced that his software does not work on the new platform. He did not adapt Starshelper for Aurora. Some craftsmen "rolled back" PokerStars to previous versions, and then the program worked normally. However, after a few months, the opportunity was closed and the software finally died. The official Starshelper website has not worked since 2021. Since then, there has been only 1 multi-tabling software left for PokerStars — StarsCaption.
Why Starshelper better than StarsCaption?
For years Starshelper competed with StarsCaption: the former went on sale in 2014, the latter in 2015. Starshelper was priced at $35, while Starscaption was only $24. Despite the price tag, many players preferred Starshelper. The reason is obvious - for $35 you got software forever, whereas StarsCaption offered a 12-month license. Helper came out earlier, but StarsCaption quickly surpassed its rival in the number of useful tools. Let's compare the programs' features.
Here's what Starshelper offered its users:
Stack convertation to big blinds;

Automatic allocation of tables to your screen;

Betting presets;

Colored frames for active tables;

Hotkeys;

Chat and pop-up blocking;

Built-in HUD.
Here are the features StarsCaption has:
Transfer stacks, bets, and pot into big blinds;

Automatically arranges tables on your screen;

Lets you pre-set your preflop and postflop betting profiles;

Hotkeys can be assigned;

Advanced HUD shows a number of useful data about the game;

Colors HUD indicators depending on the stack sizes and positions of your opponents;

Automatically turns on a time bank;

Removes unnecessary elements from the table, such as the header;

Blocks pop-up windows;

Colors the active table in the color of your choice.
The programs had a similar set of tools, but StarsCaption gave more options when setting up.
The main argument for StarsCaption
Why was Starshelper inferior to its competitor with the same feature set and better value proposition? The advantage of StarsCaption was in its distribution model: the program was free for NL2, NL5, NL10 players with no time limit. In other words, the poker players "got hooked" on it from the beginning of their career, it was very comfortable, and they never played without StarsCaption.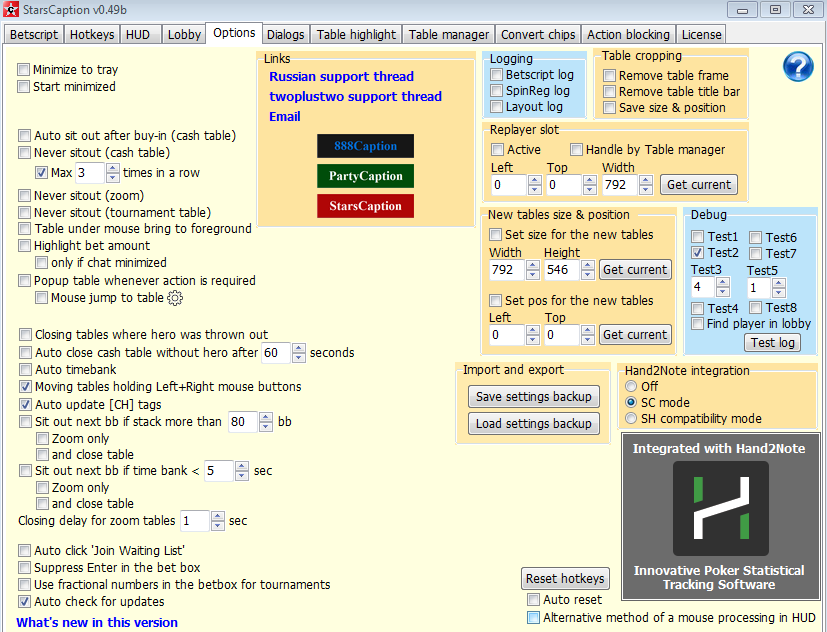 Setting up functions is divided into tabs at the top of the program
The developer of the software hasn't changed the successful formula - the software is free at low limits even now. You can download it from our website.
Why buy StarsCaption and other software from PokerEnergy?
We give you bonus points with every purchase. Use them next time you order and save.
If you buy programs from the promotional section, we will give you other poker software as a gift. For example, if you order the full version of Holdem Manager 3, we will give you StarsCaption.
To keep up-to-date with PokerEnergy's product range and not to miss out on great deals, subscribe to our Telegram channel.