Sharkystrator
The program for searching tournaments according to your parameters and automatic registration in them.
This product is temporarily unavailable
If you consider yourself as SNG grinder, then surely one headache about the game is tournaments registering. You must constantly focus your attention on the schedule in the lobby, buy-ins, make decisions in the game, but it would be nice also to pay attention to weak players. The good news there is cure for this headache, and the name of this cure is SharkyStrator.
SharkyStrator is a poker software, that automatically register you into SNG tournaments on PokerStars, based on pre-selected parameters. And advantages of this software does not ends on this. We will list most important of them.
Attention: for reasons beyond our control, the delivery time (order processing by the developer) SharkyStrator may exceed 24 hours.
SharkyStrator Advantages
1. Various filters
Before the program will automatically register you in tournament, you will need to "tell" it what exact tournaments you are interested in. The extensive system of filters includes: the total number of SNG tournaments that you want to play per session, maximum number of tables opened at one time, sessions time duration, type of SNG (heads up, 6 max, 9 max, etc.), the minimum buy -in a maximum buy-in, and the speed of the game.
Also note that SharkyStrator allows you to create multiple filters and program the software so that it will switch automatically register your selection after a certain number of minutes.
2. Filters priority feature
For your convenience, you can create several filters, and then set their priority. Priority can be set by reordering filters in list: first filter in list have highest priority. You can change order of the filters in the program, simply rearranging them with arrows.
3. Audio alarm
SharkyStrator can notify you about new tournament registration with a customizable sound.
So how SharkyStrator works?
Once you have downloaded software and pay for a license you have to create a filter and set up the number of parameters. Then you need to set up same parameters in the PokerStars lobby.
Then just press the start button, and the scanning will start. You can choose comfortable pace for yourself by setting a registrations interval. Its simple, as you can see.
But of course, questions may appear. It should be noted that Skype support "SharkyStrator" works very well.
How to get free SharkyStrator for 7 days
The developer provides a free trial for 7 days. To get it, follow the instructions below:
1. Download the installation file from the official Sharkystrator website
2. Run the installation file and you will see the following window: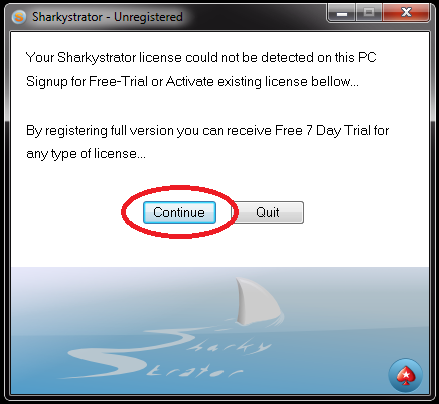 3. Click Continue and you will see a second window: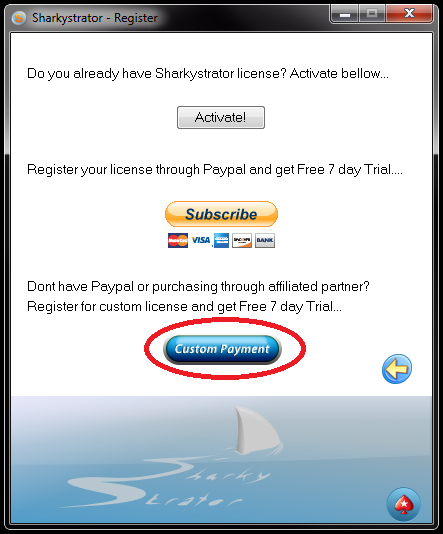 4. Click the blue Custom Payment button and then the third window will appear: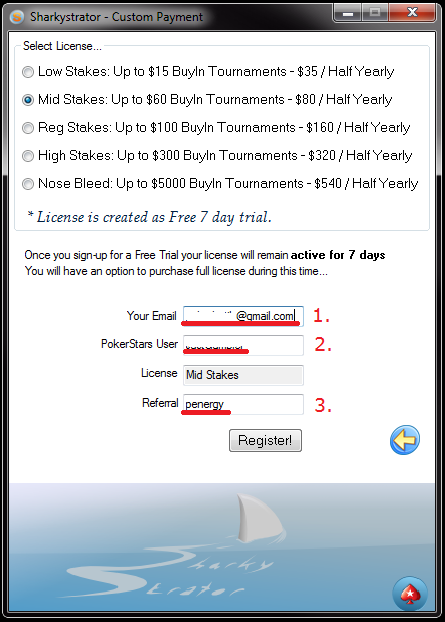 5. Fill in all fields.
Your email.
Your PokerStars Nickname.
Our code is penergy.
Click "Register".
6. If everything is done correctly, then you will receive an e-mail with the title Sharkystrator Registration Code. It will be your code. Also, a window will appear with the message that everything turned out:
7. After you click the OK button, the program will start. You will also be asked to study the detailed instructions for the program. Remember that the Sharkystrator program must be used with the PokerStars client enabled, otherwise it will not work.
Show more ↓
Free trial period
Yes, 7 days. Download Sharkystrator.
Delivery time
Up to 24 hours, but on average 2-3 hours.
Delivery method
By email from the developer.
Important information
When ordering, enter your PokerStars username. After payment, your email and username PokerStars gets to the developer. Within next few hours you will receive registration data that will be tied to your data.
Payment information
You can buy Sharkystrator with Neteller, Skrill, PayPal, WebMoney, Yandex Money, Qiwi, Visa/Master Card and other payment systems from us, try Sharkystrator for free and get a discount on the next purchase.
---
Log in to the site in order to leave a review

Sharkystrator evokes mixed feelings: on the one hand, it is a very useful program for the Sit&Go player, on the other hand, the technical issues associated with the purchase or renewal of a license are disappointing. In the description of the program, it was indicated that this process can take more than 24 hours, but it is not clear why this is so long. After all, other developers have time to do everything during the day. It is unlikely that the generation and design processes take very long. Let's end on a good note - a 10% discount and quick technical support answers make the impression a little smoother.

One of the best applications for SNG players. The most important function for me - automatic registrations, It saved my time and energy for better A-game. In the current situation at pokerstars, with tiny rakeback and insane competition, you need to look for any advantage. Sharkistrator - makes the difference.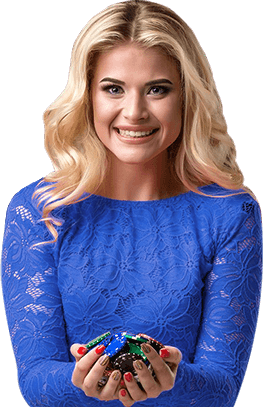 Keep up with all the news
Subscribe to the newsletter to be the first to learn about upcoming and current promotions and discounts of our store