Poker Cube brings social media and online poker together
11.06.2013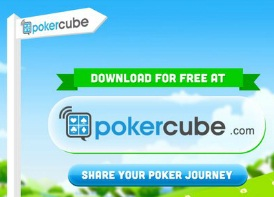 If you enjoy playing online poker and chatting on social media, you must love Poker Cube. It is a program that tracks your hands across several online poker rooms and allows you to share them on Facebook or Twitter. Poker Cube software is easy to download and install. If you have any questions or any kind of problems, you can always contact the online support service. Once you've set up Poker Cube, just open the app while you play so the software can automatically track your hands. If you reduce the program window while playing, a pop-up window will appear allowing you to share your hands on Twitter or Facebook. Once you have shared the hand, Poker Cube will provide a URL for viewing, and the hand history replayer will open for viewing automatically.
During or after the game...
If you want to wait until the end of the session to select the best hands or the toughest bad beats, you can use the expanded Poker Cube filters to search for hands by specified parameters (by date, poker room, profit / loss, card combinations). Giveaways can be sorted by time - from the most recent to the oldest, and vice versa. In addition, if you are partnering with a backer, Poker Cube will help you sort the losing hands, which you can show to the backer. Poker Cube allows you not only to stay in the center of events on social networks, but also provides statistics on your game, including the amount of winnings, the number of hands played, VPIP, PFR and 3bet%.
Poker Cube also has a graph of your play and an indicator of your best and worst hands. Playing with Poker Cube is made even more fun by the badges provided here for certain achievements (for example, playing a certain number of hands or certain combinations). With each achievement you get experience points that allow you to level up. You can also earn money to buy goods in the store. With the money earned in achieving goals, you can buy cash bonuses, poker paraphernalia, poker software, electronic equipment, coach lessons, privileges, tickets to live and online tournaments.
Poker Cube Promotions
There are currently three promotions in Poker Cube. The first is the Milestone Hand. If you play and / or win a hand, you can receive a cash bonus. Another promotion is Ask a Pro. By tweeting the pros using the Poker Cube or via the Poker Cube Twitter account, you can win a prize: Lifetime PokerVIP Membership, Lifetime Drag The Bar Membership, Free Poker Software, or tickets to the Sunday Million Tournament. Try Poker Cube in any case, because the software is provided free of charge. The program not only allows you to easily share your hands on social networks during the game or after the end of the session, but also provides many opportunities to receive cash bonuses and other rewards. Poker Cube adds flavor to the game with the badges and levels provided here.