Incredible Simple GTO Trainer - New soft on PokerEnergy!
22.07.2019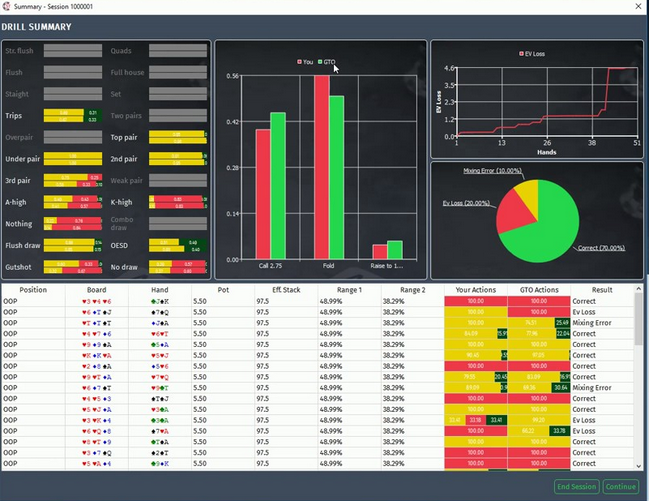 Poker has been developing very dynamically in the last few years. This progress does not think to stop. Leading the current poker strategy stuck with the theory of optimal game (GTO). Of course, even in modern games you can win according to the classic poker strategy. But at higher limits you will become too predictable and will not be able to compete with real poker sharks. Nobody wants to play in the minus and therefore the knowledge of the GTO becomes a vital necessity.
The problem of the optimal game theory is that it contains many nuances that will be incomprehensible to the average poker player. Therefore, most of the regulars refuse to upgrade their strategy and prefer a more familiar style of play. From this the arsenal of their methods remains scanty and does not allow to grow by limits and win more. The player comes to a kind of dead end and is not always able to find a way out of an unpleasant situation.
The minority, which firmly decided to move along the path of enriching its strategy with more balanced techniques, very quickly faces several obstacles. The main and fundamental one is the difficulty of working in GTO poker calculators. It is often not clear where to start, how best to build the learning process and how to feel the progress. Simple Postflop and GTO+ are great tools for improving poker skills, but only experienced professional players can work effectively in them. For players of low limits or simply conservative regulars, it is very difficult to understand them. Even instructions and training videos for poker calculators do not always help.
But finally, there is a concise solution to all your problems with a balanced game - the poker program Simple GTO Trainer. This program combines the best elements of the poker GTO-calculator and simulator for the analysis of specific situations.
With the help of the Simple GTO Trainer, you can:
Train specific situations at the poker table that cause you difficulties. Moreover, not only by the GTO, but also by the exploiting strategy;

Independently create training scenarios for your own needs;

Expeditiously study a detailed analysis of each action taken by us (range, EV);

Track the progress in learning the strategy from the very first workout to the latest classes (statistics of the growth of skills within the program are kept).
The program has a very nice and simple interface that distinguishes it from similar poker programs. The best players and specialists from the world of poker have developed specialized cloud packs that make it as easy as possible to study the theory of optimal play in your discipline.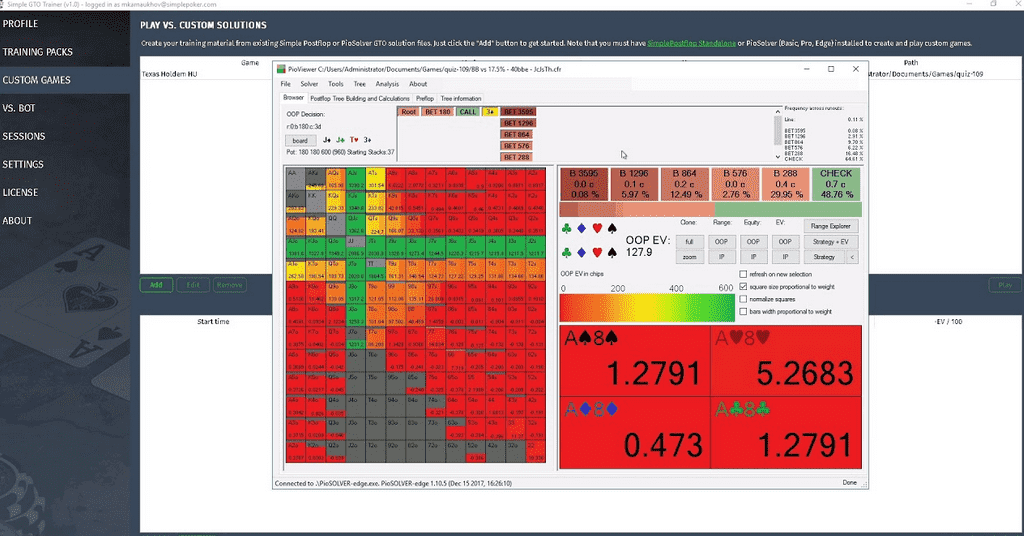 Packs List:
• Core GTO Pack - 1 year license, 25,000 post-flop GTO solutions;
• Ultimate MTT Pack - 1 year license, 43,000 post-flop GTO solutions;
• 3-Bet Cash Pack - license for 1 year, 17,500 GTO postflop decisions;
• Spin&Go Pack - 1 year license, 2,000+ post-flop GTO solutions;
• HU Cash Pack - license for 1 year, 4,800+ post-flop GTO solutions;
• GTO MTT Pack - 1 year license, 56,000 post-flop GTO solutions.
To fully use the packs, you do not need to purchase a PRO license for the Simple GTO Trainer.
Integration with the related poker program Simple Postflop (by the way, we also added new training packs for it. Packs for MTT and Spin & Go will allow you to raise the level of understanding of the GTO strategy even higher!) Will increase the speed of counting decisions for the turn and river. You can also develop your own training scripts.
Essential advantage of the Simple GTO Trainer is its free of charge for calculations of turn and river. No time limit for you!
Get this unique and convenient poker software right now and tomorrow you will be able to enslave high limits, punishing Trueteller along with OtB_RedBaron. Do not forget that with each new purchase in the PokerEnergy store you get loyalty points that make subsequent purchases much more profitable.