Increase your profit with the new HUDs - now at PokerEnergy!
05.08.2019

If you are a professional poker player, constantly striving to increase your advantage over rivals, then it will be extremely useful for you to find out about the line of new HUDs added to our store catalog. No one of the skilled poker players will deny the usefulness of using statistics when playing online poker. Another thing is that maximizing your expectation from playing poker, even with statistical indicators, is not easy at all. All fault is a huge amount of unsystematized information recorded by our poker trackers. This task is often unable to cope with even for professionals.
Who would not want to avoid all this confusion and immediately acquire a ready-made and convenient tool that significantly increases your potential for making money at the poker tables?!
The solution to all these problems with a huge array of disparate statistics is professional HUDs developed by experienced online poker players with many years in the poker industry. Using pre-created packs for your HUD brings with it a number of undeniable advantages:
• Saving many hours of your life on setting up HUD, pop-ups and individual stats;
• Maximum convenience and comfort when using during the game;
• Logical placement of statistics on the screen of your monitor;
• A large number of non-standard icons and pop-ups, greatly increasing the ability to exploit the shortcomings of the opponents strategy;
• Excellent feedback with the creators about all aspects of using packs and their settings.
Top packs have been added for your HUD: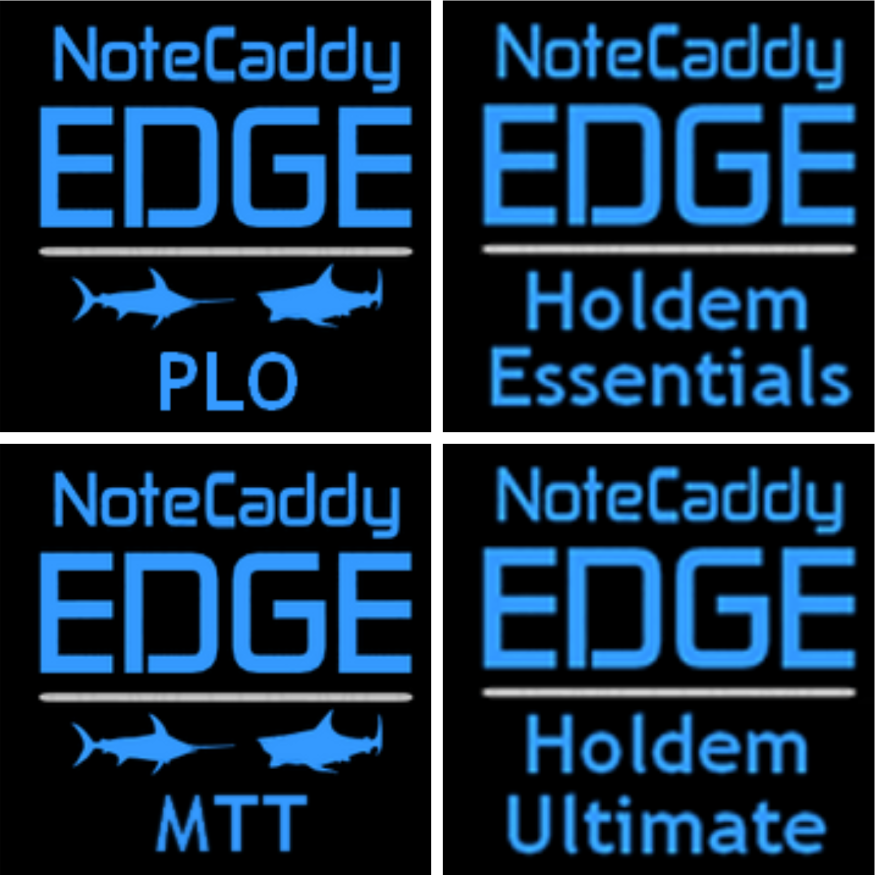 • NoteCaddy Edge Essentials;
• NoteCaddy Edge MTT;
• NoteCaddy Edge Sng;
• NoteCaddy Edge Ultimate;
• NoteCaddy Edge PLO.
The real gem of the massive update was the NoteCaddy Edge Breakthrough.
Without a doubt, this is the best pack for HUD in the history of online poker. The maximum version of NoteCaddy Edge Breakthrough consists of several more specialized HUD options:
Breakthrough HUD;

Breakthrough Heads-Up HUD;

Breakthrough Mini Popups HUD;

Breakthrough Lite Popups HUD;

Breakthrough Stars Popups HUD.
It includes more than 2000 settings, 42 pop-ups, 25 of the most popular and popular badges. The creators of NoteCaddy Edge Breakthrough are very responsible for their masterpiece and provide feedback on two channels at once.
Technical support in case of any problems with your account, activation or configuration - just ask Justin.
• Justin's email: [email protected]
• Skype Justin: notecaddy.edge
Strategic support - to discuss the value of any statistical indicator or remove one of them. Creator of NoteCaddy Breakthrough Marco Leko will be happy to answer all questions:
• Marko's Email: [email protected]
• Marko's Skype: marko.leko5
And if you purchase NoteCaddy Breakthrough before August 21, then save 20% on any version:
• NoteCaddy Edge Breakthrough - Main will cost $ 380 instead of $ 475 ($ 95 savings);
• NoteCaddy Edge Breakthrough - Stars will cost $ 300 instead of $ 375 ($ 75 savings);
• NoteCaddy Edge Breakthrough - Lite will cost $ 140 instead of $ 175 ($ 35 savings).
Pack developers are so confident in their product that they give a guarantee of return - if you did not like the purchased pack, then within 15 days from the date of purchase you can get your money back. You just need to write to the developer about it.
P.S. We remind you that for each purchase you earn Energy Points loyalty points. Due to these points, you can significantly save on subsequent purchases.