Flat Design 7 (Pokerstars)
Flat Design 7 (Pokerstars)
Supports Aurora Engine

Very varied and sophisticated layout for nice poker at Pokerstars.
Theme "Flat Design 7" includes all innovations PokerStars version 7:
convenient panel top buttons, which hides all the unnecessary;
marked information about upcoming blinds and your position in the tournament;
hiding checkboxes on chat;
convenient roll-chat;
timer progress under the frame of the player.
At the moment the layout supports all kinds of games that are in the room of
Now that is included in the layout at the moment:
Colors: Taken from a palette of flat design, 2 colors arbitrarily called "dark" and "light".

Tables: Made 5 options for the form of the table and all of them are executed in two color versions.
Buttons on top: Two versions of the display operation buttons (replayer, lobby, etc.).
Seat: Creator left a rectangle with rounded corners, as they themselves Stars. 2 color options.

Deck: The mod includes two versions of deck (thick and thin in nominal value). Each option sets from 2 decks - for Holdem and Omaha games (with one index and is duplicated in the corner). Need to choose or with a thick nominal value, or with a thin (see installation). Traditionally, the choice of spades yellow or gray in color and 10 digit or a "T". + Yellow spades darker.

Card back: Various options for every taste.
Chat: Pokerstars finally made the possibility of folding the chat at the table. It is possible to install without chat.

Checkboxes: When selecting options accidentally turned out that when you move, the checkbox is increasing in size, and it can be clearly seen. This option and entered the final version. And there is more and more noticeable for multi-tabling.

Slider and action buttons: Can be set in the theme colors or specially added red and green options in two forms. It is possible to combine them.

Chips and the button: 4 types of chips. In two colors, themes and 2 color options. Button is perfectly visible at any size tables.

Statistics: a favorite with many convenient locations allows decks accommodate virtually any puttee stats.

Background: 2 main colors for the entire thread. One dark for Spin&Go. And one light on the fan (it turned out that it is also in demand).

Notes: 2 species. Frame with a frame and filling. Modified icon after adding a note to the player.

Sound: It is possible to switch FTP sounds.

This layout is compatible with the program StarsHelper.
The layout is not suitable for playing on PokerStars version 6.
Show more ↓
Pokerstars
Is this layout support Aurora Engine?
Yes. Please carefully follow the installation instructions below
Installation and setup
After installing the mod, run PokerStars through PokerStars.exe (C:\Program Files\PokerStars\PokerStars.exe) or right-click mouse on label PokerStars on desktop and select Properties, in the section "Object" remove inscription "Update" in line "C:\Program Files\PokerStars\PokerStarsUpdate.exe".
If your installation folder is different from the default Pokerstars folder, for example, Pokerstars.com, Pokerstars.ES, etc., or it is on your other drive, then make sure that there is no extra Pokerstars in the path to the folder.
That's wrong: C:\Program Files (x86)\PokerStars.com\Pokerstars
That's right: C:\Program Files (x86)\PokerStars.com
Aurora:
In the poker room, you need to choose a Mercury theme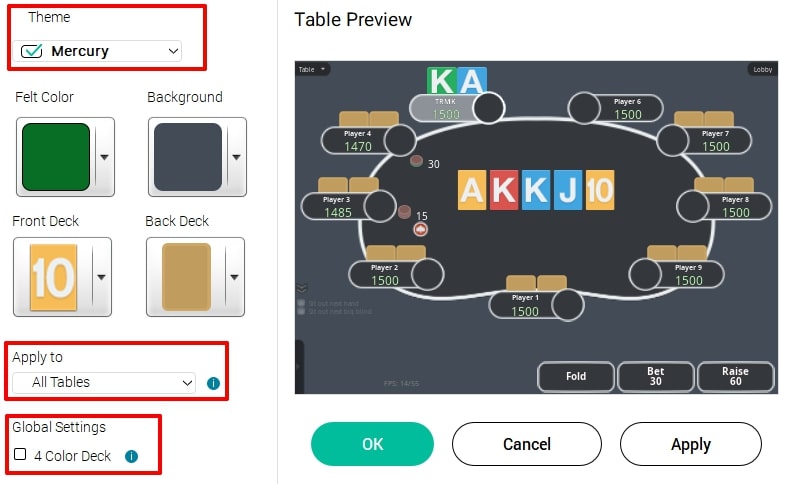 You only need to choose one of the decks. For Omaha, or for Hodem. If you are installing cards, then the add-on is MANDATORY to install and only for the deck you have chosen (Omaha or Hold'em). Otherwise, the spades will remain the default. This is an additional deck: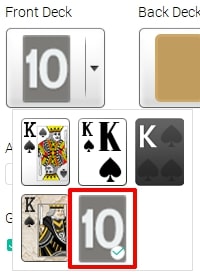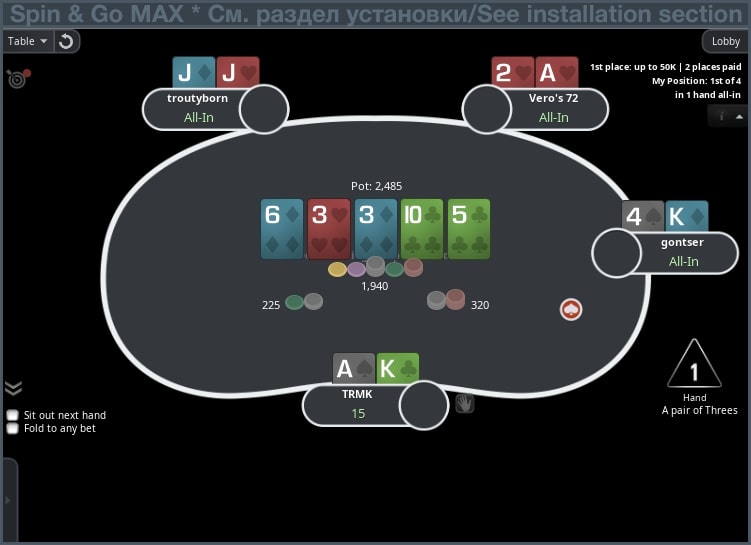 In Spin & Go MAX games, only cards based on the quasar deck can be used. If you want these games to have cards like in the screenshots, then do the following.
For Spin & Go MAX (we transfer only folders from 327 to 1440) of
C:\Program Files (x86)\PokerStars\Gx\table-view\cards\quasar
right here
C:\Program Files (x86)\PokerStars\Gx\table-view\cards\default
Notes frame and frame with fill:

Pod color dark and light:

Chips:

Cardbacks: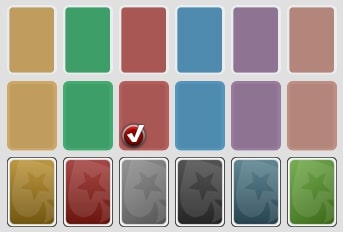 Actions buttons and slider: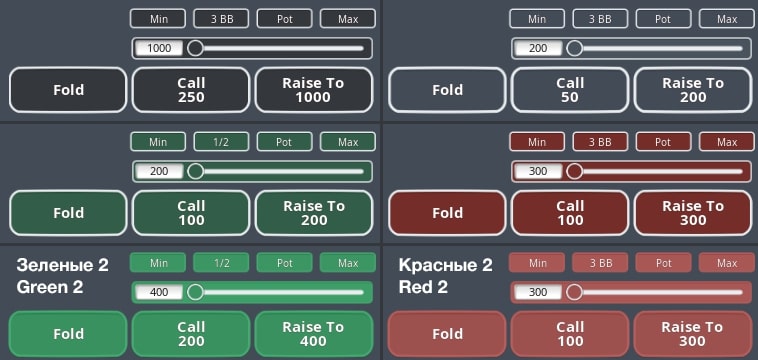 All kinds of tables:

With questions about setting up and running the theme write to Skype: koronkov_michael
What is included?
Cards included: yes;
Ten as «T»: yes;
Ten as «10»: yes;
Black spades: yes;
Yellow spades: yes;
Chips included: yes.
What games (disciplines) does it support?
Holdem (2,4,5,6,8,9,10 max);
Omaha (2,6,8,9 max) ;
Omaha Hi/Lo (2,6,9,10 max);
7 Card Stud (2,8 max);
7 Card Stud Hi/Lo (2,8 max);
Razz (2,8 max);
Triple Stud (2,8 max);
5 Card Draw (6 max);
2-7 Triple Draw (6 max);
2-7 Single Draw (7 max);
HORSE (8 max);
Badugi (8 max).
How can i pay for theme (layout)?
You can buy layout «Flat Design 7» for Pokerstars by Neteller, Skrill, PayPal, WebMoney, Yandex Money, Qiwi, Visa/Master Card and other payment systems from us and get a discount on the next purchase, as well as take part in discussing the subscription on our forum.
Log in to the site in order to leave a review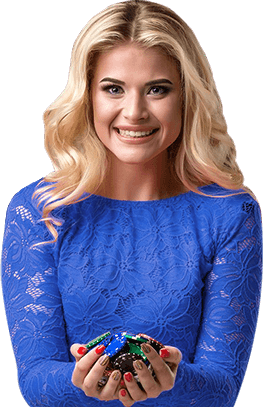 Keep up with all the news
Subscribe to the newsletter to be the first to learn about upcoming and current promotions and discounts of our store