Does Sharkscope track tournaments from GGPoker?
07.02.2023
In 2022, GGPoker held a record-breaking GG Online Championship series with a prize pool of $150,000,000. In 2020, the room made it into the Guinness Book of World Records with the largest online tournament guarantee. At that time in one MTT $27,559,500 were drawn. Complementing the picture are 3 regular Sunday MTT "Multi MILLION$". All of this makes it possible to call GGPoker the best place for tournament players. But does Sharkscope work there?
How to search GGPoker tournaments in Sharkscope?
GGPoker and the entire "Good Game" poker network do not allow any software to be used while playing. Statistics from trackers are banned, as well as auxiliary programs for multi-tabling. Does that mean that tournament players cannot use information from SharkScope? Frankly speaking, they can without the slightest problem. SharkScope monitors MTT results with its own tools, so bans from GGPoker and other rooms do not affect the work of the service.
SharkScope monitors 99% of tournaments from the Good Game. The SharkScope database contains all results of GGPoker tournaments since July 2017. As of February 2023, you can see information on over 3,000,000 GG tournaments.
How to find GGPoker player results on Sharkscope?
Finding GGPoker player results is no different than other rooms. Here's what to do:
1. Go to the SharkScope website.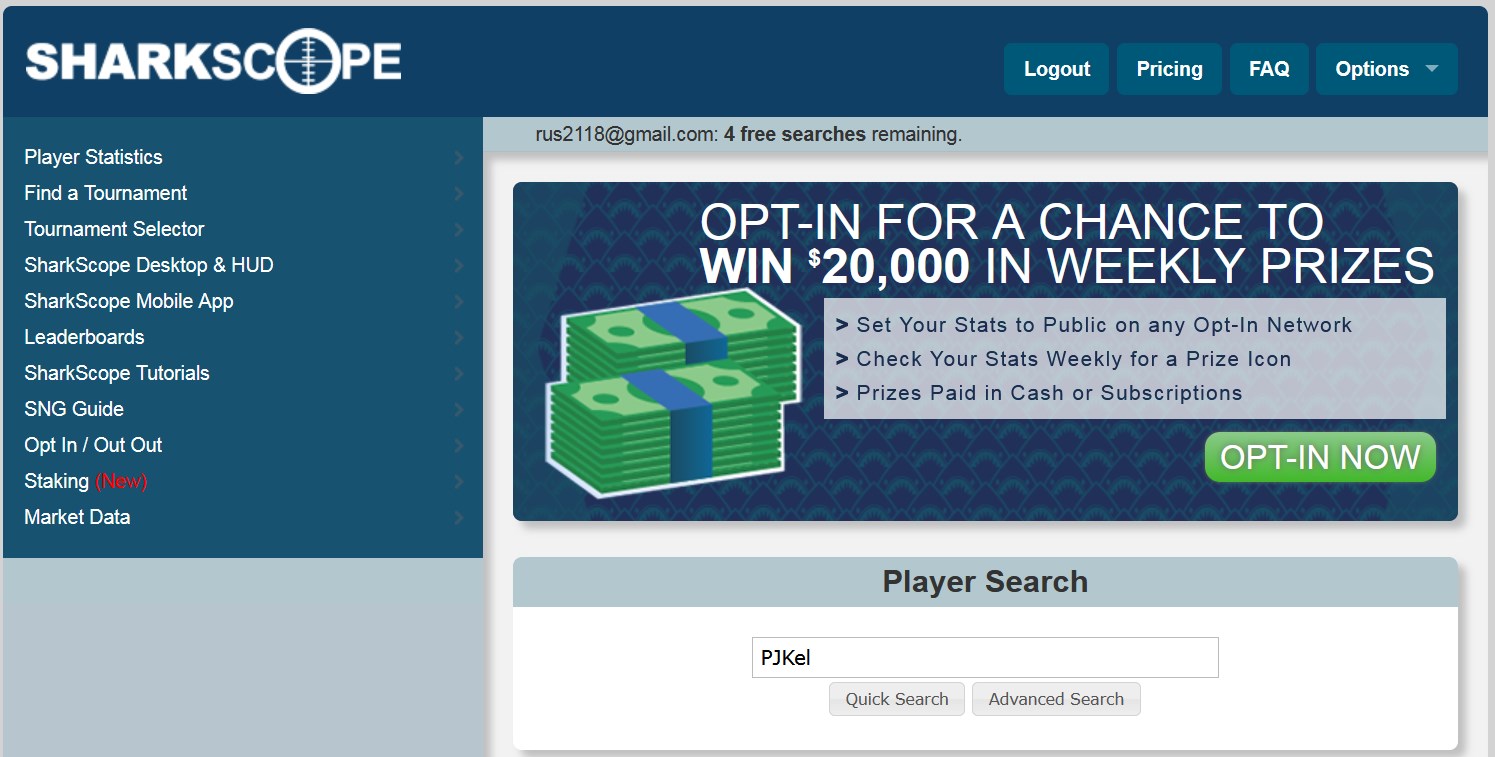 2. Type your opponent's nickname in the search line. For example, let's take the player with the nickname "N1715".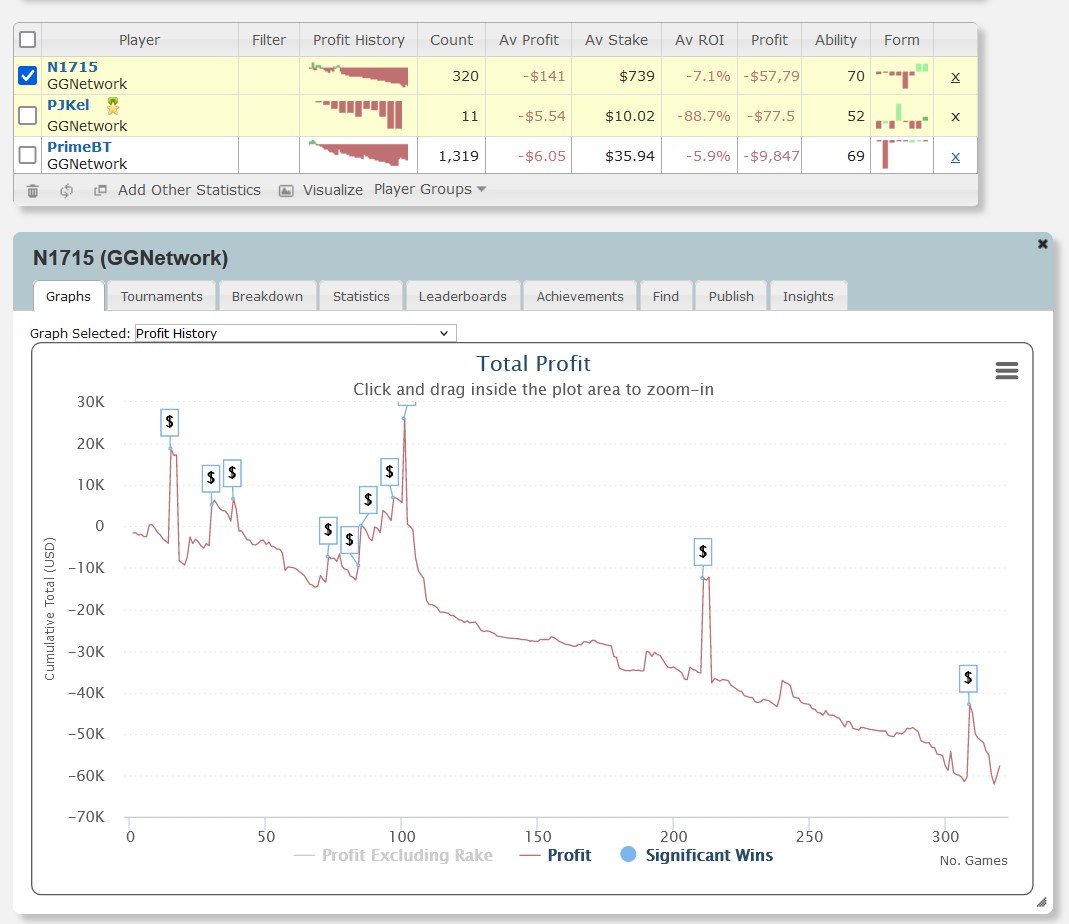 3. Press "Enter" and all the information from SharkScope in front of you.
Why is SharkScope so useful for players?
In tournament poker, there's no time to swing. Blind levels are rising fast and any decision can be life-changing. In such an environment, even a small advantage over your opponents will bring in thousands of dollars. Information from SharkScope won't make you a champion, but it will give you support in your decision-making. Here's a list of key data on your opponent that SharkScope provides:
total profit;

working limit;

current form;

fish versus us or regular;

ROI;

a clear graph;

how often he gets to the final table.
The advanced search has filters that make hundreds of statistical indicators available. A strong player will make the most of this data.
With silver and better subscriptions, you'll have the SharkScope HUD. It displays stats on your opponents right at the table. You can evaluate SharkScope for free: the service provides 5 searches per day to everyone.
How to play with stats on GGPoker?
At the beginning of the article we mentioned that trackers and HUDs are banned on GGPoker. Room justified the refusal of statistics by the equal conditions for all players. Instead of trackers, professionals were offered an alternative: the built-in tools SmartHUD and PokerCraft. They do not fully replace the statistical software. The only compromise that GGPoker made was adding the option to download hand history. Until recently, players really could not use trackers on GGPoker. The release of GGConverter changed all that.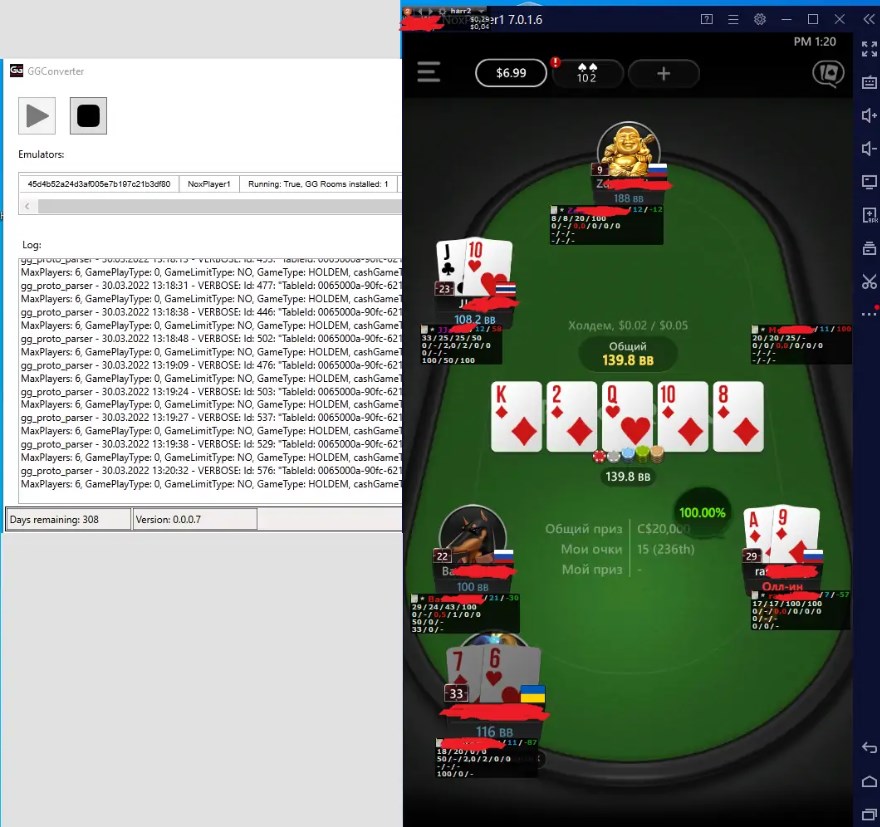 The desktop version of the converter is not yet available
The converter displays stats and HUD while playing on GGPoker, Natural8, PokerOK and other "Good Game" skins. Supports all popular trackers: Holdem Manager 2, PokerTracker 4, Hand2Note and Holdem Manager 3. The software works with the mobile version of poker rooms, so use the emulator. All the information on setting up GGConverter is in the manual of the converter. The developer gives you an opportunity to evaluate the software for free: he gives you a trial version for 3 days on request. To get GGConverter, write to support in any convenient way.
Why buy from PokerEnergy?
Buying software at PokerEnergy is beneficial for two reasons:
1. Bonus points. We give you bonus points when you pay for any product. Use them on your next purchase and save.
2. Free software. We give away poker software for buying goods from the "Promotions" section. For example, for the purchase of Holdem Manager 3 we give a free lifetime license for Flopzilla + Flopzilla Pro.
All catalog updates and good deals are published in our Telegram-channel. Sign up not to miss +EV.