Review of Leak Buster 2 - software for finding and fixing mistakes in your strategy
07.07.2021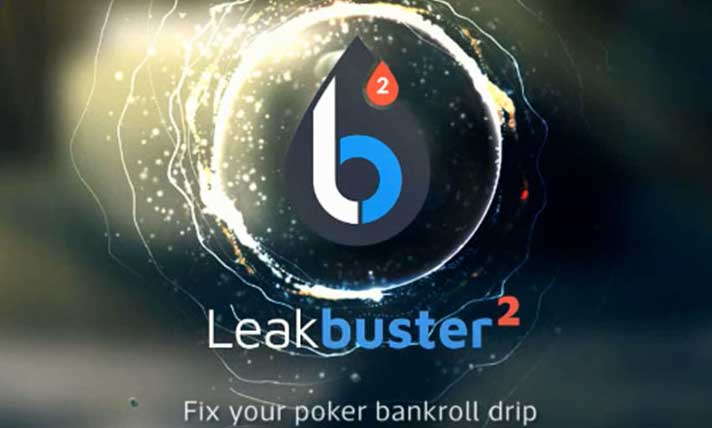 Finding mistakes and leaks in their strategy is not easy for all poker players. Newbies have little knowledge and lots of gaps. Experienced players find it difficult to research leaks when analyzing hand histories. They are far from always obvious and conspicuous, and the line between the "gap" in strategy and the expansion of the range as exploitation is often blurred. What to do in a situation when you are at a dead end and you cannot raise your winrate? It is possible that Leak Buster 2 will give a detailed answer to this question. And along the way for another dozen or two not specified.
General information and main features of Leak Buster 2
Leak Buster 2 is a poker program that finds mistakes and flaws in your game, organizes them, and then gives advice on how to fix them. The conclusions are based on the analysis of the database with your hand history. Due to this, you can be sure that the program will find specific leaks in your game, and not limit itself to generalized recommendations. Tips for each of the mistakes found are accompanied by a link to the poker tutorial video. You can watch it directly in Leak Buster 2. There is no need to buy a video.
Main features of Leak Buster 2:
Able to find up to 465+ potential leaks in your game;

The algorithm of the program compares your hand history with a database of several hundred million hands of winning players;

When analyzing and comparing the database, over a hundred filters are used;

Finds an average of 10 to 25 significant gaps in your poker strategy;

Complete database analysis takes 2-3 minutes (up to 5 minutes if you have more than 100,000 hands).
What poker trackers does Leak Buster 2 work with?
Leak Buster 2 is integrated into DriveHUD. You don't need to download and install it separately: Leak Buster runs directly from the poker tracker. The close cooperation can be easily explained - both poker programs have a common developer.
If you are using PokerTracker 4 or Holdem Manager 3 then Leak Buster 2 supports them. You just need to install it separately. Holdem Manager 2 also works with Leak Buster 2. There is also an alternative proposal - previous version of Leak Buster,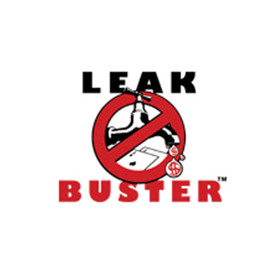 which is able to analyze the database even from Holdem Manager 1.
What game formats and types of poker does Leak Buster 2 support?
Leak Buster 2 works with hand histories collected at Full Ring tables and Short Handed tables No Limit Holdem. It is also able to detect leaks from Pot Limit Holdem tables.
Leak Buster 1 analyzes the hand histories from Limit Hold'em and Pot Limit Omaha (PLO). Great versatility is the main reason why the previous version of the program is still relevant.
As of early 2021, Leak Buster 2 does not support Sit & Go and MTT. Only hand history from cash-tables.
How to download and install Leak Buster 2?
To start using Leak Buster 2, you need to follow only 3 steps:
1. You can download Leak Buster 2 for free from the official site of the developer. After the transition, click "Download Free Trial".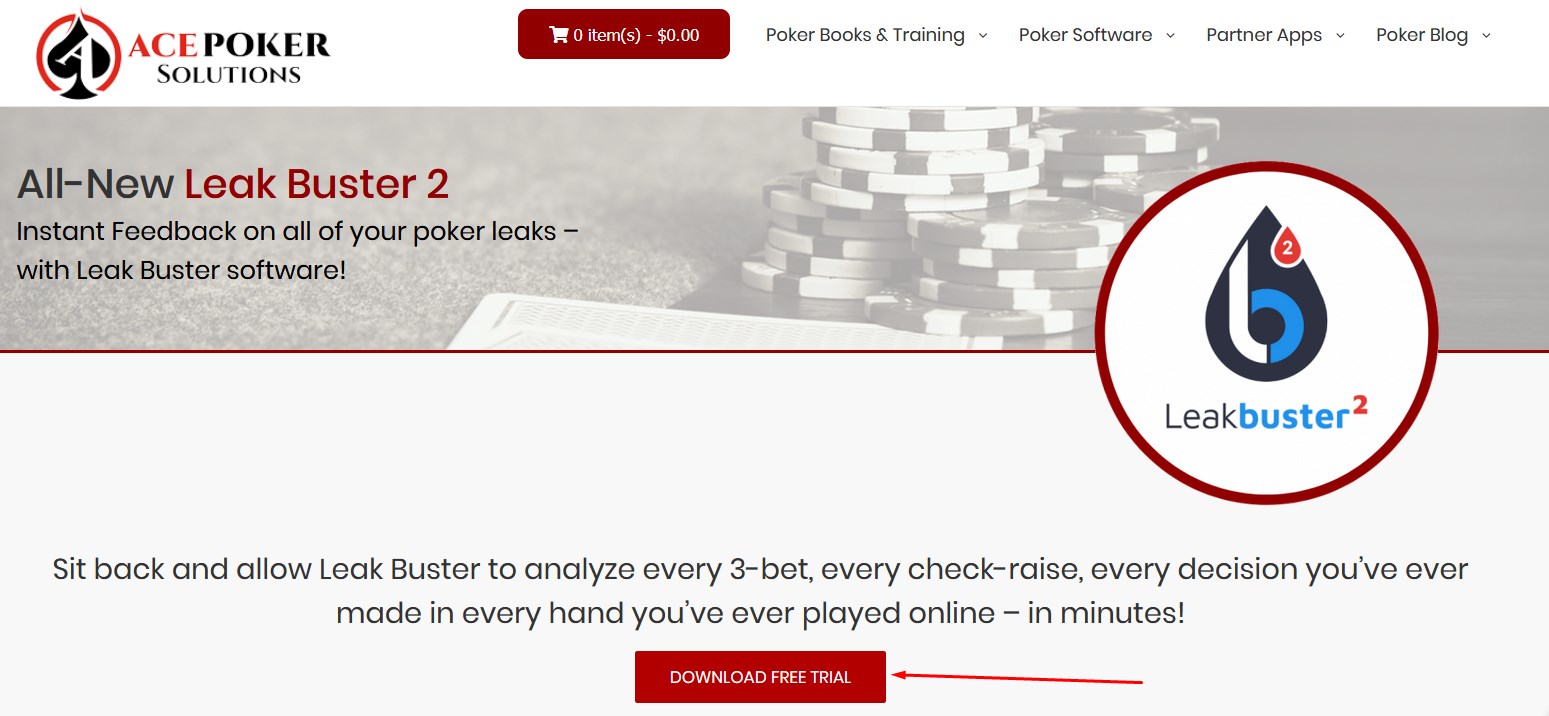 2. Run the installation file and in the window that appears, select the folder where the program will be installed. Click "Install".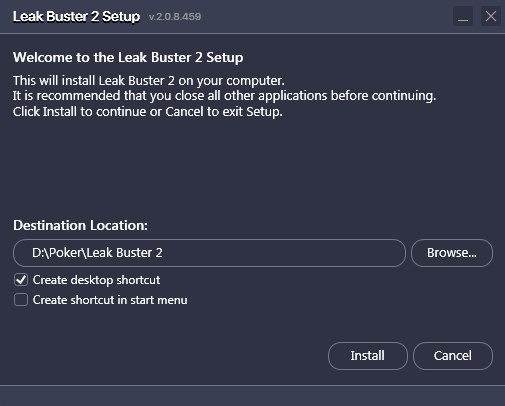 3. Installing Leak Buster 2 will take a few minutes. After completing the procedure, you may need to restart your computer. If you need it, then click "Reboot".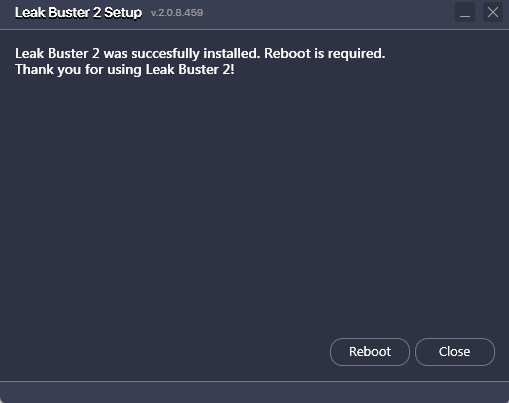 What the interface looks like and the first launch of Leak Buster 2
When you start Leak Buster 2 for the first time, you will see a notification: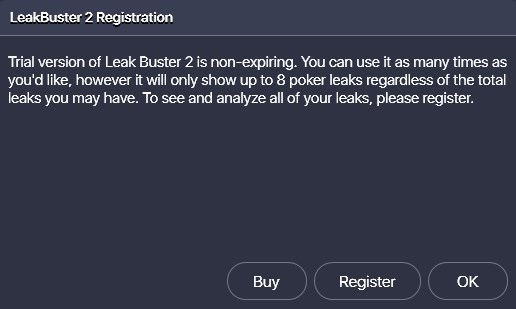 The free trial version of Leak Buster 2 has no time limit. But there is a limitation in functionality - regardless of the number of mistakes and leaks detected, you can get acquainted with no more than 8 of them. To see the full list of shortcomings and access all the training videos, you need to register (purchase) the program.
The start page of the poker software looks like this: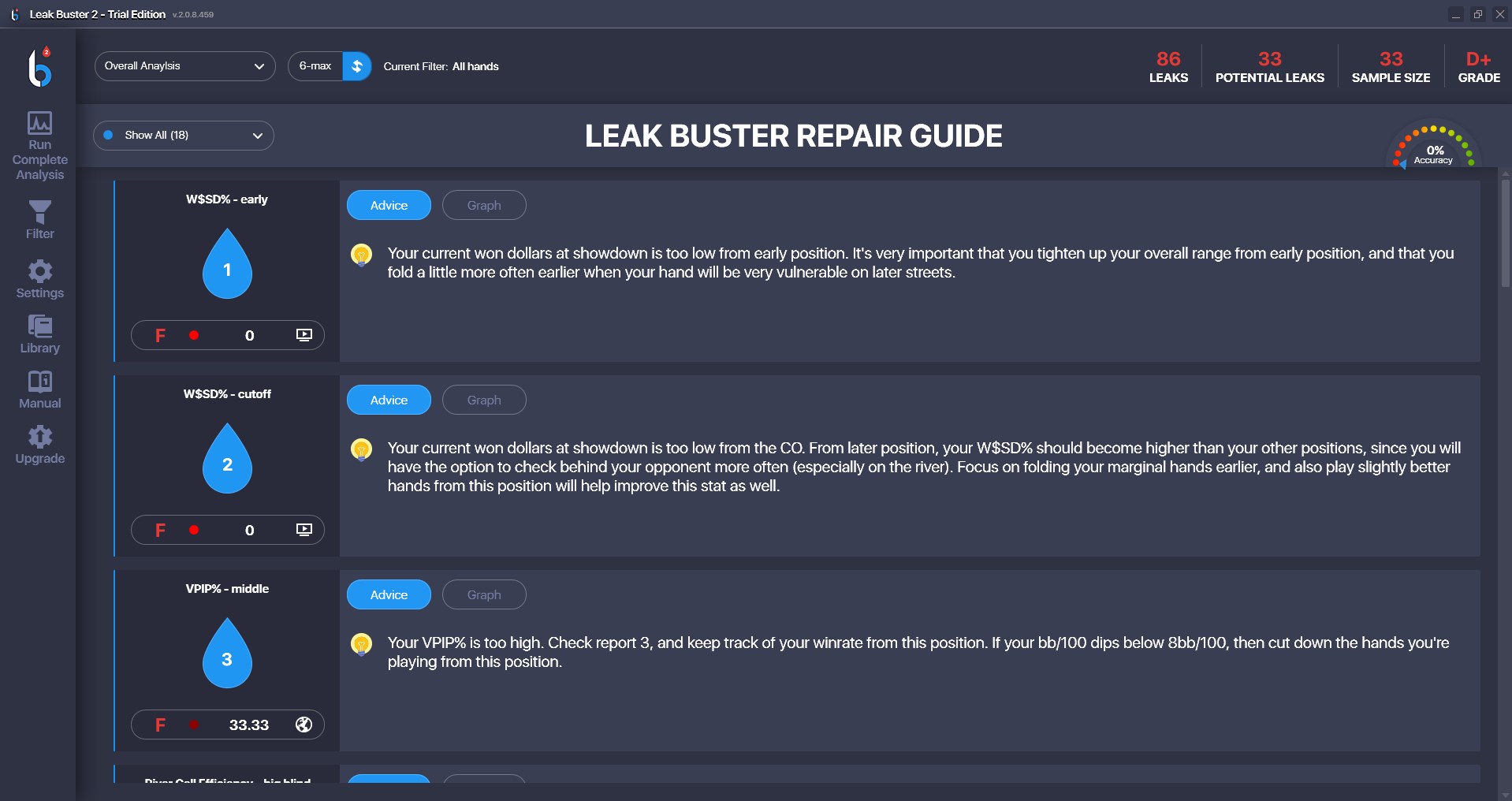 Let's go through each of the tabs on the left side of Leak Buster 2.
"Run Complete Analysis". This is where you start your journey towards increasing your winrate. After clicking on the tab, you will see a window offering two options:
1) "Analyze All My Hands" - will analyze all available hand histories from the database;

2) "Analyze By Stack Level" - you can sort the limits from which the hand history will be analyzed. If you are now playing NL100, and two years ago started at NL2, then the benefit of studying the entire database is questionable. This approach is potentially even harmful.
Selecting "Analyze All My Hands" will result in a final popup with two options: 6-Max and Full Ring. Leak Buster 2 will exclude hands with fewer players than the minimum required. For short tables, at least 5 players are required, and for long tables, 7.

After "Analyze By Stack Level" you need to specify those limits, the hands of which you are interested in.

Click "OK" and LeakBuster will start analyzing the database.
The "Filter" tab solves the problem from the example above. Here you can sort your hand histories by game type and timeframe. By the type of game available for selection:
All Types;

No Limit;

Pot Limit;

CAP;

Zoom.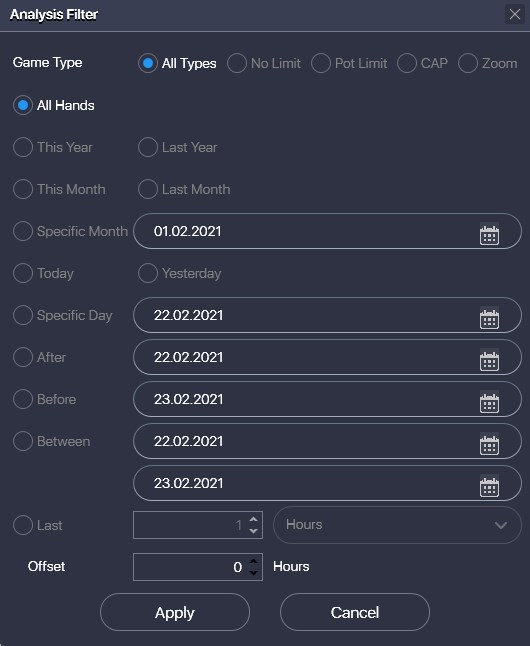 By playing time, you can sort your hands by year, month, week or specific day. There is even an option to select only the last few hours of hand history. The filter with time periods is similar to the same settings in poker trackers. Don't forget to save your filters with the "Apply" button.
In "Settings" you can select a database to analyze. Available databases:
Holdem Manager 2;

Holdem Manager 3;

DriveHUD;

PokerTracker 4.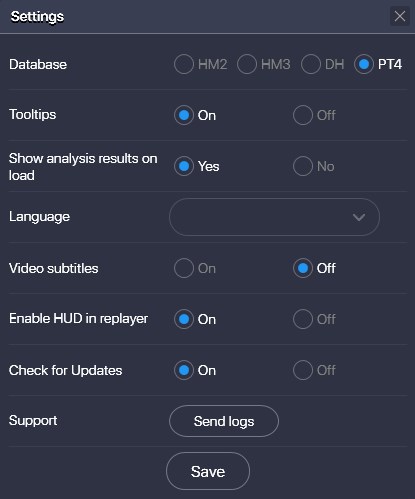 Here you can turn off or turn on tooltips, HUD in replayer and subtitles in tutorial videos. Automatic check for updates Leak Buster can also be disabled from this menu.
If you have any problems with the Leak Buster 2, then the feedback from the technical support of the program is available. By clicking on the "Send Logs" button, a form will appear where, after filling in your contact information, you can describe the problem. Click "Send" and wait for a response to your email address.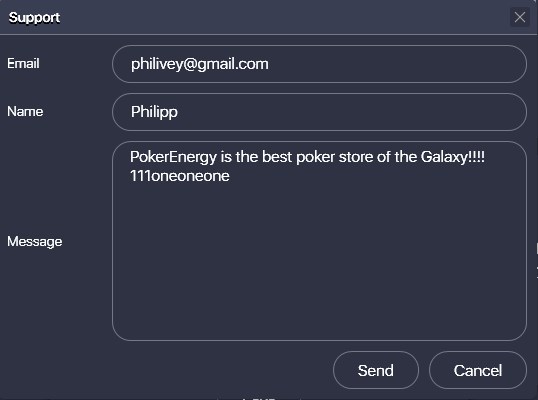 To save all changes to the settings - click "Save".
The Library tab contains the entire available list of training videos. In the free version of Leak Buster 2 you can watch 4 tutorial videos:
View Video on 4-betting;

View Video on calling down light;

View Video on profitable floating;

Optimal River Betsizing.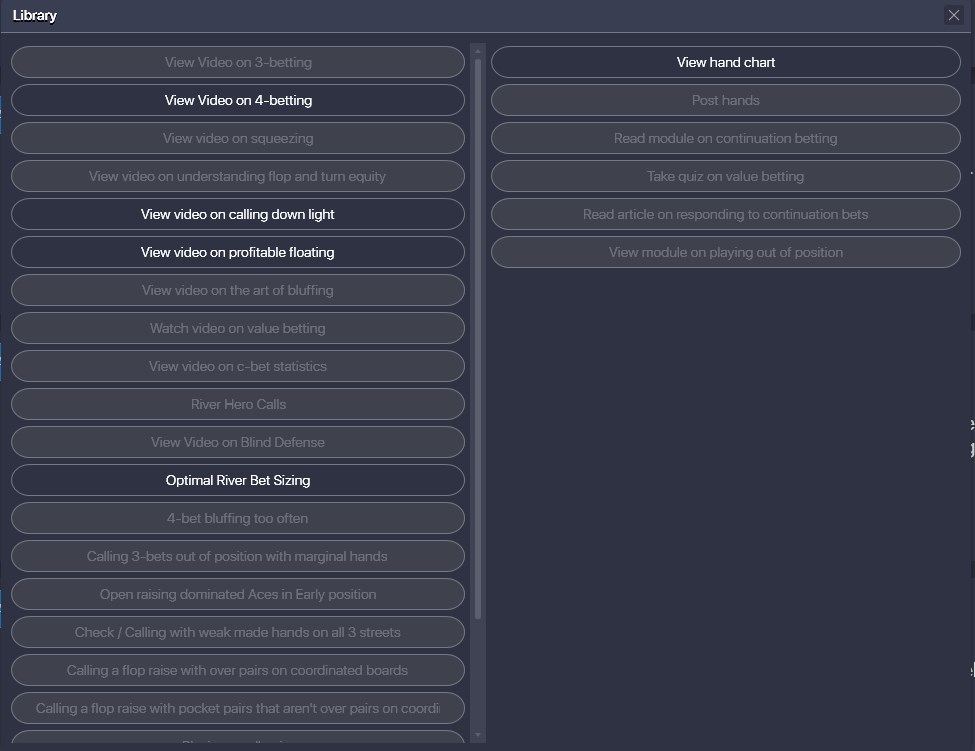 There is also a "View Hand Chart" link which takes you to the short handed starting hand charts. The charts are given for tight-aggressive and loose-aggressive players.
At the moment, the library of educational poker videos contains 90 materials. To turn on the waters you are interested in, you just need to click on it. After 2-3 seconds of loading, playback will start.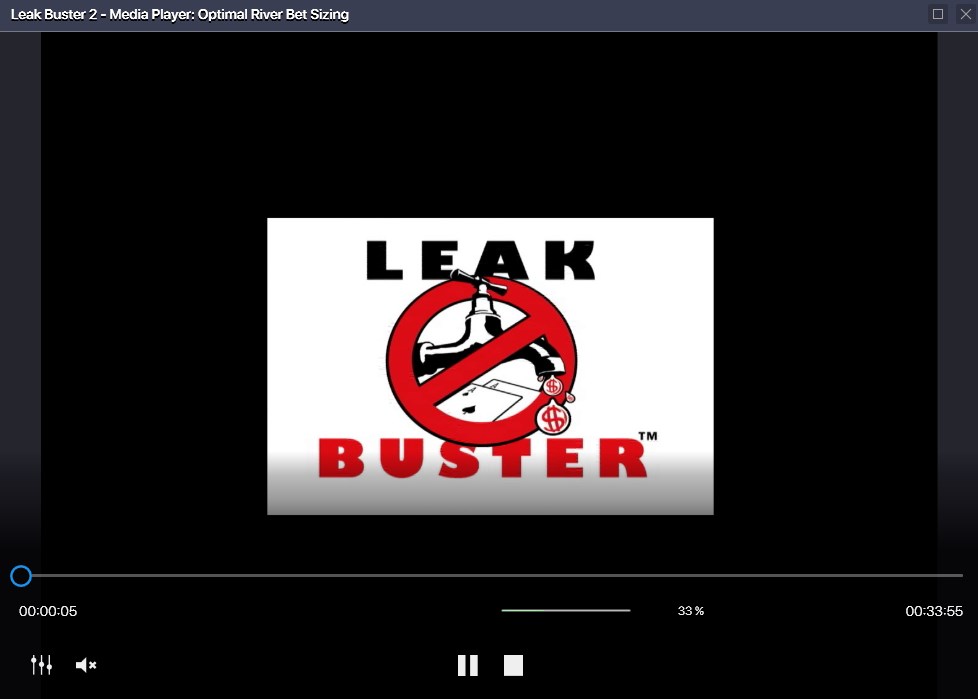 Clicking on "Manual" will take you to the official website of the Leak Buster developer, where the user's manual with screenshots is posted.
The last tab "Upgrade" is needed to register Leak Buster 2 after purchase.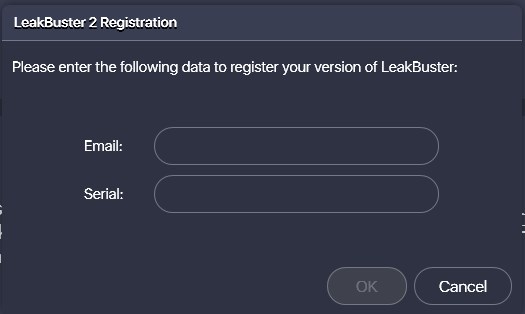 In one field you indicate your email, and in the second - the serial number of the program.
How to analyze your game (look for mistakes) with Leak Buster 2?
The first step in getting rid of mistakes with Leak Buster 2 is analyzing your database. Click on "Run Complete Analysis".

In our example, select the "Analyze All My Hands" option.

In the next window, stop at 6-max and wait for the hand history analysis to finish.

Important: Leak Buster 2 uses the player selected in your poker tracker as a basis during the analysis process. There are situations when the program will look for leaks in the opponent's strategy, which you analyzed in your PokerTracker 4, Holdem Manager 3, DriveHUD.
To find out which player has been analyzed, look at the bottom left of the program. It states:
Database used in the analysis (in our example, it is PT4);

Active player in the database (Active DB Player);

Analyzed Player.

Potentially, you can use LeakBuster 2 not only to find leaks and flaws in your own strategy, but also in the strategy of your opponents.
If you play in several poker rooms, do not forget to create one common alias in your poker tracker. The accuracy of the database analysis and the correctness of conclusions on your game depend on this.
The analysis will result in the following information: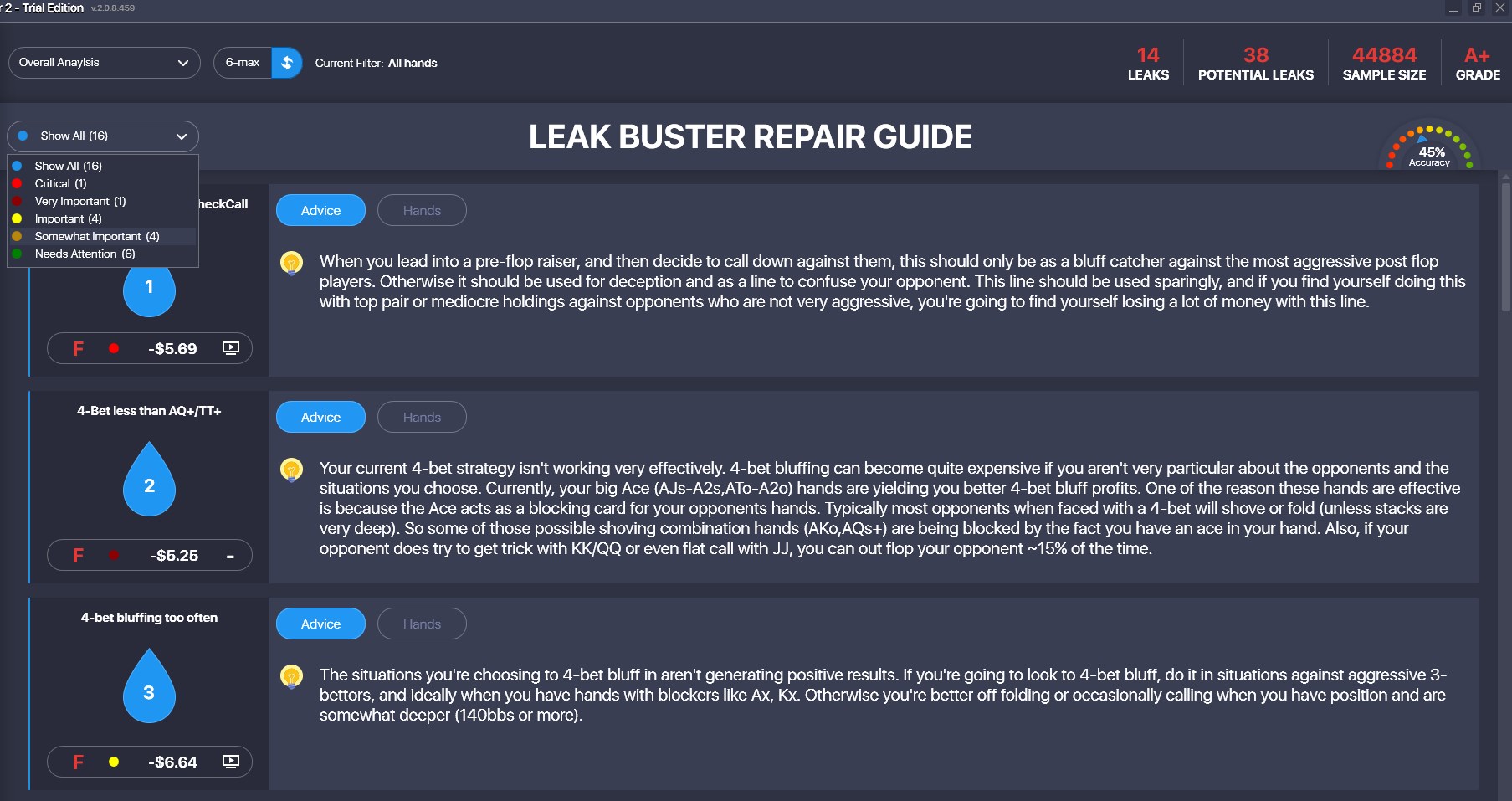 At the top left of the program there is a popup window for sorting your mistakes. They are categorized by degree of danger. In our case, the critical drawback of the game is the line to donkbet the flop, check / call the turn, check / call the river. We lost $ 5.69 due to its use. There is also an up-to-date training video for this situation.

By default, the "Advice" tab is active during analysis. When switching to "Hands'' you will see a list of hands where you used the wrong strategy and lost money. When you click on a specific hand, a replayer will open and you will be able to visually look at an unsuccessful drawing.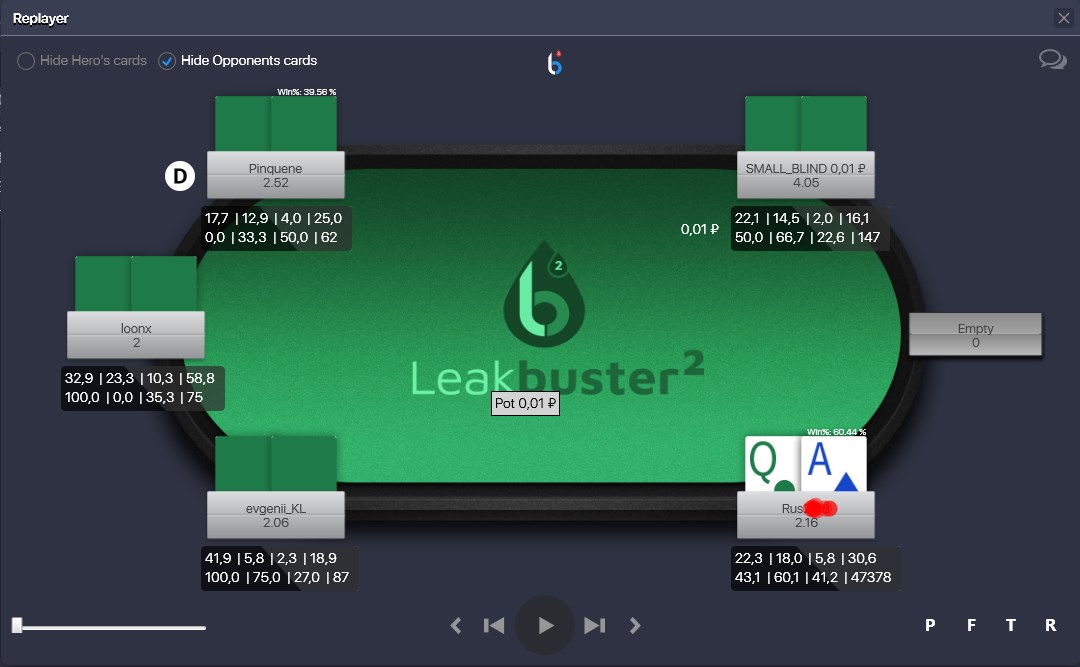 With a larger sample, the full version of the program has a "Graphs'' tab. It compares your statistics from the identified flaw and the ideal indicator for a particular stat. Orange indicates little leakage, green indicates an ideal range, and red indicates a high range for this metric.

It is also possible to compare individual statistics from your database with the best average statistics from the Leak Buster sample. And so that the comparison of your statistics and the recommended ranges does not become something abstract and theoretical, the information can be sorted by position. The narrower the situation, the more likely you are to understand your mistake and correct it.

The right side of the Leak Buster 2 window consists of: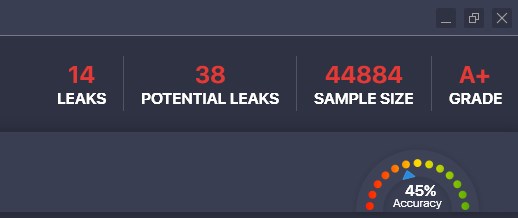 Leaks - the total amount of mistakes and drawbacks of the strategy that were identified during the analysis of the database;
Potential Leaks - probable mistakes that cannot be unambiguously classified as "Leaks" (most often due to the small number of such situations in hand histories);
Sample Size - the number of analyzed hands from your database;
Grade - the overall grade of your game based on program filters.
Accuracy - the accuracy of the analysis. The more hands from the poker tracker are analyzed, the higher the accuracy of Leak Buster 2 conclusions.
How does Leak Buster 2 determine recommended ranges?
The recommended ranges are based on an analysis of the hundreds of millions of hands played by winning players. Leak Buster 2 uses a separate program that analyzes the highest median win percentages for each statistical indicator and then measures where the significant drop in winnings occurs. The algorithm then estimates your statistics based on the bell curve. Each stat is scored based on how much outside the recommended range affects the average win percentage.
Leak Buster 2 Developer Feedback
If you have problems with Leak Buster 2, go to the "Settings" - "Send logs" tab. Fill in the contact information and describe the problem. Technical support will be provided within a reasonable time frame. An alternative option is the form on the official website of the program.
What is the difference between the Pro and Standard versions of Leak Buster 2?
There are 3 significant differences between the Pro and Standard versions of Leak Buster 2:
1. Pro analyzes hand histories from any limits. But Standard will work only with the limit of NL25 and below.
2. The Pro version has a unique counting algorithm that adjusts based on your current limit.
3. Price: The Pro version will cost you $ 89.99 and the Standard version can be purchased for $ 59.99.
How to buy Leak Buster 2?
It is extremely easy to buy the products you need in our shop:
1. Click on the Shop tab.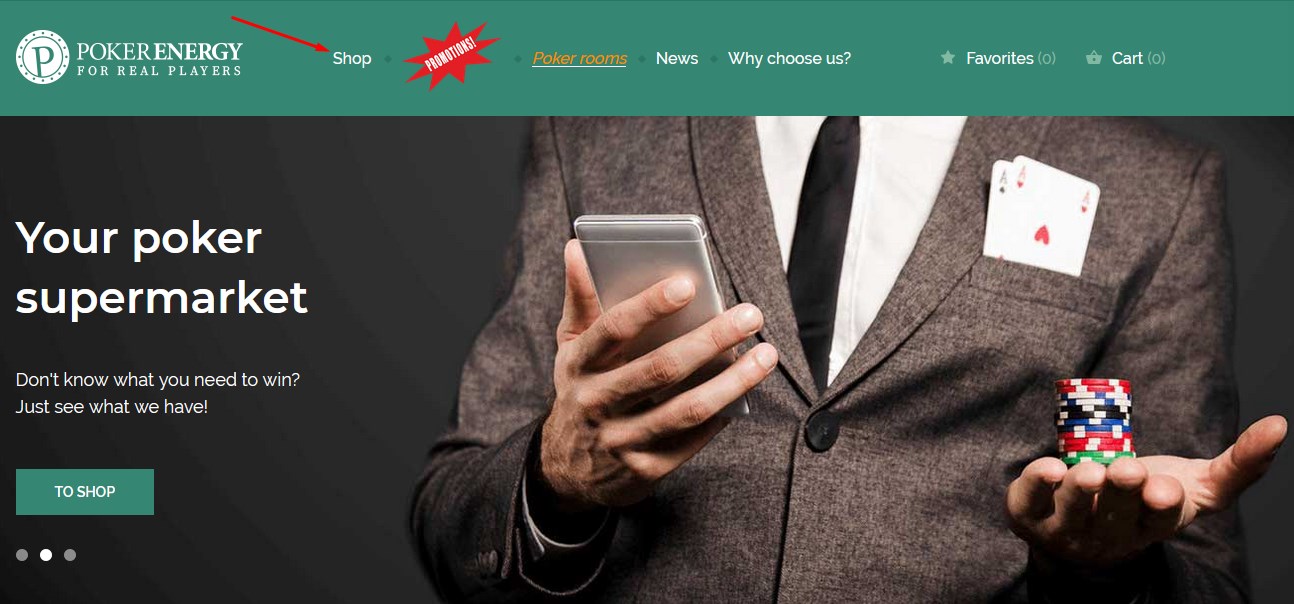 2. On the left side of the page, check the "To improve skills and analyse" option.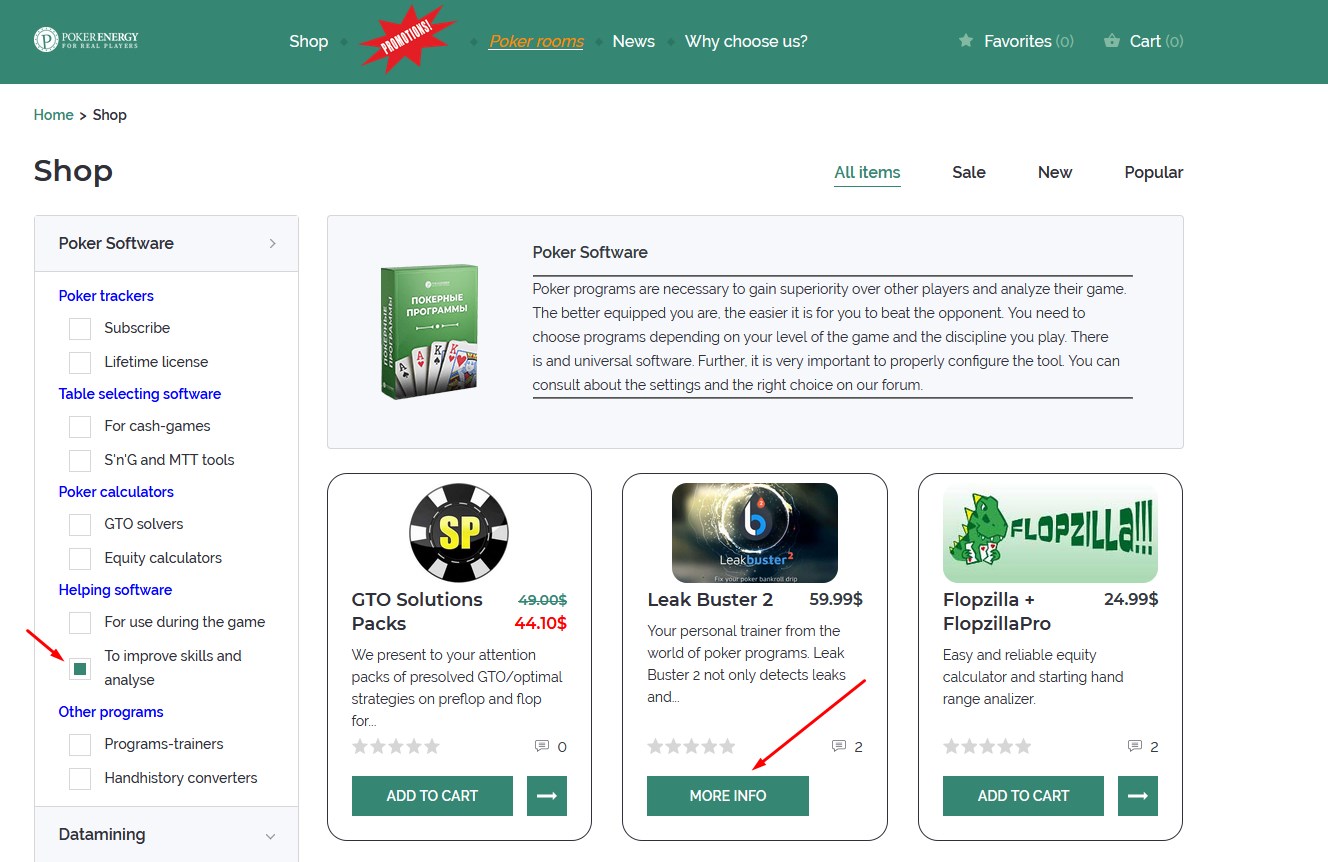 3. Scroll to the Leak Buster 2 card.
4. On the next screen, click on the "Buy" button.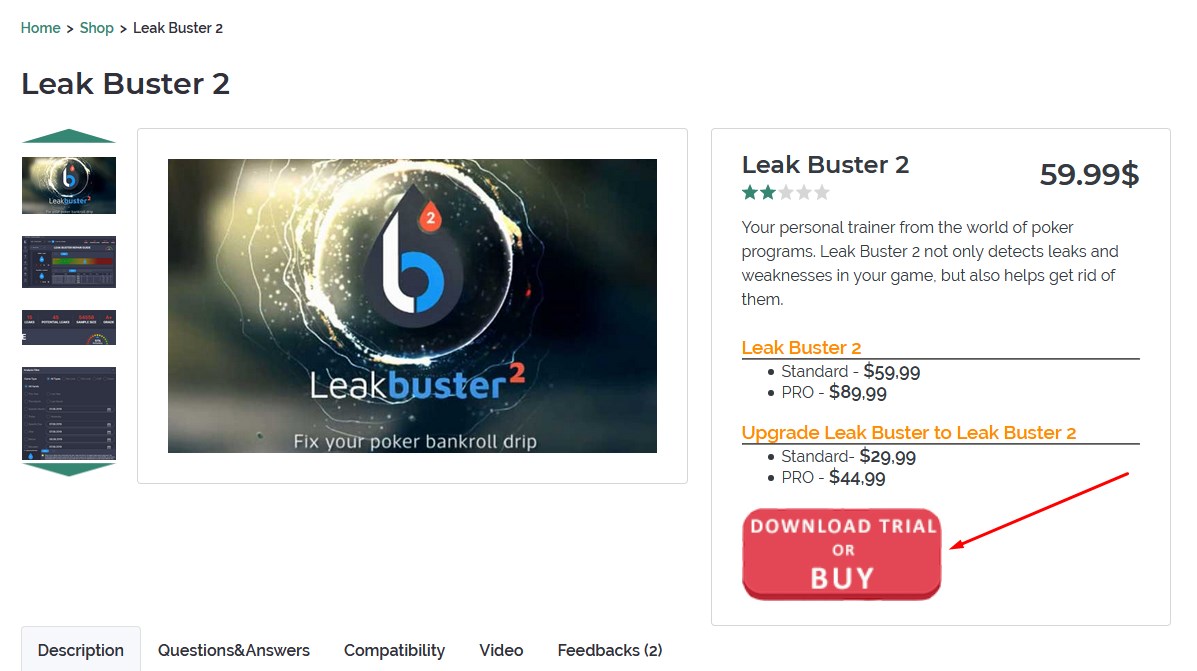 5. After clicking on the button you will find yourself on the developer's site. There, scroll down a little and select the appropriate option by clicking on "Add to Cart".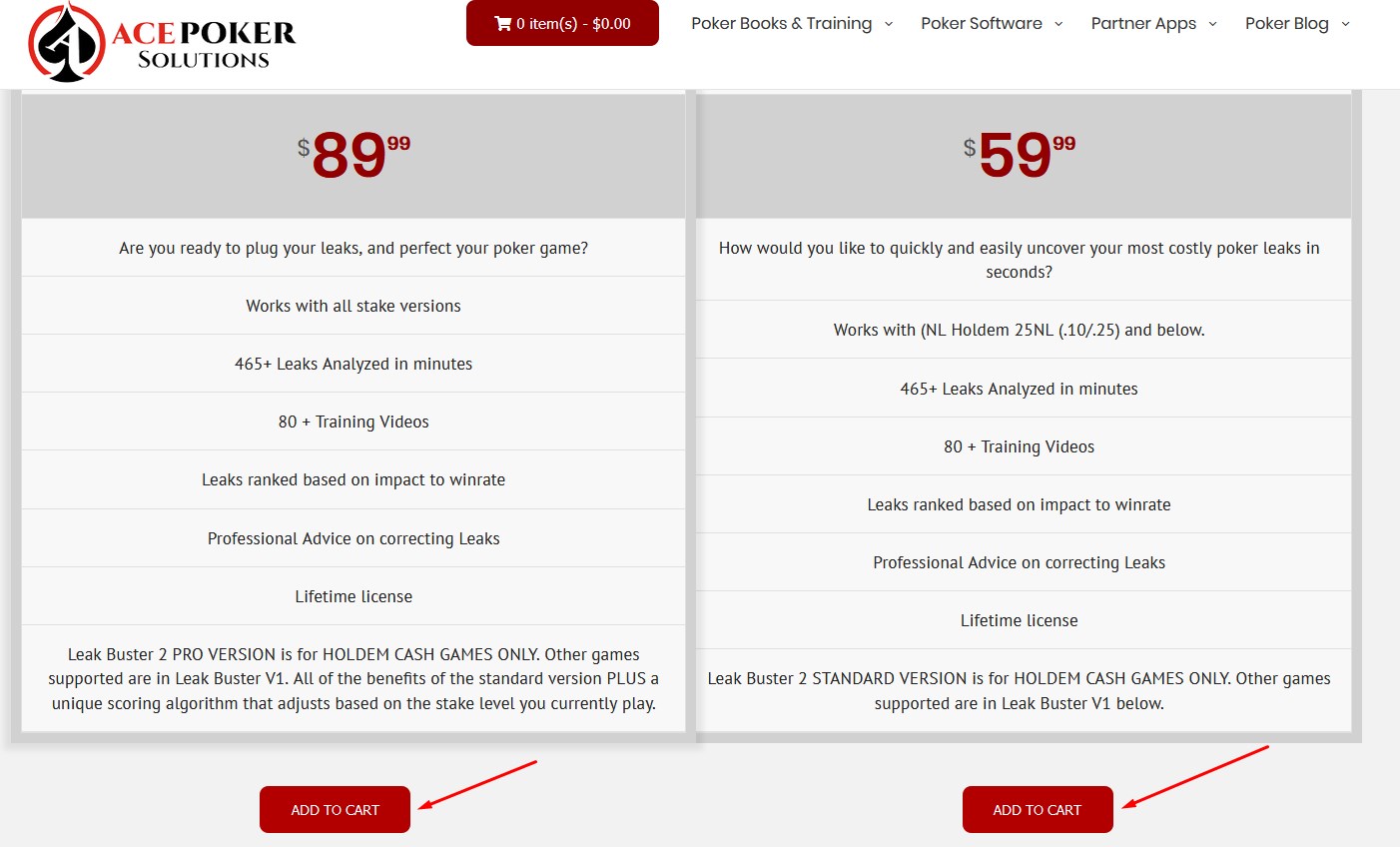 6. Go to the shopping cart. Make sure the program you need is there and click on "Checkout".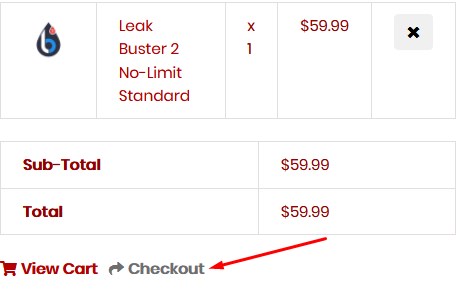 7. Follow the recommendations for the payment procedure on the partner site.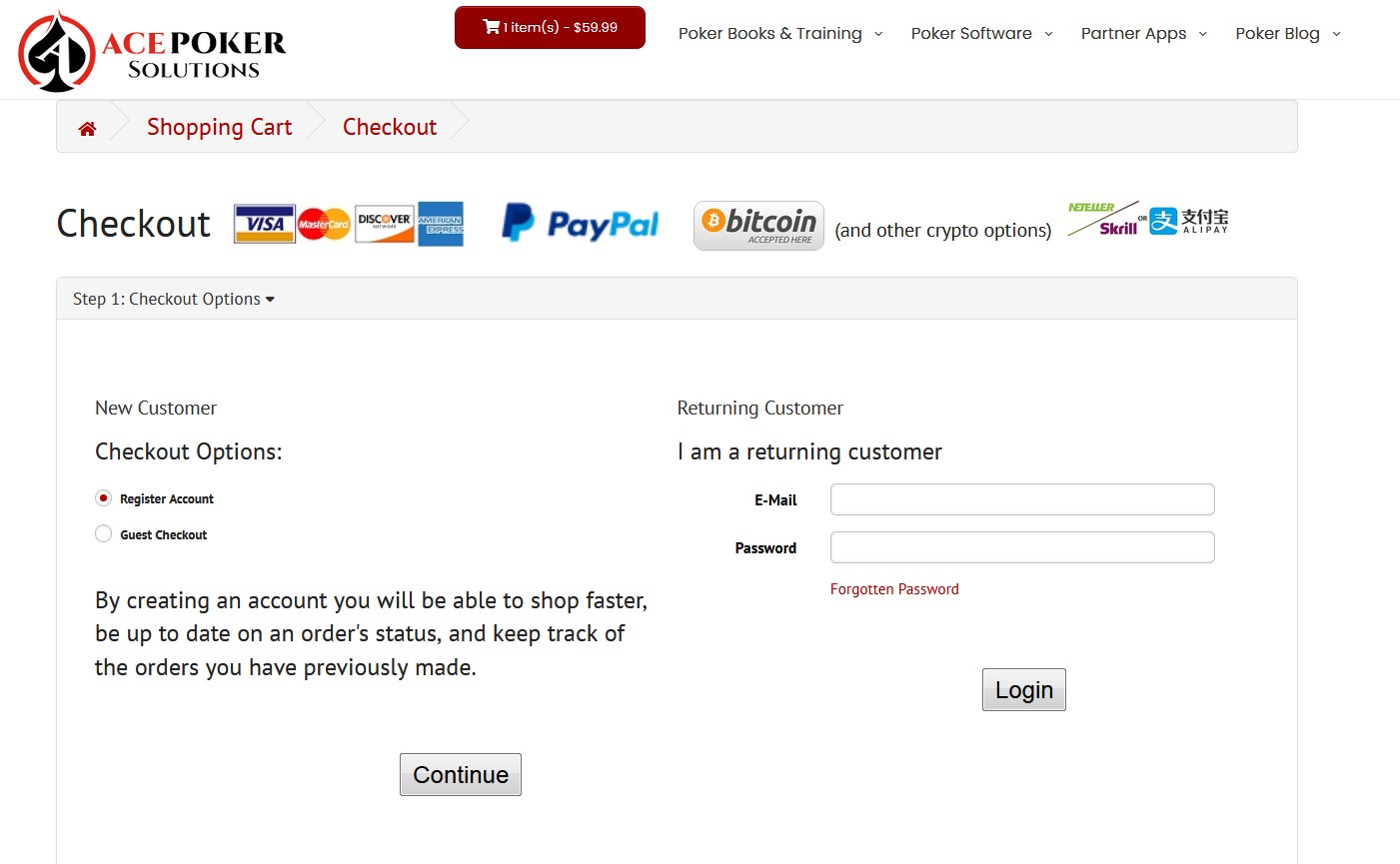 Why is it profitable to buy Leak Buster 2 from us?
1. Bonus points will be awarded for every purchase at the PokerEnergy Shop. You can use these bonus points to purchase any goods in our shop. That will allow you to save more and more money with each new purchase.
2. A large number of available payment methods will allow you not to lose money on conversions or additional commissions. Among the presented payment methods are: WebMoney, Skrill, Qiwi, Neteller, Yandex Money, PayPal, Visa / Master Card.
3. The average lead time is 1-2 hours on average. But no more than 24 hours (with the exception of the rarest force majeure).
How to get Leak Buster 2 for free?
If you do not want to spend money on buying poker programs, then there is an opportunity to get them completely free. In addition to Leak Buster 2, we provide any poker software for players who register through our links in the poker rooms from the list. To register, simply go to the appropriate page of the poker room and follow the instructions.
Conclusion
Buying Leak Buster 2 will not instantly turn you into a winner. Without hard work and many hours of study, tips and tricks from the program will remain just words. But Leak Buster 2 will point out your weaknesses and leaks in strategy. Based on this analysis, you can build a systematic master plan. The chaotic and ineffective learning of poker strategy will be done away with. Leak Buster is capable of becoming your personal poker coach. It is more objective, more efficient, and cheaper than hourly personal mentors.
Benefits of LB2 for beginners:
Tips and tricks for ranges will vary depending on your limits. The program adapts its tips and ranges to the micro stakes players. And they will be different from the analysis that Leak Buster 2 will provide to more experienced mid to high limit players.

Library of educational materials covers all important poker topics. Your strategy will develop comprehensively and gradually you will become stronger.

Algorithms will find problem situations and give an exhaustive answer so that you win more.
LB2 benefits for experienced and strong players:
In a few minutes of analysis, Leak Buster 2 will find even the most insignificant leaks that you could have searched for tens of hours on your own and using hundreds of filters. And all that time without guarantees of the result.

The program analyzes not only your statistical indicators, but gives detailed conclusions about the entire strategy. Poor postflop play will not go unnoticed and this will allow you to repair your mistakes.

Free add-on in the form of APS equity calculator: perform equity calculations for any hand, compare hand ranges, export hands, automatically generate hand ranges for opponents in 1 mouse click.
We strongly recommend that you try the free version of Leak Buster 2 before making a purchasing decision.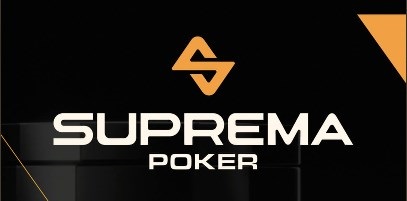 Suprema Poker
TRUE RAKEBACK FROM 45%
WEAK PLAYERS FROM LatAm
HANDHISTORY CONVERTER AND DATAMINING FOR FREE

ACCEPT PLAYERS FROM EVERYWHERE, NO VERIFICATION

FINANCIAL GUARANTEES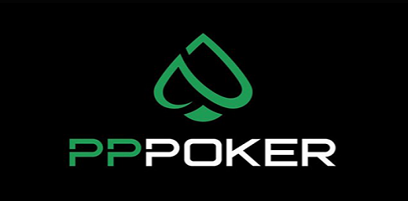 PPPoker
TRUE RAKEBACK FROM 35%
HANDHISTORY CONVERTER AND DATAMINING FOR FREE

ACCEPT PLAYERS FROM ALL AROUND THE WORLD

FINANCIAL GUARANTEES