TigerGaming

The deal is unavailable at the moment!
TigerGaming is the leading poker room in the Chico Poker Network. This poker network is in the top 15 in terms of the number of players online. But its main feature is that players from the USA are allowed to register in it. Also noteworthy is a good welcome bonus for new players and fairly regular reload bonuses. Good rake races for cash players are held quite often.

Poker trackers are allowed on TigerGaming, but a hand history converter is required for the HUD to work correctly.
Key Features
Large number of players from USA, Canada and Central America;

There are many 9-max tables, their number is comparable to 6-max;

First deposit bonus of 100% up to $ 1000;

Free converter and mining when registering using our link;

You can deposit and withdraw money using cryptocurrencies;

A large number of rake races with distribution of rewards by limits and total prize money up to $ 40,000;

Frequent reload bonuses;

The prize pool in Windfall (Spin & Go) is $ 1,000,000.
Poker Room Review
Special offers
Registration Instructions
Player Reviews
TigerGaming is the flagship of the Chico Poker poker network. The poker room has been operating since 1999, but it gained its current look and popularity outside of its native Canada after 2011. It was in that year that Julian Holdings International bought out a small network - Action Poker Network. Then it was decided to rebrand: a new poker network called "Chico Poker" was born. The next step to promote the new network is to bet on TigerGaming as the main poker room targeting the international market.

Tigergaming is one of the few places online where you can still play against weak US players. As a reminder, after Black Friday in 2011, almost all top poker networks stopped accepting American players. In Chico Poker Network, the opportunity to play with Americans is provided through the poker room BetOnline.
A characteristic feature of TigerGaming is the focus on cash players. Despite the relatively low place of total network traffic (Chico Poker most often takes 12-15 places in the Pokerscout rating), the network regularly hosts large rake races with tens of thousands of dollars in prize money. But on MTT, Tiger's management does not make a big bet - guarantees in tournaments are significantly inferior to competitors. But there is also good news - the number of opponents in MTT is proportionally lower and they are weaker.
Player traffic at TigerGaming
At the moment, TigerGaming is ranked 13th by the number of players in the overall standings. A significant share of traffic comes from the USA, Canada, and other countries of Central and South America.
Most of the players are concentrated at No Limit Holdem tables. At peak times, 115-120 tables are played from NL10 to NL1000. An interesting feature of TigerGaming is that the lowest limit here is NL10, not NL2. Due to this approach, at NL10, you come across extremely weak opponents that you will not find at the tables of the same limit on other poker rooms. The number of tables by limit is as follows:
NL10 - 20 tables;
NL25 - 14 tables;
NL50 - 13 tables;
NL100 - 32 tables;
NL200 - 17 tables;
NL500 - 5 tables;
NL1000 - 5 tables.
Another important aspect of cash games at Chico Poker is that starting from NL100, Bad Beat Jackpot is played at all tables.

At the moment the prize fund is over $ 570,000. For fans of Full Ring tables, we separately note that 9-max tables are almost as popular as 6-max. This fact is even more surprising when compared to poker rooms that have completely abandoned full tables in favor of Short Handed.
Omaha is significantly inferior to no-limit hold'em in terms of the number of players at the tables. The lobby features two flavors: PLO and Hi/Lo. The distribution by limits looks like this:
NL10 - 7 tables;
NL25 - 7 tables;
NL50 - 2 tables;
NL100 - 4 tables;
NL200 - 3 tables;
NL500 - 4 tables.
A local version of fast poker called "Boost" is only available at NL10. At peak times, up to 60-65 connections can be observed there. The rest of the limits (from NL25 to NL500) are filling not so active.
Short Deck Poker - Texas 6+ - is also available here.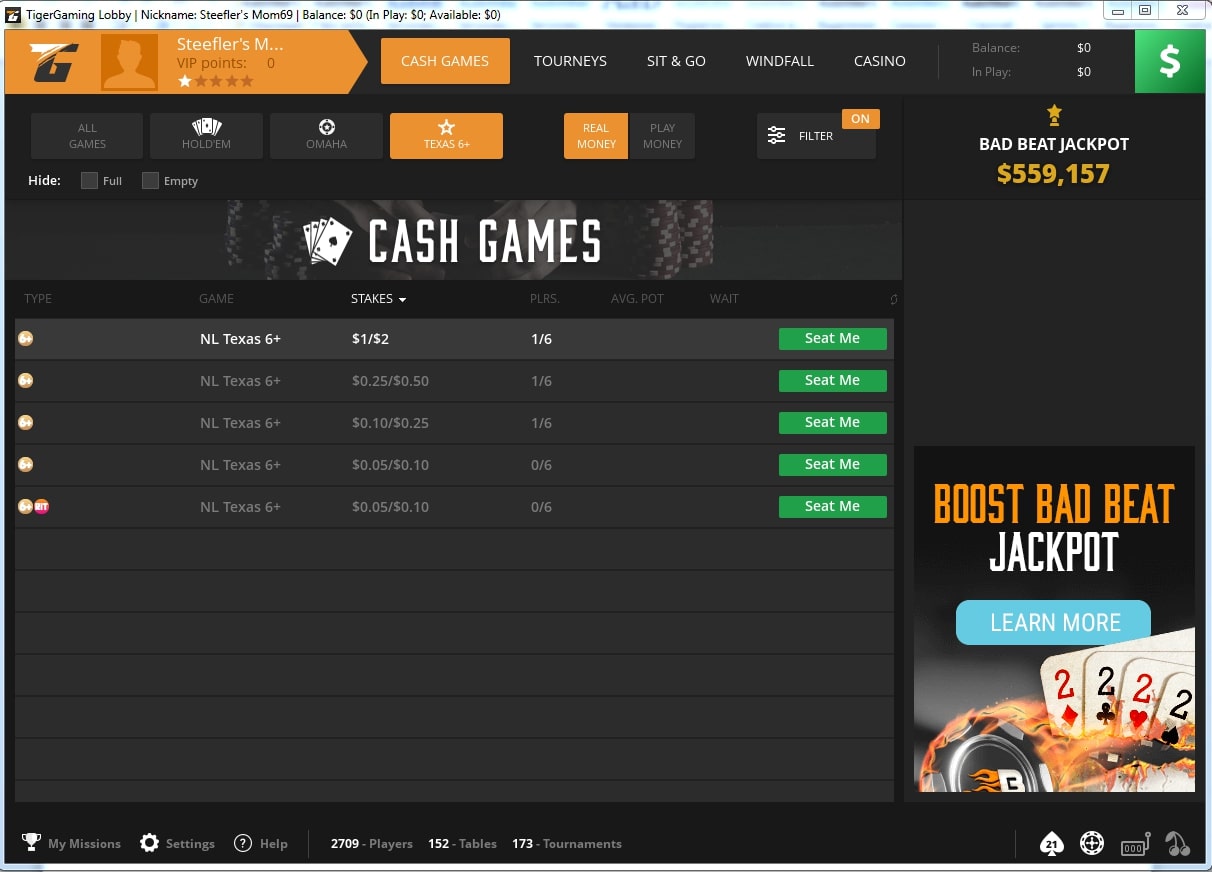 Of course, Spin & Go tournaments are presented at TigerGaming. They are called "Windfall" here. List of available limits and rake:
| | |
| --- | --- |
| Limit | Rake |
| 3$ | 7% |
| 7$ | 7% |
| 10$ | 5% |
| 15$ | 7% |
| 30$ | 7% |
Unlike many other poker networks, Chico decided to get creative. This resulted in separate Windfall tables in Omaha and Omaha Hi/Lo formats, as well as completely arcade Flips. Ideal arcade option - you don't even need to wait 2 minutes like in Blast at 888Poker. There is also a special option - Windfall with a jackpot. In tournaments for $10, a maximum prize pool of $1,000,000.
Other Sit & Go formats are not very popular at TigerGaming. Most of the tables in the lobby are represented by Double or Nothing and classic 9-max/6-max tables. There are also exotic options in the form of Omaha Hi/Low single-table tournaments and 6-max hyper-turbo with knockouts.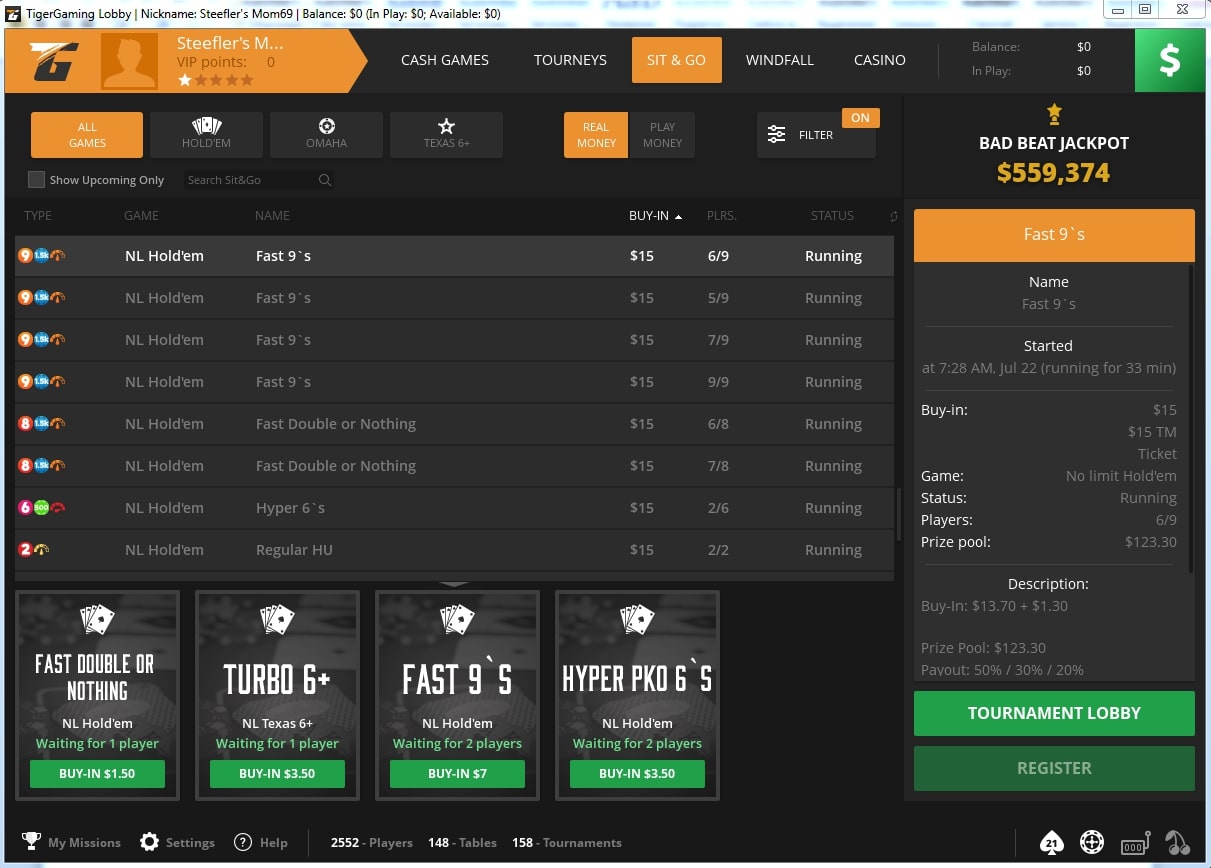 MTT. As already noted, this is not the strongest side of the Chico Poker Network. There are no major tournament series that can compete even with neighbors in the Pokerscout rating. The biggest event of 2020 is the Championship Online Poker Series with a total guarantee of $ 2,000,000.
The largest regular tournament in the lobby is the Main Event with a prize pool of $150,000. Frankly speaking, it doesn't attract an opponent for the Sunday Million or Partypoker Main.

The argument in favor of MTT is that the level of the opponents' play is significantly lower, and the number is much less. Both preconditions are conducive to regular tournament victories. An added benefit is that most buy-ins are micro and low limit. Some of the tournaments generally have an overlay.
Rake size at TigerGaming
The rake in cash games averages just under 6%. An important advantage of Chico over competitors is hidden in the maximum commission from one bank - in most cases the figure does not exceed $3. The rake structure looks like this:
NL и Pot-Limit
Pot Limit и No Limit от 0,05/0,10$ до 1/2$
| | | |
| --- | --- | --- |
| Number of Players | Rake in the bank | Cap |
| 2 | 0,01$ for every 0,18$ in the bank | 1$ |
| 3 | 0,01$ for every 0,18$ in the bank | 2$ |
| 4 | 0,01$ for every 0,18$ in the bank | 2,5$ |
| 5+ | 0,01$ for every 0,18$ in the bank | 3$ |
Pot Limit и No Limit - от 2/5$ до 5/10$
| | | |
| --- | --- | --- |
| Number of Players | Rake in the bank | Cap |
| 2 | 0,01$ for every 0,18$ in the bank | 1$ |
| 3 | 0,01$ for every 0,18$ in the bank | 2$ |
| 4 | 0,01$ for every 0,18$ in the bank | 3$ |
| 5+ | 0,01$ for every 0,18$ in the bank | 4$ |
Pot Limit и No Limit – 10/20$
| | | |
| --- | --- | --- |
| Number of Players | Rake in the bank | Cap |
| 2 | 0,01$ for every 0,18$ in the bank | 1$ |
| 3 | 0,01$ for every 0,18$ in the bank | 2$ |
| 4 | 0,01$ for every 0,18$ in the bank | 3$ |
| 5 | 0,01$ for every 0,18$ in the bank | 5$ |
In MTT, the rake varies depending on the limit. In tournaments up to $22, it is 10%, and starting from $22 and above - 6.8%. However, some tournament's rake are out of this trend. So in a tournament with a $150,000 guarantee for $109, $9 is rake.
How does the client of the room work and is auxiliary software allowed?
TigerGaming software is on a decent level. The lobby is decorated in a pleasant color scheme of green, orange and black.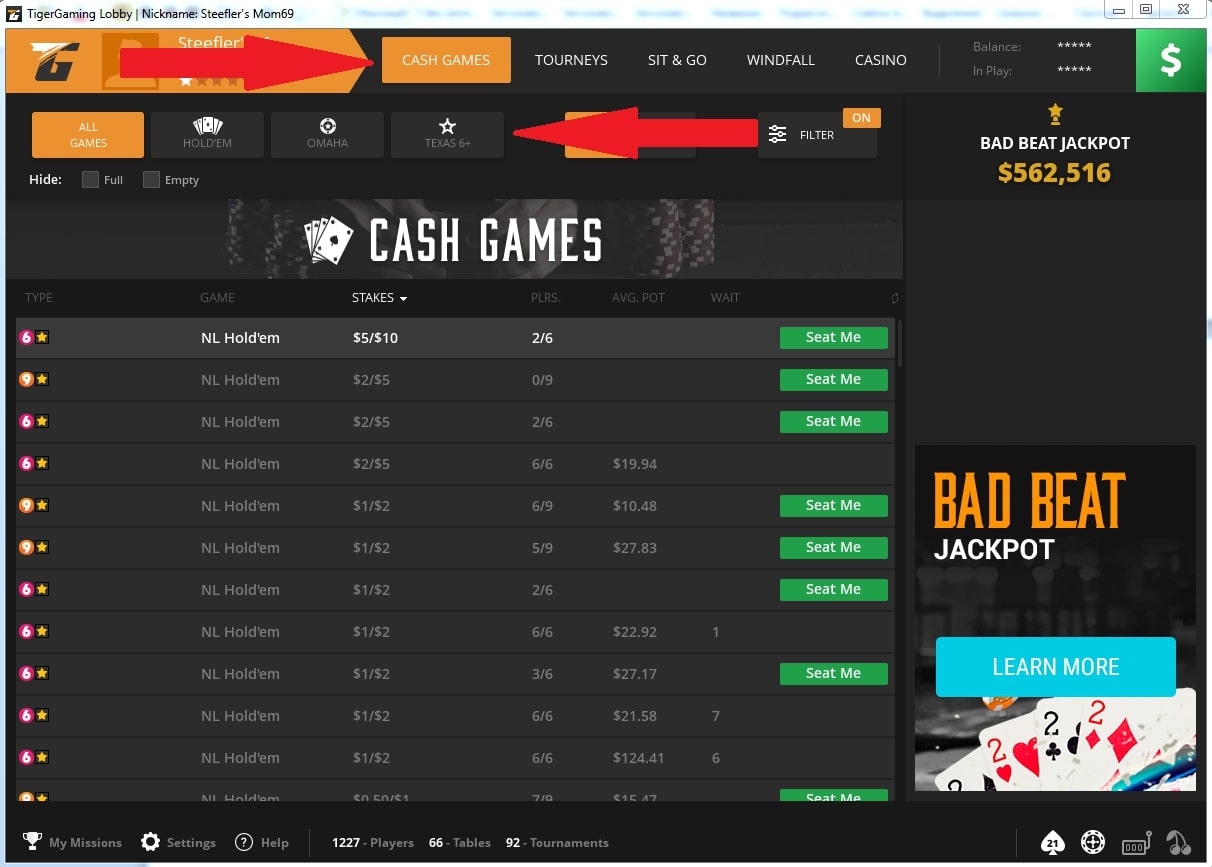 Tabs and filters are intuitive even for beginners. They are subdivided into two blocks. The first one has five tabs:
Cash games;
Tournaments;
Sit & Go;
Windfall;
Casino.
The second block is located slightly to the left and lower in the client's lobby. Here you can switch between types of games:
Holdem,
Omaha,
Texas Holdem 6+,
All Games (all varieties in one place).
The client provides wide opportunities for personalizing the software. Fans of intensive grinding will be especially pleased - there are about 20 options alone with enabling/disabling notifications.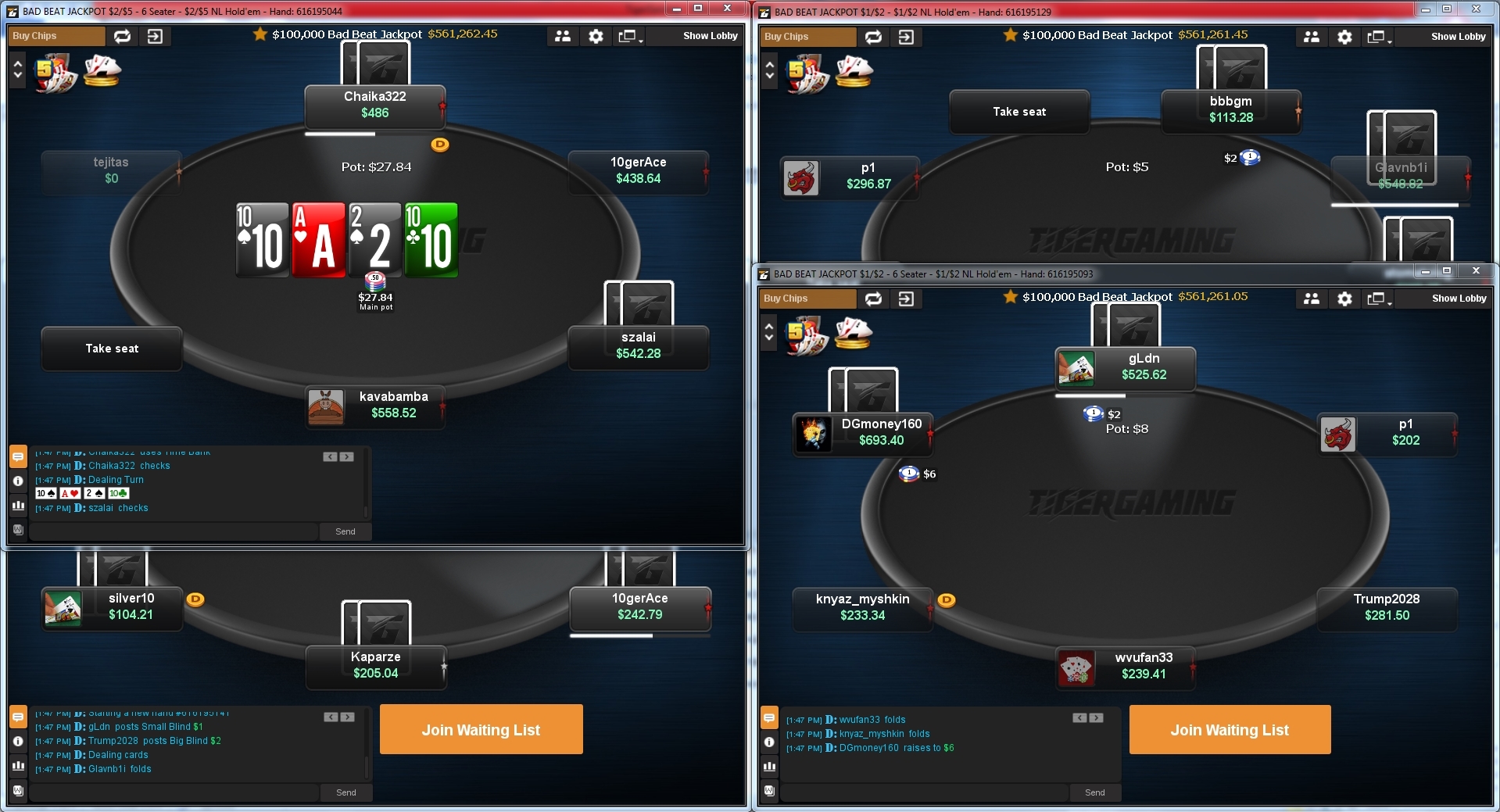 This is not to mention the pre-configured preflop and postflop betting profiles, 4-color decks, automatic re-buy and buy-in size. Naturally, you can turn off the display of avatars, animations and make multitabling soundless, as well as speed up the game process by using hot keys. But technical progress at TigerGaming has not yet reached the point of transferring the stacks to the big blinds.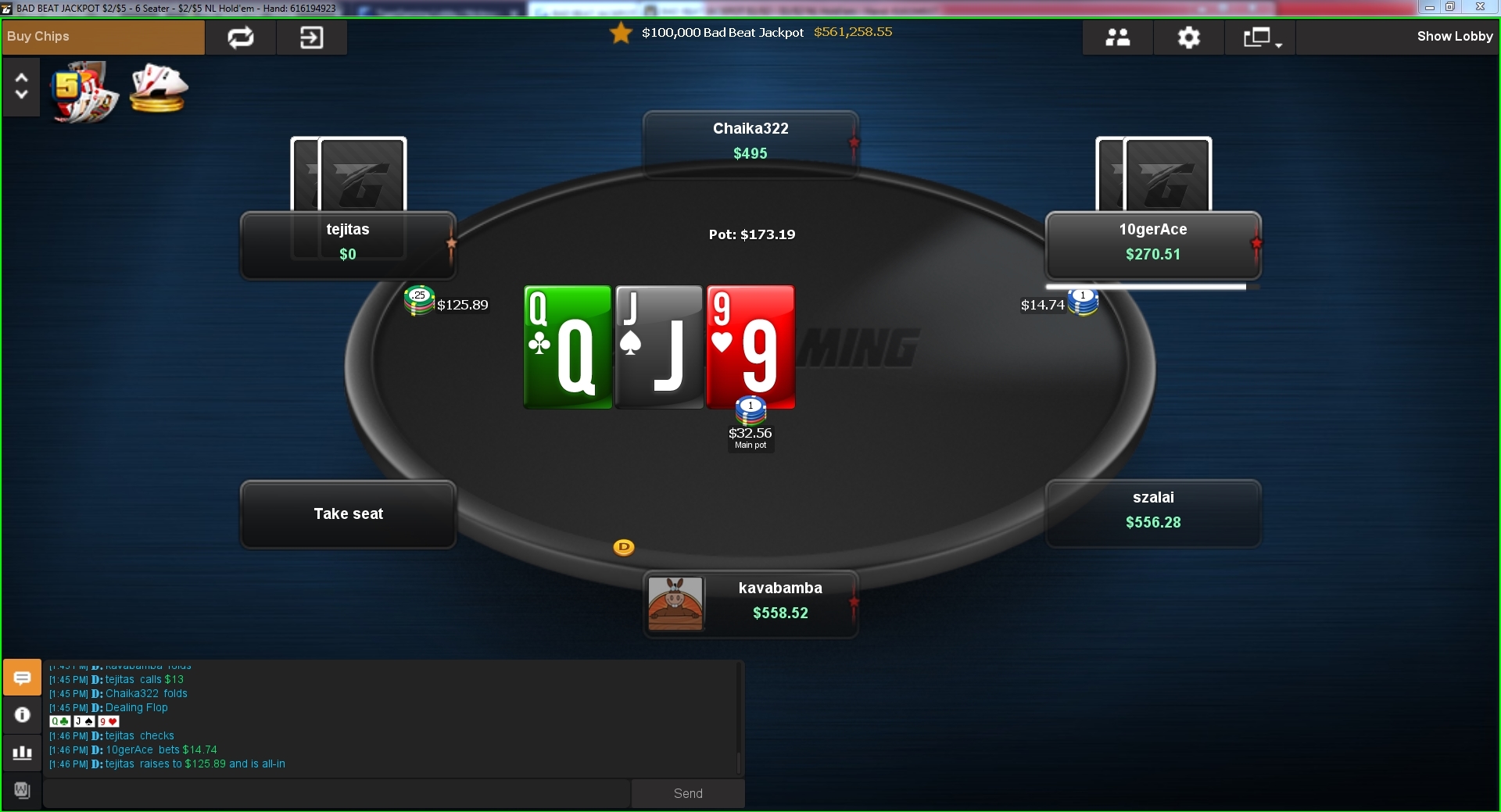 At the Chico Poker network, the use of poker trackers is officially permitted. But for your PokerTracker 4/Holdem Manager 3/Hand2Note you need a special converter - Chico Converter. This need is dictated by the unconventional hand history format in which your hands are saved. Without a converter, your tracker will not be able to correctly import hand history from TigerGaming and display HUD.
Please note that if you register an account using our link, you get Chico Converter and datamining for TigerGaming absolutely free!
The poker room has a game available from a mobile device on iOS and Android.

You can also play directly from your browser - you just need to log in using the official TigerGaming website.
TigerGaming bonuses and promotions
A characteristic feature of TigerGaming and the rest of the Chico Poker network is the priority for cash players. Therefore, most of the promotions are focused on them. The poker network is famous for rake races with big prize money. A short overview of current promotions and bonuses:
First deposit bonus 100% up to $ 1,000. The minimum deposit is $50 and the bonus code is NEWTG. The amount will be credited at $5 for every $50 rake. You are given 30 days to clear the bonus. Quite often, players are offered reload bonuses dedicated to holidays and significant poker events.
Weekly leaderboard for $40,000 cash players. An additional nice factor in this race - there is a separate rating and prize money for each limit (from NL10 to NL1000). There is a separate leaderboard for Omaha, with the distribution of prize money by limits.
Bad Beat Jackpot. If you lose a hand with four of deuces or better, you are entitled to 40% of the progressive jackpot. You must lose at the Boost table. If you lose at a regular cash table, you will receive 20% of the prize pool. TigerGaming has a record jackpot win of $273,000. In April 2020, the prize was raffled 5 times, so it is possible!
Prize pool of $1,000,000 in $10 Windfall tournaments. The winner will receive $500,000. The probability of winning is not very high - 1 in 1,000,000, but still there is a chance.
Weekly $5,000 Spin & Go leaderboard. It's nice that the prize money is distributed by limits, and not only players from high orbits will get it. Even for the $1.5 limit, there is a separate $300 reward. Participation in the race must be confirmed in the "My missions" window (lower left corner of the lobby).
Loyalty program
The loyalty program is not Chico Poker's greatest strength. It remotely resembles 888Poker with its tokens and rakeback of about 20% (at best). The structure looks like this:
| | |
| --- | --- |
| Level | Points |
| Silver | 25,000 |
| Gold | 50,000 |
| Platinum | 75,000 |
| Elite | 150,000 |
Several years ago, the role of statuses was higher. At the moment, the size of the cashback does not change depending on your current level. Some players prefer to spend points on MTT buy-ins and convert them into rakeback through winnings. The exchange of points for money is carried out manually - you will need to contact TigerGaming technical support.
Deposits and Cashouts
The main feature and advantage of the Chico Poker Network is that it is allowed to make deposits and cashouts using cryptocurrencies. And their choice is not limited to just one Bitcoin. Here is a complete list of available payment methods:
Bitcoin;
Ethereum;
Litecoin;
BitcoinCash;
Ripple;
MasterCard;
American Express;
NETELLER;
Skrill;
Discover;
Visa;
EcoPayz;
Wire Transfer.
The list of cashouts is a bit shorter:
Bitcoin;
Ethereum;
Litecoin;
BitcoinCash;
Ripple;
NETELLER;
Skrill;
EcoPayz;
Wire Transfer.
Deposits are processed instantly in most cases. Cashouts take several business days. If this is not your first withdrawal of funds, then the operation can go much faster. The room rules set the limit for cashouts - no more than $3,000 per week.
Conclusions. Pros and cons.
TigerGaming is a curious poker room with a number of significant advantages and disadvantages. An excellent choice as an additional place to play. Especially for players who prefer a nightlife or live in time zones similar to the United States:
Pros:
Hobby players from the USA, Canada and neighboring countries;
Excellent promotions for cash players;
The presence of a large number of 9-max cash tables;
A good first deposit bonus of 100% up to $1000;
It is allowed to use poker trackers;
Cryptocurrencies are available as a deposit and cashout method;
Free converter and datamining when registering from us.
Minuses:
A converter is required for the correct work of poker trackers;
The first deposit bonus must be wagered within 30 days;
Loyalty program gives rakeback up to 20%;
Poor MTT selection and few series of tournaments.
Special offers: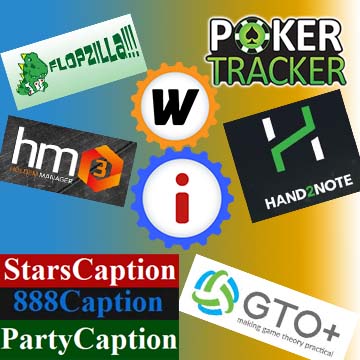 Free software for our players
All players who have registered at TigerGaming via our link are eligible to receive any software from our store for free. Contact us for more details.
Registration Instructions
FAQ:
Is there datamining handhistory for TigerGaming?
Yes, there is mining for TigerGaming. We provide it for free to all our players. Together with the free Chico Converter.
What is the bonus code to receive your first deposit bonus at TigerGaming?
Make your first deposit of $ 50 or more and enter your bonus code NEWTG.
What is TigerGaming technical support email address?
TigerGaming Technical Support Email: support@TigerGaming.com There is also an online chat on the official TigerGaming website. To go to it, you need to click "Contact us" in the lower right corner of the site and then select "Live Help".
Is it allowed to use software (Holdem Manager 2-3, Poker Tracker 4, Hand2Note, etc.) on TigerGaming?
The use of poker trackers is not prohibited. But for them to work correctly, you need Chico Converter. For our players, we provide it for free, along with mining.
Players from which countries can play TigerGaming?
TigerGaming currently restricts play only from the following jurisdictions: Afghanistan, Angola, Australia,Central African Republic,Congo,Cote Divoire, Cuba, Democratic Republic of Congo, Eritrea, France, French Guiana, French Polynesia, French Souther Territories, Guinea, Guinea-Bissau, Iran, Iraq, Lebanon, Liberia, Libyan Arab Jamahiriya, Mali, Malta, Myanmar (Burma), Netherlands, Netherlands Antilles, North Korea (Republic of), Panama, Sierra Leone, Slovenia, Somalia, Sudan, Syrian Arab Republic, United States, US Minor Outlying Islands, Virgin Islands, U.S., Yemen, Zimbabwe
Number of players in the peak:
2950
Docs
ID, address confirmation
Contact:
e-mail - support@TigerGaming.com, online chat on the official website
Mail:
support@TigerGaming.com