How to find out player stats at 888 Poker?
06.09.2022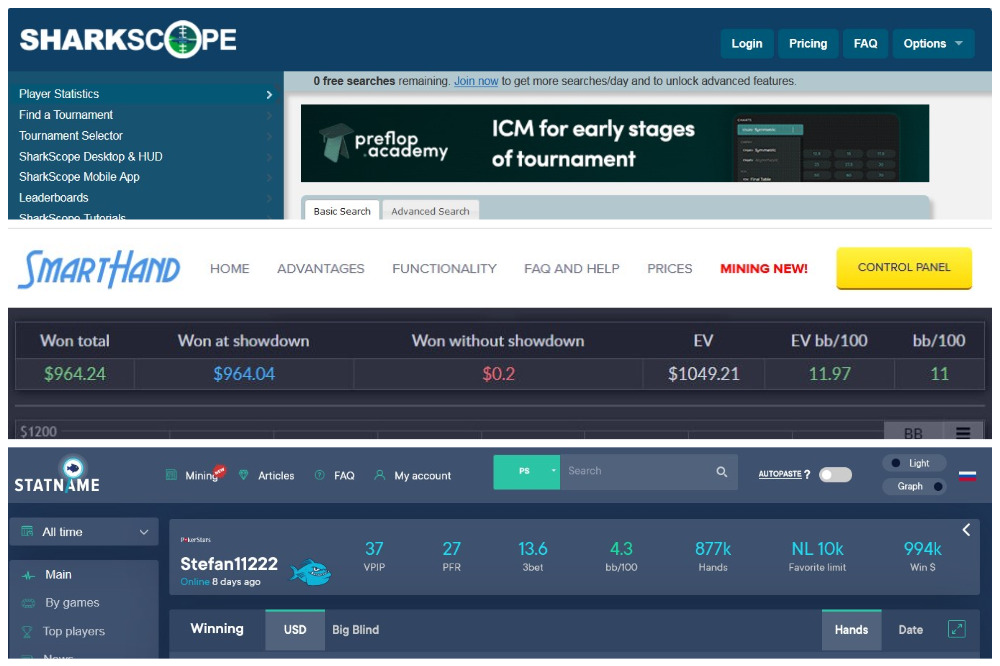 Poker is a game with incomplete information. Behind the abstract phrase there is a simple idea: the more we know about our opponent, the easier it is to beat him. Collecting information on the opponent is not a matter of five minutes. We need to play 15-20 hands with him to get a basic idea of opponent, and we want to do it quickly. Can I find out opponent stats faster when playing at 888 Poker?
Where to find stats on my opponents in tournaments?
In tournament poker, mistakes cost thousands of dollars, so any information is important. It is impossible to gather the data on everyone in MTT independently - there are too many unknown opponents. Optimal option is to use Sharkscope, a tournament statistics service. Its data will not be a universal cure-all, but it will give you a reference point for your decision. Here is what information Sharkscope provides:
Your opponent's total distance. If the player has a few thousand tournaments under his belt, he's a professional. An opponent with a couple hundred tournaments in 5-6 years is most likely an amateur.
Total profit. Profit in combination with a long distance tells us that the opponent is a regular. Losses and a large number of tournaments signals the opposite: we are playing against amateur.
A medium stack (buy-in). A winning opponent with a $5 ABI (average buy-in) is worth being wary of, but not as much as a winning opponent with a $50 ABI. Obviously, a successful player with a large average buy-in is far superior to his low-limit counterpart.
Average ROI. Return of investment (ROI) is a financial term for the amount of profit relative to the money invested. It is expressed as a percentage. In tourney poker ROI is a ratio between total amount of all buy-ins and profit from all tournaments. The higher the ROI, the stronger the opponent.
Form. Service shows results of player's tournaments in chronological order. If during this interval, he was eliminated everywhere and did not reach ITM, then there is a decline in form and game crisis. Important note - MTT regulars often do not limit themselves to one room and play in several places at the same time. There is always a chance that a poker player "pissed" 20 tournaments on 888 Poker, but won "Sunday Million" and took the third place in "The Venom" on Winning Poker Network.
A clear graph. As we play, we don't have a lot of time to study all the stats from Sharkscope. Sometimes we only need an answer to 1 question: "Is it fish vs. us or regular?" The service will answer visually: a rising green chart indicates a strong player, falling and red indicates an amateur.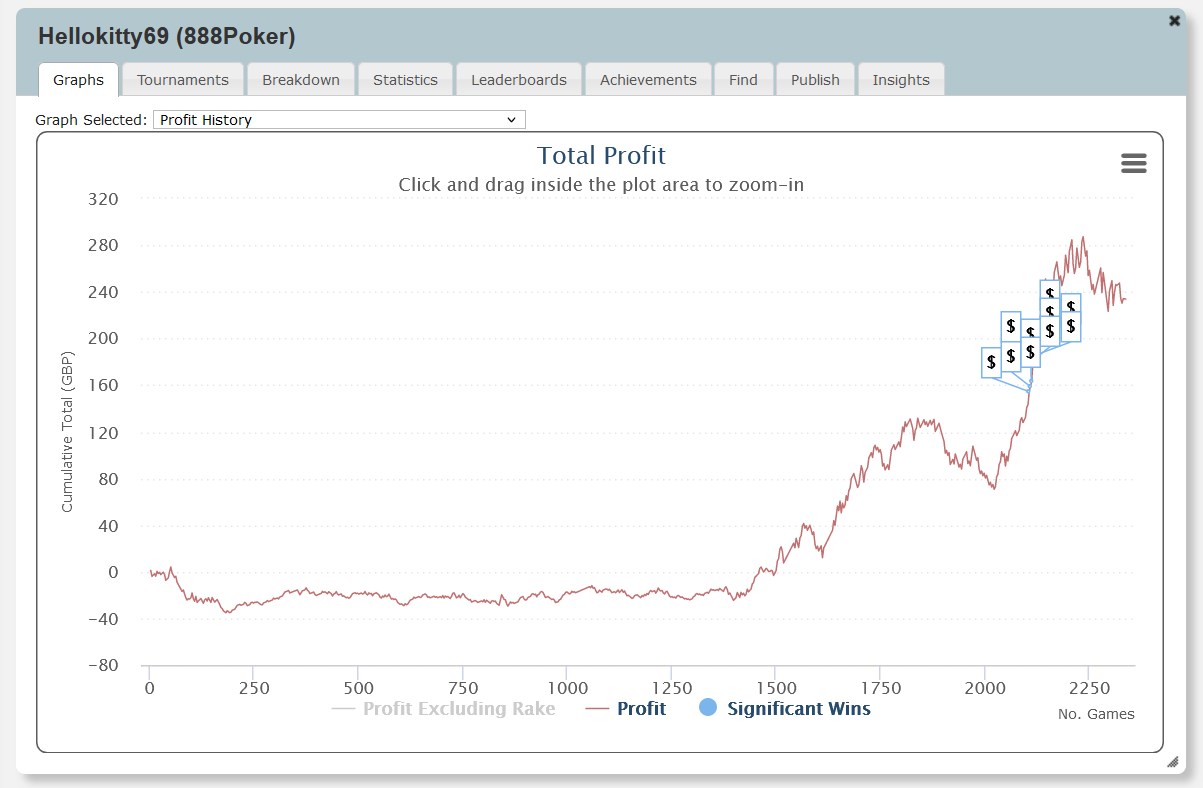 A quick glance at the graph will save you from scrutinizing dozens of statistical indicators
Above we have described only the basic information from Sharkscope. In fact, the service collects dozens of times more statistical data about each player. They are not all equally useful, but they give a lot of food for thought. Sharkscope's database includes 99.9% of online poker tournaments. More than 20% of players use the service during the game.
Everyone can evaluate Sharkscope - they give 5 free searches per day. With a silver subscription, a HUD is available to users. It displays statistics directly on the table. No need to copy the nickname, open your browser, go to the Sharkscope website and enter it in the search box. The service has already done everything for you.
Once upon a time, Sharkscope was competed by Tournament Shark. Its main advantage - it showed basic statistical data right at the table with a minimal subscription level. Tournament Shark displays information about ROI, number of tournaments played and average opponent's profit. The program's algorithm analyzes players and assigns them a rating: from 1 to 5 stars. Additionally, it groups opponents by strength. For example, an opponent with an ace is strong and dangerous, and with a deuce is a welcome guest.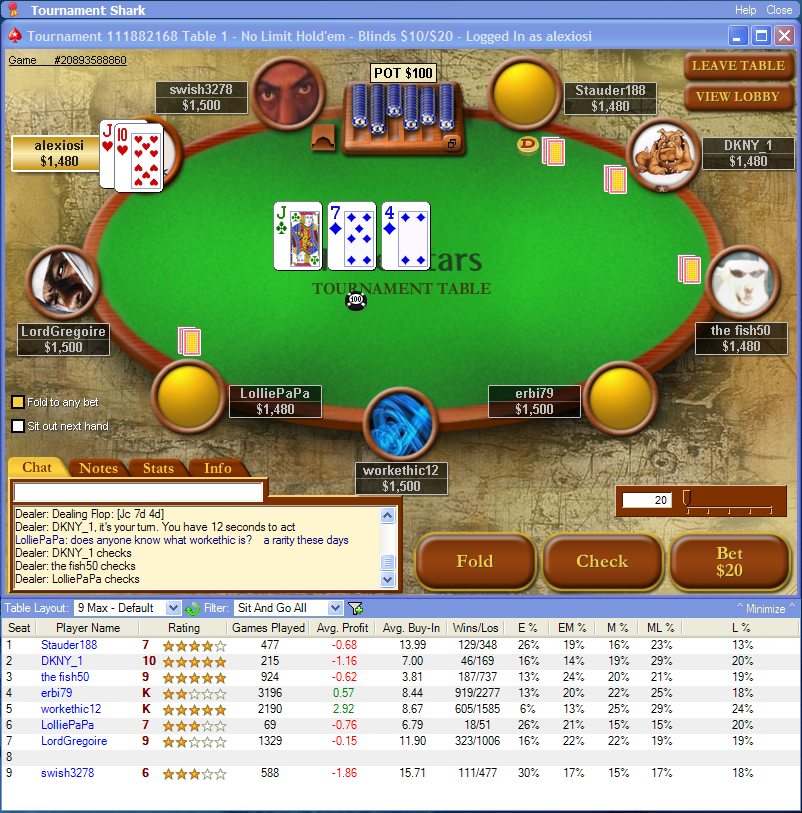 Another problem with Tournament Shark - the last release with updates was dated April 2016
Tournament Shark claims to cover 98% of online tournaments. What makes Tournament Shark questionable is the list of supported rooms. It includes Full Tilt Poker and a huge number of long-closed iPoker Network rooms. The outdated information is embarrassing.
How to know the results of a cash game?
Tracking results at the cash tables is more difficult because of the sheer volume of data. There are a lot of online tournaments, but not nearly as many as the number of hands in the cash game. As a result, we only have approximate data from a few services. SmartHand and Statname are the best of them.
SmartHand gives the ability to display hundreds of stats on one screen by opponent's nickname. Not only general stats like VPIP, PFR or number of hands are available to users. SmartHand provides data on squeezes, 3-bets, and 4-bets by position. You need to play tens of thousands of hands at the table with your opponent to get true statistics on rare stats, and SH will give them out instantly.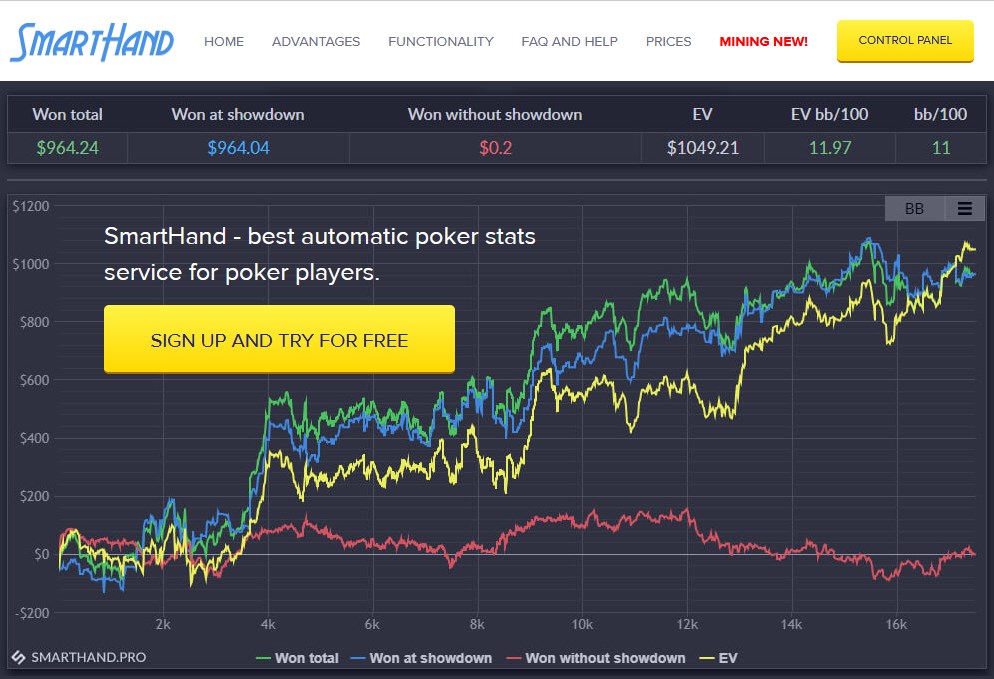 SmartHand has a separate tab with the top winning players. Counting other people's money is always interesting
SmartHand collects information from the most popular poker sites and networks: PokerStars, 888Poker, Chico Poker, Winning Poker Network, iPoker Network. Since February 1, 2022 added statistics from Winamax Poker and GGPoker. For convenience, users are encouraged to use SmartHand Helper. This extension for Google Chrome is integrated with StarsCaption, 888Caption and iPoker Tools, which allows you to copy the nicknames of opponents in one click. NL10-NL25 information is available for free. You only need to register.
Subscribers to the service can choose the statistics they need, save their profile and the next time SmartHand searches will display a pre-defined HUD. In the HUD, you can not only define specific stats, but also set the parameters of their display. There are not only filters, but also an option to highlight a different color in the window with statistics or the numbers themselves.
The service has two disadvantages: loss of hands and lack of statistics for NL2 and NL5. In both cases the problem is in large amount of data. On low limits there are tens and even hundreds of thousands of players and it is time consuming and unreasonable to collect information about them. It would take too many resources. It is the same with loss of hands - it is physically impossible to collect all data in all rooms.
Statname - the same search for opponent statistics by nickname. Specify your opponent's nickname in the search field and see his detailed data. The service provides information on number of hands, total profit, VPIP and PFR, as well as specific Cbets of the flop or river aggression. Statname's interface is more convenient than its competitor's due to the ability to minimize statistics under a spoiler. A similar SmartHand feature is implemented in options and is less intuitive.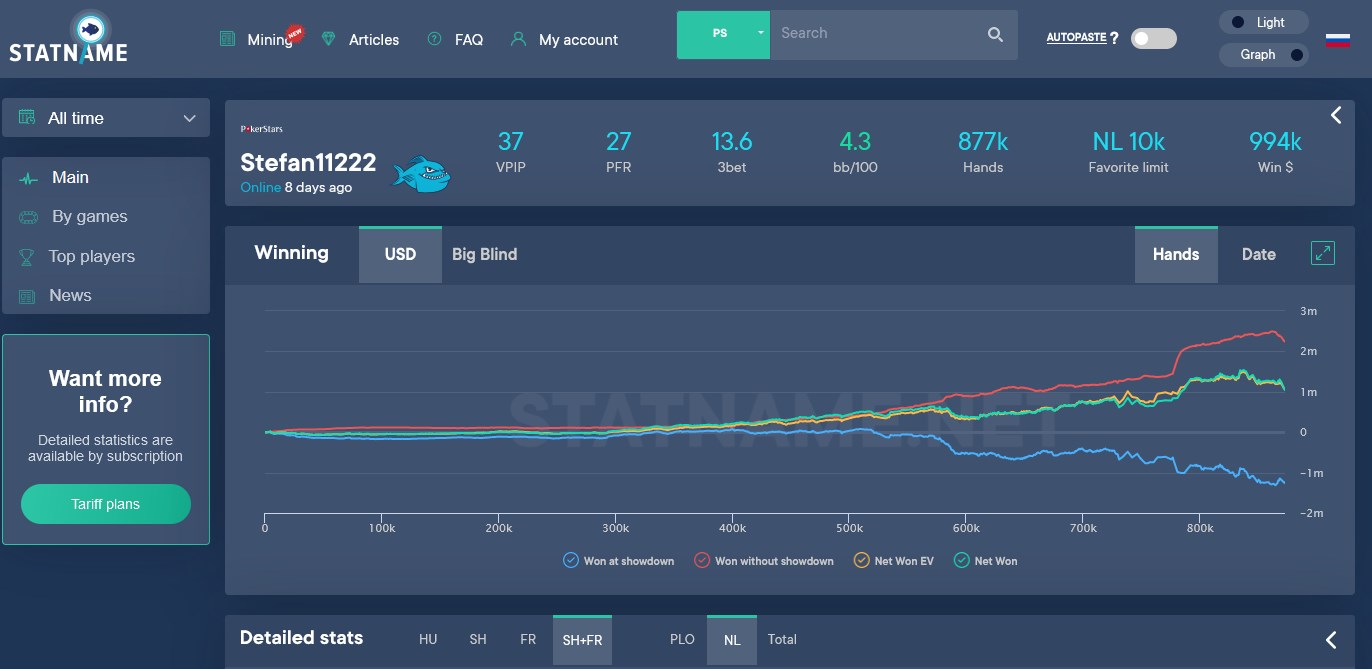 There is a tab with the top players on Statname. It is interesting that according to the statistics of the service leaders and their profits are very different
Statname collects statistics not only on 888 Poker, but also on PokerStars, iPoker Network, Chico Poker Network and GGPoker. SmartHand is ahead here, because they also track hands in the French room Winamax. Do not underestimate this advantage - in terms of traffic Winamax Poker ranks fourth among all the rooms and networks. It is easier to work with the service through the extension "Autopaste" for Google Chrome. It copies your opponent's nickname in one click with StarsCaption, 888Caption and iPoker Tools.
Statname offers users summary statistics by limit and month. Graphics are responsible for visibility, where game results can be displayed in both money and blinds. A graphic with results by months is available. It is impossible to set the HUD to display specific information on the players. By filters Statname and SmartHand have the same picture, the only difference is the approach. SH sorts the stats in one place while Statname offers to select each group of stats separately.
For example, let's take the stats of the player HOLLANDOMORE in both services. The first thing that catches your eye is the total number of hands. Here Statname is far ahead, because it collects information also from NL5. That's why there are more than 3 times more hands than SmartHand offers. But SH groups the hands by limits. Statname doesn't allow you to sift hands exclusively from NL10. Statname's advantages include opponent classification. Players with high win rate are awarded with a shark, weak players are marked with other fishes.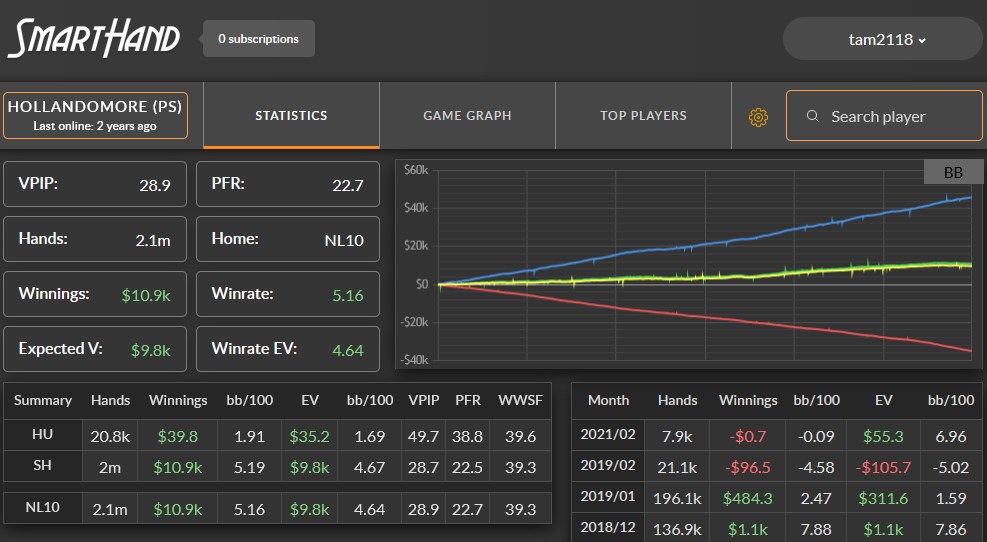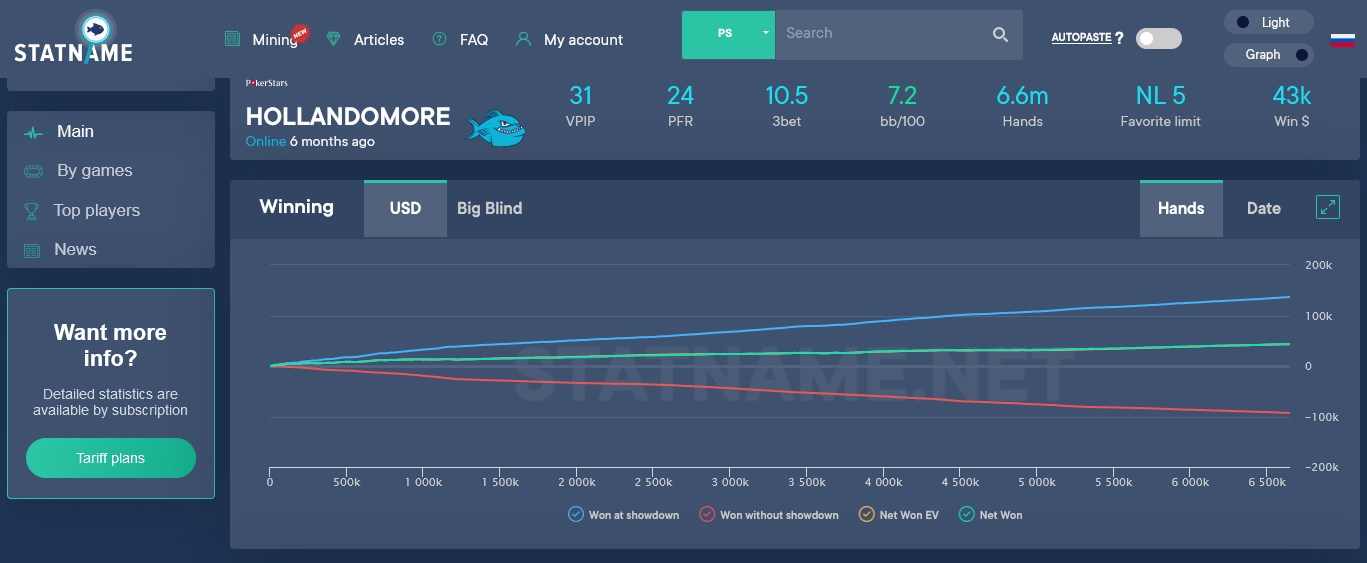 The same player in two different services
The prices of the services do not differ. On SmartHand, a one-year subscription to NL10-NL50 for PokerStars, 888Poker, Chico Poker, Winning Poker Network, iPoker Network costs $125. Statname offers a one-year subscription for NL10-NL50 at PokerStars, 888Poker, Chico Poker, Winning Poker Network, iPoker Network for the same $125. Monthly subscriptions to GGPoker at both services cost $13 each.
Does datamining solve the stats issue?
Special services for searching statistics are a good option to find out information about 888 Poker opponents. Except that they have a common disadvantage: in order to research your opponent, you need to go to the browser. Oh, and the extensions only work in Google Chrome. Other browsers like Mozilla, Opera, Microsoft Edge and Safari are off limits. It's a little easier for tournament players, because there's the Sharkscope HUD, which displays stats right on the table, but you have to pay for it too.
Datamining solves the problem with additional tools. All you need is a poker tracker where you upload all your hand history. If you buy datamining from working limits, you'll get more information for less money. No matter how wide a list of stats Statname and SmartHand offer, datamining will give you more information. Yes, and the data will be fresher. You can buy datamining for 888 Poker at PokerEnergy. There is hand history for both NL Holdem and PLO tables.
What software works for free on 888Poker?
Some poker software works for free on 888Poker. We recommend 888Caption and Hand2Note.
888Caption. The best poker support tool.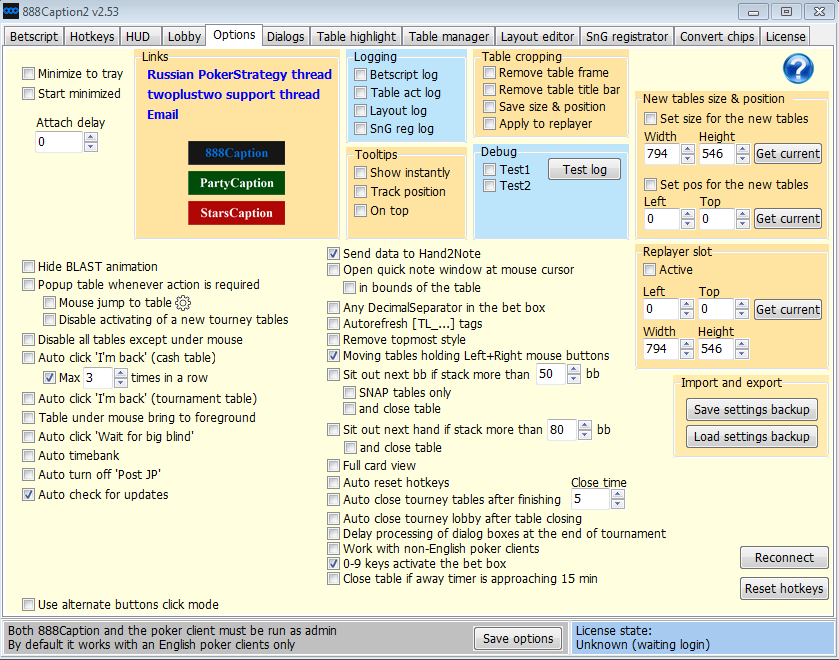 With 888Caption you can even set up a layout and disable unnecessary animations
Converts stacks into big blinds, automatically arranges tables on the monitor screen, displays a built-in HUD, assigns hotkeys, changes fonts, and saves betting profiles. These are not all the features that 888Caption has to offer. The program is free for players at tables up to and including NL10. In tournaments under $3, everything works too. You can download 888Caption for free on our website.
Hand2Note. The most technological and advanced poker tracker has several advantages. There are dynamic statistics, speed of importing hand history, and pool research in Range Research. For beginners, the decisive argument in favor of H2N - the basic version of the tracker is free with no time limit. From the beginning of their careers, players use the stats and HUD at no extra cost. You can download Hand2Note for free from the developer's official website.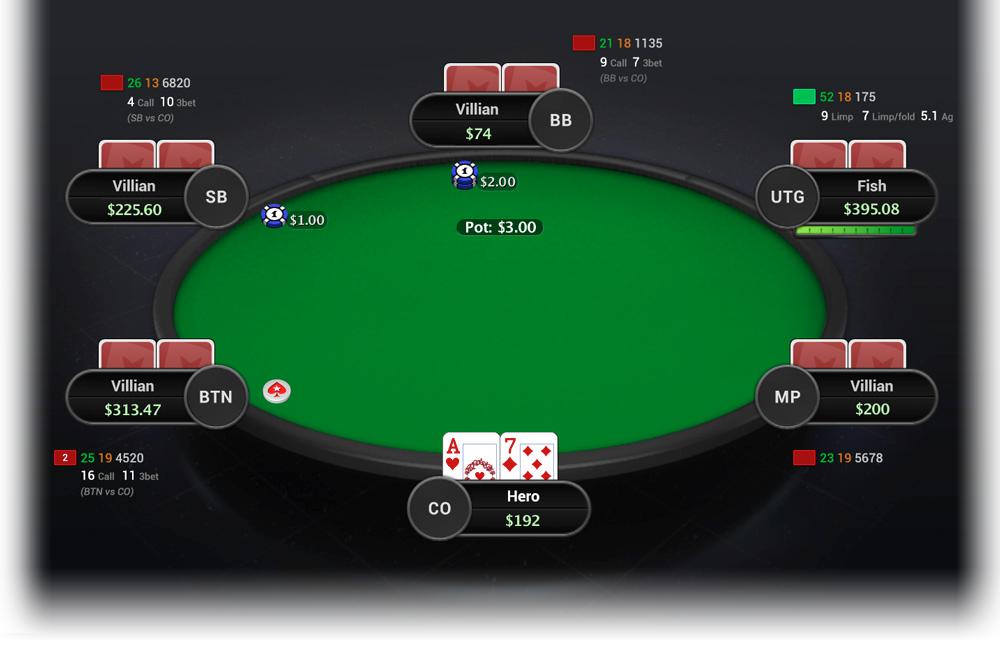 As of fall 2019, H2N is free
If you ever want to switch to a paid version, we recommend keeping the promo code H2N10NU. It gives you a 10% discount on any first paid subscription. If you want a monthly subscription to Hand2Note Edge, pay $27 instead of $30. If you want an annual subscription to H2N Pro, it will cost $529 instead of $588.
Why buy from PokerEnergy?
Buying on PokerEnergy is beneficial for two reasons:
Bonus points for every purchase. You can spend them instead of money and save money on your next orders.
Free programs in the "Promotions" section. For the purchase of some programs we give software for free. Suppose you purchased Holdem Manager 3 for $100 - we gave you Flopzilla equity calculator for free!
All the information on new promotions and products is published in our Telegram-channel PokerEnergy. Sign up to not lose EV.