Bots in poker: how to recognize, how to fight and whether it is possible to win (p.2)?
28.04.2023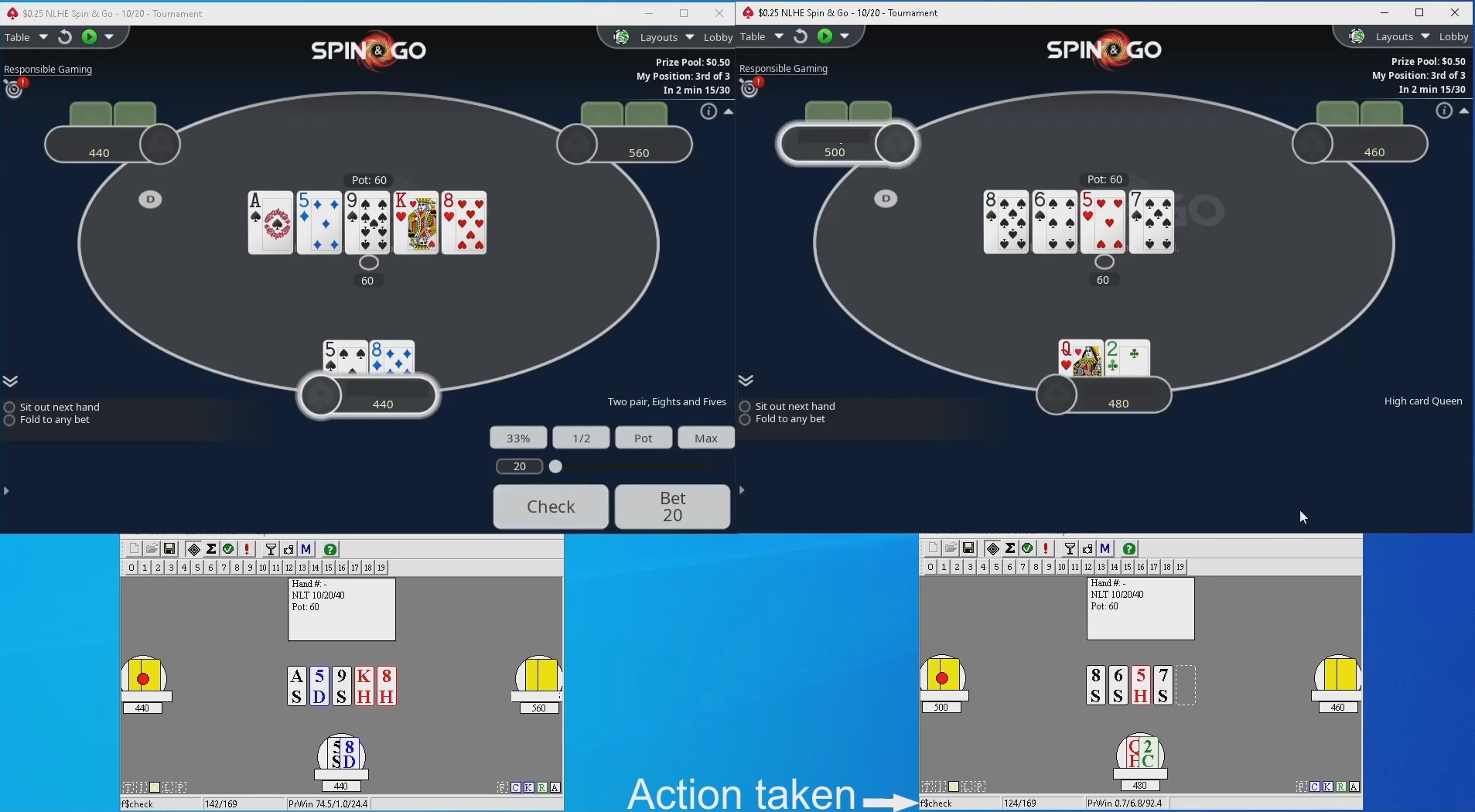 In the first part of the article we dealt with the types of bots, ways to recognize and punish them. In the second part we are going to talk about the most protected rooms, scandals with bots and their development costs.
Which poker rooms have fewer bots?
PokerStars and Partypoker are the best protected from bots. PokerStars is a long-time industry leader who watches over its reputation and can't ignore cheaters. The blocking of WCOOP-2018 champion Wann2play and the seizure of $1,350,000 in prize money is a prime example of the fight against bots. The investigation lasted for 2 years, but the villain was still punished. PS security service regularly sends special letters to the emails of players. They mention the banning of another cheater and return the money to the account of the affected player. A significant part of the accounts are blocked for the use of bots.
If PokerStars is waging a secret war with the bots, the Partypoker is in fashion public executions. Room regularly reports on the fight against bots. In its first report, partypoker told of blocking 76 accounts and refunding $417,000 in December 2018. Since then, the company has been publishing data on the fight against cheaters every month. Here's key information from partypoker's reports over the past four years:
| | | |
| --- | --- | --- |
| Year | Number of accounts blocked | Amount of refunds |
| 2019 | 713 | 987,000$ |
| 2020 | 608 | 462,000$ |
| 2021 | 322 | 48,000$ |
| 2022 | 276 | 25,000$ |
At the time of writing, the most recent data was for January 2023. At that time, 32 accounts were blocked and $3,764 were returned. In 4 years of struggle, Partypoker has made great strides. The decrease in the number of blocked accounts and the amount of refunds indirectly speaks in favor of the security service of the room. Partypoker got rid of most of the bots, and the profitability from the scams has become intangible. Especially impressive is the contrast between 2020 and 2021, when the amount of returns dropped in 10 times. Keep in mind that a small fraction of cheaters have become more sophisticated and Partypoker staff can't figure them out.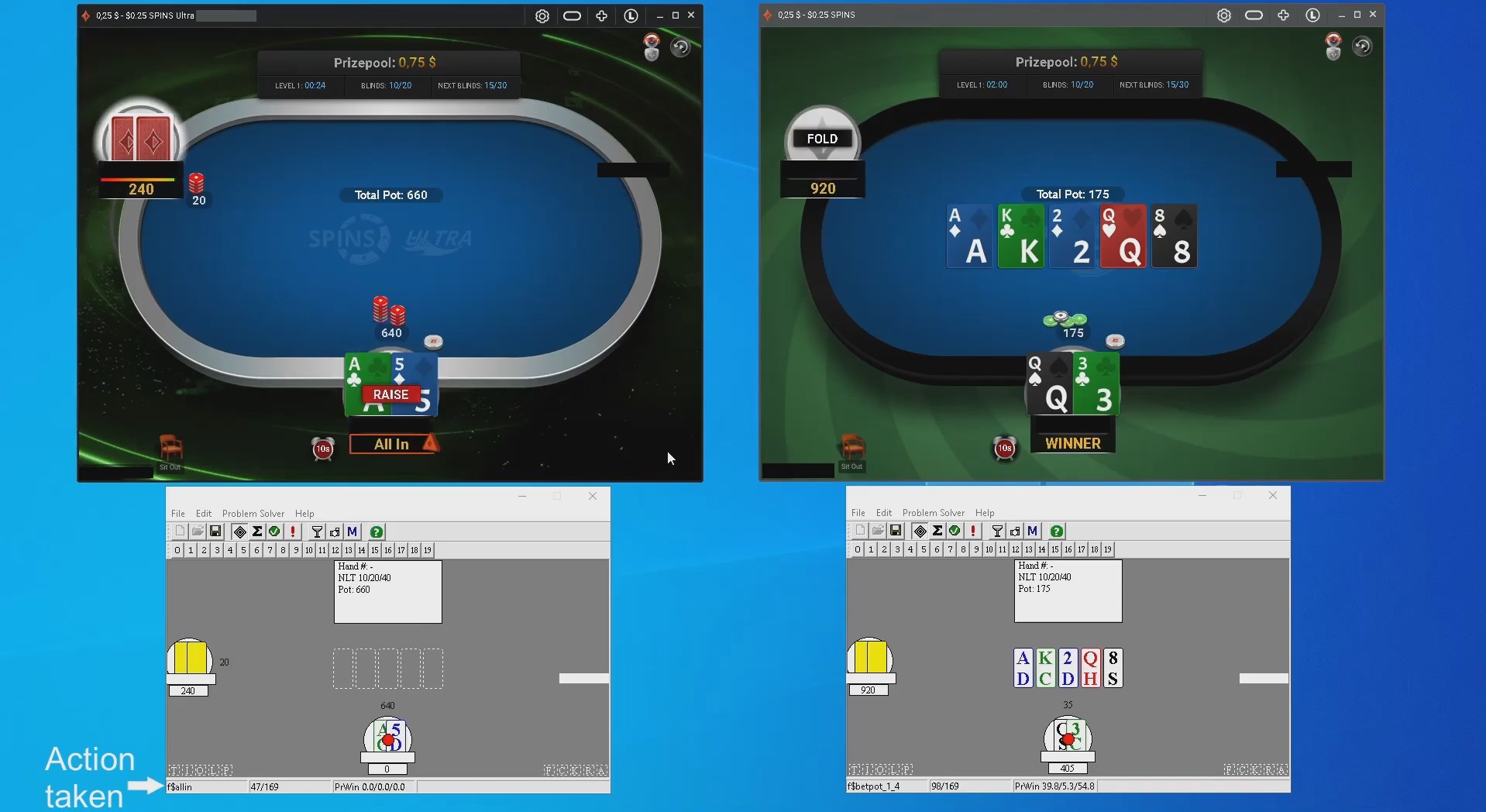 There are videos on YouTube of the Holdem bot playing at partypoker and PokerStars tables. To be fair - in the comments the man writes that after the launch of the bot the room sent a notice that it can block the account.
The poker network Microgaming has also been active in fighting bots. At the end of 2019, they published a report where they told about the return of more than 1,000,000€ to victims. MPN estimated that the average percentage of cheaters with artificial intelligence among players was 7.5%. In 2020, the Microgaming Poker Network shut down and most of the network's rooms migrated to the iPoker Network.
In October 2021, 888Poker reported a massive bot lockdown. They identified 85 accounts, seized $100,000 and distributed it to the victims. More than 4,000 players were compensated.
In recent years, the Winning Poker Network and iPoker Network have shown progress in the fight against bots. Previously, the networks were criticized for not paying enough attention to suspicious opponents. After several public exposures of cheaters and updates to their poker clients, WPN and iPoker's security has increased.
To summarize: the more popular a room is, the more responsible attitude to bots and other cheaters is.
There are more chances to meet a bot in a small room. Most often, cheaters choose local rooms operating in one country. The logic is obvious:
Reservations have fewer resources for a qualified security service.

Even if they have enough employees, they may have problems with bot detection tools. The software of smaller networks is inferior not only to PokerStars and iPoker, but also to 888Poker, Winning or Chico Poker.

In the old days, many rooms would fill tables with bots at launch. There was no goal to get rich off of artificial intelligence, but the fact itself is frustrating. Hardly you want to play in a room where you are cheated from the start.
Another risk factor in small poker rooms is the lack of statistics. A huge number of bot investigations started with players' suspicions and studying the stats of questionable opponents. No access to statistics - no chance that your bot or the whole network will be calculated by observant users. Not all networks without statistics are equally bad - Good Game actively fights with bots and cheaters. In October 2020, PokerOK blocked 40 accounts and confiscated $1,200,000. Users were penalized for using cues. GG's security service is up and running.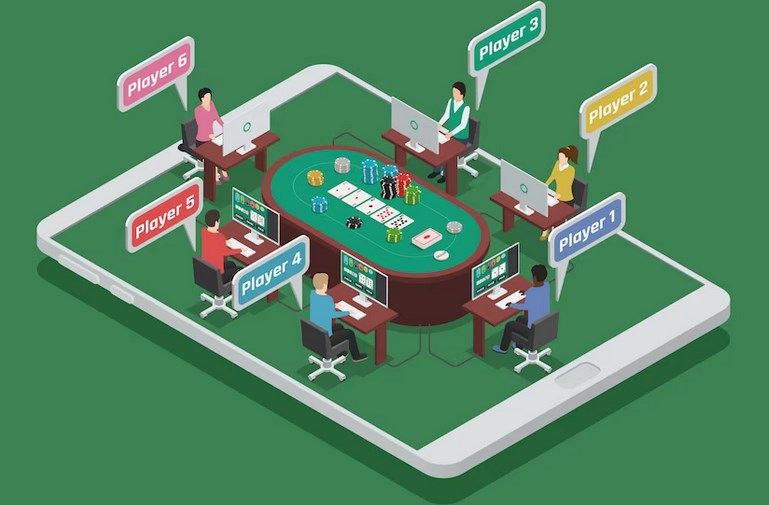 Advances in technology and the development of artificial intelligence are spreading the fear of bots. Online poker players have no confidence that they are not being confronted by artificial intelligence.
Another reason to be wary - too sweet conditions at the new room. The competition among the rooms is crazy, and the number of players is gradually decreasing. In such circumstances, even rooms, just entering the market and seeking to declare itself, can not throw money. Otherwise, there is a great risk of rapid bankruptcy. Doha Poker is an example of a new online room with bots. In its short history, there were marked by both bots and "super-users". That is, Doha Poker ignored the bots and was in cahoots with their creators.
The collective image of the place where you are 100% likely to meet artificial intelligence is a new poker room, operating in 1 country, giving super favorable conditions on bonuses and rakeback. Import of hand history and HUD is prohibited there.
The loudest bot scandals in online poker
Despite the efforts of players and fair play departments, bot scandals occur regularly. Here are the most high-profile ones:
1. In 2012, Svenska Spel blocked 14 accounts suspected of using bots. By the time they were blocked, they had won $280,000. Globally, the amount is not a lot, but for the local Swedish room with 800 people traffic it is significant. The game was played by bots on NL50-NL500 limits. This is a good example of how to use bots in small rooms, where they are difficult to detect because of the lack of experience and security staff. Reservations are a tidbit for cheaters.
2. In 2015, a group of accounts from Russia and Kazakhstan won $1,500,000 in PLO at NL50-NL200 on PokerStars. During the game, they used a network of linked accounts that saw each other's cards in the preflop and acted on that information. It was the regulars Grethe and Oink who cracked the case. In their message they noted too similar game and statistics of individual players. A few days later PokerStars announced the beginning of an investigation.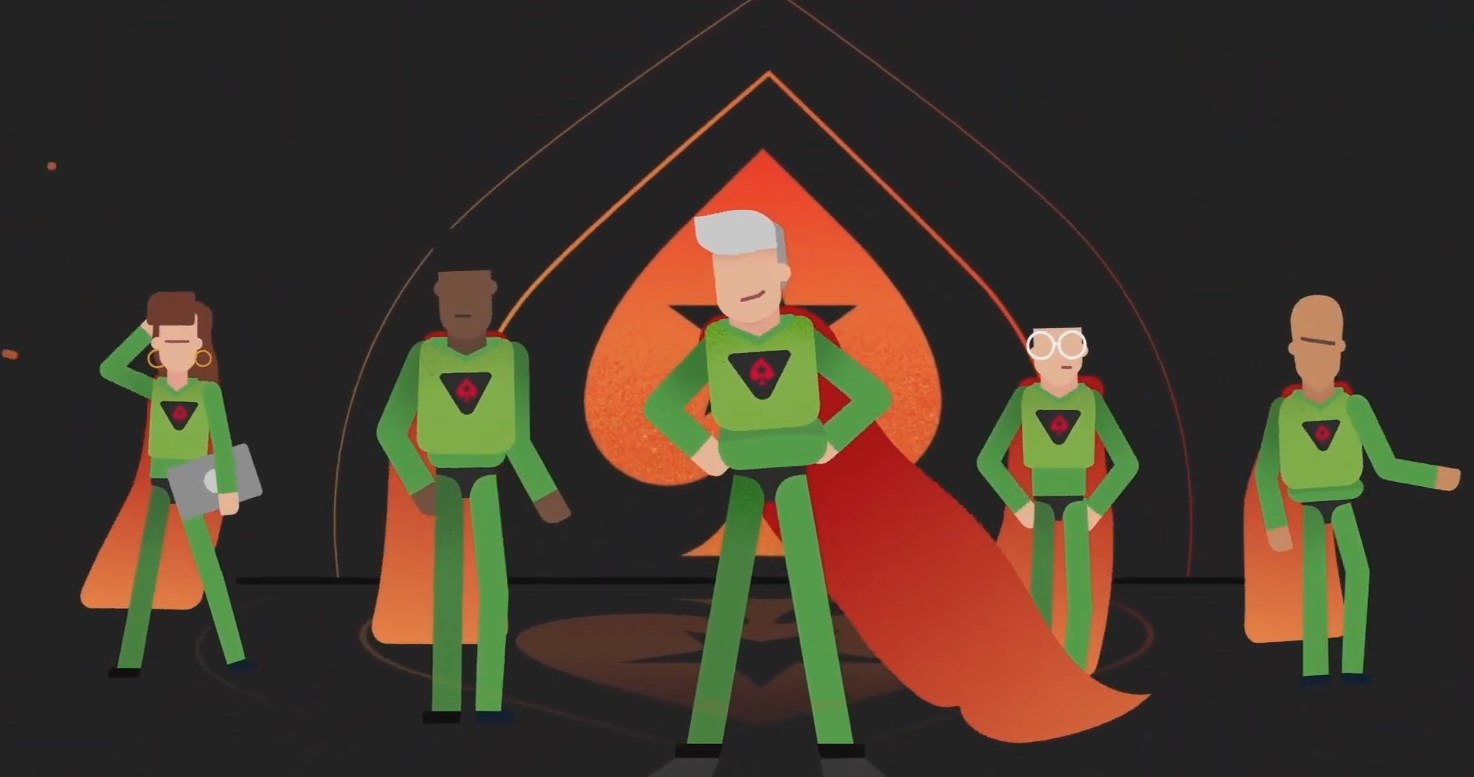 The PokerStars security service sees itself this way
The poker bots "earned" $1.5M on NL100-NL200 limits and cheated players for over a year. Many PokerStars users were disappointed by the security department slowness. Players were even more frustrated by the $10 or $20 refunds at the end of the investigation. Some had played thousands of hands against bots. The scammers were quick to withdraw their winnings and kept small amounts in the room. Therefore, PokerStars had nothing to recover their losses from.
3. In 2010, a statement appeared on the website of "Shanky Technologies" about the treacherous blocking of hundreds of Full Tilt Poker user accounts. All these accounts had one thing in common - they were poker bots. Think about it: the developer of the bot is outraged by the ban from the poker room for breaking its rules. A representative of "Shanky" spoke frankly about FTP's acquiescence to the use of bots.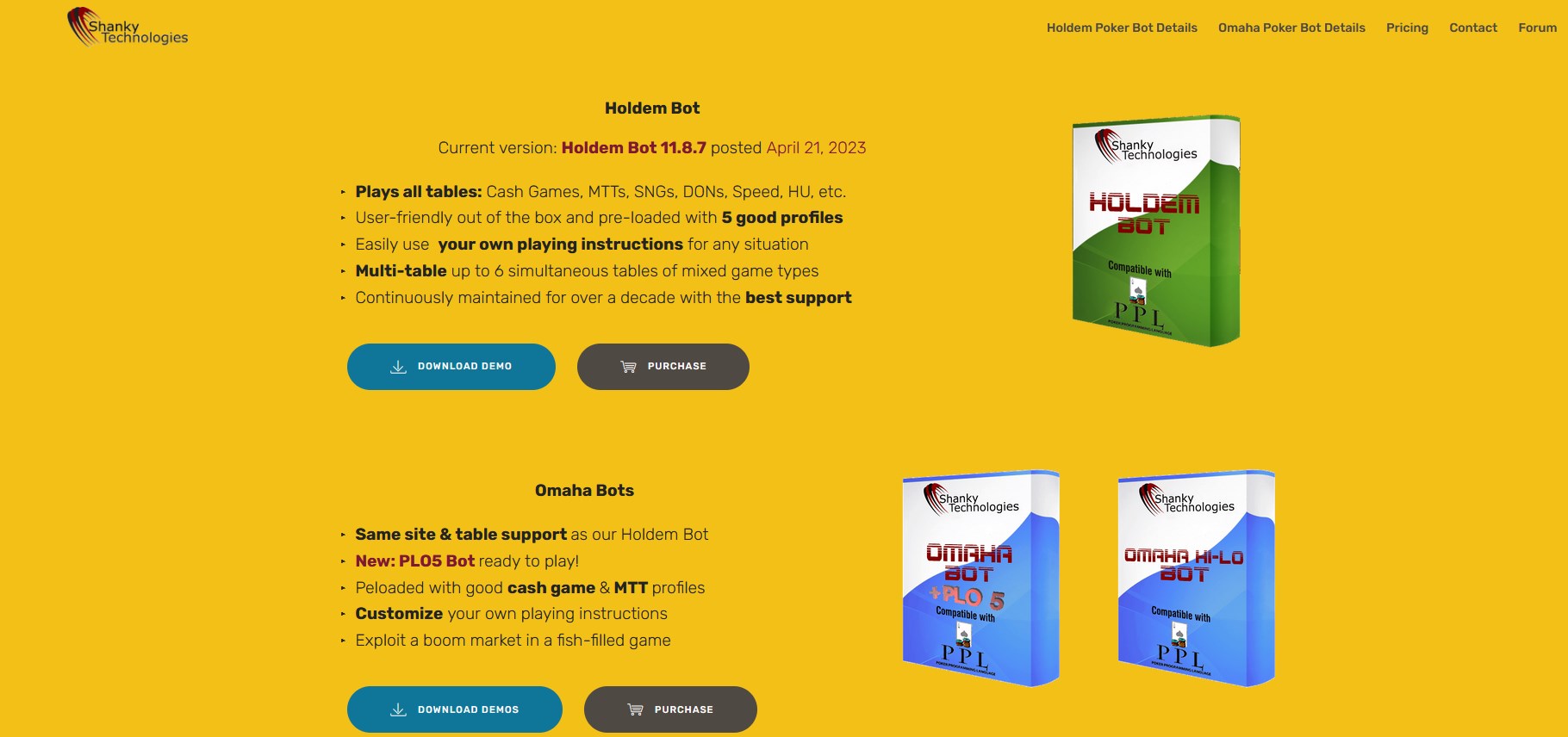 The bot is regularly updated: at the time of writing, only a week has passed since the release of the latest version
Bots sat at Full Tilt Poker tables every day for several years. Such revelations indirectly support the hypothesis that rooms at launch often use bots to attract players. The machines made room traffic look bigger than it actually was. Empty new room tables are a bad argument when fighting for players. A couple of curious facts:
PokerStars has "Shanky Bot" on their list of banned programs. Hopefully, the scammers who resorted to this bot on PS were not shocked by the ban with confiscation of funds. Suddenly Supernova Elite was canceled because of moral damage compensation for bot owners?

As of April 2023, the Shanky Technologies site is up and running and promoting its products on Twitter. Full Tilt Poker itself closed on February 25, 2021. Have the bots found more tolerant poker sites?
4. In 2020, a group of bots playing on several poker networks were uncovered. The machines won over $3,700,000 in all that time. Players on the Chico Poker Network were the hardest hit. There bots played 60,000 sessions. Not hands, namely sessions! Taking into account the endurance of the artificial intelligence, the players suffered enormous damage. The bots also played in PokerMatch, PokerOK and in the regional rooms. The scammers found live people and registered accounts on them. After passing the checks they installed the poker bot on the computer, which "played" from their accounts. In the end they blocked more than 100 users in different rooms.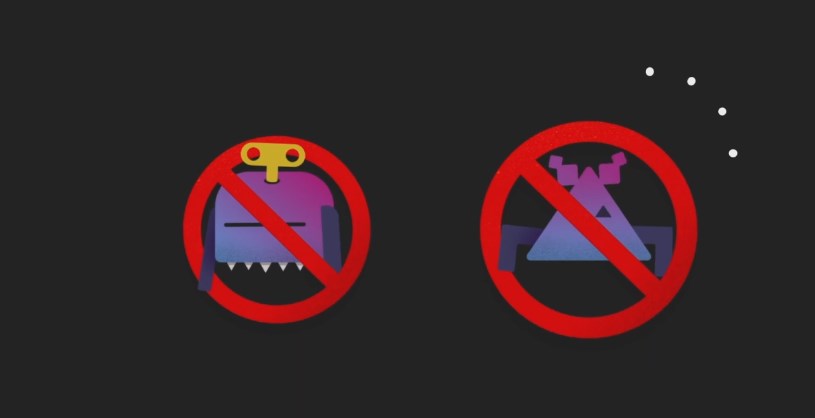 PokerStars invests millions of dollars in the fight against cheaters
5. In the 2019 Winning Poker Network HU tournament, poker streamer Erik Collier and a simple Latvian bot clashed. Thousands of people watched live as the poker bot couldn't take the burden of responsibility and broke down. In a heads-up battle, the machine fouled every hand six seconds before the end of the timebank. Such a story can not be ignored, so the WPN management issued a statement:
The Latvian player's account was blocked.

The affected users were returned $175,000.

They began a large-scale verification of suspicious accounts. Players were invited to record their session with strict conditions, repeating the same check of PokerStars in 2016.

For each bot identified, players were awarded $25,000 in compensation. If more damage was done, the money was distributed proportionally.

In MTT, the result of the bot was canceled, and each participant in the tournament moved up one place if he finished below the artificial intelligence. There was no limit to the joy of the bubble boy.
Poker bots of dusky geniuses
Not all bots are developed for illegal profit. There is a category of poker bots, which are created by scientists with a good purpose - to teach the artificial intelligence to make better decisions in difficult situations. Poker is an ideal training ground for the machine, since it has to act under conditions of incomplete information and time deficit.
They develop such bots for years and it costs a lot of money. Scientists do not share the results of their work, so the threat of facing them at the table is minimal. Let's take a walk through the famous bots.
Orac. The oldest machine that could play poker. The developer Mike Caro introduced it in 1984 at the WSOP. The machine worked on the Apple 2 and consisted of an additional monitor, scanner and a special ramp. The ramp read the barcode from the cards. Orac could not be called a full-fledged artificial intelligence, but it won 1 of 2 show matches against Doyle Brunson, and also lost to then-World Champion Tom McAvoy. In a key hand, the champion "ran over" Orac.
PokerProBot. First winner of the Robot World Championship. Brought the creator a $100,000 award and lost a show match to poker pro Phil Luck. After the match, Phil said that the artificial intelligence made a lot of mistakes that a live human would never make. That's why Luck beat PokerProBot.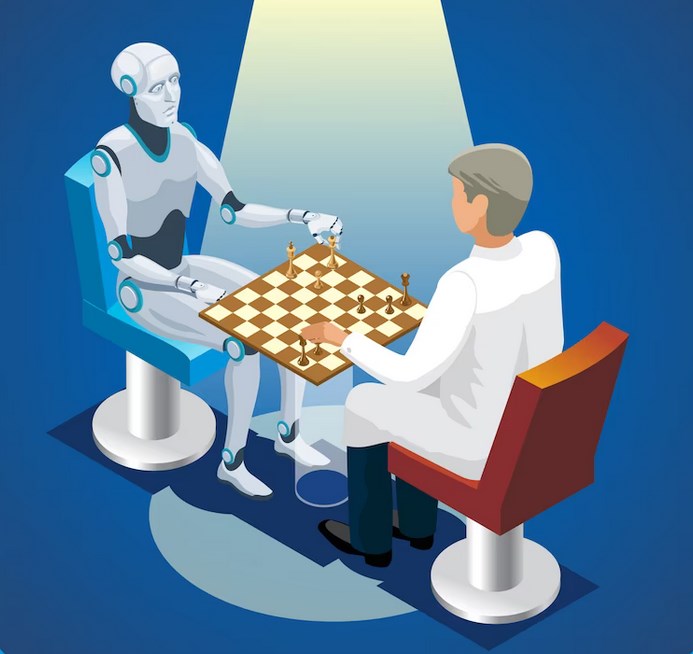 The threat of artificial intelligence should not be underestimated. Bots have been dealt with chess mercilessly: now no one plays for money online.
Polaris. One of the most famous artificial intelligences in the poker world. He announced himself in 2007 when he played two HU Limit Hold'em matches against Phil Luck and Ali Eslami. Both matches consisted of two rounds and ended in wins for the humans. The final score was 2-1 with one draw. But an improved version of Polaris defeated six real players a year later. The success was not unqualified, as two wins went to humans, three were won by the bot and one more Heads Up ended in a draw. This is the first time a machine has defeated professionals.
Cepheus. The next remarkable poker bot appeared in 2015. It was developed by the authors of Polaris. The artificial intelligence again specialized in playing HU Limit Holdem. In 7 years the performance of computers has grown, so the developers created a bot that plays almost perfect balanced poker. The entire strategy was based on Nash equilibrium. The database in the preparation of Cepheus reached 11 terabytes. This time there were no duels with live opponents. The poker community wasn't too excited about the "killer" of limit hold'em, because you can't kill a corpse again.
Claudico. But the emergence of a bot to play no-limit Texas Hold'em has alarmed players. Previously, it was thought that it was impossible to create an artificial intelligence capable of winning a game with incomplete information. Claudico's developers challenged the strongest players in HU No Limit Holdem. Doug Polk was among them. In the end, each of the 4 pros played 20,000 hands against the bot. With a margin of 700,000 chips the humans won. At the end of the match, the professionals praised Claudico for playing in certain pots. They also noted that sometimes the bot chose too large or very small betsizing. A live person behaves differently.
Libratus. In 2017, humanity was challenged again. A new bot was developed based on Claudico, but heavily modified. For more objective statistics, the Libratus vs. humanity duel involved 120,000 hands. On the human side, almost the same team that defeated Claudico was involved. Prior to the game, the poker community believed the humans would win. However, the machine had its own tactics and stuck to them. In the end, the humans lost by a margin of 1,700,000 chips. All four professionals lost to the bot. After that, poker fans have a new mantra: "Let the bot won in HU No Limit Holdem, but he can't win in 6-max or 9-max".

Developers monetize bot by using it to teach poker players
Pluribus. In 2019, scientists created a poker bot for short tables. Now the developers went a fundamentally new way - the artificial intelligence was introduced only to the rules of no-limit hold'em. Further Pluribus learned by playing with himself. They decided to test its strength in two situations: 1) a bot playing against 5 opponents at a 6-max table; 2) a live human playing against 5 artificial intelligences at a 6-max table. Greg Merson, Nick Petrangelo and Chris Ferguson played for humans. In the first situation, Pluribus showed 48bb/100 hands. In the second, the bot also won. After the matches, the players admitted that the artificial intelligence played very hard and could hardly remember such a level of pressure in their entire careers. One notable detail - Pluribus is undemanding to hardware: it ran on 128 GB of RAM and a cloud server for $150 a month. Its predecessors were much more demanding in terms of hardware power.
How much does a poker bot cost?
There are two ways to own a bot:
Develop it from zero;

Buy a ready-made product.
Purchase. Many sites on the Internet offer to buy a poker bot and start making money. Prices range from $28 to $230. An affordable price tag for a product that can win huge amounts of money every month, right? A veritable printing press! But don't rush to buy the bot in pursuit of easy money, first ask yourself, "Why would the developer sell it, and even at a ridiculous price?" The obvious answer is fraud. No one in their right mind would spend months or even years of development on creating a bot to sell it for a few tens or hundreds of bucks. From a real bot, the creators would skim all the cream themselves. The result of such a purchase would be one of the following options.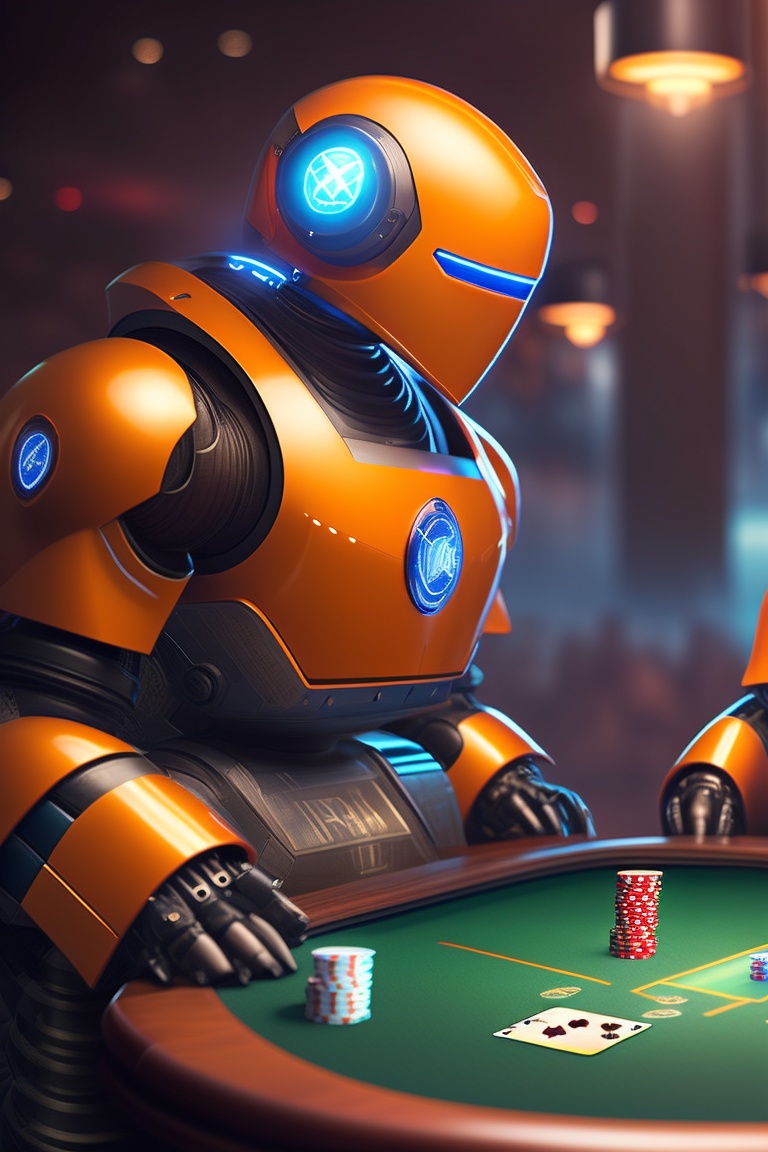 Selling a bot for $30 that is capable of bringing in thousands, if not hundreds of thousands, makes little sense?
A totally non-working program. You have been scammed by scammers, congratulations. You are unlikely to write a complaint that you were sold a non-working software, given the purpose of buying the bot. The maximally bad outcome is that instead of a "pacifier" you will install a virus on your computer that will steal your personal data. Including bank card information.
Zero/ Weak Plus bot. The level of play on low limits allows you to follow simple rules and play at 0 or weak plus. Therefore, there is a chance that some of the bots for sale are capable of playing poker. There is even a chance that on a short range the program will play in the plus and create the illusion of profitability. Nobody cancelled the variance in poker, including positive variance. Some dealers offer a trial version for 200 hands. At a distance the bot will slowly but surely lose all your money. It is possible that a few years ago the software brought income due to the high rakeback and huge distances, compensating for the negative win rate. But limiting multi-tabling and cutting back on loyalty programs made such bots ineffective.
Compromised bot. Behind this long word is the fact that rooms have long studied a particular artificial intelligence and learned how to calculate it. Hypothetically it can even play in the plus, but it doesn't matter if your account gets blocked soon. Along with all the money in your account. PokerStars is especially good with it, because the list of banned programs includes: POKERobot, Preflop Poker Bot, Shanky Bot, WarBot, Online Poker Bot. If the clients were caught with these programs before, the security service should not have any trouble to find another "cheater".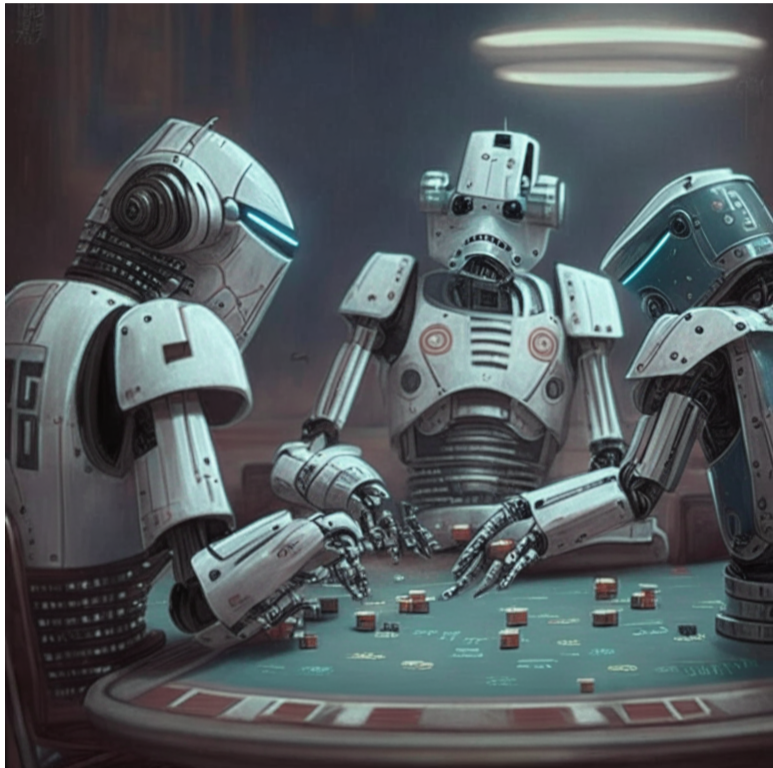 After defeating the leather bags, the poker will look like this
Development. Real scientists have spent years of their lives creating Polaris, Libratus or Pluribus. It is not known how much money was spent on this, but it obviously runs into hundreds of thousands of dollars, if not millions. Such a figure is easily formed by the salaries of the university employees who developed the poker bots. We do not even take into account the cost of powerful hardware.
There is not much information in the public domain about the price of developing bots. No one is willing to talk about what will be used against him in the future. Data has to be collected by scraps on forums. To summarize, the creation of artificial intelligence, capable of winning at medium limits, costs about $60,000. Development time - up to a year.
No one cancelled the high risk of becoming a victim of cheaters. In ideal conditions you should have the skills of a developer, otherwise you will not be able to control the process of software creation and will be paying for a pig in a poke. The saddest thing is that there is no guarantee that your newly-made "poker killer" will not be blocked by the room security service in a week.
Conclusion
In the 25 years of online poker's existence, bots have come a long way from an urban legend to a real threat to the entire industry. A number of scientific bots have proven that artificial intelligence is capable of defeating humans in poker. And a huge number of bot scandals have clearly shown that bots have long been taking money away from ordinary users. One of the fundamental tasks of the poker community is to keep the machines from burying our beloved game.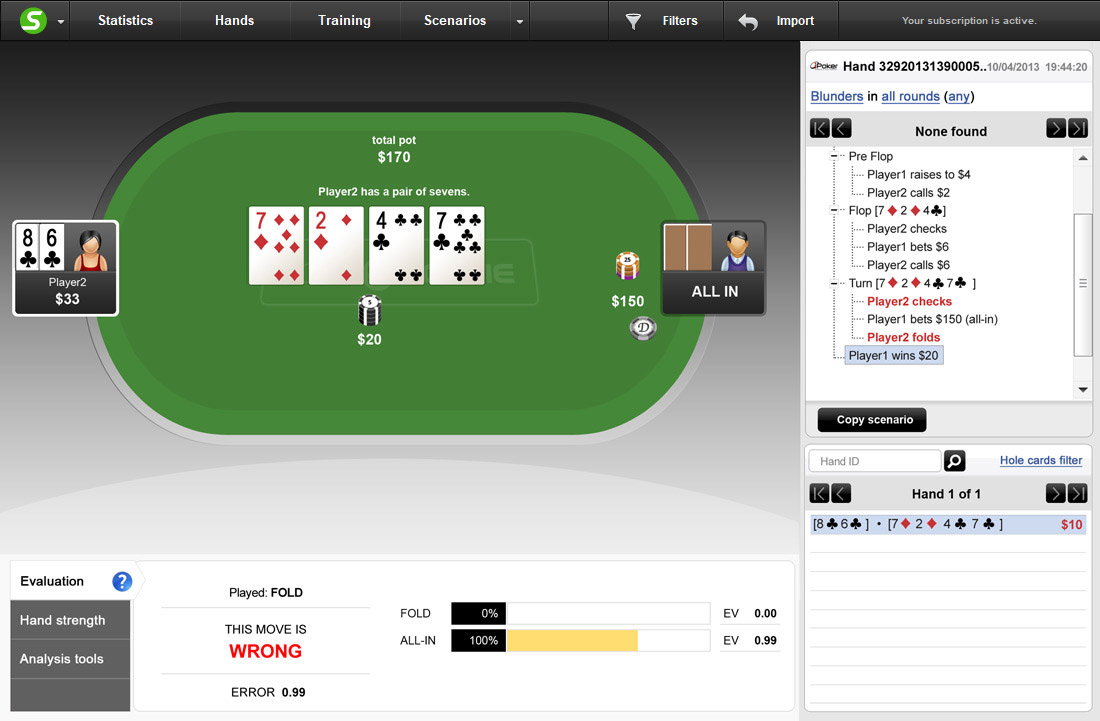 Some of the best practices of bots are used in poker training. In the PokerSnowie you can play against a machine and hone your playing skills.
The poker networks, professional players, amateurs and journalists must unite in the fight against cheaters. If you have a suspicion about an opponent, do not be lazy to share it with the security service. Don't neglect your small chance to make poker cleaner either.
And if you are on the other side of the barricades and plan to make money by creating a poker bot, it is recommended to give up the idea. Cheating a poker room and its users with a bot is a criminal offense. Even if it is inferior to murder or robbery in terms of public danger, it is cheating to make profit in such a way. In addition, it is difficult and expensive to create a winning artificial intelligence. You can spend years of your life and tens of thousands of dollars, and end up with a piece of broken software. And this without the slightest guarantee that a vigilant security worker will not pay attention to a suspicious account and not block it, arresting the funds in the account.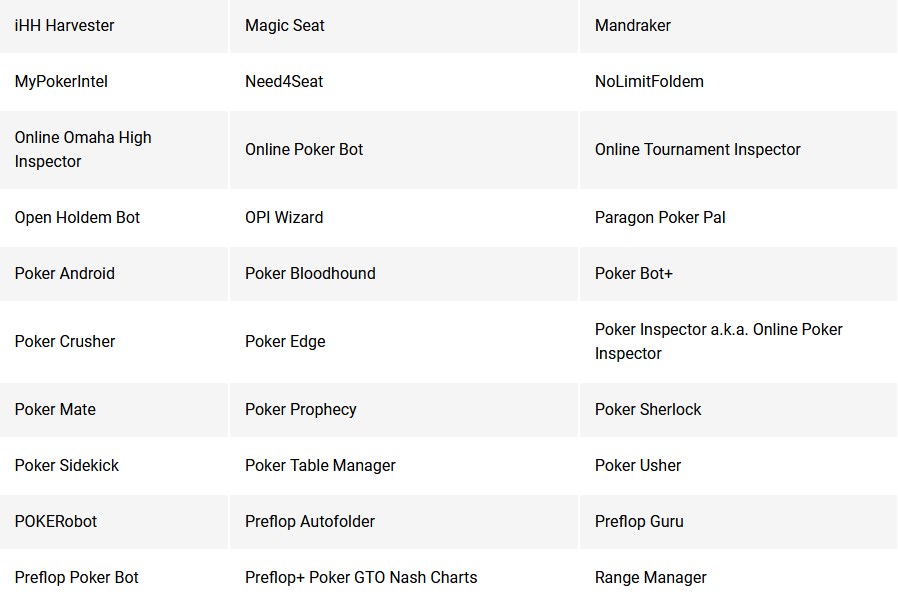 A total of 10 bots are on the list of banned programs on PokerStars
We recommend that you put your energies into the right direction and learn how to win fairly. The good news is that it is still possible, despite the constant growth of poker players' skills. One of the best ways to learn how to play is to use special poker software. At the initial stage it is recommended to get a poker tracker and Flopzilla. The tracker will help you import hand history and show you your stats while you are playing, while Flopzilla will also help you analyze the hand you have played. Read more in our poker software guide.
Updates of the catalog PokerEnergy and good deals are published in the Telegram channel. Sign up not to miss +EV.