What are the analogues of Sharkscope?
10.12.2022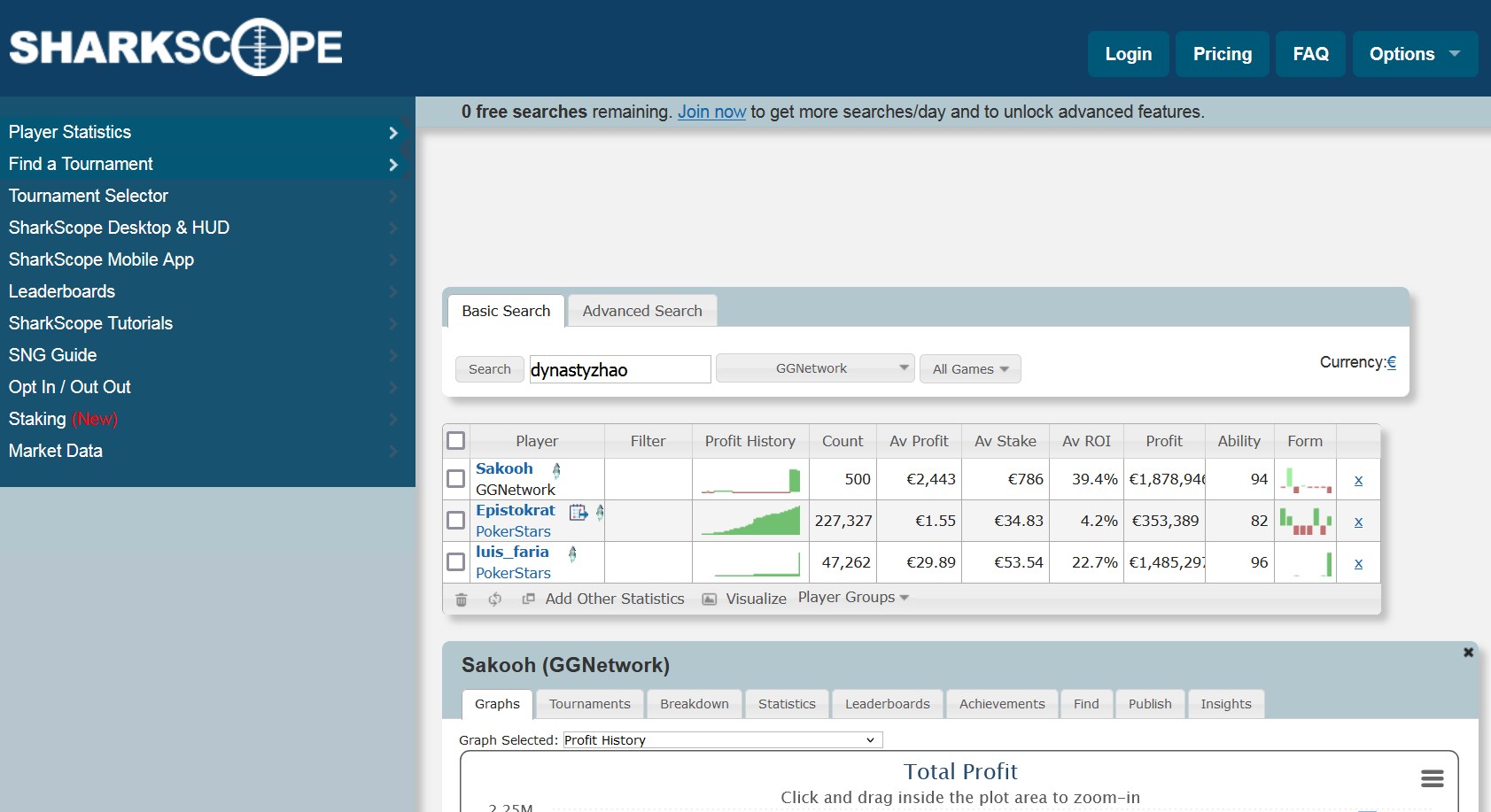 In tournament poker, we constantly face unknown opponents. Often the most important decisions have to be made in a vacuum. If we had a little bit of information, we could have chosen a more thoughtful play. SharkScope provides just that information. The service gives a lot of data, but it is not very convenient to work with. Does it have a more modern and informative analogues?
Where to look the statistics of poker players?
The first hand in online poker was played on January 1, 1998. In 2023, online poker will be 25 years old. During that time, many services have tried to keep statistics on tournaments. Some of them are still relevant, others stopped collecting information about MTT and Sit&Go poker long ago. First, a couple of words about already closed ones, then we will move on to actual services.
PokerTableRatings and Official Poker Ratings
In the early 2010s, the leading positions were occupied by PokerTableRatings (PTR) and Official Poker Ratings (OPR).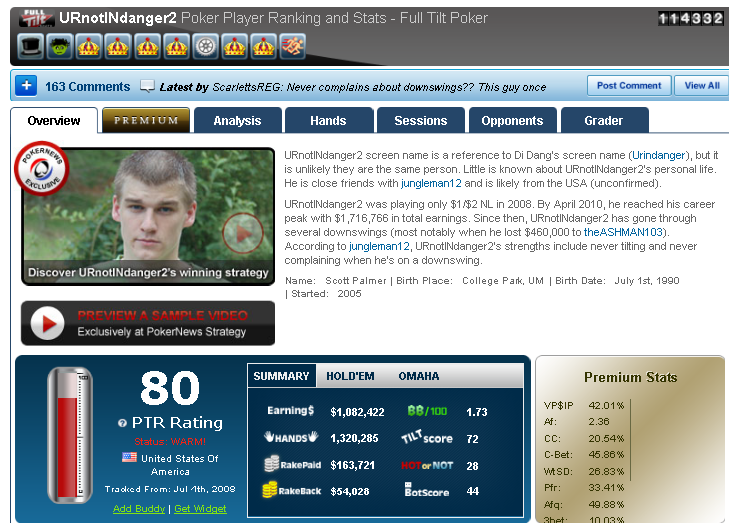 At one time PTR was very popular, but it focused more on the cash game, so we can not call it a full-fledged analogue of SharkScope
Both sites suffered a similar fate: PokerStars and other rooms forced them to stop collecting statistics of players. The motivation is traditional - to protect amateurs from professionals. How does the selection of competitors in a tournament of a thousand people look like - a rhetorical question. Right now the PTR site is unavailable, and OPR will only interest Indiana Jones (Lara Croft, Nathan Drake - insert a lover of antiquities to your taste).
Macropoker
In 2012, Macropoker launched. It was presented as a direct and more advanced competitor to SharkScope. The search by nickname gave the information about the number of played tournaments, ROI, total prize money, the average buy-in, percentage of getting into the prize zone. The service collected information from all leading rooms and networks:
PokerStars;

888Poker;

partypoker;

iPoker;

Microgaming;

WPN;

Full Tilt Poker.
Any visitor to the Macropoker site received 5 free searches per day. After opening an account, the number of searches was increased to 10.

Macropoker had every chance to become the best analogue of SharkScope, but the service failed to be promoted
The service not only tracked tournament statistics, but also offered additional tools, such as combining information from several rooms. This made life easier for players looking for backing. Another useful finding was the built-in HUD, which displayed the results right on the table. The feature freed from the routine where users had to copy and paste the nicknames of their opponents every time.
The service ran until 2017. Macropoker didn't gain enough of a paying customer base to continue operating. Users were refunded for subscriptions and dissolved into eternity.
We've dealt with the options that didn't work, now let's turn to the still in-demand ones. Let's start with Poker Pro Labs.
Poker Pro Labs
Launched in 2011 and is still going in some way. Why "some way"? The point is that it is difficult to assess the relevance and completeness of the data coverage. The search on the "Player Search" tab doesn't work. When you click on the "Search" button, the browser page goes into a long loading mode, and then offers to register an account on the Poker Pro Labs website.
Without an account, the search will not give any information. And after registration the situation is not better - again we see a long loading. Additional doubts cause and list with poker rooms. Among them, there are too many long ago closed poker rooms: Full Tilt Poker, Noble Poker, Tony G poker. Completely absent from the list is the network Good Game: neither PokerOK, nor Natural8, nor GGPoker.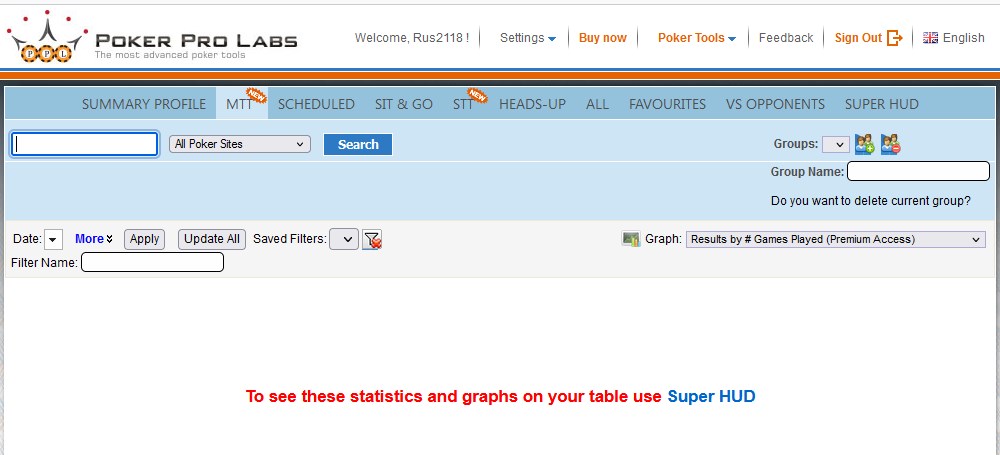 Poker Pro Labs was actively developing poker software, so the database was not so actively maintained
Another reason to doubt Poker Pro Labs is the site's forum. The latest developer posts are from 2015. All recent posts are spam. Slightly better is the news relevance: there the last entry was published in 2019.
Tournament Shark
Tournament Shark is a separate app from Poker Pro Labs. The program scans all our open tables and gives statistics on win rate, frequency of getting into prizes and the total number of tournaments for each of our opponents. The icons from deuce to ace, where the first is a welcome guest at the table, and the second is a strong professional player, provide visibility. The free trial version, which is given for 7 days, allows you to evaluate the program.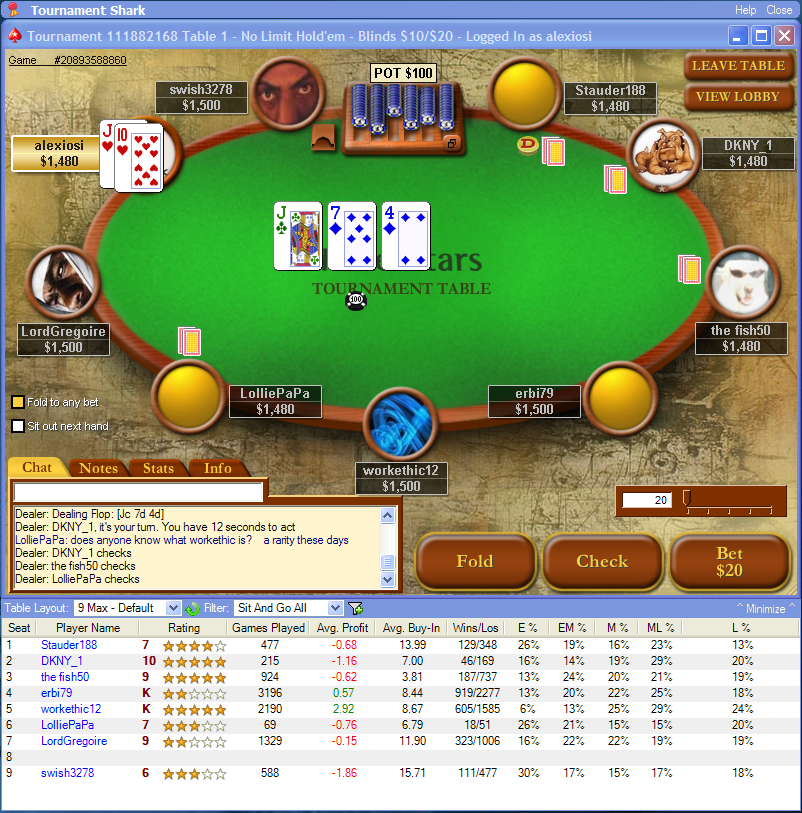 Tournament Shark was the best analogue to Sharkscope due to the real-time display of table statistics
Why do players prefer SharkScope?
Since Macropoker closed, SharkScope has had no decent counterparts. Both solutions from Poker Pro Labs look outdated and provide less data. So it's no surprise that SharkScope is used by over 20% of all online players. The service tracks over 99% of all tournaments online. Not to mention the coverage of all popular rooms and networks. Let's break down all the benefits of SharkScope on an example.
Let's type in the search box service nickname of a popular tournament player "Exan13".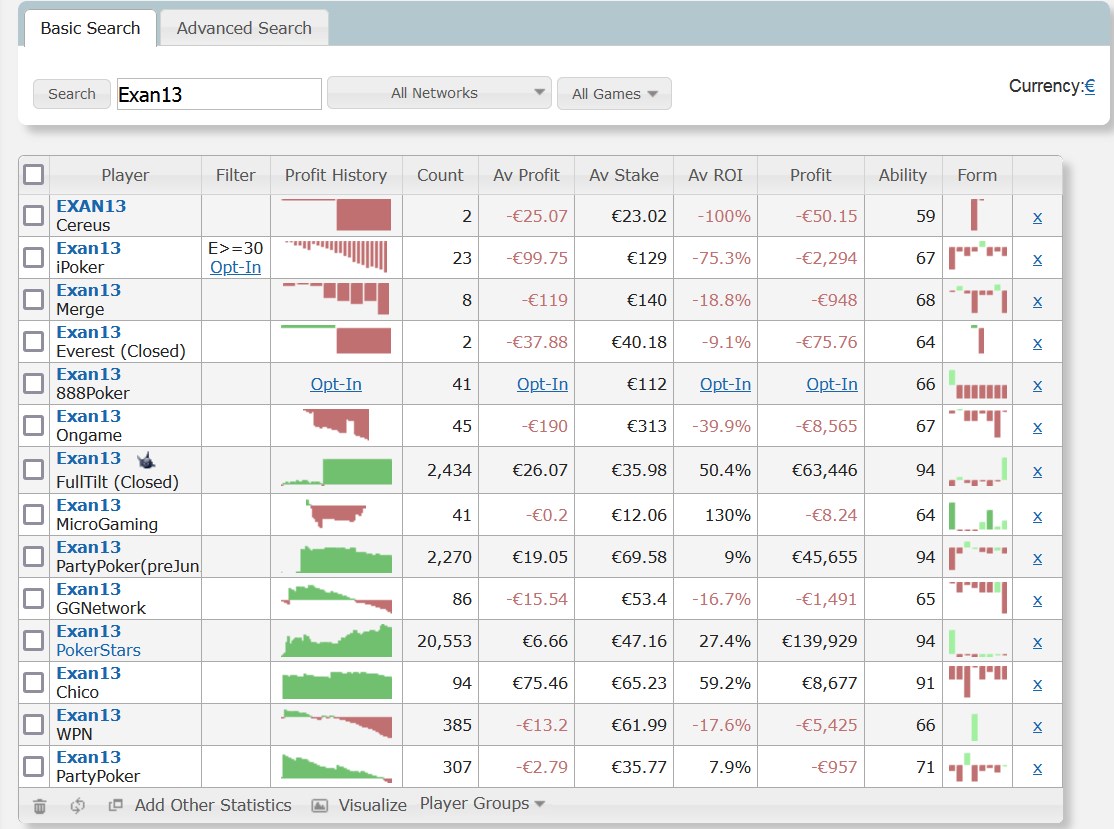 It is possible that some of the nicknames do not belong to Exan13 himself and are registered by imitators
In a few seconds we will see that the poker player uses the same nickname in all rooms. He does best at PokerStars and Partypoker. Note also the shark badge for playing on Full Tilt Poker. Shark, fish, star - all of these symbols are assigned by SharkScope based on the results of players. With symbols, it's easier to get an impression of your opponent's level. Here is what information about Exan13 we got from SharkScope:
Total number of tournaments;

Average income per MTT;

Average buy-in;

ROI;

Total profit;

Form.
To this set of statistics, you can add other useful data: the number of final tables in career, how many wins in tournaments, the percentage of getting into prizes. All of these criteria will help you study your opponent. To add a statistic, click on "Add Other Statistics". The button is located under the last line with the information. The results of the playing from different rooms can be grouped in one place. For instructions on how to merge data, read "How to make an alias in Sharkscope?"
Another advantage of Sharkscope is visibility. In some cases, one look at the graph is enough to evaluate your opponent. If we see a steadily falling graph, we're looking at a fish. If we see the stable growth, we shouldn't mess with this opponent. The player's key achievements are marked on the graph with the "$" symbol. By clicking on the symbol we can find out more information about the tournament. In the Exan13 example the biggest success on partypoker was in 2010 when he got $90,000 for third place in a $600+$40 buy-in tournament.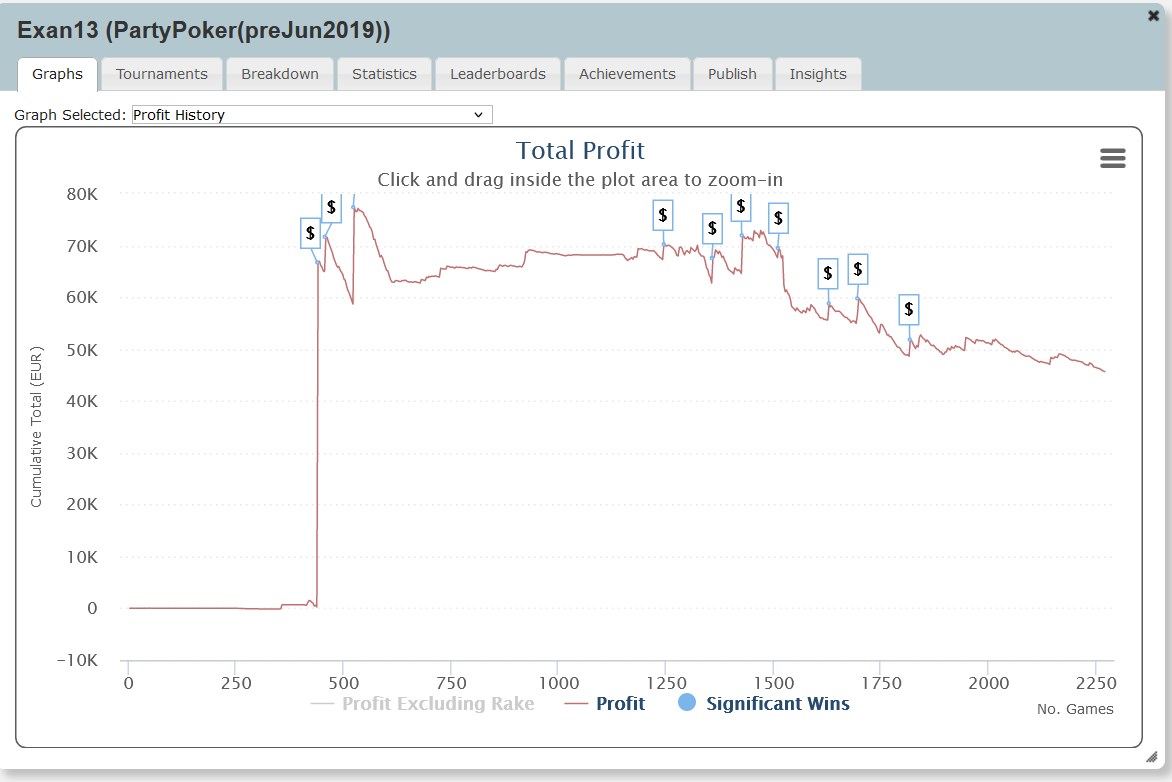 Additional tabs provide a lot of interesting information
The information from SharkScope will help at a key point in the tournament, but do you really have to type in your opponent's nickname into the search every time? Actually, no, because there is a separate software - SharkScope HUD. It displays all the stats on your opponents right on the table. No unnecessary movements and distractions - all the data is on one screen. The HUD is available with a paid Silver subscription or higher. It works on both Windows and Mac OS devices. The HUD app has recently appeared on Android and iOS mobile devices as well.

SharkScope is free to evaluate the usefulness of SharkScope - any user has access to 5 searches per day without creating an account. The full potential of the service is revealed with a paid subscription. Subscriptions not only increase the number of searches, but also expand the set of useful features. Among them are not only the already mentioned SharkScope HUD, but also the synchronization feature. It saves all the information in case of computer freeze or problems with connection, and also allows you to download and convert it to tournament format for analysis.

When you access the service from Facebook, the number of free searches rises to 10
If you do not want all the data about your game to be in the public domain, use the instruction: "SharkScope: how to close the statistics?". We also have a separate instruction on how to reset statistics.
Why buy from PokerEnergy?
Buying from us is profitable for 2 reasons:
1. Bonus points with every purchase. You can use them instead of money and save in the future.
2. We give away software for ordering programs from the section with promotions. For example, we give an additional program StarsCaption, if you purchase the full version of Holdem Manager 3.
All catalog updates and good deals are published in the PokerEnergy telegram-channel. Sign up to not lose +EV.