Shop
Table themes and modifications
Last reviews

Очень подробный курс с большим количеством примеров по телзам. Я офлайн не особо играю, так как у нас негде. Но я ещё немного увлекаюсь психологией, в том числе и покерной психологией, так что мне было очень интересно. Покупкой доволен. Перевод на высоте.

Не советую любую покупку у данных изготовителей хада - они (вроде бы) единственные запросили доп. плату за хад  после изменений на покер старс - после покупки хада у них нет времени для своих клиентов (куплено 3 хада у них) чтоб изменить купленный хад под новые нужды так же прошу админов данного ресурса присмотреться к данному продавцу хотите ли вы сотрудничать с теми кто ставит свои интересы выше клиента

less than 10 min to get the licens - TOP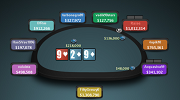 Table themes and modifications
---
Custom layouts are designed to replace the standard ones, which are offered by poker rooms by default. Custom layouts usually contain a minimum amount of unnecessary and distracting from the game elements on the game table and help to make the game process much more productive.
---