No month without a tournament series at Partypoker
01.06.2019

The big KO Series tournament series at Partypoker hasn't really finished yet, but the Monster Series is already on the watch. A characteristic feature of this set of tournaments is their focus on low-limit players. The slogan reads "Tiny buy-ins. Giant guarantees "is far from accidental. A significant portion of the series' tournament buy-ins look very loyal and affordable for micro-stakes players. Over 40% of the 108 scheduled tournaments will have buy-in up to € 10. The opportunity to compete for the huge prize pool of the poker series, amounting to a fabulous € 2,500,000, by investing a very small part of your bankroll is a very tempting offer from Party.
The series will start on June 2 and will run throughout the week. Partypoker has arranged their tournaments in a hierarchical order, dividing them, depending on the buy-in, into: high, medium and low levels. The most delicious guarantees from the schedule: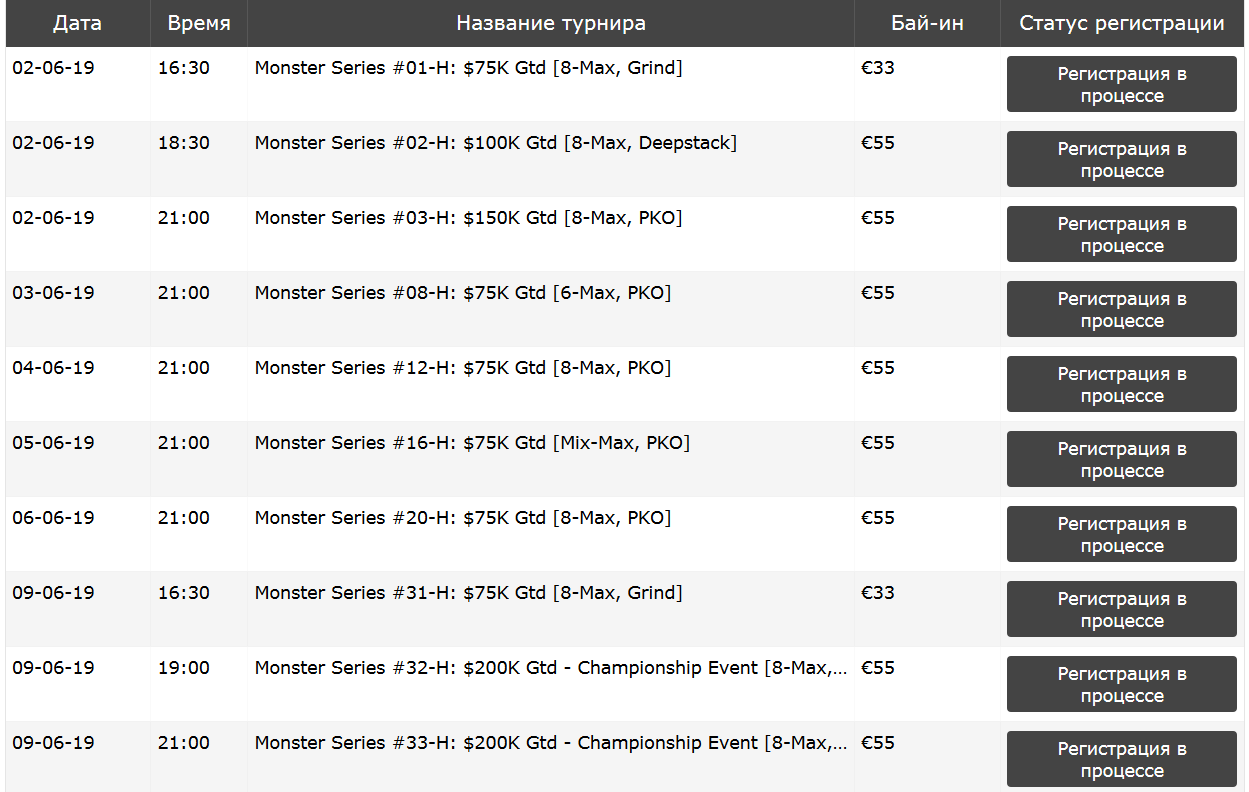 The list gives an opaque hint of the opportunity to compete for a big win every day with a very attractive buy-in to final prize ratio. Please note that June 9, which marks the end of the tournament series from Partypoker, will include as many as 4 major events, and the total guarantee will be just under € 500,000.
Advice from Uncle Fyodor Holz

​
One of the members of the Partypoker Commission, formed in 2018, is the renowned winner of high roller tournaments online and offline - Fedor Holz. Few people know, but success has not always accompanied him. Including, luck often turned away from him at the dawn of his poker career. For a long time he could not get out of micro-limit MTTs, he vegetated in them and felt a gradual loss of faith in himself and connection with reality. In one of the routine winter evenings, tired and drooping Fedya leafed through the profile poker resources. He did not have a clear goal, but rather vegetated in procrastination. But then, as if after a lightning strike, he woke up and perked up. After all, on the PokerEnergy website, he came across Sharkscope. With the fingers of his left hand shaking with impatience, he wrote to manager Vladimir about purchasing a subscription to this service. After a short period of time, the coveted search for player statistics became available to him. Now he was not a sweet bun for his opponents. Didn't fight sand and fog castles. Having a clear knowledge of the qualifications of his opponents allowed him to start winning and inevitably become the # 1 tournament poker winner in recent poker history!
And if you want to follow the path of Fyodor Holz, have already acquired a Sharkscope and are ready to tear like the Kraken of a platypus lost in the Pacific Ocean, then we strongly recommend getting a PartyCaption as well. This non-trivial poker program will allow you to build a decent distance in MTT as quickly and comfortably as possible, starting your dominance right from the Monster Series at Partypoker. You will be able to play several tables at the same time, and the poker software will take care of the correct bet sizing, ergonomic table layout, and clear fonts. You can see for yourself the usefulness of this poker software, and Partycaption is completely free up to nl10 inclusive and tournaments up to $ 3 - the full functionality of the program is available with no time limits. In the next versions, the developer plans to add the functions of brewing coffee and counting steps, but even without these, PartyCaption is an extremely profitable investment in your future poker supremacy.