Attention! Dollar insanity on TigerGaming!
15.07.2019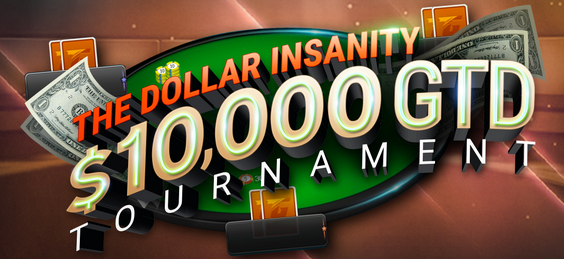 In July, TigerGaming and other Chico Poker Network poker rooms decided to focus their efforts on MTT tournaments. The key event of the promotion will be the "Dollar Insanity" poker tournament. In it, you can compete for a guaranteed prize pool of $ 10,000 for just $ 1. At the same time, there are several ways not to spend a single cent on the entrance fee.
How to get into Dollar Insanity for free?
According to the glorious tradition of Chico poker network, there are various options for selecting a tournament:
• Paid $ 1 rake at any cash tables, MTT and SnG tournaments give you a free ticket to Dollar Insanity;
• Freerolls are held daily for users of mobile platforms, where tickets to the main tournament of the whole promotion are played.
An important feature of the Chico Poker Network poker tournament will be the opportunity to multi-tabling it. Yes, within the limits of one tournament you can play at several tables. Tournament rules allow you to play up to 10 tables at a time. That is, it makes sense to play 10 tickets to the tournament and increase the chances of success.
The final of the promotion will be the Dollar Insanity poker tournament itself, which will be held on July 21 - this coming Sunday.
How to start playing TigerGaming?
The Chico Poker Network poker network is somewhat different from traditional Pokerstars\888Poker. The use of auxiliary poker programs is permitted here. But there is also a minor disclaimer - TigerGaming, BetOnline and SportsBetting hand history format is not readable by Holdem Manager 2 or Poker Tracker 4. Paradox - you are allowed to use trackers, but they don't work at Chico without additional manipulations. Chico Converter poker software eliminates the problem with hand reading. Converter for Chico makes clear the story of distributions for your tracker. Thus, you will be able to collect maximum profits from your opponents using additional information. Order your poker converter right now and get Energy Points loyalty bonuses. You can spend them on other goods of the store, saving your money.