How to find the right MTT in GGPoker: all about the tournament filter
17.02.2023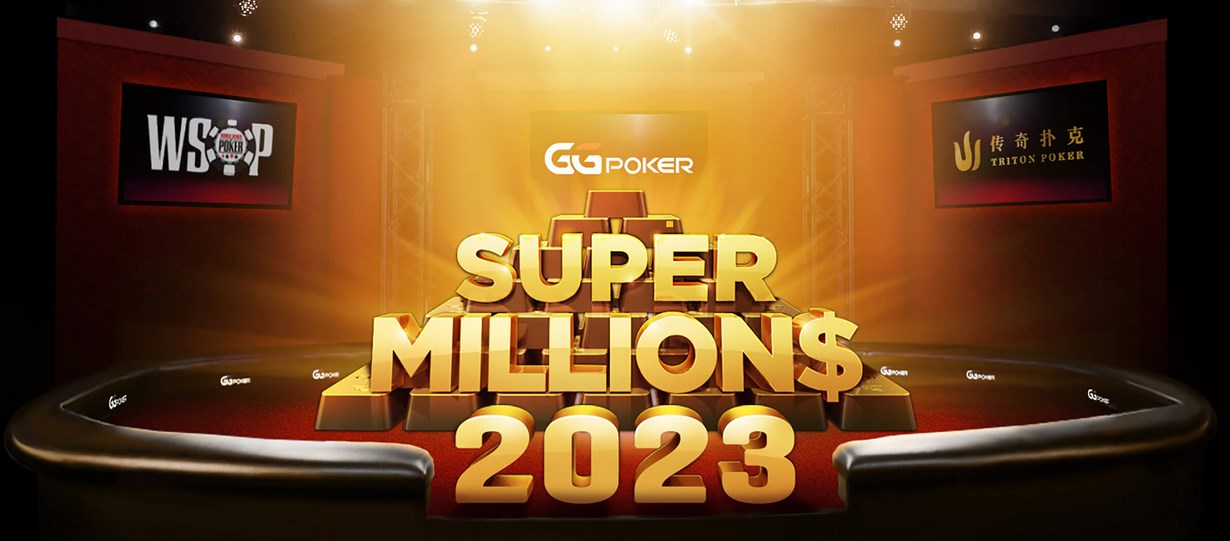 GGPoker became the best place for tournament players a few years ago. The WSOP-2020 played a decisive role in the change of the MTT leader. Because of the pandemic, the bracelet distribution was moved online. At GGPoker they drew 54 bracelets and set a single tournament guarantee record. The sum of $27,559,500 went into the Guinness Book of World Records. In this article we will look into the tournament filters in the lobby.
How to filter tournaments by buy-in?
Tournaments themselves are easy to find: the tab in the lobby is labeled as such. GGPoker holds hundreds of tournaments every day. In the general window, they are located chaotically and without any system. The most important ones are fixed at the top, but the rest have to be found. The software offers several ways to sort MTT. Let's start with searching by buy-in size. There are two ways to filter tournaments:
1. In the window with all tournament schedule. Click on buy-in in upper column and list of events will be sorted by "from most expensive to cheapest". You may click on buy-in again to see the list in reverse with freerolls at the beginning and tournaments with buy-ins of $5.000-$10.000 at the end.

2. Using the buy-in range buttons. There are 6 in total:
Micro. Up to $5.

Low. From $5 to $19.

Medium. From $20 to $99.

High. From $100.

Custom. Independently set the minimum and maximum buy-in slider.

All. Tournaments filter, working on GGPoker by default. Displays a list of all events.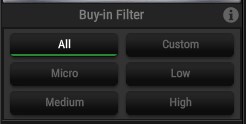 The second way is more preferable, because it gives an opportunity to group MTT by limit and to make a general impression of tournament schedule. Professionals can choose suitable events and weave them into their schedule.
How to sort MTT by hashtags?
Implemented in the client GGPoker and search by hashtags. It works like this:
1. In the tab with tournaments, click on the search line on the right side of the lobby. The list of available hashtags opens.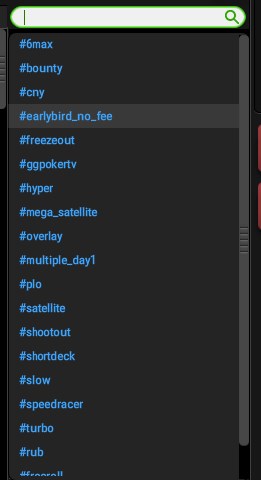 2. Choose any of them and only the relevant options will remain in the MTT list. For example, if you want to filter Omaha tournaments, select "#plo". The lobby will display only PLO MTT.


There is no sense to use several hashtags simultaneously - room software does not support such function. Hashtags filter GGPoker tournaments by different criteria:
number of players (#6max);

type of poker (#plo or #shortdeck);

type of tournament (#freezeout or #satellite);

relevance of promotions (#bounty or #earlybird_no_fee).
How do buttons help in search of tournaments?
There is another way to sort MTT on GGPoker. It is useful for players who know the name of a particular series or regular group of tournaments. The buttons are located between the tabs and the general list of events. Navigation was realized simply: we click the button and only suitable tournaments remain in the list. For example, we want to look at daily guarantee schedule. Click on "Daily Guarantee".

Software supports several active buttons at the same time. If in the list with "Daily Guarantee" there are events "MILLION$", it is necessary to disable the button. Enabled categories are highlighted in light gray, disabled categories are highlighted in dark gray.
How to find freerolls in filters?
Freerolls can not be called a hallmark of the room. They are almost never held here, and the ones that are in the schedule are timed to the tournament series. There are 3 ways to find free tournaments in GGPoker filters:
1. Manually sift by two clicks on the row with buy-in. The first click will pull up the most expensive MTT, and the second click will show freerolls first.
2. Use the hashtag #freeroll.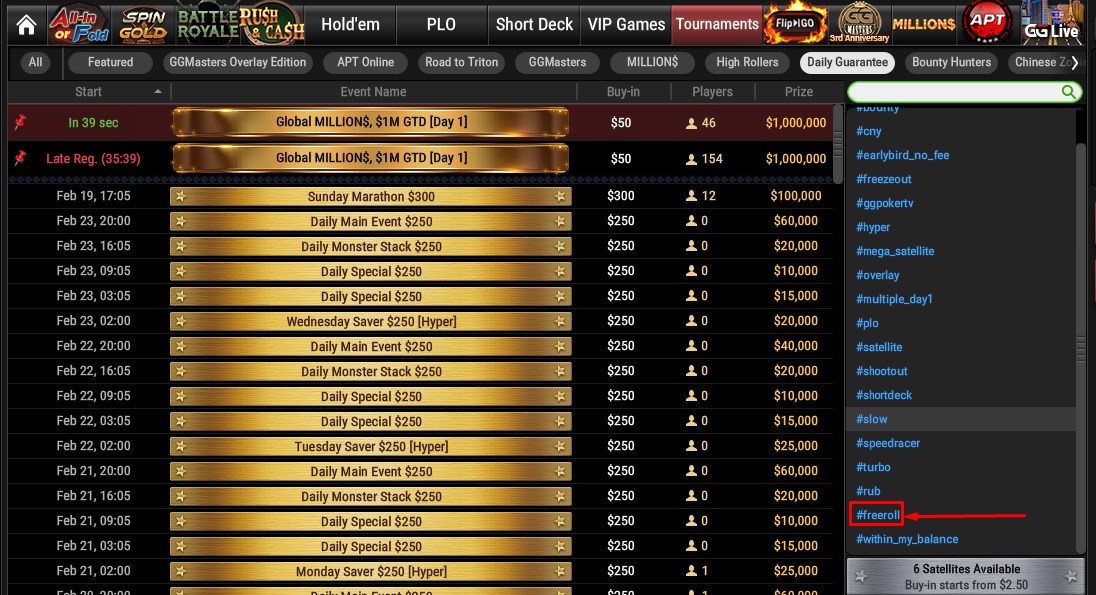 3. Select "Custom" in the buy-in filters and adjust the slider to the lowest values.
GGPoker most expensive freerolls are the daily GGCare and GGCheers. They are not available to all users. There register by invitation, and they are given by the room at random. The GGCare is opened for players, who were unhappily expelled from MTT or faced a bad beat. GGCheers register for a collected Royal Flush or a jackpot. The exact logic of the invitations issue was not announced by the room. Freerolls are held in Flipout format, where all participants go all-in in each hand.

Winning a freeroll without logging into a client is an unattainable level of skill
To win at GGCare or GGCheers, you don't even need to be online. Both have MTT guarantees of $100,000 each.
How to increase my odds of success in GGPoker tournaments?
Room rules explicitly prohibit poker trackers and other software. Therefore, at the expense of statistics the results will not improve. Customers were offered a compromise in the form of built-in tools. However, neither PokerCraft, nor SmartHUD fully replaced trackers. But to improve the results can SharkScope. The service uses its own tools, so room bans do not affect it. Tracks 99.9% of GGPoker MTT.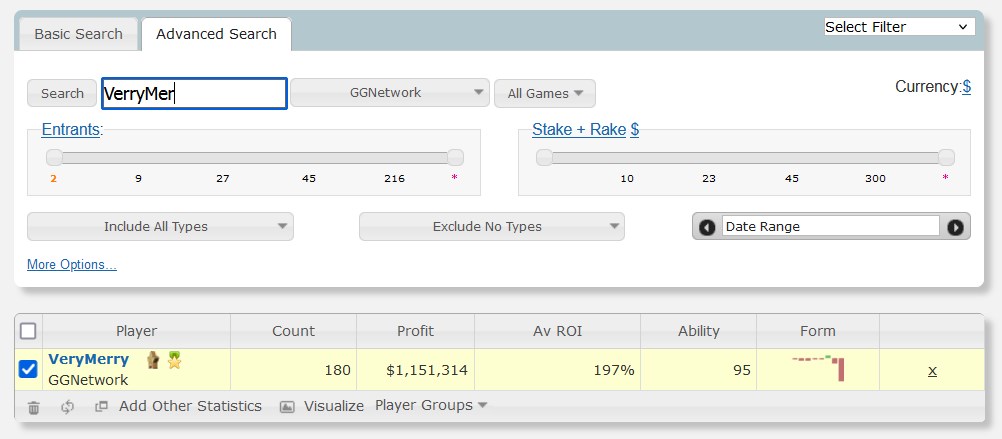 The strongest players get extra badges, like stars or sharks
SharkScope helps make the right decision when playing. In the absence of information and lack of statistics, it is SharkScope will bring clarity. Service provides the following data on opponents:
overall game results;

ROI;

the average buy-in;

current form;

top career results.
To keep it simple, the information from the Sharkscope allows us to determine whether we're looking at a fish or a professional player. Sometimes we do not need an in-depth analysis - a visual chart is enough to assess it.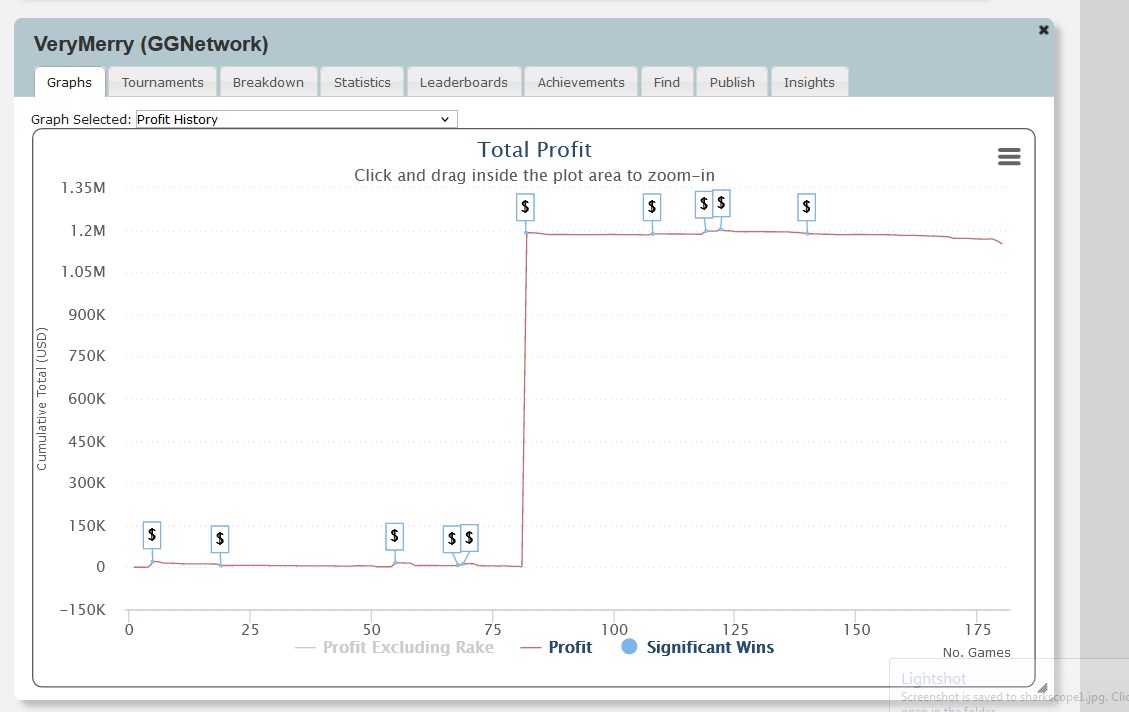 Won a million, then you can continue to play at 0
You can try the service for free: each user gets 5 free searches per day. Paid subscriptions include SharkScope HUD, displaying statistics on opponents directly at the poker table.
Why is it profitable to buy at PokerEnergy?
There are two factors in favor of buying from us:
1. Bonus points. We give bonuses for each paid product. Use them in your next purchase and save.
2. Free software. There is a special offer on some goods in our catalog. It allows you to get some programs for free. For example, you get Simple GTO Trainer for free if get annual Hand2Note PRO subscription.
All catalog updates and good deals are published in the telegram-channel PokerEnergy. Sign up to not lose +EV.