4 days left until epic fail of Pokerking
10.07.2019

For Pokerking and Winning Poker Network, the year turns out to be difficult: first, live on one of the streams turned out that the opponent of the streamer was a real bot, and then the real heat began - the transition to new software. Both events expose the Poker and Winning network not in the best light before the poker community and outside observers. The unintelligible transition to the new platform has already happened almost 2 months ago, but large-scale updates of the client's software are still taking place. Even the announcement of a major tournament series OSS Cub3d could not distract poker fans from the general wave of negativity.
The Venom
The most important poker tournament for Pokerking will begin on July 14th. The size of the prize pool will be a fabulous $ 5,000,000. A very big tournament from not the most powerful poker network. The winner of The Venom will get more than $ 1,000,000. The tournament will last for several gaming days and even formally scheduled as a OSS Cub3d series.



What is the problem of an extremely tempting poker tournament with a huge prize and convenient structure?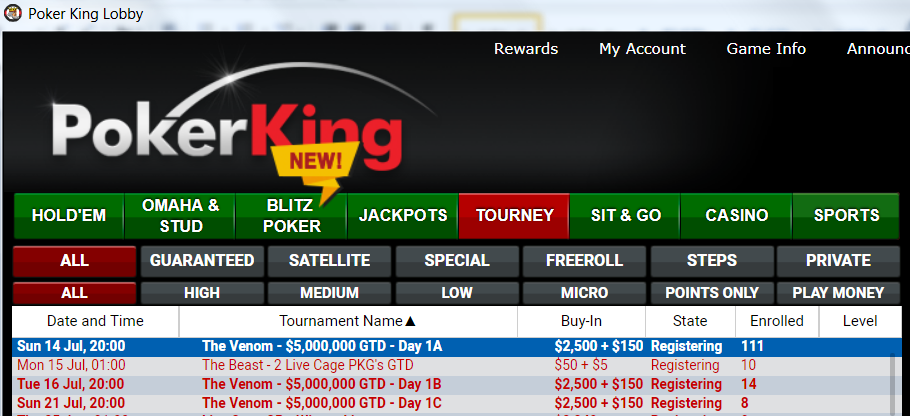 Screenshot of the Pokerking room client's lobby as of 7:30 am on July 10, 2019. By simple mathematical operations we find out that the number of registrations at the moment is 133. The buy-in of the tournament, counting with the rake, is $ 2,650. Having calculated the product of the last two figures, we arrive at a disappointing conclusion - the threat of an incredible failure is simply enormous! Of course, you can refer to the fact that many players will register on the day of the start of the tournament or on days 1B\1C, but the gap between the required number of registrations and the current state is very large. It is possible that the situation will improve slightly due to the fact that in The Venom an unlimited number of additional purchases (rebuys). We will closely monitor developments (c).
We have all prerequisites for a huge overlay. This situation is extremely unpleasant for the poker room Pokerking and the Winning Poker Network, but it is very profitable for poker players. The ratio of the prize fund and the money spent on the entrance fee is very profitable. Maximizing expectations from the poker tournament with an incredible prize and a small number of participants makes sense with the help of the poker service – Sharkscope. Using this service will allow you to determine all the basic parameters of your rivals at The Venom tables. And that means - to choose the correct and effective strategy of the game against them. Sign up now and use it in numerous satellites to the most important online poker tournament of the year in Winning Network! Passing to a large-scale event through qualifying tournaments will lift your potential profit to heaven. And maybe in 10 days you will be the new Chris Moneymaker!