Set iPoker testiruet novuy igroviuy platformu
10.11.2015
To the delight of many poker players, the iPoker Network is gearing up to launch a completely redesigned client with a sleek design. This network was once one of the most popular places to play poker and even ranked second in terms of player traffic at Poker Scout. The iPoker network poker skins include some of the biggest names in the gaming industry such as Betfair, Titan Poker, Ladbrokes, William Hill, and bet365.
The software has been in development for about half a year and is now available for testing at bet365 and William Hill. Judging by the reviews, many were pleasantly impressed by what they saw after installing the new platform.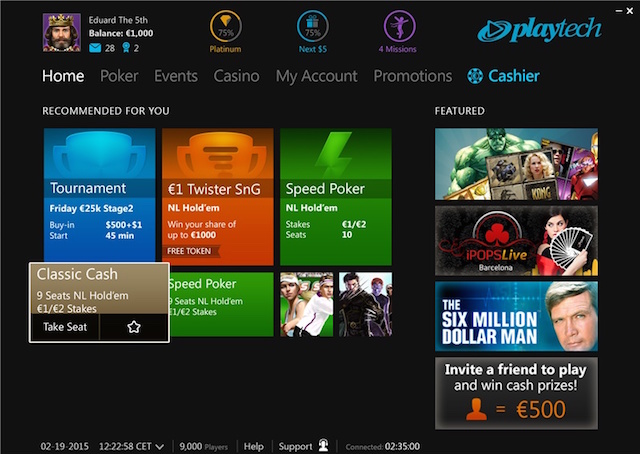 The lobby of the room has been completely redesigned and now looks more like a Windows interface or, as noted by PokerStrategy on the XBox, both externally and in operation. For example, instead of the usual tabs, we now see tiles that will serve to select a game. Moreover, the system will remember what you usually play and display these games in the first place. By clicking on a tile with a game view, you will automatically be taken to the best game in the selected category. The top menu clearly contains information about your status, cash desk, personal account.
This menu layout is quite convenient for players. In addition, it is now possible to quickly switch to other types of games, such as, for example, a casino.
Players who want to see all the available tables at once will still have this option. In this case, everything will be much clearer and when using additional buttons, you can see more detailed information about all current tables. Advanced filters are now a bit hidden, but quite accessible for those who want to use this option.
The gaming tables themselves have also become more beautiful and convenient, both for pro players and for those who like to ride for fun. The gameplay will become smoother and smoother. There have been many complaints from customers in the past.

​
The only ones that are not yet available are the Mac versions, although many customers have requested this. It seems that owners of OS X will have to use the Windows Boot Camp program to install Windows on Apple computers.
However, there is some good news for iPhone and iPad owners as a new app has been released for them. Bet365 Poker can now be played without downloading applications, but directly from the browser. Perhaps this is the first step towards allowing Mac owners to play without a poker client, and this feature will be implemented for all rooms on the iPoker network.
We just have to wait for the full-scale launch of the new client to happen. One way or another, everything is aimed at making the game more enjoyable and convenient.