MyGame - your personal trainer from Partypoker
14.08.2019


It has been several months since the announcement of MyGame and its appearance in the lobby of the Partypoker client. It's time to take a closer look at "your personal interactive coach."
The first thing that catches your eye is the location of the MyGame tab: it is on a par with poker, casino and betting:


An indirect sign of Partypoker's serious intentions regarding the development of the service is evident.
The MyGame service itself is in beta and now consists of 3 parts:
Skill levels;

My statistics;

Courses.
Skill levels
Partypoker prudently divides hands from tournaments and cash games. For each of them, you can get separate data and a report.



To get the first information about the level of your game, you need to play 100 hands. Report settings allow you to select:
The period of time on the basis of which the data will be provided (from today to last year);

Full-ring (9max) or short-handed (6-max);

Limit.
Based on this information, the general level of the game is determined (they assure that your key statistical indicators are compared with the GTO) and the icon is fixed: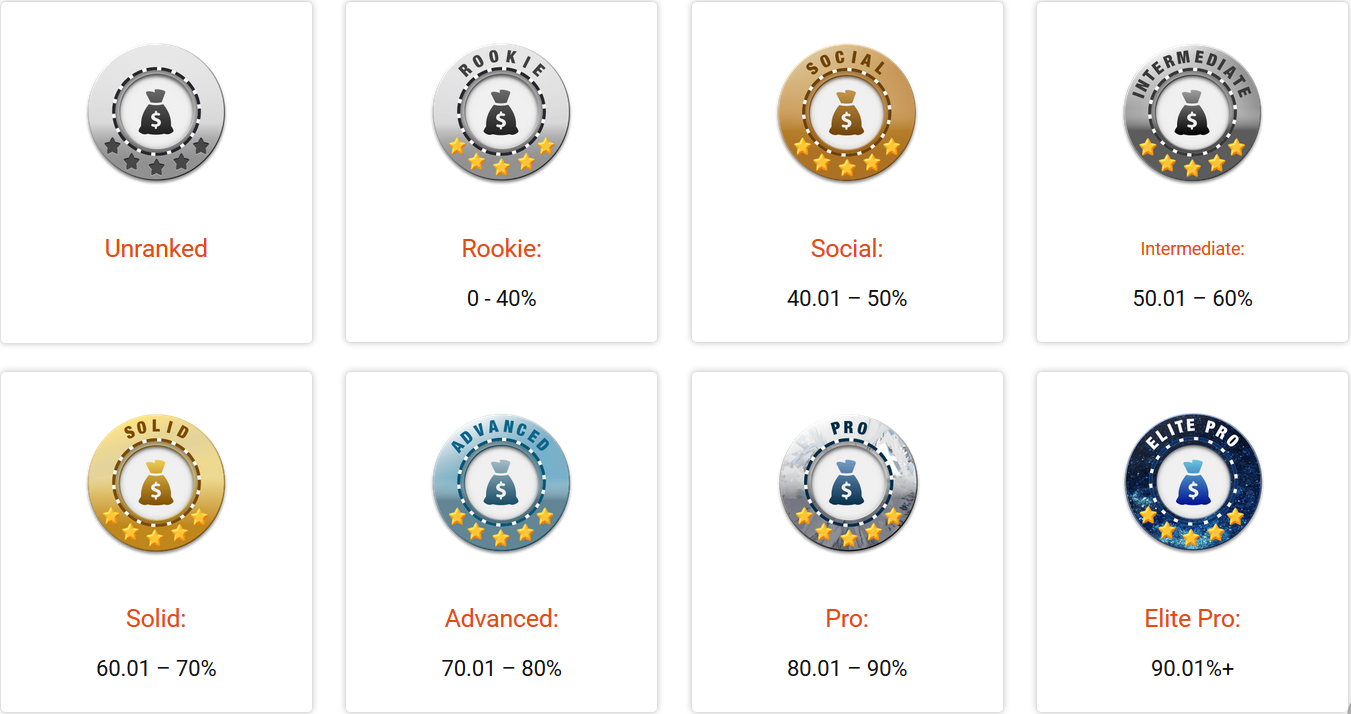 The number of stars is assigned depending on the value of the hands played. One star is given for 250+ hands, and for 5 you will have to grind about 25,000 hands.
My statistics
Here you can configure the filter by discipline, limit, time period:


Key information on statistical indicators and the ability to see the most plus/minus hands (through the built-in replayer) are also available. Announced estimates for each of the important stats have not yet been noticed. There are two options - either have not been added yet, or more than 100 hands need to be played for analysis.
Courses
Partypoker's most useful MyGame innovation. Divided into two sections:
Learning the basics (the fundamental basis of poker);

Information for advanced players (in the Partypoker client it is called "Explore the clinic").
The basics of poker provide basic information (what actions can be performed at the poker table, positions, board textures, pot odds, bankroll management, player styles, tips for tilt control). In the section with more complex concepts, you will be told about opening spectra from each position, the benefits of stealing the blinds, 3-bets and 4-bets, and even blind defense.
The most curious thing is that there is even information about the proper selection of tables. Moreover, the selection is mentioned not casually, but is considered as a full-fledged topic in 8 paragraphs (and even a couple of small video recommendations about the need for their color marking with recording notes). Somewhat unexpectedly, taking into account the struggle with bumhunters and regular players, which is conducted in 2019 almost everywhere.
Reports can be published on social networks, announced the "Mission", which will allow you to deliberately work on your leaks at Partypoker poker tables and get quick feedback about your progress in getting rid of the chosen leak.
Conclusion
Before writing this review, there was a fair amount of skepticism about the usefulness of MyGame. But, with a little more careful study, it turned out that this Partypoker service can really be useful for improving poker playing skills. Obviously, the main goal of the poker room is to reduce the rate of loss of their money by weak players. That is why the emphasis is on the theory of optimal game. However, a particular regular player MyGame can also be of great benefit. Especially in the early stages of the poker journey.
If you want to take your game to a new level and don't want to wait until Partypoker improves its training service, we recommend you a new poker program - Leak Buster 2. Due to the huge number of sophisticated filters, it will be able to find even the most minor mistakes in your poker strategy and will give recommendations on how to fix them. These tips will not be trivial monosyllabic phrases, but full-fledged training materials and videos from leading poker players. Leak Buster 2 has a free trial. If you have a license for an earlier version of the poker program (just Leak Buster), a 50% discount on Leak Buster 2 is provided.
P.S. For every purchase you make at PokerEnergy, you are given Energy Points, making each subsequent purchase significantly cheaper.