PokerDom is giving away birthday presents!
03.08.2019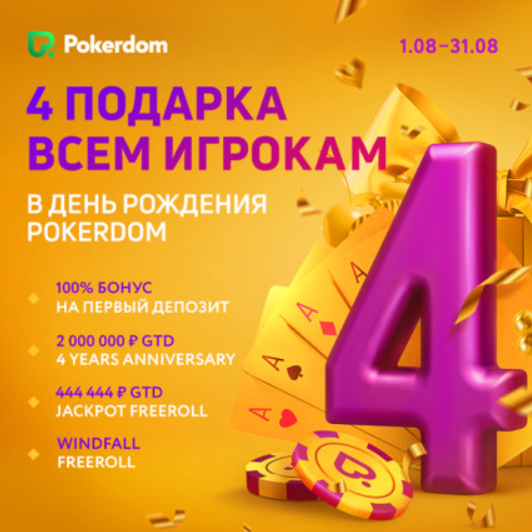 In August 2015, the most popular poker room in Russia, PokerDom, was launched. In honor of this event, in August it was decided to hold 4 promotions at once for all PokerDom players:
• Birthday Freeroll Windfall;
• PokerDom Birthday Jackpot Freeroll;
• Tournament series "PokerDom 4 Years Anniversary";
• First deposit bonus of 100%.
First Deposit Bonus
The most festive offer - after all, where else can you find the first deposit bonus!? The correct answer is in any other poker room or network on the Pokerscout website. Apparently, this "gift" was created by marketers in order to reach the cherished figure 4. The terms of the bonus are traditional - you make a deposit (up to 40,000 rubles), you wager it (within 60 days, otherwise cancel), you get the money.
PokerDom 4 Years Anniversary
The tournament series PokerDom 4 Years Anniversary will consist of 4 tournaments. Each of them will be held on Mondays; the total guarantee will be unprecedented 2,000,000 rubles.



The schedule includes daily satellites. And on the day of each of the Event-tournaments, they will play an additional 144 tickets through the mega-satellite.



PokerDom Birthday Jackpot
The PokerDom Birthday Jackpot Freeroll will be held on August 18th. The selection conditions for it are to collect a combination from a quad and higher at the BadBeat Jackpot tables. Pokerdom's holiday freeroll format is a freezeout. Multi-entry is allowed (up to 4 entries). For each combination of quad and higher 1 ticket is given.
Birthday Freeroll Windfall
For every 4 Windfall tournaments you get 1 ticket for Birthday Freeroll Windfall. You can get to this festive freeroll only by tickets. The format of Windfall is Kamikadze, where all players go All-In in the first hand of the tournament. The freeroll itself is scheduled in September.
We emphasize that in our store you can purchase a converter for the PokerDom poker room. Buy it and play with statistics, while all other players are forced to do without it. Just be careful - the PokerDom security team is not too encouraged to use full statistics during the game. With us you can get a trial version of the converter for PokerDom absolutely free. Don't forget about the added value of shopping at PokerEnergy: Energy Points are credited to each purchase, which you can use as you wish and save more.